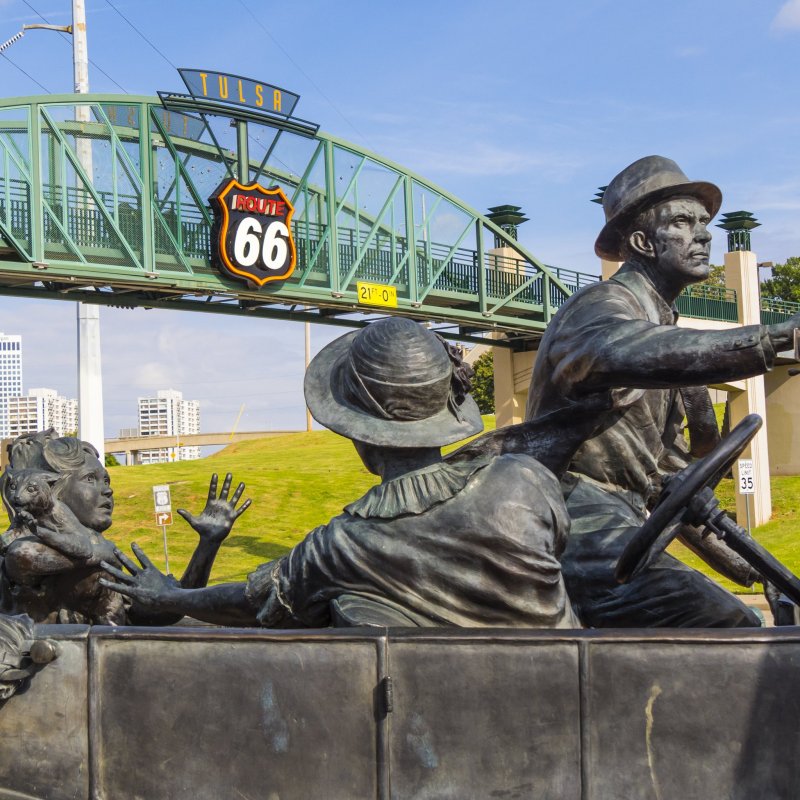 "Tulsa is the Austin of Oklahoma." That's how a friend from Texas described the second-largest city in the state that separates my home in Kansas from hers in Houston. With two days of exploring the original Oil Capital of the World under my belt, I considered her assessment for a moment and agreed. Tulsa, about 90 minutes east of Oklahoma City, feels unlike any other location in Oklahoma.
Part of that impression is due to Tulsa's downtown. Fueled by massive oil fields discovered in the region, this city in northeastern Oklahoma constructed office buildings, churches, and schools in the emerging art deco style as it grew rapidly in the early 1900s. While it's common in New York to see elaborately adorned, sleek buildings stretching toward the stars, structures that appear to be inspired by the Empire State Building are not very common in the wide-open prairies of the Great Plains.
But Tulsa is so much more than its impressive art deco architecture and oil-rich history. Here's how to spend a perfect weekend in this unique city.
Things To Do In Tulsa
Admire The Art
Once the family home of oil executive Waite Phillips, the Philbrook Museum of Art is a sprawling 72-room Italian Renaissance villa filled with beautiful works of art from around the world. As you stroll through the three-story building, you'll find European paintings hanging above travertine fireplaces and impressive sculptures sitting on polished wood floors. African masks, Native American pottery, and modern works of art fill rooms with stained glass windows and ornate ceilings.
Every bit as impressive as the mansion and art collection are the well-maintained 25 acres of green space that surround the home. Step into the formal garden, where the calming sound of a waterfall guides you down the paved path to the koi pond that once served as a swimming pool. And don't miss the impressive view from the pergola of the white marble mansion as it glistens on the hill.
Tulsa's two most prominent museums are alike in several ways. Both the Philbrook and the Gilcrease Museum were made possible by success in the oil industry. Their namesakes were self-made men who worked hard to realize success. But unlike Phillips, Thomas Gilcrease was a member of the Muscogee (Creek) Nation, the fourth-largest tribe in the United States. It was this part of Gilcrease's heritage that inspired him to build a collection of objects that honored Native American history and culture. Atop a hill on the northwestern edge of Tulsa, the Gilcrease Museum boasts the world's largest collection of Western American art and more than 250,000 Native American artifacts.
Get Some Fresh Air
There's plenty to do outdoors in Tulsa.
Stretching along the east bank of the Arkansas River, the Gathering Place is a 100-acre public park just south of downtown Tulsa. Enjoy the tree-lined trails, explore the gardens, or dine al fresco at one of the destination's three eating establishments. You can also rent a kayak, canoe, or paddleboat and explore Peggy's Pond. Be sure to consult the Gathering Place calendar for special events like outdoor concerts, nature walks, and seasonal activities. If you're visiting Tulsa with your dog, your four-legged bestie will enjoy the dog play group on Wednesdays at 9 a.m. This is the only time pets are allowed at the Gathering Place.
On the northwestern edge of town bordering the Osage Reservation, the Tulsa Botanic Garden is a four-season outdoor experience. Admire thousands of blooming bulbs in the spring, and watch for fluttering butterflies in the summer. Savor the last colors of the season in the fall, and celebrate the holidays at the Garden of Lights festival.
Learn About Black History
While we certainly studied the civil rights movement in school, I didn't know anything about the Tulsa Race Riot until just a few years ago, even though it was one of the worst instances of racial violence in American history. To learn more about the black community that was thriving despite the segregation laws that treated a portion of Americans as second-class citizens, start by visiting John Hope Franklin Reconciliation Park. Through a series of statues and signs, this quiet green space invites visitors of all backgrounds to learn about the sacrifices made by black Americans and Native Americans over the past 400 years.
Then head to the Greenwood Cultural Center to learn more about the area known as Black Wall Street. The exhibits highlight the community's prosperity and educate visitors on the horrific events that unfolded at the end of May 1921, killing hundreds of residents and leaving homes and businesses in ruin.
Pro Tip: For a richer experience in the Greenwood District, book a guided tour with the John Hope Franklin Center for Reconciliation. And don't leave the Greenwood District without visiting Wanda J's for some of the best fried chicken and greens you'll ever eat!
Cheer On The Home Team (Or Enjoy A Concert) At ONEOK Field
Tulsa's historic Greenwood District is also home to ONEOK Field. During soccer season, you can cheer on the city's professional team, FC Tulsa. And when baseball is in full swing, you can root for the Drillers, the city's minor league team. Concerts are held throughout the year at ONEOK Field, and you can also take a stadium tour.
Get Your Kicks On Route 66
Known as the Mother Road, Route 66 cut diagonally through Oklahoma, connecting Tulsa and Oklahoma City as it stretched from Chicago to Los Angeles. While President Dwight D. Eisenhower's Highway Act of 1956 ultimately replaced the historic highway with a series of interstates, nostalgic travelers still explore sections of Route 66, scouting for abandoned relics, roadside attractions, and renovated sites.
In Tulsa, you'll find a wide range of Route 66 experiences tucked between the eastern and western gates that arch over the historic road. Some of the most notable include:
East Meets West: At the symbolic midpoint of the Mother Road, a large sculpture at the Cyrus Avery Centennial Plaza illustrates what it was like when horse-drawn wagons from the oil fields would meet up with automobiles and jockey to get past one another on the narrow road.
Meadow Gold Sign: This historic neon sign was saved when its original location was demolished. The sign from this popular dairy company now sits atop a new brick loggia along Route 66.
Buck Atom's Cosmic Curios: Come see this larger-than-life fictional space cowboy as he stands watch outside a curios shop in the Pearl District. And for more cosmic fun, you can book Buck's Cosmic Crash Pad!
Just east of Tulsa, roadside attraction fans will want to stop to see the Blue Whale of Catoosa. This smiling blue whale floating in a pond along the road is one of the iconic stops along Route 66 in Oklahoma.
Pro Tip: While it's not along Route 66, the Golden Driller Statue is a must-see for roadside attraction lovers visiting Tulsa. You'll find the 75-foot tawny giant standing outside the Tulsa Expo Center with his arm resting on an oil derrick.
Best Restaurants In Tulsa
Antoinette Baking Company
The most important meal of the day is full of my favorite things to eat. So it's no surprise that I fell head over heels in love with Antoinette Baking Company at first bite. If you're in a hurry, grab a coffee and a croissant, muffin, scone, or other bakery case item to go. Or, if you have a little more time to linger, sit down to a warm slice of quiche featuring fluffy eggs poured into a buttery crust.
Mother Road Market
To sample a wider variety of Tulsa's food, head to Mother Road Market. This red brick building just south of the old Route 66 is a food hall that brings nearly 20 local restaurants, breweries, and retailers together under one roof. So, if you're visiting Tulsa with a group, it's the perfect way to satisfy everyone's cravings, from tacos to tuna rolls and from pizza to Philly cheesesteaks.
The Tavern
For a modern take on pub favorites, check out The Tavern. Located in the heart of the Tulsa Arts District, it's a deliciously homey place for lunch, dinner, or brunch. Try the Tavern Burger that tops a beef patty with Stilton cheese and mushroom cognac cream. Or dig into the Angry Mac & Cheese that adds minced garlic and smoked Gouda to this breadcrumb-topped classic comfort food.
Best Hotels In Tulsa
Hotel Indigo
With its oil field-inspired art deco design and amazing views of the Blue Dome District, Hotel Indigo is a convenient and comfortable boutique hotel in downtown Tulsa. But before you retire to your room for the evening, head to Roof 66, Hotel Indigo's rooftop bar, where you can take in Tulsa's glittering skyline at night or enjoy a nightcap by the fire.
Pro Tip: For the best views of the Blue Dome, request a room in the southeastern corner of the hotel.
The Campbell Hotel
Mix luxury with history with a stay at The Campbell Hotel. Located on the historic Route 66 just south of the University of Tulsa, this 26-room boutique hotel includes a full-service spa and salon.
Courtyard Tulsa Downtown
Embrace Tulsa's art deco vibe by staying at the Courtyard Tulsa Downtown. Located in the heart of downtown, this Marriott property is right next door to the historic Philtower Building and just a block from Decopolis, Tulsa's art deco museum.
Postoak Lodge & Retreat
Less than 10 miles from downtown Tulsa, you can substitute art deco skyscrapers for the natural beauty of the Osage Hills at the Postoak Lodge & Retreat. There are lodges with anywhere from four to 18 bedrooms, and each includes a kitchenette (with a fridge, microwave, and coffee maker) and a covered front porch that will allow you to soak in your surroundings.
From art to architecture and food to fresh air, there are so many ways to spend a perfect weekend in gorgeous Tulsa, Oklahoma.