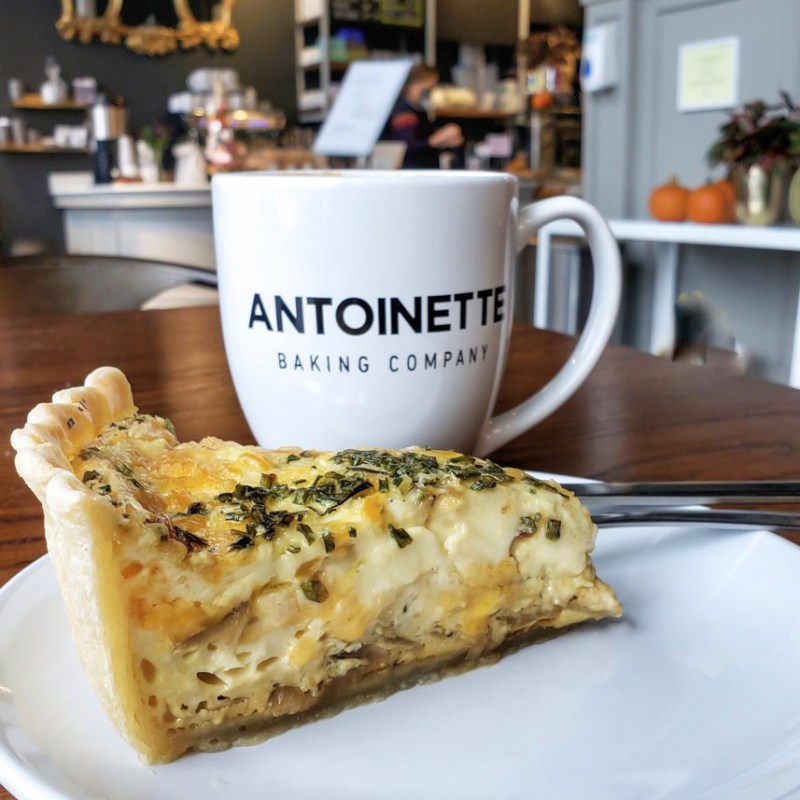 Scrolling through Tripadvisor's recently published list of emerging world destinations, you might be surprised to see that Tulsa is the only U.S. entry — unless you've spent time in the Sooner State's second-largest city. Then you already know that this art deco gem, about 90 minutes east of Oklahoma City, is packed with things to do and offers delightful places to stay.
The city's Native American, African American, and European American communities have shaped Tulsa over the years, and their history and culture are infused into the city's food scene. When you explore Tulsa's new kind of energy, these fantastic restaurants provide the best flavors in T-Town.
1. Antoinette Baking Co.
From flaky croissants to macarons in every color of the rainbow, Antoinette Baking Co. is the perfect place for pastry lovers, coffee fiends, and anyone with a sweet tooth. If you're in a hurry to see Tulsa's sights, grab a coffee and a bakery item to go. If you have time to linger, sit down and savor a wide variety of French-inspired breakfast and brunch items. Egg lovers will enjoy the quiche, fluffy eggs baked in a buttery crust, or herbed gougere, an oversized savory cream puff stuffed with cheesy scrambled eggs and bits of bacon. For something even more filling, try the Croque Antoinette, a grilled ham and cheese on brioche bread that's topped with bechamel sauce, a sunny-side-up fried egg, and grated parmesan.
2. Chimera Cafe
Right across N. Main St. from Antoinette Baking Co., you can enjoy breakfast fare and tacos all day at Chimera Cafe. If you're traveling with a food allergy or have a restrictive diet, Chimera offers a variety of vegan, vegetarian, and gluten-free options, including the pumpkin oat muffin, Daydream Nation tofu scramble, Kool Thing taco, and Monsieur Fromage sandwich.
3. Wanda J's
This soul-food restaurant is located on N. Greenwood Ave. in the Tulsa neighborhood known as Black Wall Street. Despite the oppressive segregation laws in effect at the time, Greenwood was one of the most prosperous African-American communities in the country until it was burned to the ground in 1921 by an angry mob in one of the worst race riots in U.S. history.
A century after the smoke cleared, a more mindful nation is visiting the Greenwood District to learn about the chapters in history that were often overlooked in school. As I enjoyed the best fried chicken in Tulsa with sides of collard greens and mashed potatoes smothered in gravy, a local film crew arrived, working on a documentary as the 100-year anniversary of the Tulsa race riots approaches.
Pro Tip: While the portions at Wanda J's are incredibly generous, be sure to save room for peach cobbler!
4. Elote Cafe And Catering
Enjoy locally sourced, fresh ingredients at this innovative Mexican restaurant on the edge of Tulsa's Art Deco District. Elote Cafe is known for its puffy dough, so be sure to try it wrapped around thick slices of avocados and topped with cream fresca in the fried avocado appetizer. As a main dish, you'll find puffy tacos offered with standard meat fillings, including shredded beef and free-range chicken. But you can also try them with more daring flavors like cilantro lime-glazed salmon, blackened jackfruit, and the vegan-friendly Beyond Beef.
While most of the country's green cities are located on the coasts, Tulsa stands out in the Plains states. So it's not too surprising that Elote Cafe is dedicated to sustainable practices like shopping locally, recycling, and composting.
5. Mother Road Market
Just south of old Route 66, this food hall unites nearly 20 local eateries and breweries under one roof, making it the perfect place to sample a wide variety of Tulsa's food scene. From rice bowls to ramen, pizza to pastries, and burgers to beer, you're sure to find many delicious options at the Mother Road Market.
Pro Tip: Get your Mother Road Market order to go and enjoy your meal outdoors in Tulsa. You can also dine al fresco by packing a picnic with fresh ingredients from The Fresh Market or a delicious selection of European-inspired meats and cheeses from EuroMart.
6. Jane's Delicatessen
Another great restaurant and bar along historic Route 66 is Jane's Delicatessen. Drawing inspiration from classic Jewish, German, and French-Canadian dishes, the menu presents a wide variety of options. If you visit Jane's for weekend brunch, order a bagel lox or a lox board with thinly sliced salmon, cream cheese, red onion, and capers. For something truly unique, try the babka bites, chunks of sweet, buttery, cinnamon-ribboned yeast bread wrapped in bacon and fried in pancake batter. Or check out the breakfast poutine, which adds bacon, sausage, and two eggs to the traditional Canadian dish.
For lunch or dinner, pair a classic Reuben sandwich of corned beef, sauerkraut, and swiss piled on rye bread with a German-style beer. Or travel to Bavaria with the wiener schnitzel served with spaetzle and a rich brown gravy.
Pro Tip: Attached to Jane's Delicatessen, The Campbell Hotel is a great boutique accommodation in Tulsa.
7. Tally's Good Food Cafe
For classic American fare at a long-time local favorite, swing by Tally's Good Food Cafe along Route 66. This diner embraces the Mother Road's heyday with its checkerboard flooring, red-topped tables, and neon signs. With more than 100 dishes on Tally's extensive menu, it can be hard to decide what to order. If it's a burger you're craving, Tally's has everything from classic to exotic. Keep things simple with an original burger topped with lettuce, tomato, mayo, and cheese, or go big with the Elvis burger, topped with pepper Jack, avocado, and jalapeno, or the chili burger, smothered with beef-and-bean chili. If you like onion rings, you'll love Tally's hand-battered, deep-fried rings as your side dish.
Another solid choice is the tender, hand-breaded chicken fried steak, touted as the best on Route 66. It comes with two sides (I recommend the mashed potatoes and green beans) and a freshly baked dinner roll. And, speaking of rolls, whether you order it for breakfast or as a dessert, don't leave Tally's without trying a homemade cinnamon roll.
8. The Tavern
For brunch, lunch, or dinner, The Tavern, located in the Tulsa Art District, is a fresh take on classic pub favorites. On the rainy day when I visited most recently, the Angry Mac and Cheese with smoked Gouda and breadcrumb topping was just the comfort food I needed to sweep the clouds away. Another delicious option is the Tavern Burger. It features a beef patty topped with Stilton cheese and a mushroom cognac cream sauce. If you'd like to pair your meal with a cocktail, consider the bacon-infused Old Fashioned, made with bacon-infused bourbon and pure maple syrup.
Pro Tip: If you're looking for a change of scenery, Tulsa Remote is offering remote workers $10,000 to move to Tulsa, Oklahoma, for a year.
9. Juniper
With a menu that changes with the seasons, Juniper is a delicious, upscale farm-to-table restaurant in Tulsa's Blue Dome District. To sample a wide variety of Chef Justin Thompson's dishes, consider the tasting menu. This five-course prix fixe option typically features a seasonal appetizer, salad, fish, entree, and dessert and can be enjoyed with (or without) a wine pairing.
Pro Tip: As you explore Tulsa's Blue Dome District, colorful murals are sure to catch your eye. Discover the best murals in Tulsa with this guide.
10. Sweets And Cream
Top off your culinary adventures in Tulsa with a sweet treat from Sweets and Cream. Located on historic Route 66, this local gem is a build-your-own ice cream sandwich experience that allows you to pick your cookie or brownie "bread" and then fill it with rich Hiland ice cream. Choose from classic cookie flavors like chocolate chip and peanut butter, or go a bit more unconventional with lemon, snickerdoodle, or red velvet. As for the ice cream interior, keep things simple with vanilla, chocolate, and strawberry, or go more exotic with flavors like candy bar crunch or whitehouse cherry.
Bonus: Local Microbreweries
If beer is your thing, enjoy Tulsa's craft scene by touring local microbreweries. Housed in a former Ford showroom, Prairie Brewpub offers delicious pub food paired with beers brewed on site. Try the jalapeno and cream cheese burger with a pint of 27 Days in the Shade. Beer lovers will also want to visit American Solera, Marshall Brewing Company, and Welltown Brewing to round out their Boomtown beer adventures.
Further Reading: