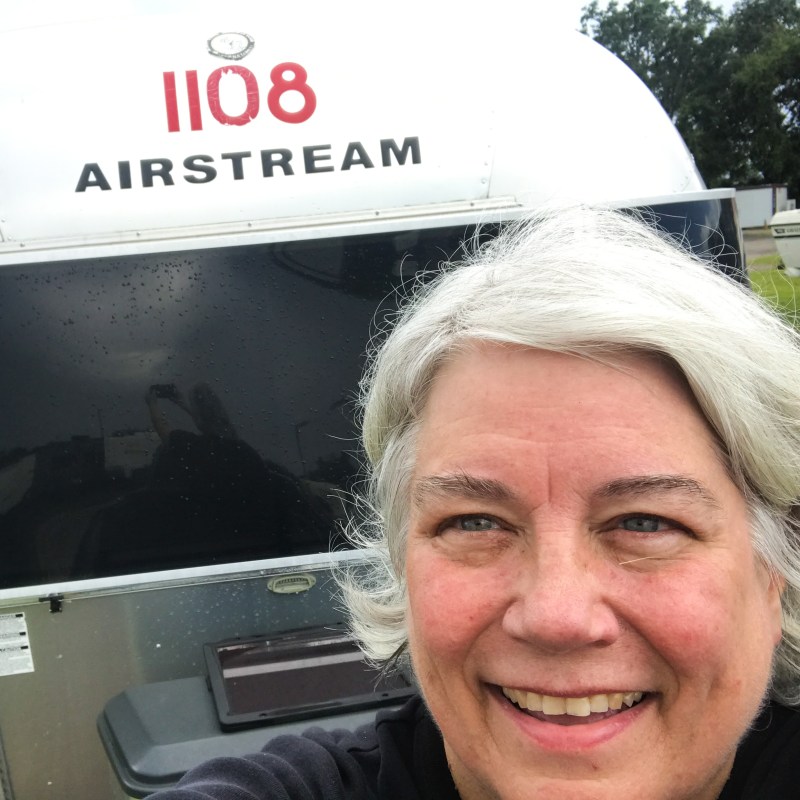 You have your RV, you have a destination, and you're ready to have the time of your life! Then you realize you are taking on a trip alone. Is that realistic? Of course it is, as long as you keep a healthy perspective.
I've been traveling solo in an iconic Airstream travel trailer for over a year and I'm here as a cheerleader for women who want to take this on as solo travelers, too.
It's Customizable
Traveling solo is a completely customizable experience. When it comes to solo RV travel, your interior can be crafted to your unique tastes. Inside, you are the decorator and organizer, deciding where things go in the cabinets, what throw pillows to put out, and what kind of patio set-up you'll have at your destination. There are no family decisions, just yours. There are no hassles of sharing a small space, because it's just you (and maybe a pet).
It's Rewarding
When you travel solo, you travel with power and freedom. You are the boss and what you say goes. All the choices are yours and there is no one to backseat drive or second guess. We women are sometimes more likely to assume the role of compromiser or peacemaker. Traveling solo requires none of that.
Of course, with great power comes great responsibility. There is no one to blame or shame. There is no one to bounce your ideas off of. And that may be a role that requires some adjustment. For other women who are used to being in charge, welcome to a new level of it. There are no boundaries when traveling solo in an RV except how many miles you can physically travel and how much money you have to get where you're going.
RV travel can be slower than a car. It requires defensive driving and a slower speed. While the speed limit in Montana may be 80, your rig may not be able to pull those MPHs. But the reward is being able to stop and see the sights, take in the scenery over a picnic lunch, or camp under stars that are dazzling.
It's Adventurous
Whatever travel style you choose, whatever RV you select, they all lead you to adventure. You may seek your adventure in the Rockies or in Alaska. Or your adventure may be found in a nearby state park. When you commit to traveling solo in an RV, you just need to get in, drive, and camp. Wherever you are is where you will find adventure. But to find it, you will need to get out of your RV and explore.
Walk a trail, build a campfire, sit outdoors and catch a glimpse of nature, go see a natural wonder, make new friends with fellow campers. All things are possible when you open yourself to having adventures.
One of the best adventures I had was boondocking — or dry camping in a spot that doesn't have hookups — in southern Utah where the scenery was stunning. Sunsets on the mesas were memorable. Meeting new people who were also camping there was fun, too. But surviving the night in a free-for-all wind storm was an adventure!
Maybe you'd like a tamer adventure. Get off the interstate and follow a scenic byway or historic Route 66. You may find a small town that has charm or history, winding roads that provide incredible views, or novelties long overlooked. It's all out there for the taking.
It's Humbling
The responsibility of traveling solo falls on you alone. When something goes wrong — and it will — you have to find the wherewithal to get it handled. Be prepared with a checklist for hitching and unhitching at your campsite and have some household tools handy along with work gloves to protect your nails!
Accept that you may not be prepared for everything. When RVs bump down the road, screws loosen and things jostle and break. Before you start driving, make sure things are put away, windows are locked, and the antenna is down. Just like in a house, toilets clog, propane runs out, batteries die, fuses blow, and you have to dump your own sanitation tanks. There is no partner to call upon to do the heavy lifting or the yucky chores.
You will have to tighten the hinge, unclog the toilet, and dump your tanks or hook up to the sewer port on your site. But when you meet the task, you win. You are accomplished. You've done it. You are resilient. That's a fantastic feeling!
It's Alone Time
Even if you live alone in your house, when you go out on the road, being alone is quite different. Your routine crowd of friends is not going to be with you, or even nearby. You'll have that wonderful alone time. Along the way you'll make some new friends. It may be neighbors in passing whom you'll never see again that you share a glass of wine with. It may be neighbors that become friends you'll see when you return to that campground.
When you stay a few weeks or a month in one place, you will meet people and feel a sense of community. The bonus, at least for me, is that I get as much alone time as I want to have. I can linger over that cup of coffee in the morning without any harangue to get going. I can opt to write all afternoon without hesitation that I should be doing something with my partner. It is deliciously opulent to have such time to oneself.
It's Overwhelmingly Fun
When you are cresting over a mountain and find yourself on the downside hoping your engine braking is going to keep you steady, you may be overwhelmed by both the task and the beautiful vista. When you are driving on an open stretch of road with few others, the vast sky and landscape before you can be simultaneously isolating and breathtaking. Be present to your situation and have fun. Revel in what you are doing in every moment. How many people do you know that can say I tackled a mountain or a prairie? What visual memories will you be able to share with your friends back home or your children about your encounter with a chipmunk at your campsite or the bald eagle that flew across the road in front of you? Soak it up and drink it in. Take lots of pictures. Keep a journal of your daily adventures and experiences.
It Evokes A Sense Of Wonder
Solo traveling as a woman in an RV is a wonder to many people, especially some men. They are often quite surprised that you travel alone and sometimes take affront that you would even try. Many women say, "Oh I couldn't do that. My husband drives," or "It's too hard."
Women drive and it's not too hard! It's a wonderful experience. I have my own safety protocols and think ahead to ensure I do not put myself in a situation where it might be more dangerous than I can handle. I won't stay in a remote campground where there is no cell service unless I know there are other campsites reserved and rangers or camp hosts will be coming around. I won't hike alone in isolated woods or back country because if I fall and break something, no one will be there. I especially will not hike alone in bear country, even with bear spray. If you are a seasoned hiker and light on your feet, then go for it.
Know your abilities and know your limits. In my travels, I've yet to encounter any danger from man or beast, except from my cat who gets tired of riding in the truck.
Being a solo woman in an RV is worth all the lessons on balance. It's rewarding and humbling, fun and adventurous, and definitely worth doing. My advice is to take it slow to avoid mistakes and missteps. Be present in each moment and drink it all in. Make it your own adventure and lifestyle. No two of us do it the same way. Most of all, have fun.