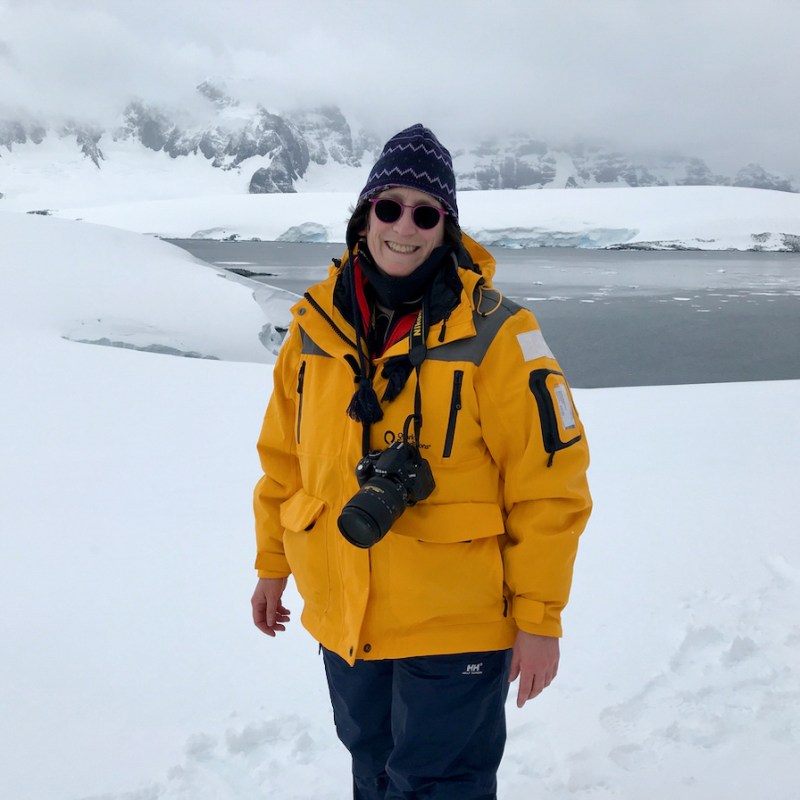 Antarctica was my dream. For 25 years, I planned to go to Antarctica for my 50th birthday. I finally turned 50, and the great moment was spent in … Easter Island and the Atacama Desert. It was a spectacular trip, but not Antarctica.
I finally made it to Antarctica when I was 56 (more on that below). After that, I realized that I had been to six continents. Only Australia (Oceana) remained. Last year, I went to Melbourne. We only touched the tip of the iceberg, so to speak, in Australia. Was it a big wow moment to be on all seven continents? Well, there were a lot of wows on the journey to that point.
My three favorite places on all seven continents feels impossible to write. I could probably name 10 places on each continent. I visited all of these places with my spouse (Regina Ang), with the exception of Antarctica and the Galapagos Islands.
Experiencing Antarctica
Antarctica is a privilege to see. I spent so much time researching it, I wondered if it would live up to the billing. It did.
Jumping In The Southern Ocean
Antarctica is surrounded by the Southern Ocean. Since I signed up to kayak, I had a very intimate experience of the ocean. While kayaking, I saw a minke whale breach, a glacier calve, and penguins swimming right beside me. For an even more personal experience, I did the polar plunge and jumped into the ocean. Yes, it was freezing.
Kayaking On To The Fast Ice At Jougla Point
Due to icebergs, we were unable to cruise the Lemaire Channel. Instead, we ended up at Jougla Point for an amazing experience on fast ice. Fast ice is ice that juts out from the land over the ocean. We launched our kayaks onto the ice and later came back around and walked on it. It was a unique experience feeling the ocean under the shelf of ice.
Stepping On To The Frozen Continent At Brown Bluff
My first step on the continental landmass of Antarctica was at Brown Bluff. It is part of a glacial volcano on the eastern part of the Tabarin Peninsula. I saw Adelie and gentoo penguins returning to their nests. The furry gray Adelie penguin chicks were fun to watch and photograph. It was a joyous moment to be on the actual land of Antarctica.
For more on my experience there, read my TravelAwaits piece "I Took A Solo Trip To Antarctica And It Was Amazing."
South America
In South America, I've been to Peru, Brazil, Argentina, Bolivia, Chile, and Ecuador. South America has everything that I love — good food, ancient historical sites, natural wonders, and more. Plus, I get to practice my very bad Spanish.
Visiting The Moai At Rapa Nui
The Moai and the history of Rapa Nui (Easter Island) are beautiful, painful, and tranquil all at once. The Moai are huge, some weighing more than 80 tons, and were moved all over the island. No one knows how the island's inhabitants did that. At the same time, the island is the story of environmental catastrophe, deforestation, and colonization. Since we went in the offseason, we had time by ourselves with the Moai to be with all of this history. The remote island is devastatingly beautiful and the history should be experienced.
Intrigued? Consider these seven quick facts about Easter Island's Rapa Nui National Park.
Cruise The Galapagos Islands
I went to the Galapagos Islands almost 20 years ago. My mother was celebrating her 72nd birthday with her daughters. This was before overtourism hit the Galapagos, and we had much more time on the islands than people do currently. From blue-footed boobies to flightless cormorants to penguins to seals, the Galapagos was a very unique experience.
Planning a trip? Here's our guide to the Galapagos Islands: How to plan an amazing bucket-list trip.
Visit Sun And Moon Island And Lake Titicaca
Lake Titicaca is on the border between Peru and Bolivia. It is a beautiful lake with two sacred islands. Sun and Moon Islands are considered to be the birthplace of Manco Capac and Mama Ocllo, the first founders of the Inca empire. We did a lovely hike on Moon Island to see Inak Uyu, believed to be the ruins of the ancient convent Virgins of the Sun. At 13,000 feet, the lake is one of the highest in the world, and our guide carried oxygen in case we needed it.
Equally Worthy: Machu Picchu and the Sacred Valley (Peru), La Paz (Bolivia), the Museum of Memory and Human Rights and Atacama Desert (Chile), and Tierra del Fuego (Chile).
History And Safaris In Africa
My first trip to Africa was in 2004 when we took a safari in Tanzania and Kenya. After that, we went to Egypt, Morocco, and South Africa.
Go On A Safari In Ngorongoro Crater In Tanzania
Ngorongoro Crater is one of the best places to see wildlife in the world. My favorite experience in the crater was spotting an endangered black rhino sleeping. There were only eight left in the crater. We waited 45 minutes for the rhino to wake up to get a photo. It woke up, peed, and wandered away. We captured a wonderful picture of a rhino peeing.
The Awe Of Abu Simbel
There is so much to see in Egypt and, just like everywhere else, it's impossible to pick just one attraction. I will anyway. Abu Simbel is immense. The seated statues of Ramses are nearly 70 feet tall and the temples even larger. It was carved out of a mountain in the 13 century B.C. Abu Simbel took my breath away.
Taking A Shark Cage Dive In South Africa
There is much to do in Cape Town, South Africa. Going on a shark cage dive was one of my favorites. I donned a wet suit for the early morning boat ride. As I entered the cage, I wondered if it was the right thing to do. Within a few minutes, a shark came swimming by. I was so excited yet petrified, I almost dropped my camera. Its teeth were so sharp and big. Then a stingray swam by, and more sharks, and it made my day.
Equally Important: The museums in Soweto and on Robben Island devoted to the anti-apartheid struggle are a must-see. I also loved our sunrise balloon ride over the Serengeti and our visit to a youth theater program in Kisumu (Kenya) on Lake Victoria. The Jewish history of Essaouira (Morocco) moved me.
Asia
I've spent a lot of time in Asia. Regina is from Singapore, and we are based there in the winter. So far, we have been to 11 Asian countries, some multiple times.
Taking A River Cruise In Borneo
Borneo had been on my list for a long time. We were not thrilled about trekking through the jungle for hours and didn't want to just go to an orangutan reserve. When we found a river cruise on the Kinabatangan River, we jumped on it. Seeing the proboscis monkey with the bulbous noses, the endangered pygmy elephants, and the hornbills was fun. And then we saw the orangutans in the wild. It was definitely a bucket-list trip.
The Peacefulness Of Angkor Wat
We were fortunate to go to Angkor Wat in Cambodia 20 years ago — before the crowds arrived. I had one of my most magical travel experiences there — watching a French ballet troupe dance in the evening with the famous temple in the background. This was well before the four-wheel-drives and helicopter tours arrived.
Memories Of Tibet 20 Years Ago
Tibet is a mystical place. We were fortunate to spend three days in Lhasa. The Potala Palace and murals were exquisite. A visit to a school for the visually impaired was very impactful. It was still majority Tibetans in Tibet, which allowed us to experience the spirituality, culture, and beauty of the Tibetan people.
Equally Notable: Singapore is one of my favorite cities in the world. Also high on my list are Borobudur, Sri Lanka, the terra-cotta warriors in China, and Petra, Jordan in central Asia.
Europe
I've been to 22 countries in Europe, some multiple times. There are still many more places to see.
Tromso And Kirkenes In Norway
The northern lights (aurora borealis) was on my bucket list. For some strange reason, sleeping in an ice hotel was also on the list. Norway offers both. The only issue? You have to go in the dead of winter. The aurora is never a guarantee and often doesn't come out until 1 a.m. or later. We waited in the cold for hours to finally see the lights, arriving back at our hotel at 3 a.m. A few nights later, we went above the Arctic Circle to sleep at the Snow Hotel. Yes, the hotel and rooms are made of ice. In the morning, we raced to the sauna to defrost.
If you want to see the aurora yourself, consider checking into one of these 10 hotels with northern lights views.
Stroll Paris, The City Of Lights
Paris, the City of Lights, captured my heart on my first trip. The food, the museums, and the gardens are exquisite. I can walk the streets for hours. It's also a great place for street art. With plenty to do indoors and outside, it's a city for all seasons. Musee d'Orsay is our favorite museum, followed closely by the Rodin Museum. The Marais is our favorite neighborhood for walking.
Pay Respects In Auschwitz, Poland
Auschwitz is more an important place than a favorite place. In order to understand the history of Europe, I had to experience being at Auschwitz. Over 1.1 million people — Jewish, Roma, LGBTQ+, leftists — were murdered in the crematoriums. It's an important history to touch and feel. Make sure to leave space and time for the emotions during and after seeing Auschwitz.
Editor's Note: We also recommend reading up on these 12 unwritten rules about how to respectfully visit Europe's concentration camps, written by a full-time traveler who has visited six European concentration camps and WWII sites across the continent.
Equally Important: Rome, Cordoba (Spain), Budapest, Iceland, Evora (Portugal), and many more.
North America
Visit the Bears In Lake Clark National Park
The bears in Alaska were calling my name. A one-hour prop plane flight brought us to Silver Salmon Creek Lodge. Our first sighting — a mother and two cubs digging up clams — happened as soon as we landed on the beach. The bears had plenty to eat and paid us no mind. After that, we saw bears as they lived and played from sometimes as close as 30 feet.
Take A Road Trip Around Arizona
The Grand Canyon and Monument Valley are the most famous places in Arizona. Both are spectacular. We also loved Antelope Canyon, Montezuma Castle National Monument, and Canyon de Chelly. There are hundreds of archeological sites around Canyon de Chelly. Most are sacred places for the Navajo people. We went in the winter, which gave us a different and intimate experience.
Enjoy The Big Apple: New York City
I have lived in New York City for most of my life. I love The City That Never Sleeps. Some of the best and most unique museums in the world. The originator of street art. LGBTQ+ history. The best restaurants with cuisine from every place in the world and at every price point. Broadway, off-Broadway, and off-off-Broadway. Good for any time of year.
Equally Noteworthy: Acadia National Park in Maine, the Delaware Water Gap (New Jersey and Pennsylvania), Philadelphia, Provincetown, and New Orleans.
Australia (Oceana)
I've been to Melbourne, Australia, and we are planning to explore New Zealand next year.
Drive The Great Ocean Road
The scenery along the Great Ocean Road is a must-see. I did it as a day trip, but it's much better to do a weekend trip and take your time to savor the sites. Don't miss the 12 Apostles. It is best to go early in the morning or at sunset to avoid the tour bus crowds.
Street Art Melbourne
Melbourne is a wonderful city with a thriving street art scene. The street art alleys in the center of town are full of great art. The Fitzroy and Brunswick areas also have a lot of art and cafes and are reachable on the tram.
Catch The Tennis At The Australian Open
I've been to all four Grand Slam Tennis Tournaments — the US Open, Roland-Garros, and Wimbledon. The Australian Open was my final slam and instantly became my favorite. It is the most accessible and family-friendly of the Slams.
Pro Tips
Go to the places that interest you. Don't be on the country or continent conveyor belt.
Many places on this list are now experiencing overtourism. Try going in the off-season or during shoulder season. Or a comparable place off the beaten track.
When traveling in shoulder or off-season, pack for the worst possible weather, not the ideal scenario.
It took more than two decades to see all of these places. Take your time and savor the experiences. Don't rush through to check off a bucket list.