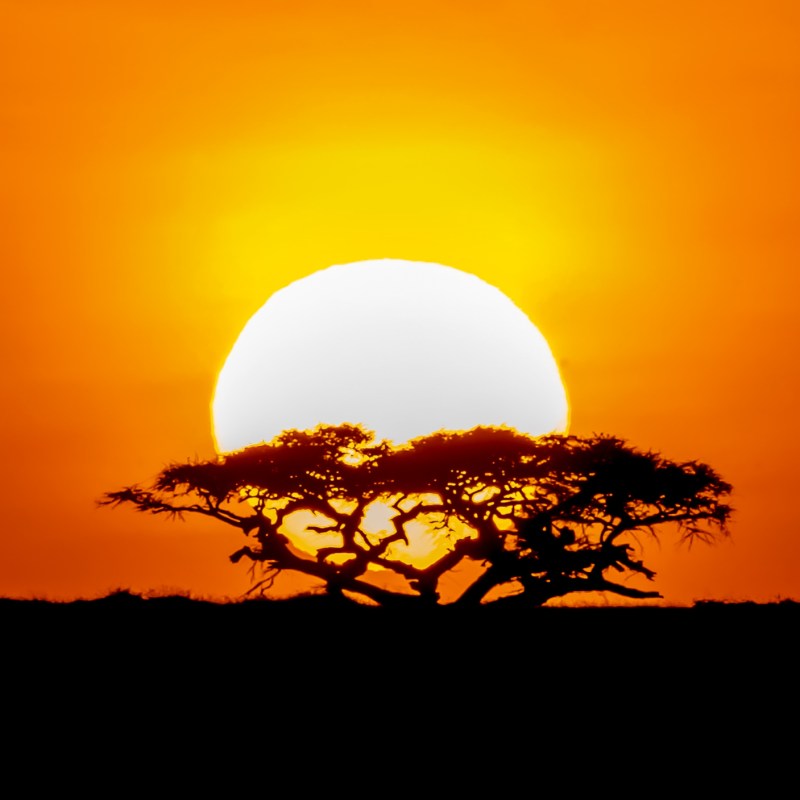 Diverse wildlife is one of the many reasons a Tanzania safari should top your bucket list, but visiting Serengeti National Park is about more than just capturing pretty animal photos. Tanzania is one of the best places to watch the circle of life unfold; it's also one of the few destinations where you can witness massive wildlife migrations, then unwind with a beer at the fireplace with a soundtrack of lion or hippo sounds in the background.
A Tanzania safari is the ultimate travel adventure. You'll never know what to expect on a trip. In some cases, the trip is full of lions traversing the Central Serengeti with their young. Other times, you might follow the rains to catch that once-in-a-lifetime glimpse of wildebeest crossing the Mara River from Tanzania into Kenya — only to find yourself caught in a treacherous rainstorm en route to camp, when you just so happen to spot lions playing in the puddles.
I've experienced a Tanzanian safari five times now, and there's a reason I keep going back. From wildlife to epic flavors, here are 11 reasons you should add a Tanzania safari to your bucket list now.
See The Big 5
Most people visit the Serengeti for the chance to witness Africa's "Big Five" game animals — the lion, leopard, rhinoceros, elephant, and Cape buffalo. It's common to see animals like the lion, elephant, or buffalo on any trip, but the elusive leopard and rhinoceros are trickier to spot. That's why you'll want to splurge on an expertly trained guide. I've gone with Africa Dream Safaris every time because the guides are top-notch and they're treated well.
It's tougher to spot rhinos in the Serengeti — I have yet to see one in this park — but if you participate in a drive through the Ngorongoro Crater, you'll almost always see one from a distance. The crater trip usually ends any safari, and if you don't see it on your itinerary, it's definitely worth adding.
Learn About Unusual Animals
While the Big Five are some of Africa's best-known animals, the Serengeti is home to some rare and unusual wildlife — 500 bird species and 300 mammal species, to be exact. Some of the rarest species include the nocturnal caracal cat (which I actually spotted in 2014!), the wild dog, and the bat-eared fox.
But animals don't have to be rare to be special. You'll see zebra, giraffe, eland, warthogs, and vultures almost daily. Seeing the tougher-to-spot cheetah and hyena make for an experience straight out of The Lion King.
Witness The Wildebeest Migration
The wildebeest migration is one of the most impressive migrations in the world. During this annual migration, over two million wildebeest, zebra, and gazelles move from Tanzania's Serengeti to Kenya's Masai Mara, crossing the treacherous Mara River (where hungry crocodiles await). The animals migrate to follow Africa's rains, seeking lush, green feeding grounds. The migration typically crosses from Tanzania into Kenya in July and August, then back into Tanzania around October. I was lucky enough to see the migration — and one crocodile hunt — during my October 2018 safari in northern Tanzania.
Safari companies almost always follow the great migration for the chance to see not just huge numbers of animals, but the numerous predators, like lions, that follow. You can rest assured your safari company and guides will map the right rain-following route for you.
Watch Wildlife For Hours
Whether you're on a group or private tour, you'll have hours and hours to gaze upon wondrous wildlife each day. I've opted for private safaris so my traveling companions and I could spend sunrise to sunset out in the bush (rather than. heading back to camp to lounge). Our days have started with breakfast on the plains and included picnic lunches overlooking herds of zebra or wildebeest between hours of trusting our guide to find on-the-hunt cheetahs and prides of lions playing.
If you're up for it, some camps like Tarangire Treetops offer night safaris where you can go out and try to find more elusive nocturnal animals, too.
Experience Authentic Africa
When most people think of Africa, they picture vast, untouched landscapes with acacia trees and wildlife (books like Out of Africa definitely played a part in painting this picture!). In the Serengeti, this image becomes reality. The wide-open prairies stretch into the horizon. You'll see wildlife almost the second you get off the plane. And the sun setting behind an acacia tree? It's almost impossible not to get goosebumps as these surreal moments unfold.
Observe The Circle Of Life
This one has always been tough for me as an animal lover, but it's an important part of any trip: You will witness the circle of life (as in, wildlife kills) while exploring the Serengeti. Guides are always keeping an eye out for soon-to-hunt cheetahs or even birds seeking their mid-morning snacks. While you are definitely not guaranteed a "kill" on any safari — it took me three trips before my first — it's definitely one of the most memorable experiences.
If you're an animal lover who gets sad about kills like me, remember this: If a cheetah can't hunt wildebeest, they'd have nothing to feed their cubs. If they can't feed themselves or their cubs, they would die of starvation — one of the cruelest deaths.
Eat Delicious Local Food
Yes, wildlife is the main reason a Tanzanian safari should be on your bucket list, but safari food is another great reason to make the investment of time and resources. Lodges prepare incredible local cuisine daily, with flavorful soups, fresh avocado, fried plantains, tasty meats, and spicy rice dishes that will overflow on your soon-to-be-clean plate.
The packed breakfasts and lunches are equally satisfying; I go home craving homemade spinach-and-egg quiche for at least a week!
Have The Ultimate Glamping Experience
Glamping in the woods is one thing, but glamping among 800 different wildlife species? It's pretty surreal. Of course, lodges are available for those who want a little more protection from the great outdoors, but glamping is perfect for those who want the true safari experience. On a glamping safari trip, you have the chance to sleep in more remote destinations like the Northern Serengeti. The starry sky is almost as epic as the zebra grazing on grass outside your door.
Each glamping ground has a tented lodge for lounging, eating, and drinking, with guides who will escort you to and from your tent to ensure your safety. Your safari company will typically suggest glamping sites based on where your itinerary takes you, which again, is dictated by the rains.
Wake Up To Wildlife Noises
Speaking of sleeping in the wild, few travel experiences can beat waking up to the sound of hippos grunting or lions roaring in the middle of the night. This isn't a rare occurrence; if you're glamping in the Serengeti, you'll inevitably hear at least two or three wild animal calls per night. I actually became so curious that I would tape these animal sounds on my phone so our guide could distinguish them for me the next morning!
Improve Your Photography
The Serengeti is one of the best places to test yourself as a photographer. You can try your wildlife photography abilities on animals at all distances (some as close as the hood of your car!). You can also play around with capturing golden-hour (sunset/sunrise) colors, which can make for breathtaking photos enhanced by the wildlife in the foreground.
Most of the prestigious safari companies have experience working with photographers. Africa Dream Safaris, for example, will provide photo bean bags to help steady your long lens when photographing at a distance.
Speaking of photography, if you have a DSLR or mirrorless camera, you'll want to bring a long lens — roughly 100 to 400 mm — as well as a wider lens for landscapes and, if you're interested, a prime lens like the 50 or 55 mm for photographing food and people (with their permission, of course).
Meet Tanzanian Locals
On a Serengeti safari, you'll have the chance to interact with and learn about culture from across Tanzania. You can ask your guide questions about culture, daily life, and contemporary issues to more fully appreciate the place you're visiting. The lodge staff is almost always willing to partake in these conversations, too.
Safari companies often take guests to local tribal villages as well; with Africa Dream Safaris, you can even coordinate a visit to the FAME medical clinic they support to learn about their work and, if you're interested, make a donation.
Things To Know Before Your Tanzanian Safari
To make the most of your once-in-a-lifetime Tanzania safari, here are a few things to keep in mind.
Bring Mosquito-Preventing Gear
The mosquitoes aren't just annoying, they can also infect you with malaria, so wear thick enough clothes that mosquitoes and flies can't bite through. I speak from experience, having suffered through a safari in thin leggings and sandals.
Avoid Navy Blue
Tsetse flies abound in the Serengeti, and they can spread sleeping sickness, not to mention nasty bites. Tough clothes will keep them from biting you, but avoid navy blue, too, as they're attracted to this color.
Bring Warm Clothes
I bet you didn't expect to pack warm clothes for a trip to sub-Saharan Africa, but the nights and early mornings can actually get pretty chilly. I always bring at least one sweatshirt and a light outer jacket or vest so I can remove layers in the Jeep.
Pack Motion-Sickness Medicine
If you're prone to motion sickness, beware: Being on Safari could mean some upset stomachs. The trip starts with a tiny plane ride into the Serengeti, followed by days spent in a vehicle. My fiancé is prone to motion sickness and only had issues on one especially bumpy day. Just pack your medicine to prevent any issues!
Tanzania is my favorite place in Africa, but it's not the only country worth a visit. Here's why South Africa belongs on your bucket list, too.