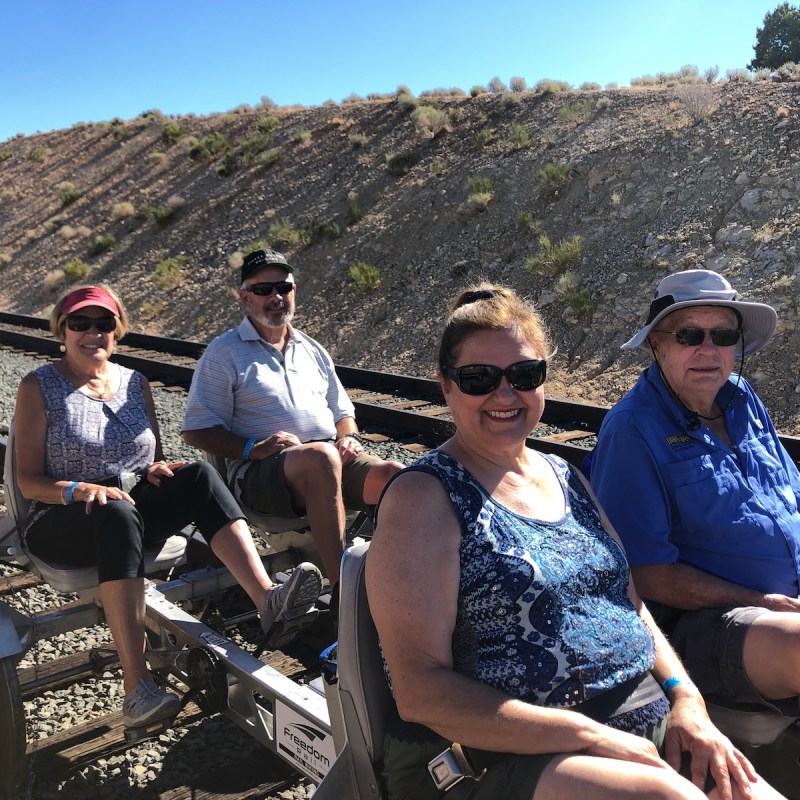 Have you heard of railbiking? As a seasoned traveler, I have learned that trying new experiences is the best way to enjoy a destination. Railbiking is a unique outdoor activity that has been gaining popularity in recent years. I went on my first railbiking adventure in Carson City, Nevada, with Carson Canyon Railbike Tours, and it was a fun experience.
I had heard about railbiking, and my husband is a big train fan, so I thought it would be a unique experience, and I'm always ready to try new things. However, I wasn't sure what to expect or whether or not it would be too strenuous. (It wasn't!)
If you're looking for a new way to enjoy the great outdoors, railbiking might be the answer. In this article, I'll share my experience and explain why everyone should try it at least once.
My ride with Carson Canyon Railbike Tours was complimentary. All opinions are my own.
What Is Railbiking?
First off, what is railbiking? Railbikes have been around for over a century, initially used by railway workers to travel along tracks for maintenance and inspection purposes. For those unfamiliar, railbiking is riding a specially-designed bike along abandoned railroad tracks. You can enjoy the scenery as you pedal along.
Today, railbiking has become a popular recreational activity in many parts of the world. Railbikes are typically designed for two or four people, so you can bring some friends or family members to join the fun.
Your Bike Options
There are a few different types of railbikes, so choosing the one that's right for you is important. A four-wheeled bike might be best if you're looking for a leisurely ride. That is what we rode. It was like a four-seated golf cart with pedals on old railroad tracks. If you're looking for something a little more adventurous, a two-wheeled bike might be more your speed.
Most places offering tours have the four-wheeled version that we enjoyed. But if you are purchasing your own, you can choose two-wheeled or four-wheeled. Remember, if you are buying your own, you must also find appropriate tracks to ride and transport your equipment to the location.
When railbiking with a tour company, they provide the bikes, tracks, and support.
Our Experience
My husband and friends, Bob and Sally, joined me on the railbike adventure. None of us had experienced it before.
There's something truly magical about riding a railbike along old railroad tracks. As you pedal along, you're treated to stunning views you might not see otherwise. The tracks usually wind through forests, fields, and other areas of natural beauty. During my railbiking adventure, we rode into Carson Canyon with the mountains as a backdrop. The first half of the ride was an easy coast downhill. We only had to pedal every couple of minutes. There was plenty of time to take in the scenery, snap photos, and even capture some video. After our railbikes were turned around and we had to pedal uphill, it was more work.
Railbiking Is A Group Activity
Another great thing about railbiking is that it's a fun group activity. I went with my husband and another couple, and we had a blast. We would all do it again if we had the opportunity. It's a fun and unique way to spend time with friends or family. Many railbike companies offer guided tours, which can be a great way to learn more about the area's history, geology, and ecology.
Surprises
What surprised me the most about railbiking was how easy it is to do. I'm not a fitness buff, so I was a bit apprehensive about pedaling for long periods. However, the railbikes are designed to be easy to pedal, even for beginners. You don't need to be in peak physical condition to enjoy railbiking, but you do have to be able to pedal for an extended period as you return up the canyon. Railbiking is suitable for all ages and most fitness levels. It's a great way to get some light exercise while enjoying the beautiful scenery. The amount of effort needed would depend on the rails' location. Depending on where you choose to railbike could make a huge difference during the experience.
Another thing that surprised me was that, even though there was a motorized engine on the bikes to help when you went uphill, you still had to do a lot of pedaling. It didn't just push you up the hill on its own, but it did give you a little burst of speed.
A pleasant surprise was how much help the Carson Canyon Railbiking Tours staff provided. When we got to the bottom of the canyon, we were able to take a break and enjoy the view while the team turned our bikes around. The same thing happened when we went beyond the station at the end of our trip.
What I Would Do Differently
If I were to go again, I would take a hat along. I was concerned we would move swiftly and the hat would blow off. But you don't go that fast and a hat would have shielded the sun.
Why You Should Give Railbiking A Try
Railbiking is a unique and exciting way to explore the local surroundings while getting a workout. It provides a sense of adventure and freedom and is a perfect activity for families, couples, or groups of friends. People of all ages can enjoy the activity. Railbiking is an excellent way to spend quality time with your loved ones while creating lasting memories outdoors.
It's an educational and family-friendly activity that teaches you about local history, geology, and the environment. You'll be able to learn about the history of the railroad and see some of the historical landmarks along the route. And if you are still wanting to do socially-distanced activities, it is perfect.
Pro Tips
Wear comfortable clothing for easy movement.
You will want to wear close-toed shoes or at least sandals with straps. Flip flops are a no-no since you risk getting your feet caught in the pedals.
Bring a refillable water bottle full of cold water. It is essential to stay hydrated.
Remember your sunscreen since you will be spending an extended amount of time outdoors.
Bring sunglasses and a hat to protect your eyes and face.
Have fun! Railbiking is a great way to see some beautiful scenery and get some exercise, so make sure you enjoy yourself!
If you're looking for a new way to explore the great outdoors, railbiking is definitely worth a try. It's a unique, fun experience with stunning views and light exercise. It's perfect for all ages (if they can reach the pedals) and fitness levels and is a great way to spend time with friends or family members. I highly recommend trying it if you're ever in an area that offers railbiking. I am grateful for the opportunity to try railbiking and hope you will try it too!
Unfortunately, railbiking in Carson City will not be available during the remainder of 2023. Please check the V&T Railroad website for the latest schedule.
Learn more about visiting Carson City, Nevada: