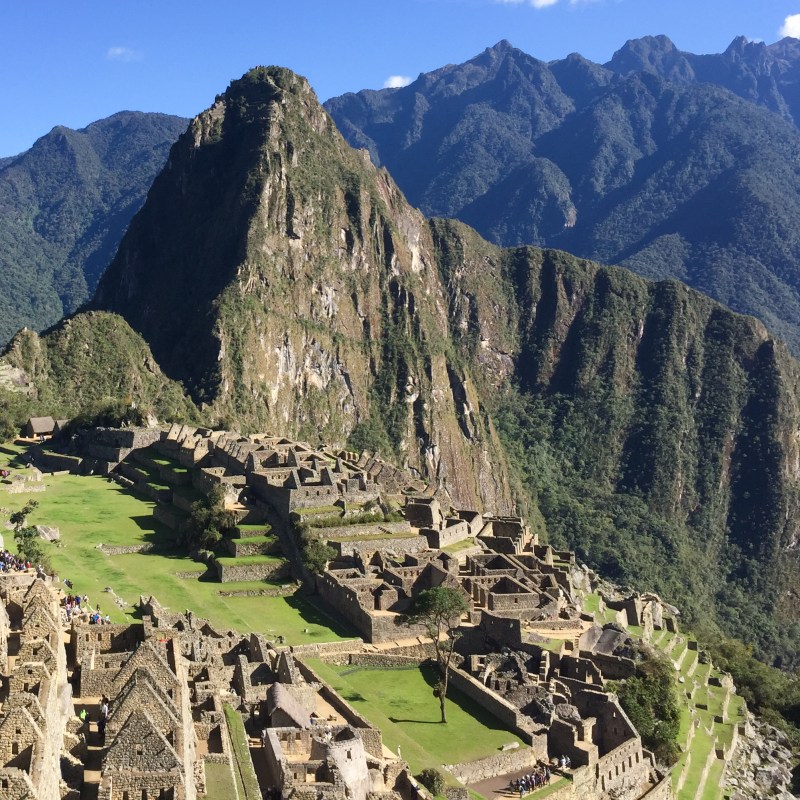 A day at Machu Picchu was the goal. But preparing for the multi-day hike to get there took considerably longer. Our trekking trio consisted of a "princess" not fond of tents, sleeping bags, or heights; one fit lady who had never traveled outside North America; and an outdoorsy gal who insisted on doing the trip with only a carry-on bag. Our friendship had been solidified playing recreational hockey in our 40s, but over time hockey tournaments had blossomed into adventure travel.
We joined a group led by Andean Treks and Adventures, an established operator since 1980, on a route called the Moonstone Trek. It was an alternative to the Inca Trail that offered a peaceful and less-traveled route to Machu Picchu, and the exclusivity of exploring ruins not widely known. We didn't truly appreciate the magic in that choice until later.
Our local Peruvian guide lead us on daily 6- to 10-mile hikes through the Andes mountains from Cuzco to the Sacred Valley, while cooks, wranglers, and horses hauled our gear and set up camp. We labored with sparse oxygen at high altitude through three mountain passes, the highest being Accoccasa Pass at 15,700 feet, but we also explored unrushed and alone many ruins including the Inca shrine Huayrapunka Wind Gate, propped high above the Sacred Valley and framed by Veronica Mountain. We learned about the tropical ecosystems leading from the Sacred Valley to the Amazon and got a deep appreciation for Inca history, design, and engineering. Except for the odd villager, stray llama, wild horse, or alpaca, we saw nobody outside our trekking group the whole four days.
Here are 12 tips to help you select an appropriate tour, prepare, pack, and enjoy the Machu Picchu experience once you're there.
1. Choose A Suitable Tour Option
The traditional Sacred Valley and classic Inca Trail to Machu Picchu is very popular and books up a year in advance. Options include 4- to 8-day guided excursions. A benefit is arriving for sunrise before the crowds, but the Inca Trail also hosts many tour groups. There are options for single day hikes that end at the Sun Gate late afternoon, offering hotel accommodation in town that night and a return tour the next day. Our group hiked and camped our way to the Sacred Valley over four days, then took the train from Ollantaytambo to Aguas Calientes where we stayed overnight before taking a short bus ride to Machu Picchu.
2. Know That Machu Picchu Suffers From Over-Tourism
As a UNESCO World Heritage site, visiting Machu Picchu is a once-in-a-lifetime experience, but it suffers from over-tourism. A timed ticket entry system to control crowds has increased daily limits. Strapped for dollars, with eager tourists, local governments have sacrificed the quality of visitors' experiences to fund site upkeep. Arriving early helps, but groups are marshalled along, and they stream out at day's end to catch buses, like water draining from a bathtub.
3. Plan Around The Seasons
High season is April, May, and August, during Peru's winter. The shoulder season in September and October can offer decent weather and fewer crowds.
4. Become Knowledgeable
We read and watched videos, but while becoming knowledgeable was good, a little blind naivety didn't hurt when it came to appreciating the heights we would scale. With temperatures that hit sub-freezing at night in our tents, and approached 72 degrees during the day, plus the prospect of sun or rain at any time, multi-layered clothing with good rain gear and hiking boots was a must.
5. Buy Good Gear And Break It In
We shared daily photos of shopping hauls and hikes — which at times included walking the dog in our boots to break them in — with our private Facebook group that boasted 18 participants for three trekkers. Some indispensable items: comfortable hiking boots, a micro down jacket for nights in the Andes, quality rain gear, pants that convert to shorts, a microfiber towel, a neck warmer tube, a visor hat for sun and rain, a wool hat, fleece pants for nighttime, a headlamp, and a waterproof backpack cover. We rented hiking poles there.
6. Take Care Of Your Health
We scheduled inoculations for hepatitis and typhoid, filled Diamox altitude prescriptions, and got cocoa leaves upon arrival. While we fretted over the medications' potential side effects, we were just fine.
7. Wear Or Carry On Everything You'll Need While Trekking
We had been warned to carry on or wear what would be needed for the trek, since lost or delayed bags happen frequently going into Cuzco. Overpriced replacement gear was not an appealing prospect. I got items down to one carry-on bag plus a small backpack (my personal item), by taking easily compacted items and leaving no space unused.
8. Stay In Cuzco A Couple Nights To Let Your Body Adjust
We chose to stay at an Airbnb for a few nights, then store our roller bags there while trekking, and we returned for a final night prior to flying home. Most tours pick up from a hotel, so we opted for a vacation rental that was close by. Since Cuzco is at 11,150 feet elevation, altitude sickness is a threat. Taking it easy, drinking cocoa tea, and taking medication helped, but acclimatizing is highly recommended. We hired a guide and driver through our Airbnb host, which proved to be a fabulous way to see the Sacred Valley and Cuzco area sites, allowing us to avoid tour buses and scoot across back roads to beat congestion between sites.
9. Fitness Matters, But Altitude Is The Biggest Hurdle
While fitness was important, dealing with altitude and less oxygen was the biggest hurdle, even for some group members who were at least 15 years younger than others.
10. There Will Be "Wasted" Moments!
There is a no-human-waste policy on trails. Wranglers set up temporary chemical toilet tents at camp, but it is best to carry personal toilet paper and a waste bag for daytime stops. That proved easier than the Go Girl device (which promised to help us pee like a boy). We had all purchased one, much to the amusement of our Facebook group.
11. Appreciate Simple Comforts
We rented inflatable camp mats and sleeping bags with personal liners that were suitable for the trekking conditions. Our guide brought warm basins for washing up, plus hot coffee at the end of each day, and chefs prepared delicious meals, served in the comfort of a heated tent.
12. Enjoy The Disconnect
One of the unexpected gifts was the time we had to think and reflect while being disconnected from the internet. Our group discovered conversation rather than connecting through social media. We came to appreciate the simplicity of life in the Andes, where removed from technology, kids walked to far-away villages to attend school, farmers worked ground crops and took livestock to market. This beautiful disconnect during our four days trekking was fully appreciated once we were tossed back into the crowds at Machu Picchu, where selfie sticks and the drive to post seemed ever present. Fortunately, that didn't detract from the historical significance of touring the ruins with our guide. While Machu Picchu was undeniably the treasure at the end of our five-day tour, the trek to get there was the real gift.
Traveling to Peru? Don't miss these six hidden gems, plus how to visit the mysterious Nazca Lines.