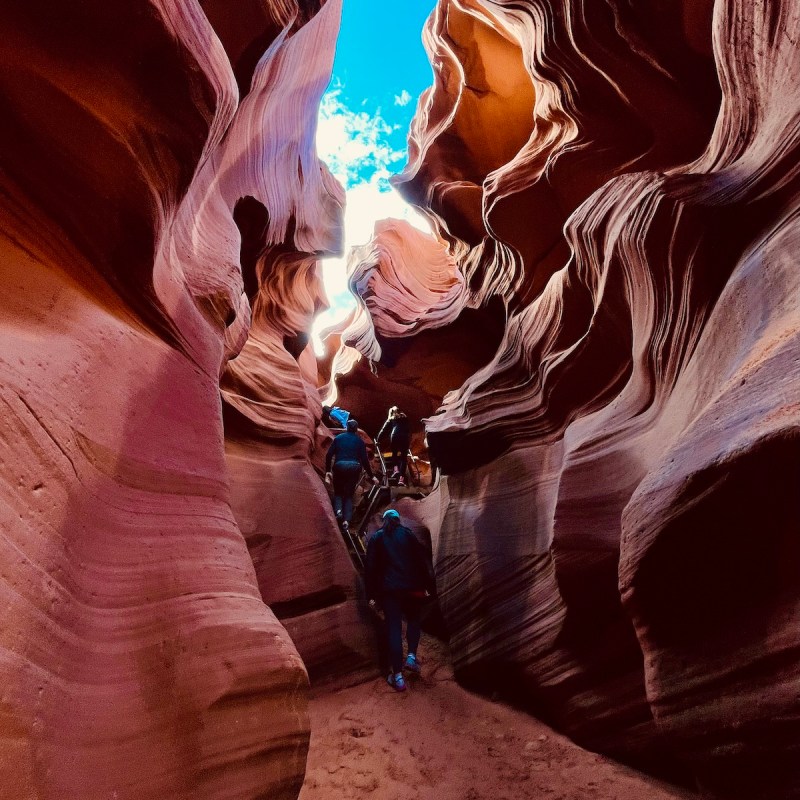 For years, I've admired the gorgeous photos coming out of Antelope Canyon on Navajo Nation land in northern Arizona. The social media images showing off the slot canyon's luminous light and softly-fluted sandstone never fail to blow me away.
But for some reason, even though I live only 3.5 hours away in north-central Arizona, I had never visited the famous spot. I had passed through Page — the Arizona town that is home to Antelope Canyon — a number of times, but I always seemed to be on my way to other nearby destinations like Buckskin Gulch, Zion National Park, or the Coral Pink Sand Dunes State Park in Utah.
So, when I was recently invited on a hosted press trip to Page, which included a visit to Antelope Canyon, I thought, "Finally!" And also, I wondered briefly if the canyon would really be as stunning as it looked in all of those photographs.
After taking a tour of the Lower Antelope Canyon with Ken's Tours, I have to say, "Yes," Antelope Canyon does indeed live up to all of the hype! Here are seven reasons why.
1. The Sandstone Walls Are Even More Vivid In Person
As the saying goes, photos do not always do justice to an iconic natural phenomenon. Antelope Canyon is one of those spots. Even though images will give you an idea of the rich reds of the sandstone and the lovely blues of the sky, there is nothing like seeing the canyon up close and personal.
I found that I couldn't keep my eyes off of the silky, smooth canyon walls, with their deep brick-red hues and swirls of beige. And through the openings of the canyon, the sky above was a startling shade of blue against the red rock.
I was lucky to get a day with clear skies and a few puffy clouds for my tour of Lower Antelope Canyon. It was a technicolor moment!
2. The Special Features Are Adorable
The sandstone formations that were naturally formed over millions of years of water and wind erosion are indeed a sight to see. But, add in the optical illusions that appear from time to time through the canyon, and you have the makings of a truly magical experience.
The knowledgeable guide who led my group through the canyon was quick to point out features in the rock walls that resembled everything from a lion to a whale to a shark's head to an adorable seahorse.
In addition, she pointed to locations that have become iconic through their appearance in publications like National Geographic, as well as countless posts on Instagram. At one point, our guide pointed out a rock formation that is likely familiar to millions of computer users as a screensaver for Apple MacBooks.
3. There Are Plenty Of Photo Ops
An in-person visit also allows for some pretty amazing backdrops for photos of your own. At one point, our guide pointed to the canyon's "Wedding Arch," where couples have been known to exchange vows.
In another room deep in the canyon, the guide took portraits of group members as the glowing light filtered in. Even though there were tour groups ahead of us and behind us, our guide took the time to stop for plenty of photos.
Pro Tip: No photos are allowed while on the stairs into and within the canyon, and visitors are not allowed to stop and pose on the staircases. Also, although photos are encouraged in other places in the canyon, no video is allowed. Our guide told us that rule is not just a personal preference but a Navajo Nation rule.
4. The Walk Over Rocky Terrain Is Gorgeous
The walk from Ken's Tours headquarters to the Lower Antelope Canyon entrance is short, but it is exceptionally scenic. I loved soaking up the views as my group made the trek through a red-rock wash toward the first set of stairs.
Pro Tip: To help navigate the rocky terrain on your walk to the canyon, as well as the sometimes-uneven canyon floor, it's best to wear hiking boots or sneakers with a good grip.
5. The Stairs Are Steep, But Doable
Full disclosure: There will be stairs on the Lower Antelope Canyon tour. As we approached the canyon entrance, our tour guide asked if anyone had a fear of heights or was claustrophobic — questions that had me wondering about what was in store.
Still, she reassured us that we could take our time on the stairs. And because some of the staircases are ladder-like with narrow steps, the guide urged us to either turn around and descend on a ladder or side-step it down — whatever made us most comfortable.
I didn't find the stairs to be particularly scary, but I noticed that some people were having a difficult time with the steepness of the descent and the narrow steps. I loved that the guide was right beside us at each of the staircases, giving advice and cheering us on. Her advice to take it slow seemed to be the best approach.
6. The Stories Are Fascinating
As we started our tour, our guide told us that over 500 million years ago, the entire region around Antelope Canyon was underwater. As the water started to dissipate or evaporate, sand dunes were formed, later going through a process of compression, and ultimately forming into the beautiful layers that exist in the Lower Antelope Canyon today.
"Everything is made out of water and sand," the guide told us, adding that wind erosion had also formed some of the rock formations in the upper part of the canyon and that the silky smooth appearance deep inside indicated that the formations were formed by water erosion.
The formation of the canyon was just one of the fascinating stories that my group learned along the tour. The guide also talked about flash floods that have occurred in the past, as well as the changes that have occurred in the canyon from the rushing water. In 2022, for instance, she said there were 11 flash floods in the canyon, which formed a new hole in the wall and also eroded about 4 inches in some areas. Slowly but surely, she said, the canyon would become wider.
We also learned about the different slot canyons in the region, each of which has its own personality. A sign outside Ken's Tours headquarters explains the characteristics of the three main canyons:
Canyon X, which has a 334-foot trail that features occasional light beams and great lighting
Upper Antelope Canyon, an A-shaped slot canyon with a 660-foot in-and-out trail that features great lighting during peak/summer season and light beams hitting the canyon floor from April through August
Lower Antelope Canyon, a 1,335-foot-long one-way trail through an A-shaped, V-shaped, and parallel slot canyon that features great lighting all-day and all-year-round, with occasional light beams.
7. Emerging From Underground Is Thrilling
The Lower Canyon itself is otherworldly, but I found emerging out of the ground into the bright and sunny day to be equally cool. Because of the one-way trail, visitors enter the canyon in one area, descend deep into it, and then climb a series of stairs before emerging from the ground through a narrow opening in another area.
As I exited the canyon, it was fun to look back and watch the other hikers coming up through the red rocks and appearing in the sunlight, with the rolling sandstone terrain as a backdrop.
Pro Tip: Adventure Concierge At Hyatt Place Page/Lake Powell
For visitors to Page who are uncertain about which adventures to book, the beautiful Hyatt Place Page/Lake Powell, where my group stayed, recently debuted a new "adventure concierge," who is on hand to help guests create an itinerary that is custom-designed to their interests. Possible adventures include sought-after excursions like Ken's Antelope Canyon Tours, UTV rides in the nearby Grand Staircase/Escalante National Monument and Vermillion Cliffs with Epic Adventure Rides, and Papillion Helicopter Tours that land on the nearby Tower Butte.