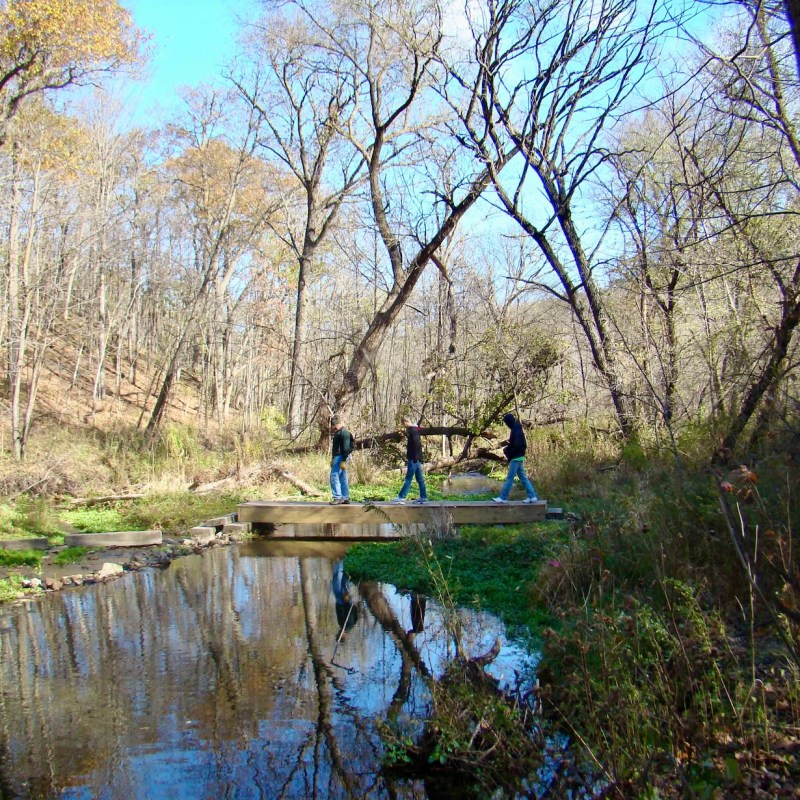 Minnesota is the land of 10,000 lakes… and 75 beautiful state parks and recreation areas that are absolute treasures. My family has explored 17 of them over the years we've called Minnesota home. It's just a fraction, but it's a good sampling of the variety you'll find here.
Let's look briefly at the 17 parks, sorted alphabetically (see them on a Minnesota map here), and highlight the treasures of each one.
Pro Tips: Many parks offer camper cabins (our favorite while the kids were growing up). These rustic cabins are a compromise between full-on tent camping and hotel niceties. Reservations can be made up to a year in advance. Also, most state parks offer a variety of rentals, nature programs, and outdoor events. Check online or each park's visitor center for more.
1. Afton State Park, Hastings
What it's known for: Afton State Park attracts nature lovers and birdwatchers. Hiking highlights include trails with St. Croix River Valley overlooks. Its diverse habitat (prairies, woods, ravines) attracts some 190 species of birds, some of them rare. Here, you also might see fenced goats doing "important prescribed grazing work" to help control invasive species.
Why we love it: We visited over spring break (March), and that means a combo of snow and mud … always an adventure. And yet there's something marvelous about sipping hot coffee around a campfire when there's a distinct chill in the air.
Pro Tip: Drive an hour southwest to visit the National Eagle Center in Wabasha, where you'll see several bald eagles at the visitor center and potentially hundreds more who come to nest and feed here along the banks of the Mississippi River.
2. Bear Head Lake State Park, Ely
What it's known for: This 4,000-acre park gives you a taste of Minnesota Northwoods at its best! It's got a pristine Boundary Waters Canoe Area feel without the exertion of hoisting and portaging canoes. Explore the landscape shaped by glaciers and the deep woods that harken back to earlier logging days.
Why we love it: There's nothing like paddling the crystal-clear waters of Bear Head Lake in a kayak or canoe.
Pro Tip: En route to Ely, stop at Lutsen and take an aerial gondola up the mountain for sweeping views. Your kids/grandkids will also love the Lutsen Alpine Slide!
3. Beaver Creek Valley State Park, Caledonia
What it's known for: This park is in the driftless (southeast) area of Minnesota, where glaciers didn't flatten this part of the state. It's great for fishing, wildflowers, and birdwatching.
Why we love it: Try the beautiful Beaver Creek Valley Trail, a mostly flat 3.5-mile loop that winds its way along Beaver Creek, surrounded by bluffs.
Pro Tip: Scenic, paved trail biking is just 20 minutes away at the Root River State Trail.
4. Fort Ridgely State Park, Fairfax
What it's known for: This park marks an important site in the U.S.-Dakota War of 1862 (an armed conflict between the U.S. and eastern Dakota tribes). In summer, hike or ride the trails on horseback or fish for trout; and in winter, ski, snowshoe, or snowmobile.
Why we love it: My veteran husband and sons have a continual interest in historic battles of all kinds. Outdoor signs (free) share the fort's history, or you can visit the fort site managed by the Minnesota Historical Society (fee applies).
5. Glendalough State Park, Battle Lake
What it's known for: Glendalough is Irish and means "the glen between two lakes," but overachiever Glendalough State Park is home to five lakes. The self-guided Beaver Pond Trail and the Prairie Hill Trail are easy hiking choices.
Why we love it: This park presented our first cart-in camping experience; we used a rolling cart to transport gear to our camper cabin. Also, because we went in late October, we had the Historic Lodge all to ourselves for afternoon snacking and reading.
Pro Tip: This park, and a few others, offer a unique lodging choice. Yurts are insulated and round canvas structures that sleep three to seven people. Check the website for details.
6. Itasca State Park, Park Rapids
What it's known for: This giant 32,500-acre park contains 100 lakes and is the oldest state park in Minnesota, but its claim to fame is the "birthplace" of the Mississippi River.
Why we love it: Explore the popular Mississippi Headwaters area on the accessible 1.5-mile loop trail. It's hard to believe you can wade or rock-step your way across a small, knee-deep stream that becomes the mighty Mississippi, flowing 2,300+ miles to the Gulf of Mexico.
7. Jay Cooke State Park, Carlton
What it's known for: In this park, nearly 9,000 acres of forests and streams cut through gorges and valleys formed by ancient glaciers. Park at the River Inn and walk across the Swinging Bridge, swaying above the St. Louis River.
Why we love it: The park borders the Willard-Munger State Trail, a great choice for biking or walking. Heading north on the trail from Jay Cooke, enjoy panoramic views of the St. Louis River and the ports of Duluth, Minnesota, and Superior, Wisconsin.
8. Lac Qui Parle State Park, Watson
What it's known for: Lac qui parle is a French translation of the Dakota tribal name "the lake that speaks." You'll literally hear Lac qui Parle Lake talking when thousands of migratory birds stop at this park in spring.
Why we love it: We visited in August, and black-eyed Susans dotted the park with bright bursts of yellow. Another plus: watching pelicans fishing along the lake.
9. Lake Shetek State Park, Currie
What it's known for: Shetek is Ojibwe for "pelican," a popular resident here in summer and fall. This 1,100+ acre park gives you plenty of opportunities to walk, fish, hike, paddle, swim, or just read and relax.
Why we love it: Walk the causeway to Loon Island, a 45-acre island on Lake Shetek, and follow the interpretive trail.
10. Mille Lacs Kathio State Park, Onamia
What it's known for: The Rum River, so important to central Minnesota, flows through the boundaries of this 10,000+ acre park. Early French explorers and fur traders coined the term Mille Lacs for this area, which means "1,000 lakes."
Why we love it: Climb the 100-foot observation tower for sweeping views of the park and Lake Mille Lacs, a must-do in fall color season.
11. Minneopa State Park, Mankato
What it's known for: The word Minneopa comes from the Dakota tribe and means "water falling twice," referring to the Minneopa Creek waterfalls. Drive Mill Road to look for bison, a natural solution to managing the prairie ecosystem. This park has some 330+ acres where the buffalo roam!
Why we love it: Hike to Seppmann Mill, a sandstone windmill (blades no longer intact) from the 1800s. Follow interpretive signs and enjoy the Minnesota River Valley scenery.
12. Myre-Big Island State Park, Albert Lea
What it's known for: This park consists of some 1,700 acres of rolling hills, marshes, and ponds on the shores of Albert Lea Lake. There's something for everyone, including birdwatching, photography, hiking, biking, and more.
Why we love it: Big Island, the park's main feature, is home to the camper cabins at this park. And at 116 acres, Big Island is… well… big. It offers bountiful spring wildflowers and wildlife, with trails along the shore and through a maple/basswood forest.
13. Sakatah Lake State Park, Waterville
What it's known for: This park takes its name from the Dakota tribe, meaning "Singing Hills." Indeed, the hills seem to sing here, courtesy of ancient glaciers that dropped mounds of rocks and minerals (called moraines) to create the rolling hills.
Why we love it: Bike the Sakatah Singing Hills State Trail, a paved, multi-use, 39-mile trail that runs right through the park.
14. Savanna Portage State Park, McGregor
What it's known for: This state park's 22 miles of hiking trails including the historic Savanna Portage Trail once used by the Dakota and Ojibwe tribes. You can also take a short hike to the Continental Divide overlook (well-signed) and Wolf Lake.
Why we love it: We stayed in the rustic Garni Guesthouse, a fully furnished home located on a peninsula on Savanna Lake. Our kids used their fishing poles off the dock at sunset in hopes of catching panfish or trout but were unsuccessful.
15. Tettagouche State Park, Silver Bay
What it's known for: Tettagouche is a North Shore favorite. Its semi-mountainous (remember, Minnesota "mountains") landscape has challenging hiking options, but you can take a more level walk to Shovel Point with several scenic lookouts over Lake Superior.
Why we love it: Stay in nearby Illgen Falls Cabin at the pinnacle of Illgen Falls. Footsteps out the door, take a seat on the large, mostly-flat rocks at the top of the falls and watch the rust-colored, taconite-rich water tumble over the crest. We were there in spring and even with the windows closed, the waterfall thundered in a constant, holy roar.
Pro Tip: Hike to the gravel beach where the Baptism River empties into Lake Superior. With its sheltered coves and rocks aplenty, it's a great place for grandkids to perfect their technique for skipping stones.
16. Whitewater State Park, Altura
What it's known for: This scenic park in Minnesota bluff country has challenging and beautiful hiking trails. Try the easy 1-mile Meadow Trail, where you can gaze at the bluffs without the climb. Two miles away is the historic Elba fire tower, but know that you'll have to maneuver 500 uneven steps just to get to the base.
Why we love it: Enjoy hiking trails with wooden bridges, past Cascade Falls or High Falls, or up to the tops of bluffs.
17. Wild River State Park, Center City
What it's known for: This park is another beautiful choice along the St. Croix River. It has 35 miles of hiking trails and 18 miles of river shoreline.
Why we love it: This was our first venture into state park camper cabins, when our twins were 8, and it sparked our journey of visiting 17 parks in 10 years. Another treasure? The many memories of simple campfire meals, charades, outdoor activities, and precious family time.
Tips For Exploring Minnesota's State Parks
State parks are open year-round, and all seasons offer unique beauty. Purchase a day pass or buy an annual vehicle permit (one year, based on month of purchase) for unlimited visits. While current as of this writing, park offerings may change, so be sure to check park websites.
Regardless of where and when you go, I think you'll find treasures at our beautiful Minnesota state parks and see why they are so easy to love.
Can't get enough of the great outdoors in Minnesota? Check out: