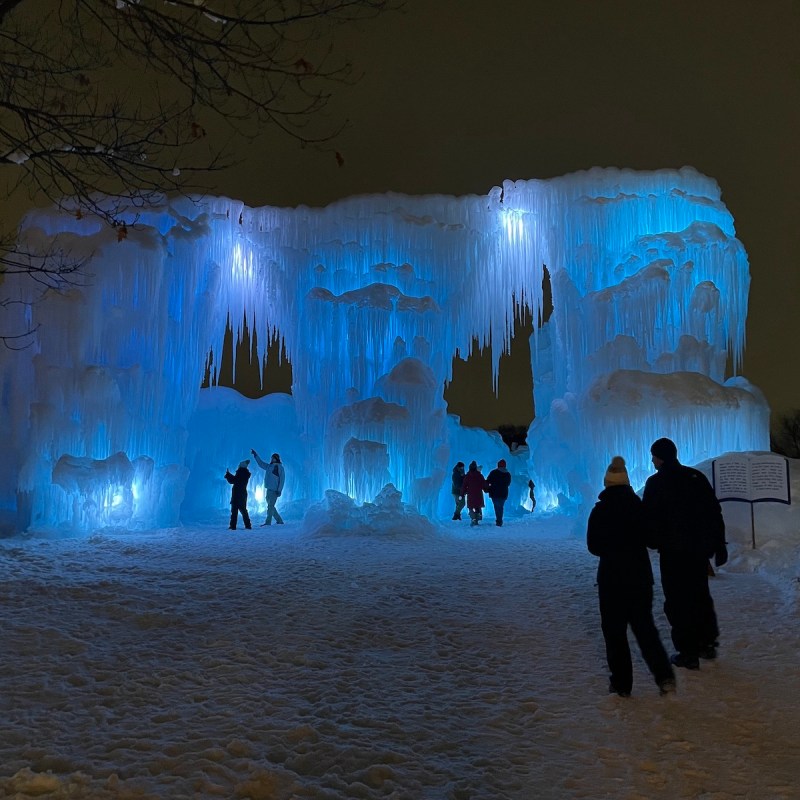 When temps drop below freezing, there are usually two opposite approaches: hunker down and wait it out (can spring be far away?) or escape (where's my suitcase?).
Those who think winter is best appreciated by hunkering down grit their chattering teeth and hibernate. For those who want to escape it all, visions of tropical climates, sandy beaches, and umbrella drinks dance in their heads, and they booked airline tickets yesterday.
But there's a third option to winter: Make the most of it. Get out and enjoy it. And a great place to start is at Minnesota's Ice Castles, a frozen attraction extraordinaire with lighted caverns, pillars, ice chutes, fountains, tunnels, ice-carved thrones, and more. It's a great wonder, and it's no wonder it has won awards.
After a COVID break for a couple of years, Ice Castles is back in full splendor. Organizers set up their enchanting displays in five locations in the United States, and my husband Dean and I visited Ice Castles in New Brighton, Minnesota, on a beautiful, 10-degree night in January.
Here's what you need to know when you go.
Note: Our visit to Minnesota Ice Castles was hosted; all opinions are my own.
1. Ice Castles' Storybook Start
A storybook sign at the entrance tells the tale of how it all began. It's written in fanciful language, but the story is true.
"Once upon a time, in a magical snowy land called Alpine, Utah, a loving father turned his front yard into an icy fairytale world for his kids. Day after day, laughter and joy multiplied as children from all over town came to play in the frozen front yard kingdom. The kids affectionately called it 'The Ice Castle.' All from a father's love — magic and wonder were created, and Ice Castles was born. Today, Ice Castles brings that same magic and wonder to thousands of kids, and kids at heart, every winter."
And it's true. It does.
2. It's Delightfully Unpredictable
A walk through Ice Castles is delightfully unpredictable. The storybook entrance ushers you into a fascinating display of colors and icy textures everywhere you look. Here are some highlights.
Lights And Delights
Behind every cavern and corridor are more lights and delights. We went at night, when LED lights embedded in the ice combined with various shapes of the structures themselves make for a colorful, whimsical landscape. The lights periodically change in color and intensity and range from dynamic and brilliant to soft and muted. The variety is stunning and ever-changing.
Caverns, Corridors, And Crawl Tunnels
Ice Castles include all manner of caverns and corridors, and along with that, all manner of surprises. Crawl tunnels are options for kids or adults who feel like a kid again (and are agile enough to squeeze through).
Note: If you get a chill, warm up at one of the fire tables in the central area.
A Fountain!
What's this? Water in a liquid form? We walked through a passageway and saw a fountain, shooting water into the night sky. We were surrounded by frozen water, but it was strangely surprising to see water splashing in liquid form here.
3. For The Adventurer: Ice Chutes And Little Chutes
Easily distinguished by its rainbow of colors, Ice Chutes is a dual-track ice slide for anyone with an adventurous spirit who's at least 3 feet tall. There was a short line, but no one seemed to mind. It was fun to see (and hear) the laughter this feature brought to the scene. A second slide, the open-air Little Chutes, is a smaller option for younger kids.
Cornhole, also known as sack toss or bags, is another source of amusement and fun. Of course, unlike the traditional game, the angled board you're aiming for here is completely made of ice.
4. For The Art Admirer: Ice Sculptures And Thrones
Around the castle, several work-of-art ice carvings contained cutout openings just begging for a face and a photo. A series of scuba divers and a sea turtle were one such masterpiece. When we saw one shaped like an octopus with a seashell, Dean was a good sport to position his handsome face in the cutout and humor me.
Other ice carvings had ice benches in front of them (like thrones). If you decide to sit on an ice bench for a photo, be sure to plant your feet in front of you so you don't slide right off the bench (not mentioning any names).
5. It's Handcrafted And Ever-Changing
As you walk around Ice Castles, you'll find yourself thinking, "How in the world?"
According to the website, you have to get going pretty early in the season to build Ice Castles. In November, if the weather cooperates, some 20 professional ice artists start to build Ice Castles by hand (we're talking thousands of hours) and embed LED lights in the ice. A helpful sign explained, "Ice Castles is handcrafted entirely from icicles, water, and imagination." The exhibit opens to the public in January and runs as long as the weather allows.
But apparently, an ice artist's work is never done. Every day, some 10,000 icicles (give or take) are harvested and individually hand placed and sculpted into existing ice formations. It's a dynamic process: the combination of temperature, wind, water, and icicle placement means Ice Castles is ever-changing.
6. Look Out For Fire Dancers
In contrast to the icy landscape all around us, we watched four fire dancers from Northern Lights Performance literally play with fire before an awestruck crowd of adults and kids alike. See them on Monday and Thursday nights (subject to weather) at specific times.
Note: Only Minnesota has fire dancers; see specialty characters, animals, and activities at all locations here.
7. The Experience Continues Beyond The Exit
The surprises didn't end when we exited Ice Castles. We expected a hard-packed path that would lead us back to the parking lot. But instead…
The Lantern Passage
The wonder continued as we stepped into a view of thousands of roving lights sparkling on the path and in trees overhead, with wooden beams and white lanterns framing our way. As we continued down the path past these lights, large, lit ornaments continued to illuminate the path. It was a fitting extension to this delightful place.
The Polar Pub
At the end of the path, Minnesota Ice Castles' guests aged 21 and up can spring for cold or warm alcoholic beverages (aka polar pints and arctic mixers) at the ice bar, aptly named the Polar Pub. Their claim to be "the chillest bar in town" is a big claim, but they might be right. Learn more here about details and hours.
You'll also find several food trucks (basic grill fare and specialty brownies), picnic tables, a gift shop, and restrooms in this area.
Tips For Visiting
Get tickets online. Pick a date and a half-hour window for arrival time (it's cheaper on weekdays). As of this writing, the schedule is listed through February 20 but depends on weather. Time slots vary by day but range from as early as 11:30 a.m., in half-hour increments, to 9:00 p.m. Ice Castles Minnesota is closed on Tuesdays in January and on Tuesdays and Wednesdays in February; check the link above for exact dates and details.
Plan for at least an hour to enjoy the experience, but of course, that varies based on how long you linger.
Wear warm winter gear. Dress for (outdoor) success by wearing layers and a warm coat, hat, winter gloves, snow pants, and winter boots. Learn more.
Watch your footing on the castle "floor" of crushed ice and snow. Sometimes you'll walk on compact surfaces, and other times, you might be stepping through several inches of thick, sinking snow.
Review the FAQ so you know what to expect.
Believe It
It's hard to believe this is all made of ice. We couldn't decide what was more impressive: the dramatic, jaw-dropping entrance, the fanciful first steps that immersed us in the frozen winter wonderland, the colorful corridors, the squeals of delight from kids (little and big) on the ice chutes, the intricate ice-carved sculptures, or the fire dancers lighting up the night sky. How about "all of the above"?
Ice Castles is impressive from beginning to end. It's a place to feel like a kid again. And it's exactly the kind of experience that will have you believing there's more to winter than hibernation or escape.
Related Articles: