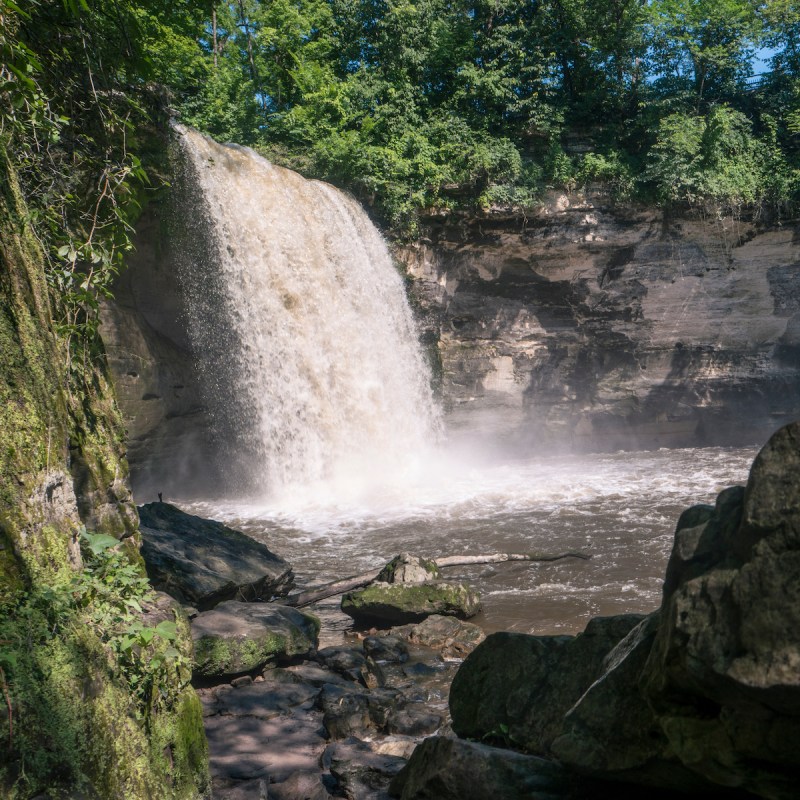 For 50 years, the city of Mankato has been known as the summer home for the Minnesota Vikings, as the NFL team held its preseason camp at the Minnesota State University Mankato campus. The Vikings moved their camp to the Minneapolis area, but the Blue Earth County city is more than just football.
The friendly community has a strong historical connection to Native Americans, with the Dakota as the dominant tribe in the area through the mid-1800s, when they were forcibly removed from the state and relocated to South Dakota and Nebraska following the U.S.-Dakota War. The Dakota honor their history and culture with an annual powwow here each September. From its role during the U.S.-Indian Wars to a vibrant art scene — including sculpture and poetry walks, and a riverfront walking trail — the city of Mankato is perfect for a weekend getaway.
1. Reconciliation Park
A black mark in the city of Mankato's history was the site of the largest mass execution in American history when 38 Dakota Native Americans were hanged for their alleged roles during the U.S.-Dakota War of 1862. It's been a source of tension through the years for Native Americans and others.
In 1997, the city of Mankato, state leaders, and Dakota representatives worked to overcome issues. Reconciliation Park came about to help close that chapter in history. Located across the street from the actual execution site, Reconciliation Park honors the men by listing their names and a poem on a sculpture resembling a scroll. Other statues in the park include a bison. Ceremonies are held on the anniversary of the executions. While a library stands on the original location, the Dakota is also honored by a Native American sculpture — Winter Warrior — on the grounds.
Each September, the Dakota host a powwow at Land of Memories Park, a short drive from Reconciliation Park. You can learn more about the Dakota 38 as well as the area's Indigenous history on a self-guided auto tour.
2. Minneopa State Park
Getting its name from the Dakota language for Water Falling Twice, Minneopa State Park is home not only to beautiful waterfalls but wildlife. The falls may be the main attraction, as Minneopa Falls entice you to walk the trail, including descending a Minnesota limestone staircase that takes you to the river valley. As you climb to the other side of the falls, you'll enjoy a beautiful view of the waterfalls and park. During your hike around Minneopa Falls, visit Seppmann Mill, a German grist mill made from stone with a wooden dome. With a small herd roaming the park, you can catch a view of wild bison along Bison Drive Road. The park's goal is to eventually be home to up to 40 bison. Bird watchers can enjoy views of several bird species, including western meadowlarks, red-winged blackbirds, red-tailed hawks, and bald eagles.
3. Public Art
Enjoy taking in the views of the CityArt Sculpture Walk, with statues rotated each year. Featuring more than 30 unique art pieces, you'll find the sculpture walk in the City Center and North Mankato. Poetry enthusiasts will enjoy walking or bicycling the Southern Minnesota Poets Society's Poetry Walk. Featuring 40 poems on easy-to-read signs, the walk celebrates local poets. Believing no canvas should be left blank, the city of Mankato's latest art project celebrates its native history and influence. Australian Guido van Helten used 135-foot-tall silos at Ardent Mills in the Old Town District to create a breathtaking mural celebrating Native Americans at the Mankato wacipi (or powwow) to help celebrate the city of Mankato's diversity. The artist has also created silo art in Faulkton, South Dakota, and Fort Dodge, Iowa.
Featuring monthly exhibits by regional artists, the Carnegie Art Center has sought to promote the area's art scene for several decades, including offering studio space. Located inside a former Carnegie library, the art center attracts about 2,500 visitors each year, working with local schools and community groups. The 410 Project gallery offers space for local artists to showcase their art as well as special exhibits that rotate on a regular basis. The gallery works with local groups, artists, and schools to help promote the arts in the Blue Earth County community.
4. Betsy-Tacy House Tour
Maud Hart Lovelace was born and raised in the city of Mankato. After moving to Minneapolis at the age of 18 and later marrying a newspaper reporter, she wrote the Betsy-Tacy book series over 15 years. Her childhood home was the inspiration for Betsy's story, and the house is open for tours. Appearing as it would have during the Harts' time there, the Betsy House is a must-see when visiting 'Kato. The Tacy House was actually the home of Hart's childhood friend Frances "Bick" Kinney, whose family lived there from 1898 until 1911. The site of the Betsy-Tacy Historical Society, the Tacy House serves as an interpretive center, with historical pieces, such as her books, photographs, and manuscripts,inn on display. You can also visit the gift shop for souvenirs.
5. Red Jacket Trail
Walk, jog, or cycle the 13-mile-long Red Jacket Trail. A converted rail line, the Red Jacket Trail in Blue Earth County offers you impressive nature views, including possible wildlife sightings, such as deer and bald eagle. With trees along the sides of the paved trail, the scenery is beautiful any time of the year, but especially so during fall when leaves change colors to red, orange, and brown. You can enjoy the fresh air as you travel the woods, across open space, and over a bridge 80 feet above the Le Sueur River. Plan a picnic lunch at Red Jacket Trail Park, a day-use park featuring a picnic shelter, nature viewing area, and canoe launch to Le Sueur River.
6. Chankaska Creek Ranch Winery
You may not think Minnesota when it comes to wine, but the state has been home to vineyards since 1977. In fact, the University of Minnesota created the Frontenac grape to help find grapes that can succeed in a cooler environment with a shorter growing season. Chankaska Creek Ranch Winery opened in 2008 with 13 acres of vines to create its wine. Located on 25 acres in Le Sueur County, the winery's tasting room offers beautiful views of the Minnesota River Valley as you sample a variety of red and white wines as well as dessert and specialty flavors. In 2014, Chankaska expanded to include spirits, such as apple brandy, whiskey, gin, vodka, and rum. Reservations are required, and the winery doesn't allow outside food or other drinks.
7. Shopping
With several shopping options, you're sure to find outstanding local outlets that help tell the city of Mankato's story. Vagabond Village features vintage clothing and home decor and is just one of the unique markets you'll find at Mankato's city center. From clothing to home decor, Bella Nova Boutique is open Thursday–Saturday. Pick up your Minnesota-themed shorts, caps, and mugs as well as some of the latest clothing trends at Gallery 512 Boutique.
Dining In Mankato
A city of Mankato favorite for more than 50 years, Pagliai's Pizza is hands down a must for great pizza in 'Kato. Making its own sauce, Pagliai's also piles on the cheese on top of a ton of ingredients to ensure you experience quite possibly the best pizza of your life. While you can order the usual suspects on your pizza, the true pizza connoisseur will take on one of their specialty pies, such as the southwestern pizza. Made with chicken or steak, the pizza also includes barbecue sauce, bacon, and green pepper — all loaded with cheddar and mozzarella cheese.
Pagliai's also offers cold and hot po'boys, with meats such as ham and salami, buffalo chicken, barbecue chicken or steak, and Philly-style steak. For American fare with a twist, head to Number 4, a gastropub where you can try nachos that include a cilantro habanero pesto cream sauce, or the classic burger with Number 4's in-house seasonings, standard toppings, and butter lettuce rather than iceberg lettuce. The term "subtle" describes the menu. It may be home to some of the best pizza outside of Minneapolis and St. Paul.
Where To Stay In Mankato
While national chain hotels are available, you can enjoy a true city of Mankato experience by staying at local hotels, such as the City Center Hotel. Centrally located downtown, the contemporary hotel features rooms with poolside views or suites with king-size beds. The hotel also offers a complimentary deluxe continental breakfast. Located about 20 minutes north of the city of Mankato, a stay at the Konsbruck Hotel in St. Peter comes with a trip through history. Situated in a building dating back to the 1890s, the Konsbruck offers old-world charm with its five rooms. If you prefer the comfort of a bed and breakfast, the Mankato and North Mankato area have several properties available through Airbnb.
Related Reading: