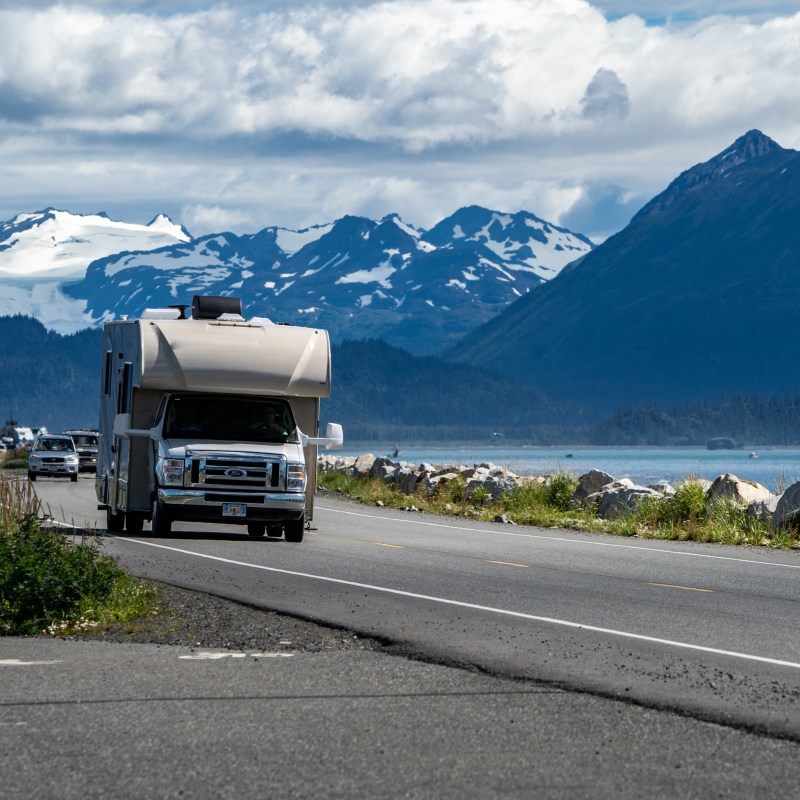 Having an RV allows you to freely roam the nation's last frontier, and that's exactly what we did during this epic road trip that began with us driving Star, our RV, along the Alaska Highway from Calgary in Canada. When we got to our first Alaska campground, the RV Village in Tok, we quickly called it a night. The next morning, we woke up to a thick haze as forest fires raged from Anchorage to Fairbanks. We postponed going to Anchorage to visit family and instead went southeast to the fishing town of Valdez, about four and a half hours away, to allow time for the smog to lift.
Valdez
On the way to Valdez in southeastern Alaska, there were showers and, as we lost cell signals, the glaciers seemed to be just tiny patches of white. But as Star negotiated a bend on Richardson Highway, some 40 minutes before reaching Valdez, a huge white mountain suddenly appeared. It was Worthington Glacier. The Worthington Glacier State Recreation Site had ample grounds and, after parking Star, my husband easily climbed the glacier and brought back a piece of the frozen blue ice to keep in our freezer.
Valdez, the Alaska town nearest the site of the disastrous 1989 Exxon oil tanker spill, has recovered and now has a population of nearly 4,000. We settled at a nature campground called Allison Point. At the marina, low-lying clouds circled the boats. Fishermen lined the banks as the waters were thick with pink salmon. But it was an arrow that led us up the hills, where we came across a section of the Alaska oil pipeline and berry bushes that the bears had ravaged.
Anchorage
After a second day in Valdez, we drove to Anchorage, five hours away, and parked Star in my husband's daughter's driveway. With a population of almost 300,000, downtown Anchorage was fun. You'll encounter many replicas of bears, the sod log cabin that is the visitor center, and the many reminders of the legendary Iditarod race around town. We looked for Alaskan souvenirs, including ivory and fur products. And, of course, we had to try Moose's Tooth Pub and Pizzeria for the best pizza in town. After a day in Anchorage, we were ready to explore more of the Last Frontier and we moved on to Homer, about four hours away.
Homer
Homer is the halibut fishing capital of the world and is situated at the southwestern tip of the state. It has a famous spit jutting out into the cold blue waters of the Bering Sea. We fished to our hearts' content, so the first night we had a feast. The next day, we went hunting for souvenirs at the quaint shops in the colorful huts perched above the waters along the spit shore. A good dinner at the famous Salty Dawg Saloon capped our visit and we posted a 100 Philippine peso and a U.S. $1 bill on its currency-covered ceilings and walls.
Whittier
Our next adventure was in Whittier, a small town of about 200 (the population doubles during summer) on the western edge of south-central Alaska. Cruise lines use it as a departure port for their Gulf of Alaska cruises. It is only 62 road miles southeast of Anchorage, separated from the main road system by a 2.5-mile-long tunnel shared by alternating one-way auto and railroad traffic, which itself is an adventure to cross.
A Phillips Cruise took us to see 26 glaciers up close, some rising to 1,700 feet above sea level. A high-speed catamaran with huge picture windows, two enclosed decks, and extensive outside viewing areas took us to Blackstone Bay and the College Fjord. We saw sea otters, seals, porpoises, sea lions, and whales, but it was the Surprise Glacier that surprised us most. It is a blue tidewater glacier that had calved pieces of ice floating on the waters around the vessel, just like a scene from Titanic. The crew even served us glacial blue margaritas with ice harvested from the waters.
Editor's Note: Starting in 2020, Phillips Cruise routes feature Blackstone Bay and Harvard Glacier instead of Surprise Glacier.
Denali National Park
Next up, our exploration of Denali National Park, just five hours north of Whittier. Denali was established in 1917 as the first national park to conserve wildlife. At 6 million acres — larger than the state of Connecticut — the park is home to several RV campgrounds. North America's highest peak, the awe-inspiring 20,300-foot Denali/Mount McKinley is the park's most prominent feature.
The only way to get to the heart of Denali was to backpack or ride the shuttle buses. We chose the bus that would take us to Eielson Visitor Center, the drop-off point nearest to Mount McKinley.
Our driver was great at looking for wildlife for us to spot. He pointed to a grizzly bear walking on the road in front of us, a Dall sheep grazing at a mountainside, a wolf nestled among the grass, and caribous resting down in the valley. See shuttle bus ticket prices here.
Unfortunately, when we reached Eielson, the heavy fog hiding Mount McKinley had not lifted at all. At the gift shop, we could not buy any of the "I am part of the 30 percent" merchandise made for the select few who get to see Denali. The forecast indicated that it would not clear in the next few days, so we spent our last day learning a lot at the Murie Science Learning Center and visiting with hardy huskies at the Iditarod sled dog training facility in the park.
Fairbanks
Fairbanks is only two hours north of Denali and is the second-largest city in the state, with over 30,000 residents. We spent a lot of time at the University of Alaska Fairbanks where, from a viewpoint, we finally got a glimpse of Mount McKinley, albeit from 100 miles away. I found artichoke plants at the university's nursery and saw musk oxen at its Large Animals Research Station. We also spent time at the Museum of the North, which showcases Alaskan history and animals, including unique prehistoric Alaskan dinosaurs.
In downtown Fairbanks, after visiting artsy shops, we discovered colorful building air vents on street corners. We spent time hunting all 12 of them down one afternoon. But when we stopped by the Fairbanks visitors center to ask about how we could see the northern lights and a possible trip to the Arctic Circle, we were told the conditions were not good at the time. Although that was as disappointing as not seeing Mount McKinley, we had so much fun at our next stop.
North Pole
North Pole, Alaska, is just 30 minutes outside of Fairbanks and has a population of about 2,000. This is not the true geographic North Pole, which is about 1,700 miles north. Streets here are named Santa Claus Lane, Snowman Lane, Kris Kringle Drive, et cetera, and almost everything in town had a candy cane motif. Located at 2550 Mistletoe Drive, the visitor center was an authentic rustic Alaskan log cabin with very Christmassy "Welcome to North Pole" signs. We also visited The Pole of North Pole, one of two poles created to symbolize it. The other one was pushed out of a plane over the actual North Pole.
We stayed at the Santaland RV Park which, sadly, is permanently closed. Its entrance had life-sized reindeer and a 20-foot Santa. The town's famous Santa Claus House on the lot beside the park was full of Christmas goodies. From there, you can send Christmas cards to all your loved ones postmarked North Pole, Alaska, like we did. And you can even have your photo taken on Santa's lap inside the house. Outside you'll see the world's largest fiberglass Santa. He's 42 feet tall and weighs almost a thousand pounds.
Chicken
Our next post-Alaska destination in the U.S. was Seattle, Washington, so we followed another route going back south. Our first stop was Chicken, Alaska. The road to the town of 32 during summer — and only seven residents in wintertime — was all gravel. There were two campgrounds, one with gold-panning activities and the other with a country store. We stayed at the former, up the hill, where we were rewarded with a spectacular sunset later in the evening.
The following day, we drove the Top of the World Highway that leads to Canada. There were endless mountaintops carpeted by the reddish-gold alpine tundra of early fall. The U.S.-Canada border was unlike any other border town. When we arrived, it was just my husband, me, and the immigration officer. From there, we rode the ferry to Dawson City, the capital of the Yukon during the Gold Rush.
Hyder
From the Yukon, we dropped down to British Columbia and took a right to the Stewart-Cassiar Highway, also known as Glacier Highway, toward the fishing town of Stewart (still in Canada), which has a population of 400. We missed the season by a day, however, and there were no more fishing boats for hire. But we found out that Hyder, a town of less than 100, was just two miles down the road and might be worth visiting.
Hyder is on the southernmost point of Alaska, which is home to Salmon Glacier, one of the largest glaciers in North America. As we went 15 miles of muddy dirt and gravel road up the hill, it slowly made its appearance. The pictures we took at the summit did not give it justice. And we paid a high price to see the spectacle. I can only imagine the brutal punishment we gave Star.
Back at the foot of the hill, we found a good-sized black bear hunting for all the salmon he could find in Fish Creek. At times, he was a mere 20 feet from us, but we were incognito to him. When his show was over, it was already getting dark, so we decided to boondock, parking our RV by the roadside for the night. It was a fitting finale for a perfect summer month in Alaska. It was an epic RV trip to the Last Frontier.
RVshare is the world's first and largest peer-to-peer RV rental marketplace. With thousands of satisfied customers and a broad inventory ranging from travel trailers to luxury motorhomes, RVshare has the perfect RV for your vacation, tailgate, or temporary lodging needs.