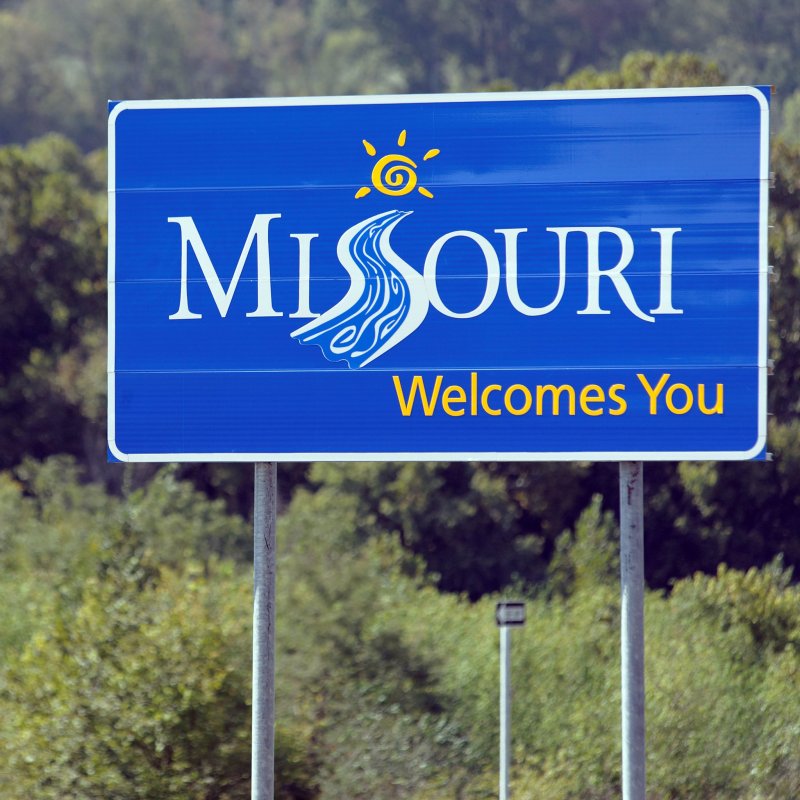 The Show-Me State of Missouri is the perfect place for a leisurely road trip. It's got stunning natural beauty, large cosmopolitan areas, quaint small towns, and loads of history.
Here is a perfect road-trip itinerary that will take you between the state's two largest cities: Saint Louis and Kansas City.
Saint Louis
Saint Louis has deep roots in history. Consider a downtown walking tour including stops at the Old Courthouse and the Old Cathedral. You can also take advantage of the city's beautiful outdoor spaces, including the Gateway Arch National Park and Citygarden, as well as Forest Park just a few miles outside of the city center.
For something to eat before you set out, grab takeout from any one of the fantastic international restaurants along South Grand Boulevard, several miles southwest of downtown. Enjoy a picnic at nearby Tower Grove Park, the oldest Victorian walking park west of the Mississippi.
See this piece for more of our favorite things to do in the Gateway to the West.
We recommend taking Highway 40 out of Saint Louis and from there, hopping onto Highway 94 for the majority of your trip. The well-maintained road closely follows the Missouri River, and you'll appreciate the scenic ride through the bluffs at any time of year.
This is also the route to follow to experience some of Missouri's best-known wineries. German settlers came to this region because it reminded them of the Rhine Valley, and they certainly left a lasting legacy.
Pro Tip: Consider stocking your cooler with a few Saint Louis specialties: Fitz's Root Beer, G&W sausage sticks, and gooey butter cakes can be found in most area grocery stores.
Augusta, Missouri
You can see and feel that German influence in the tiny town of Augusta, Missouri, the perfect first stop out of Saint Louis. Whether you spend an hour or a night there, you'll love the charm of the original homes, the small shops, the surrounding farms, and — of course — the wineries!
There are several wineries in and around Augusta, so be sure to pace yourself and imbibe responsibly if you plan to hit the road afterward. If you plan to stay, there are a number of cute bed and breakfasts in town. For the privacy of an entire home, check out the August Haus, a historic spot beautifully renovated with exposed brick, a vaulted ceiling, and a full kitchen.
Pro Tip: Centennial Farms, a gorgeous family-owned orchard in Augusta, has incredible jam for sale made with fruit grown on-site.
Washington, Missouri
Just a short drive from Augusta — 10 minutes due south of Highway 94 and across a newly constructed bridge — is the riverfront town of Washington, Missouri. Located on the Missouri, this town also traces its roots to German settlers. Its downtown district is worth a quick stop, with its historic red brick buildings filled with boutiques, antique shops, and galleries. Special events are routinely held alongside the riverfront, including a terrific farmers market.
Pro Tip: Don't walk — run — to Cowan's Restaurant for a cup of coffee and a slice of mile-high meringue pie after you explore Washington's downtown.
Hermann, Missouri
Get back on Highway 94, head west for another 30 miles, and take a quick detour to the south. Once again, you'll cross a newly constructed bridge over the Missouri and find yourself in the hamlet of Hermann.
This is the true heart of German wine country, and you'll feel as if you've been transported to Bavaria when you see the gorgeous red brick homes built into the town's river bluffs. There are more than a dozen wineries in and around the town. Consider staying the night in one of the amenity-loaded bed and breakfasts or inns. Our favorite is Hermann Hill, a luxe resort complete with a full-service spa.
Pro Tip: A $20 ticket will buy you a full-day seat on a trolley that travels from downtown Hermann to many of the wineries. It's a bargain!
Jefferson City, Missouri
Once you're back on the road, take Highway 94 to its terminus, just north of Missouri's capital, Jefferson City. Take Highway 54 to the heart of the city, where you can tour the Missouri Governor's Mansion. Then pop into the State Capitol to check out the Missouri State Museum, with its interesting collection of state artifacts. To see the place where many of Missouri's most infamous criminals were housed, book a tour of the now inactive Missouri State Penitentiary. If you're staying the night, the DoubleTree by Hilton offers modern rooms just steps away from the sights.
Pro Tip: For the best ice cream in the state, visit Jefferson City's Central Dairy.
Fulton, Missouri
Take Highway 54 20 miles north from Jefferson City, take the exit for Fulton, and you'll find a bit of Britain in mid-Missouri. The National Churchill Museum is located on the campus of Westminster College. The renowned British prime minister traveled to Fulton in 1946 and delivered his famous "Iron Curtain" speech, effectively marking the start of the Cold War. To celebrate the 20th anniversary of his visit, Westminster arranged to have a 1677 Christopher Wren-designed church moved from London stone by stone and rebuilt. The Churchill Museum is located beneath this gorgeous building.
Pro Tip: If you're feeling peckish, stop for a bite at the Fulton Cafe downtown for a terrific meal.
Columbia, Missouri
Columbia, Missouri, is home to the state's flagship university and offers visitors a vibrant arts, culture, and shopping scene. Hit 9th Street to peruse funky resale shops, boutiques, cafes, and galleries. Walk the length of 9th until you hit the entrance to campus. Pass through the University of Missouri's famous journalism school buildings, walk the Francis Quadrangle, and don't forget your selfie at the Columns, all that remains of the school's Academic Hall, which burned in 1892.
Stop at Shakespeare's Pizza for lunch; their pies are a beloved Mizzou tradition. Consider taking in a live concert at the Blue Note. And if you're staying overnight, the historic Tiger Hotel offers comfortable accommodations in the middle of downtown.
Pro Tip: Stop at the bust of Missouri Governor David Francis, located north of Jesse Hall, and give his nose a good rub for luck. Over the years, it's been buffed to a shine by students hoping for an A on their next exam.
Rocheport, Missouri
About a half-hour west of Columbia, just off of Interstate 70, sits the charming village of Rocheport, Missouri. Founded in 1825, Rocheport is a place where you can slow down and unwind, if only just for a couple of hours during your Missouri adventure. The town contains many historic homes and storefronts occupied by galleries, antique stores, and cafes. Whether you spend an hour or an entire day there, you'll be charmed by this tiny town, located right on the Katy Trail and the Missouri River.
Pro Tip: If you're not sick of wine at this point (we're not sure how that would be possible, but just in case), Les Bourgeois Vineyards has a deck with stunning views of the Missouri River.
Arrow Rock, Missouri
About 17 miles west of Rocheport, a brief detour onto State Highway 135 will take you to one of Missouri's tiniest cultural gems: Arrow Rock. The entire village has been designated a National Historic Landmark. The Santa Fe Trail once cut through the town, and the famous painter George Caleb Bingham called Arrow Rock home in the 1840s. Call ahead to make sure the shops and restaurants are open.
Pro Tip: Arrow Rock's Lyceum Theatre is Missouri's oldest regional professional theater and offers excellent performances. Make plans to take in a show there if your schedule permits.
Kansas City
You're in the home stretch! About 90 minutes farther west on Interstate 70 sits Missouri's second-largest metro area, Kansas City. From jazz on Vine Street to the fabulous Nelson-Atkins Museum of Art and the terrific shopping at the Country Club Plaza, there's no shortage of things to see and do here, and many of the city's attractions are free.
Of course, no visit would be complete without Kansas City barbecue; while Jack Stack is a winner, we also love Joe's Kansas City, located in a former gas station.
Pro Tip: As you conclude your road trip, you might be ready for a little extra luxe. A stay at The Raphael is just the way to end your epic trip from Saint Louis!