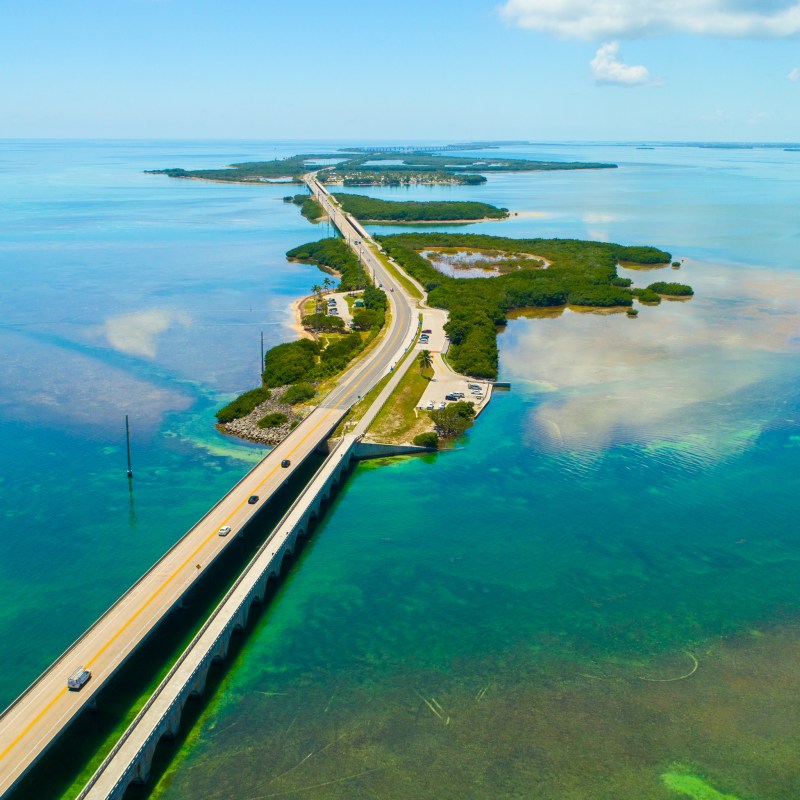 From the moment the first Model Ts rolled off the assembly line in Detroit, Michigan, Americans in big cities and small towns couldn't get enough of the automobile. Over the past century, they've increasingly slid behind the wheel to explore both regional two-lane highways and wide interstates that stretch from coast to coast.
Today, Americans travel hundreds of miles by car to explore new places, and it's easy to understand why. Not only are road trips affordable, but they give travelers maximum flexibility to explore. America is certainly full of breathtaking scenery, from majestic mountains capped with snow to miles of sandy beaches and everything in between.
These are the 14 most scenic drives in the United States, from sea to shining sea.
1. Coastal Highway 1
Maine
Beginning with America's First Mile in Fort Kent, Maine, U.S. Route 1 stretches the length of the eastern United States for more than 2,400 miles from Maine to Key West.
Heading south, the highway bids adieu to the Canadian border in Calais, Maine, and begins hugging the rocky shore, delivering incredible views all the way to New Hampshire along the section of U.S. Route 1 known as Coastal Highway 1.
Take a slight detour in Ellsworth, Maine, and head south to spend a day in Acadia National Park. See how many of the state's 65 historic lighthouses you can spot along your scenic drive, and never pass up a chance to enjoy a lobster roll.
2. Ocean Drive
Rhode Island
Compared with the 526 miles that Coastal Highway 1 extends through Maine, this next scenic drive is just 10 miles long, but it still delivers beautiful views of the Atlantic Ocean. Winding around the southern coast of Aquidneck Island, this scenic drive begins near Fort Adams State Park and ends with the impressive seaside mansions of Newport.
During your drive, you can see the cream-and-tan Castle Hill Lighthouse and the colorful, kite-filled Brenton Point State Park. If you want to stretch your legs, take a stroll along the cliff walk that extends 3.5 miles along the island's eastern shore.
3. Skyline Drive
Virginia
About 100 miles west of the hustle and bustle of the Washington, D.C. metro area, Skyline Drive runs lengthwise through Shenandoah National Park. Enjoy more than 70 scenic overlooks as you wind through the azure- and emerald-tinted Blue Ridge Mountains veiled in a misty haze. It typically takes about three hours to complete this scenic drive, but be sure to allow additional time to hike to waterfalls, enjoy a picnic, and scout for wildlife if the weather and your itinerary allow.
4. Overseas Highway
Florida
More than 2,000 miles south of the mountains in Maine are the last 100 miles of U.S. Route 1. The Overseas Highway boasts more than 40 bridges and hovers just above the water through the Florida Keys. It takes about 4 hours to travel this scenic highway from Miami to Key West, but you'll want to allow at least another 2 hours in each direction to admire the scenery, inhale the salty breezes, and enjoy conch fritters and a slice of Key lime pie.
5. Route 66
Traversing 2,400 miles from the Windy City of Chicago through the Rocky Mountain Divide to the Pacific Ocean in Santa Monica, California, Route 66 is famous for being one of the nation's first interstate roads connecting two of America's biggest cities.
While the Mother Road was largely circumvented by the four-lane federal interstates that began crisscrossing the nation during the Eisenhower administration and was officially decommissioned in 1985, it remains one of the most scenic drives in the U.S. for nostalgic history lovers drawn to its unique combination of decaying and restored landmarks.
6. Needles Highway
South Dakota
The majority of the 14 million tourists arriving in South Dakota each year visit Mount Rushmore and the Crazy Horse Memorial. After gazing up at the images of Washington, Jefferson, Lincoln, and Roosevelt, chiseled into the granite mountains, head west for the next portion of your journey. Just two-tenths of a mile south of the intersection of U.S. 385 and South Dakota Highway 244 you will find South Dakota Highway 87 and the entrance to Needles Highway.
Leave plenty of time to explore this gorgeous 14-mile-long drive past tall, narrow granite "needle" formations jutting up from the earth. Enjoy many switch backs and narrow tunnels along this meandering drive that takes you into the very heart of Custer State Park, a state park that rivals many of the most well-known national parks. Portions that run through the park itself do require you to pay the park fee, but this is a small price to pay for the natural beauty you will encounter.
Take a brief detour south of U.S. Route 16A to Wildlife Loop Road, where you'll see bison herds and scenes that will remind you of Dances with Wolves. This is just the beginning of a 70-mile scenic drive through the Black Hills of South Dakota along South Dakota 87.
7. Flint Hills National Scenic Byway
Kansas
While most travelers appreciate the grandeur of majestic mountains, rugged coastlines, and ocean views, the beauty of the last stretch of unmowed prairie in the Flint Hills may not be as universally appreciated. But when you leave Interstate 70 and travel this 47-mile national scenic byway along Kansas Highway 177 south to Cassoday, Kansas, you'll be treated to views of rolling hills dotted with wildflowers and prairie grasses that change colors with the seasons. You won't find that on America's coasts!
8. El Camino Real
New Mexico
For hundreds of years, North American natives traveled a 1,600-mile trade route from Mexico City to Santa Fe, New Mexico. Known as El Camino Real (the Royal Highway), it was used to move crops, livestock, turquoise, and other goods between Mesoamerica and the Rocky Mountains.
While wagon caravans and conquistadors on horseback took months to travel this road, you can drive the 300 miles of desert landscape from the U.S.-Mexico border to north of Santa Fe in the air-conditioned comfort of your vehicle in about 5 hours. Allow more time to make stops in the cities along the way, like Las Cruces and Albuquerque.
9. Going-To-The-Sun Road
Montana
Without stopping to breathe in the crisp mountain air, observe the wildlife, or snap a picture by the sign on Logan Pass that marks the continental divide, it takes about 2 hours to travel the 50-mile-long Going-to-the-Sun Road. Since the highest point along the route exceeds 6,600 feet, this scenic drive is only open a few months of the year — typically not until at least June.
One unique way to see this scenic drive is from the comfortable bench seats of the park's famous red buses. Why not experience Going-to-the-Sun Road by sitting back and letting a local drive and narrate your journey? While each guide takes a different approach, you'll likely learn about the Native American tale tied to Wild Goose Island in the middle of Saint Mary Lake, the animals that make their home in this part of Northern Montana, and the latest facts and figures about the park's shrinking glaciers.
10. Beartooth Highway
Montana
Winding through the mountains and past crystal-clear lakes, Beartooth Highway is a 70-mile section of U.S. Route 212 that connects the ski town of Red Lodge, Montana, to the northeast entrance of Yellowstone National Park near Cooke City, Montana.
Because this scenic drive climbs to nearly 11,000 feet above sea level, it's not uncommon to pass 8-foot-tall packed snowbanks, meadows filled with snow, and even skiers when driving through Beartooth Pass at the peak of summer. As with Going-to-the-Sun Road, you'll need to plan ahead and check the road conditions to travel the entire length of this scenic drive, even in summer.
11. Scenic Byway 12
Utah
This scenic drive bisects the Escalante Mountains connecting Capitol Reef National Park with Bryce Canyon National Park. Starting in Torrey, Utah, the 120-mile journey begins with the arid rock formations of Bryce Canyon and transforms into the open meadows and aspen and pine forests of the Boulder Mountains. In the Dixie National Forest, you can enjoy the incredible views at Powell Point Vista and gaze at the Grand Staircase-Escalante National Monument as you continue toward Henrieville, Utah. Scenic Byway 12 wraps up with the red arches in Red Canyon near Panguitch, Utah.
12. Pacific Coast Highway
California
Spanning nearly the entire West Coast of America, from Washington State to Southern California, Highway 101 is one of the most famous scenic drives in the U.S. However, about 200 miles south into California from the Oregon border, in the town of Leggett, California, Highway 1 breaks off from Highway 101 and heads directly for the coast. For the next 650 miles, Highway 1 (also known as the Pacific Coast Highway) hugs the Golden State's rocky coast, occasionally reconnecting with Highway 101.
Pro Tip: To treat yourself to the most spectacular views along this scenic drive, travel the Pacific Coast Highway from north to south.
13. 17-Mile Drive
California
Either as a detour from the Pacific Coast Highway or as a stand-alone experience, consider California's 17-Mile Drive, which clings to the Monterey Peninsula.
Begin your scenic journey in Pacific Grove, California, just a short drive from the world-famous Monterey Bay Aquarium, and travel counterclockwise past Asilomar State Beach and several Instagram-worthy spots like Spanish Bay and China Rock.
As the road approaches the Pebble Beach Golf Links, don't miss the Lone Cypress. Standing tall (and alone) at the end of a granite hillside overlooking Carmel Bay, this 250-year-old evergreen is one of the most photographed trees in the U.S.
14. Road To Hana
Hawaii
Across the Pacific on the Hawaiian island of Maui, the Road to Hana is a must-do experience in the Aloha State. While many of the drives described above feature hairpin turns or a large number of bridges, the Road to Hana has both. The speed limit on this highway tops out at 25 miles per hour, so be sure to allow a minimum of 3 hours to navigate its multiple blind spots, more than 600 hairpin curves, and nearly 60 one-lane bridges.
In addition to appreciating amazing tropical views of rainbows and waterfalls, you can enjoy fresh pineapple, purchase fragrant leis, and browse handmade crafts at a variety of roadside stands along this scenic drive.