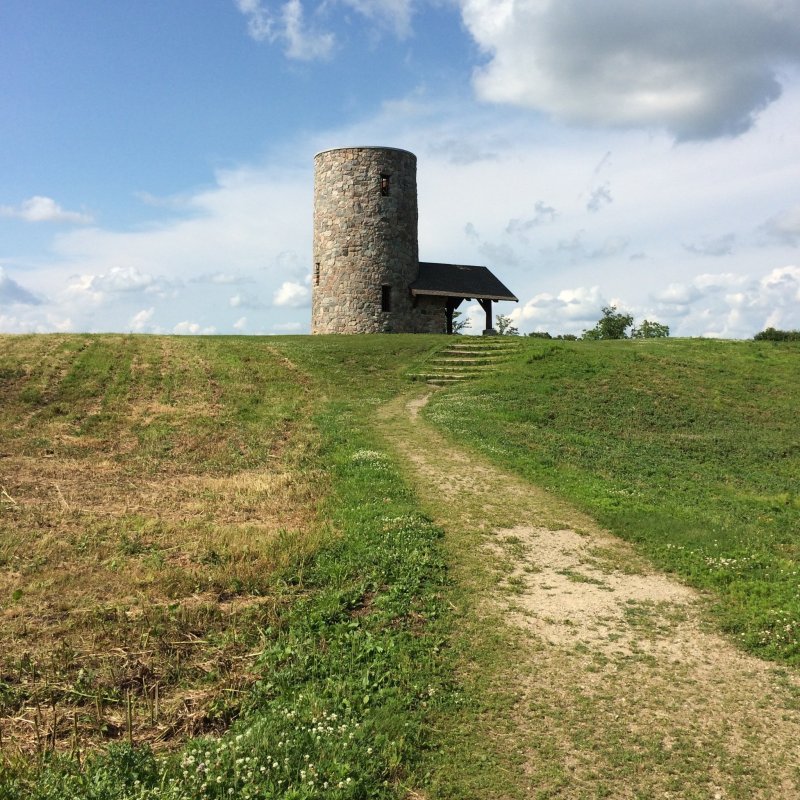 Iowa is home to several great hiking trails. Many people think that Iowa is only cornfields and is flat. Iowa is actually home to rolling hills, beautiful scenery, and hiking trails for all levels of hikers.
I hope you will get out and experience some of these state park trails, as they each truly have something unique to offer. The beauty that you will find along each of these trails is Instagram and Christmas card worthy. Fill your backpack with your smartphone, water, sunscreen, bug spray, and sunglasses. Your hiking experiences in Iowa will be memorable and ones you talk about for years to come.
Most importantly, pay attention to any road or trail closures when you enter these Iowa state parks.
1. Pea's Creek Canyon, Ledges State Park
Madrid
This is my pick for the best hike in Iowa. Check out TravelAwaits' picks for the best hikes in all 50 states here. Ledges State Park is located near Boone, Iowa. With four miles of hiking trails that lead to scenic overlooks, it is not to be missed. There are four miles of up-and-down steep slopes, which offer access to amazing views of Pea's Creek "canyon."
This trail is very popular and offers views unlike any others in the state of Iowa. At the southern end of Ledges State Park, there's a fully accessible interpretive trail that leads to Lost Lake. This state park is ideal for hiking and there are several picnic facilities maintained throughout the park.
2. East And Ridge Trail, Fort Defiance State Park
Estherville
Fort Defiance State Park is located near Estherville in northwest Iowa. This state park surprised me when I visited this past August. The trails were lush and offered beauty that I had not seen elsewhere in Iowa. The valleys in this state park are what stood out as the most memorable thing along the trails. When you hike down into the valleys, you need to remember that you will have to hike back out! As with any hike, be sure to take your water along with you.
I would not recommend this trail to anyone with any physical limitations, as it is steep in places. If you have the stamina, this will be worth every single step.
3. Pilot Knob Trail, Pilot Knob State Park
Forest City
Pilot Knob State Park is located near Forest City. It encompasses 700 acres and offers a beautiful trail to the Pilot Knob tower. The quarter-mile trail has an upward slope to the tower and offers spectacular views of Iowa from the top.
Fall is a very popular time to visit, as the fall colors are stunning. This tower was built by the Civilian Conservation Corps in the 1930s. After the glaciers leveled the prairies in North Central Iowa, they deposited rocks that formed the hills and valleys now known as Pilot Knob.
4. Dancehall Cave, Maquoketa Caves State Park
Maquoketa
There are a total of six miles of trails in Maquoketa Caves State Park. The stunning limestone formations offer visitors an opportunity to take a step back in time. The trail to Dancehall Cave is one of the most popular. If visitors continue on the trail from Dancehall Cave, they find themselves near caves of all shapes and sizes. Be sure you are physically fit and geared up for some serious caving before you decide to go past Dancehall Cave. You'll need a headlamp and should be wearing old clothes. Some of these caves are very deep, dark, and narrow.
A few years ago, I literally crawled into one of these caves on my belly. I tossed my clothes in the trash can afterward as they were covered in mud.
This is probably Iowa's most unique state park and trail system. I do not know of another state park where visitors can see stunning cliffs, valleys, rock formations, and cave formations. Spring is a spectacular time to visit as the flowers are popping with color.
5. Two-Mile Trail, Beeds Lake State Park
Hampton
Beeds Lake State Park is located near Hampton, Iowa. A popular trail here is the Two-Mile trail. It is an easy hike and wraps around Beeds Lake for two miles. When you arrive at the spillway, you can hike to the base of the dam and look at its unique limestone face.
This park is also popular for boating, camping, fishing, and family reunions as it offers outdoor shelter areas and an indoor area for larger gatherings. I would suggest hiking this trail near sunset with your bug spray in tow. Iowa sunsets are spectacular all year long. Winter outdoor enthusiasts will find this trail user friendly during the winter season, too.
6. The Bur Oak Nature Trail, Viking Lake State Park
Stanton
Most people think of fishing when they think of Viking Lake State Park. It's true, this is a great state park for fishing, but it also offers a beautiful hiking trail. The Bur Oak Nature Trail offers an easy one-mile walk around Viking Lake. Visitors can pick up a guide that showcases the trees and shrubs that are native to the area.
For those who want a longer hike, the Whitetail Trail is almost six miles long and goes all the way around Viking Lake. Both of these trails are easy and offer a glimpse into the beauty that Viking Lake has to offer. With an average grade of just 2 percent, almost anyone can tackle these trails on any given day. Campers with all types of units will appreciate the 120 campsites in this state park in southwest Iowa.
7. One Mile Nature Trail, McIntosh Woods State Park
Ventura
McIntosh Woods State Park is located near Ventura, Iowa. It is home to several easy-to-navigate nature trails. This one-mile nature trail is fairly easy to navigate, with trail signs describing different features of the park. This state park is one that plays big despite being rather small.
It not only has a hiking trail that is user friendly to many but also offers boating, swimming, fishing, camping, and yurts. If you are looking for an outdoor experience that you cannot find elsewhere, try hiking and staying in McIntosh Woods State Park. From my personal experience, you will not be disappointed.
8. Multiple Trails For Hiking Enthusiasts, Yellow River State Forest
Harpers Ferry
Yellow River State Forest is located in Allamakee County in northeast Iowa. The scenic overlooks, trout streams, and birding accessible from multiple trails are extremely popular. If you hop on a trail here, you will be sure to find stunning views. If you are looking for outdoor adventure that is accompanied with a challenge, this is where your trails are. Many trail enthusiasts compare this area of the state to hiking "out West." I have to agree, as this area of the state offers trail experiences that you cannot find elsewhere in Iowa.
Camping enthusiasts will appreciate that the Paint Creek Unit contains four different camping areas that are all connected to the 45 miles of trails. Campsites also include equestrian sites for horse lovers. The most unique thing about these trails is that many are multipurpose and designed to accommodate mountain biking and horseback riding. This park offers easy ways to disconnect from the online world and really focus on nature.
Backpackers of all types will appreciate everything about Yellow River State Forest. Whether you want to hike one mile or 10, you will enjoy your time in Yellow River State Forest. Note that if you plan on backpacking through the park during an overnight stay, you will need to register at the forest headquarters before hitting the trail. There are sites without services that offer space for several people, but registration is required. Pack what you need and be prepared.
I hope you will visit one or several of these state parks in Iowa. Tie up your favorite hiking shoes and hit the trail. I believe you will be surprised to find that you are in the heart of America, or, more specifically, the beautiful state of Iowa. Road tripping from hike to hike? Here are nine under-the-radar Iowa towns and why you should visit.
This article is presented by KEEN Footwear. I have been enjoying my KEEN Targhee III Waterproof Mid hiking boots in Weiss/Boysenberry. They are true to fit, have great traction, and my feet have not been too hot. In fact, they have been just right! Shop KEEN's Targhee and other hiking shoes here.