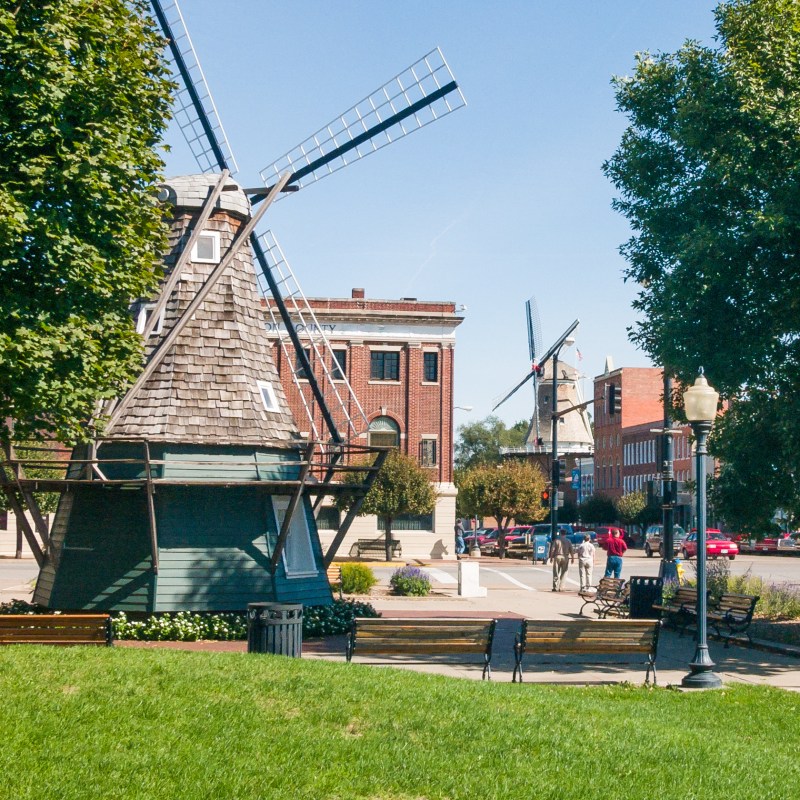 Iowa is a state of rolling hills, flatlands, cornfields, and rivers. You might not want to stay in one place, as there's a lot of history to be experienced in all areas of the state. Charles City is home to the tractor, Elk Horn is where the Danish prevail, and Pella is where you will experience America's Dutch heritage. Here are nine under-the-radar Iowa towns that you need to visit.
1. Elk Horn, Iowa
Elk Horn, Iowa, is home to the Danish Villages. Hop off of I-80 at Exit 54 in western Iowa, drive five minutes north, and you will see the Danish windmill. Danish blood runs deep in this town, as most of the 600+ people who live in Elk Horn are of Danish heritage.
Where To Eat
A taste of Denmark is what you will find at the Danish Table Hygge Kitchen, which is a full-service restaurant in the heart of Elk Horn. Position yourself near a window so you can view the Danish Windmill as you dine on Danish food. Indulge in frikadeller (Danish meatballs) and stegt flaesk (fried pork belly) with homemade red cabbage and cucumber salad.
Where To Stay
The Tivoli Inn and Suites is located across from the Danish Villages Welcome Center in Elk Horn. The rooms are clean and the property is conveniently located.
A Tip For Visiting Elk Horn, Iowa
Plan to spend an hour on Main Street at the Museum of Danish America Genealogy Center. The staff is knowledgeable about Danish history and can even help you find your Danish relatives.
2. Winterset, Iowa
Winterset, Iowa, is in the heart of the Bridges of Madison County. This town is located 37 miles southwest of Des Moines. The town square in Winterset is stunning. In fact, the Winterset Courthouse and historic district were both listed on the National Register of Historic Places in 2015.
Where To Eat
Located in the town square, the Northside Cafe is where you can sit on the seat that Clint Eastwood made famous in The Bridges of Madison County and have your picture taken. Iowa tenderloins and comfort foods are featured on the menu.
Where To Stay
A stay at a bed and breakfast is ideal in Winterset. Enjoy a night or two at the Judge Lewis House Bed and Breakfast, one of Winterset's most historic homes.
Tips For Visiting Winterset, Iowa
Plan to spend a half day touring the Bridges of Madison County, as they are all within a few minutes of Winterset. Wear comfortable walking shoes and take your camera with you. You will also want to plan a minimum of an hour to visit the John Wayne Birthplace and Museum.
3. Dyersville, Iowa
Dyersville, Iowa, is located right off of Highway 20 in eastern Iowa. The town is known as the Farm Toy Capital of the World, and it is home to the National Farm Toy Museum. Today, visitors flock to the movie site to experience the Field of Dreams, also located in Dyersville.
Where To Eat
Country Junction offers home-cooked food, but they are best known for their homemade pies. Their sour cream raisin pie is their most famous, but I can tell you from personal experience that all of their pies are award winning in my book.
Where To Stay
The Comfort Inn Hotel is conveniently located near the museum, and it's not far from the Field of Dreams, making it an ideal place for lodging.
A Tip For Visiting Dyersville, Iowa
Visit on Labor Day Weekend and attend a baseball game made up of Dyersville's dream team.
4. Estherville, Iowa
Estherville, Iowa, is located in northwest Iowa and is home to beautiful hiking and water trails. Kayaking is offered through the Emmet County Nature Center on High Lake. Fort Defiance State Park is home to miles of hiking trails. The scenery is beautiful in this state park, and it's important to note that the trails are rugged.
Where To Eat
Woody's Pizza is a local favorite and a favorite of mine, as well. A nice feature is the outdoor dining during the warmer times of the year.
Where To Stay
Little Swan Lake Winery offers a bed and breakfast with a view.
A Tip For Visiting Estherville, Iowa
Join Woodys Cycling Group and ride 20 miles with the locals if you're up for some exercise.
5. Rockwell, Iowa
Rockwell, Iowa, is a town of around 1,000 residents and is located in north-central Iowa. Thousands of people come to town every weekend after the 4th of July, when the Rockwell Lions Club and the National Tractor Pullers Association present the North Iowa Nationals.
Where To Eat
Jonesy's Stop n Shop, located at 104 1st Street North in Rockwell, offers pizza and Iowa tenderloins.
Where To Stay
Linn Grove County Park offers camping and is located on the edge of town. Full service lodging is offered in nearby Mason City.
A Tip For Visiting Rockwell, Iowa
Bring your golf clubs, as the Linn Grove Country Club is home to a 9-hole course.
6. Ottumwa, Iowa
Ottumwa, Iowa, is a town in southeastern Iowa that offers a variety of dining experiences. The Airpower Museum and the American Gothic House Center are two attractions that you do not want to miss here.
Where To Eat
Appanoose Rapids, located at 322 E Main Street, offers a variety of menu items. From steak to salads, their one-of-a-kind menu is sure to please you and anyone you're traveling with. The fresh ingredients and top-notch service make this a memorable dining experience.
Where To Stay
Hotel Ottumwa is located in the heart of the town and offers cozy, comfortable lodging. The Tom-Tom Tap is a traditional '50s style hotel lounge on site that offers cocktails in a fun setting.
A Tip For Visiting Ottumwa, Iowa
Stop at the Bridge View Center and walk near the water. Bring your binoculars for close ups of the bald eagles that frequent the area.
7. Pella, Iowa
Many of America's Dutch treasures can be found in Pella, Iowa. You can experience the Netherlands — no passport required. The Pella Historical Society Museums and Vermeer Windmill are two attractions you do not want to miss. The Vermeer Windmill is the tallest working grain windmill in the United States.
Where To Eat
When you visit Pella, you will want to stop at the Jaarsma Bakery and sink your teeth into a Dutch letter.
Where To Stay
The Royal Amsterdam Hotel is located one block from historic downtown Pella. You will have a true European experience when you stay here.
Tips For Visiting Pella, Iowa
Allow time to explore Main Street, as this is one of Iowa's best places for shopping. Visit in May to experience the Pella Tulip Festival.
8. Charles City, Iowa
Adventure and history collide in Charles City, which is located approximately 35 minutes south of southern Minnesota's I-90. The first ever whitewater course in the state of Iowa can be found in Charles City. With three different drops, it offers challenges for water enthusiasts of all skill levels. The Floyd County Historical Museum in town is also home to more than 50,000 artifacts.
Where To Eat
The Pub On The Cedar offers salads, sandwiches, French dip sandwiches and, of course, an Iowa tenderloin.
Where To Stay
Award-winning luxury lodging is offered at Red Cedar Lodge. Tom and Lorraine Winterink are your hosts and will welcome you like family.
A Tip For Visiting Charles City, Iowa
National women's rights leader Carrie Lane Chapman Catt grew up on a farm south of Charles City. You can visit her home and the interpretive center there.
9. Lansing, Iowa
The Mississippi and Main Street collide in the northeast town of Lansing, Iowa. River views will await you as you walk downtown. The Driftless Area Education and Visitor Center offers an opportunity for visitors to learn about how the area came to be and admission is free.
Where To Eat
A meal near the Mississippi is what you will find at Miltys. A casual atmosphere and typical bar food will greet you. Salads, sandwiches, chicken, and pie are favorites.
Where To Stay
For a unique nature experience, book a stay at Dear Camp. This property is about 10 miles north of Lansing but is well worth the drive.
A Tip For Visiting Lansing, Iowa
Drive up the hill at Mount Hosmer Park for an inspiring view of the Mississippi River and the Lansing Bridge.
Want more Iowa inspiration? Check out