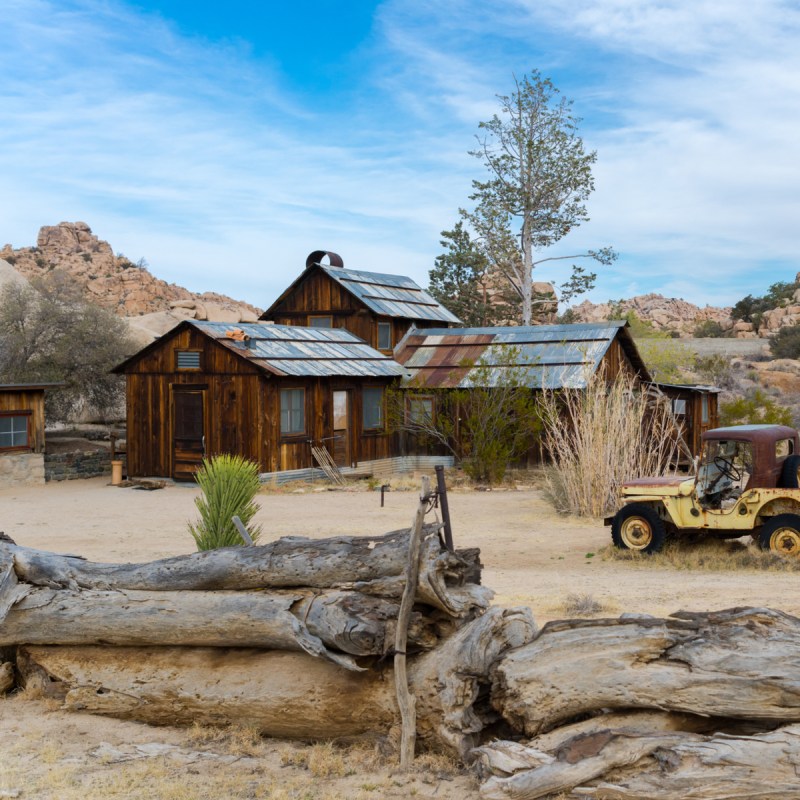 It has been more than 100 years now since Bill and Florence Keys arrived at a desolate little ranch deep in the Mojave Desert, with little more to keep them company than the region's massive granite rocks, distinctive thorny trees, and hot dry winds.
After arriving as a newly married couple in 1918, Bill and Florence would go on to spend half a century forging a life in the area of southeastern California that is now the Joshua Tree National Park. Along the way, the couple raised five children.
Today, Keys Ranch remains much like the family left it when Bill died in 1969 — a perfectly preserved testament to the ingenuity of the early pioneers of the West.
For anyone who has ever wondered how they might have dealt with such extreme conditions, the remote Keys Ranch is the perfect spot for a bit of time travel. After a 90-minute tour of the incredibly scenic ranch, you will leave with a firm grasp of what it took for Bill and Frances to survive — and, indeed, thrive — on their little piece of Joshua Tree.
Although it takes some pre-planning to get reservations, I think touring Keys Ranch is a not-to-be-missed feature of Joshua Tree and definitely worth the preparations to get tour tickets.
Here are 7 things to know before you go.
1. The Ranch Where Time Stood Still
Keys Ranch is billed as being frozen in time, and that description does not exaggerate.
From the troughs of rusty nails and bolts to the rows of vintage tractors and wagons to the old wringer washing machine, the ranch features countless artifacts of the Keys' time on the ranch. And they are largely where the family left them.
Through the narration of an excellent national parks guide, it was easy for me to imagine life on the ranch. I could see Frances, a transplant from stylish Pasadena, arriving as a new bride at the ranch that sits in the midst of some of California's harshest terrain, a 50-mile journey from the nearest sign of civilization.
Of course, you can also imagine Frances meeting the challenge head-on — planting a massive garden, washing endless loads of laundry in the outdoor washing machine, and bearing seven children (five of whom survived).
And then there was Bill, a colorful character of the Mojave Desert if ever there was one. Throughout the tour, you learn that not only was Bill an adept rancher, but a wily businessman as well. The reason for the large troughs of bolts and nails was that Bill served as a sort of an informal hardware purveyor for the other ranchers in the region. He also ran a stamp mill and crushed ore for miners in the area, and he had at least 30 mines of his own in the region.
2. Buildings From Days Gone By
Spread all around the ranch site are buildings that reflect the early-1900s agricultural scene. There is an old car body that was fashioned into a chicken coop, along with toolsheds still filled with dusty wagon wheels and wheelbarrows, and other assorted outbuildings.
In the center of it all is the cobbled-together ranch house, which was repeatedly added onto as the family grew. The tour doesn't allow visitors to enter the house, but you can walk by and look in the windows to check out the vintage furnishings. You will also pass by the massive chimney that Bill is said to have crafted from rocks that he cut to size.
The ranch site also includes a variety of other buildings that lend insight into life there, such as an old wooden schoolhouse where the Keys' kids and the children of other nearby ranch families got their education, along with a little house where the schoolteacher and her husband lived onsite. A windmill, garden plot, adobe barn, and a little store that Frances operated for extra income are all a part of the tour as well.
3. Fascinating Family History
The tour also delves a bit into the history of Bill and Frances and their children. Among the most riveting of the stories is the one of a disagreement that arose between Bill and area resident Worth Bagley. As the tour guide told it, the two men argued over road access to one of Bill's mills, and after being shot at first, Bill Keys shot and killed Bagley. Keys ended up being convicted of murder in 1943 and was sent to San Quentin Prison. He served about 5 years before being released, and he was fully pardoned in 1950.
After his release, Keys returned to the ranch and took up where he had left off, working the ranch for another 2 decades. Frances died in 1963, and Bill died in 1969. By all accounts, the Keys children went on to live productive lives off the ranch.
4. Cultural Revelations
My tour group included several families of parents and children, as well as a young couple. As we progressed along, I became aware that there were some cultural touchstones that I was familiar with but that the younger people were not.
That was especially apparent when our tour guide showed us the rusty old container that served as the Keys family's mailbox. The guide noted that there was one piece of mail that the family anxiously awaited each year, and he asked the group what it might have been.
When he was met with silence, the guide looked at me and asked if I knew the answer. I guessed, "A catalog?" and he responded, "Yes, the Sears catalog." As I looked around at the young faces, I realized that in the age of internet shopping, none of them were familiar with the concept of big, multi-category catalogs. (The children in my group were all completely engaged in the tour, and Keys Ranch appeared to be a great family outing.)
5. How To Tour The Ranch
Touring Keys Ranch is available seasonally, and by reservation only. You must book a ticket online in advance at Recreation.gov to participate in the tours.
When I visited in May 2021, the reservation cost was $10 per adult (in addition to the Joshua Tree National Park entrance fee). As a part of the tour reservation confirmation, visitors are instructed to arrive at the locked ranch gate 15 minutes before the start of their tour. When I arrived, I was immediately met by the tour guide, who checked my name off a list.
Participants then drive their cars a short distance to the start of the tour. The park suggests wearing sturdy walking shoes, a hat, and sunscreen, and carrying plenty of water. Overall, the tour is easy to navigate, although it is not handicap accessible. Participants are on their feet for an hour and a half, but the tour is done at a leisurely pace and the route is fairly flat.
6. How To Book A Tour
Keys Ranch tours are typically conducted from October to May. My group was told that our visit in early May was the last one of the spring season. Because the tour groups are small, the reservations tend to fill up early, so it's best to book ahead of your visit date. Tickets can be booked up to 60 days in advance on Recreation.gov.
7. Getting To Keys Ranch
Keys Ranch is located in the Joshua Tree National Park, about two hours east of Los Angeles, 3 hours west of Phoenix, and 3-and-a-half hours southwest of Las Vegas. The national park features three park entrance stations: the West Entrance located near Joshua Tree Village; the North Entrance located near Twentynine Palms; and the South Entrance located near Cottonwood Spring along Interstate 10.
Driving time to Keys Ranch from the Twentynine Palms entrance (Oasis Visitor Center) is about 40 minutes, about 35 from the Joshua Tree Visitor Center, and about 1 hour and 15 minutes from the Cottonwood Visitor Center. Visitors should also factor in up to 30 minutes more for possible congestion at the park entrances.
Pro Tip: Keys Ranch is just one of the countless treasures in store at Joshua Tree National Park. For ideas on what to do there, see How to Visit Joshua Tree National Park or 6 Best Hikes in Joshua Tree National Park. And for tips on road-tripping from Joshua Tree to Death Valley, see Joshua Tree To Death Valley: 9 Stops On The Perfect Desert Road Trip.