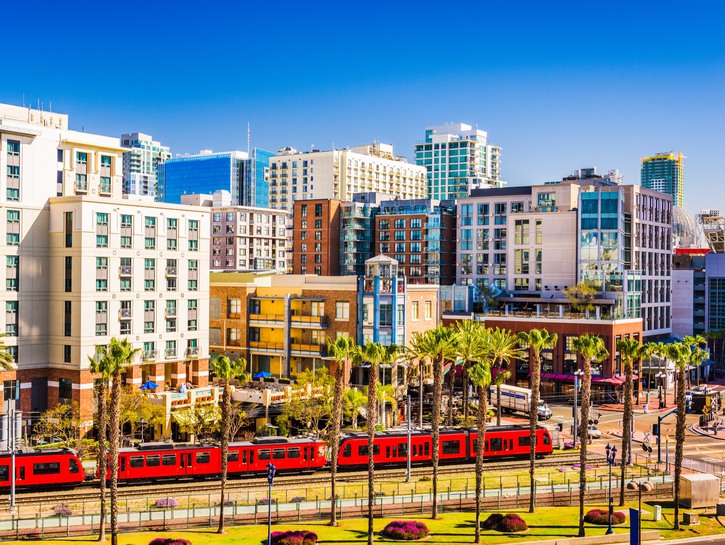 California's second-largest city, San Diego, is highly accessible and truly offers its visitors the whole package. The city has it all: outdoor adventures, culinary treasures, cultural and educational experiences, and plenty of surf, sun, and sand. It's no wonder that San Diego is one of California's and the country's top travel destinations.
While no trip to San Diego would be complete without visits to La Jolla, the Gaslamp Quarter, the USS Midway Museum, and SeaWorld San Diego, you won't get a genuine feel for the city without wandering to some of its lesser-known areas.
More experienced travelers tend to seek out the hidden gems of a city, for these are the parts that are the heart and soul of the destination. If you're headed to "America's Finest City," be sure to check out these 10 fantastic spots.
1. Los Peñasquitos Canyon Preserve
If you're an avid hiker and are headed to San Diego, you've probably already mapped out your trek through Mission Trails Regional Park.
If you're looking for a hiking adventure a bit off the beaten path, head to Los Peñasquitos Canyon Preserve. Los peñasquitos means "little cliffs" in Spanish, and while the preserve may not be as popular as the previously mentioned park, it's rooted in history and known for its scenic beauty and ample natural resources.
Los Peñasquitos Canyon Preserve extends for approximately 7 miles and is situated between the Rancho Peñasquitos, Torrey Hills, and Mira Mesa neighborhoods. Though the park is open year-round, the trails may be closed due to flooding or damage. Be sure to call the park rangers for up-to-date information on the trail status.
2. Black's Beach
Black's Beach in La Jolla, a clothing-optional beach and a combination of Torrey Pines City Beach and Torrey Pines State Beach, is situated just below the gliderport parking area on Torrey Pines Mesa.
San Diego's most renowned nude beach is also home to some of the city's best surf. While this is one of San Diego's best hidden gems, it's notoriously difficult to get to. There are several ways to reach Black's Beach, but most involve a steep climb and uneven, rocky surfaces, so be sure to wear proper shoes and prepare for a challenge.
3. Self-Realization Fellowship Meditation Gardens
Overlooking the Pacific Ocean, the Self-Realization Fellowship Meditation Gardens offer a diversity of colorful plants, meditation nooks, koi ponds, and unparalleled ocean views. The Meditation Gardens are specifically designed for prayer, study, meditation, and self-reflection.
If you're looking to lose yourself in spectacular natural beauty away from the hustle and bustle of the city, then a visit to the Meditation Gardens is in order. The gardens are open Tuesday through Saturday from 9 a.m. to 5 p.m. and Sundays from 11 a.m. to 5 p.m.
4. Miss B's Coconut Club
Intentionally tucked away in a Mission Beach nook, Miss B's Coconut Club is one of San Diego's best-kept gastronomical secrets, known for serving tiki drinks in special mugs that the bar has collected over the years.
Miss B's specialties include a variety of tropical rum cocktails, a mouthwatering Cuban sandwich, and coconut ceviche. This San Diego favorite also features 20 local and microbrew tap handles, along with kombucha on tap and house-made cold brew on nitro.
5. Balboa Park
You can experience art, architecture, science, and nature in San Diego's Balboa Park, which is home to more than 16 museums, various performing arts venues, majestic gardens, walking trails, and other popular attractions, including the San Diego Zoo.
The 1,200-acre park is an ideal getaway for bird-watchers, kids, and nature lovers. Unique bird species at Balboa Park include the great egret, red-shouldered hawk, western gull, and great horned owl. Some of the park's best museums are the San Diego Air & Space Museum and the San Diego Museum of Art.
While the Balboa Park grounds are open 24 hours a day, the museums and attractions have their own hours and normally close around 5 p.m. Admission to the park is free, though there are entrance fees for various attractions, including the museums and the San Diego Zoo.
For more information about hours and admission fees, be sure to stop by the park's visitor center upon arrival.
6. The Pearl Hotel
The Pearl Hotel is home to the Dive-In Theatre, a free weekly cinema social where guests can hang out by the pool, watch an eclectic film, and enjoy food, drinks, and good conversation.
The Pearl Hotel's Dive-In Theatre is located outdoors, and the films are projected onto a 10-by-13-foot screen overlooking the hotel's vintage swimming pool. Films range from the classics to blockbusters, foreign films, and independent films.
The weekly Dive-In Theatre show is every Wednesday at 8 p.m. Food is served until 10 p.m., and drinks are served until 11 p.m.
7. The Secret Swings
Hidden among the trees on the hillside above the Ellen Browning Scripps Memorial Pier near the University of California San Diego, the city's Secret Swings can be found.
You can reach this Instagram-worthy gem by hiking up the hill from Expedition Way. The spot offers stunning ocean views and a relaxing atmosphere.
While the handmade seats have changed over time — from a swinging bench to a tire swing and so forth — the attraction remains, inviting visitors to sit back and enjoy the views after a long day of sightseeing.
8. The Grass Skirt
Tiki bars have been popular in San Diego for years, and The Grass Skirt is one of the city's best. Located in Pacific Beach, The Grass Skirt is an SDCM-operated cocktail bar. The SDCM is a nationally acclaimed San Diego-based restaurant group.
Beverage director Steven Tuttle and corporate executive chef Brian Redzikowski work together to offer delectable cocktails paired with Southeast Asian dishes. Their famous pork buns and poke bowls are some of their most popular dishes.
Due to the restaurant's growing popularity, you should make a reservation for dinner. If you plan to take your chances without a reservation, be sure to arrive before 6:30 p.m.
9. Spruce Street Suspension Bridge
Another fantastic hidden gem in San Diego, the Spruce Street Suspension Bridge is a one-of-a-kind pedestrian bridge that was built in 1912. This kid- and pet-friendly bridge is loved by locals and visitors alike for its serenity and scenic beauty.
A walk on the Spruce Street Suspension Bridge is free, but you will have to find street parking near the bridge if you're arriving by car.
10. Sunny Jim Cave
Sunny Jim Cave is a San Diego attraction that you would never know existed unless someone told you.
The only way to access the large underground sea cave is to enter a store and descend its 143-step man-made tunnel.
Locals and tourists have been visiting Sunny Jim Cave since the early 1900s, and it's a truly unique La Jolla experience. The sea cave is open daily from 10 a.m. to 5 p.m. Admission costs $5 for adults and $3 for children.
Planning a trip to San Diego? Be sure to check out these eight wonderful day trips from the city.
Photo Credit: Songquan Deng / Shutterstock
Photo Credit: Sean Pavone / Shutterstock