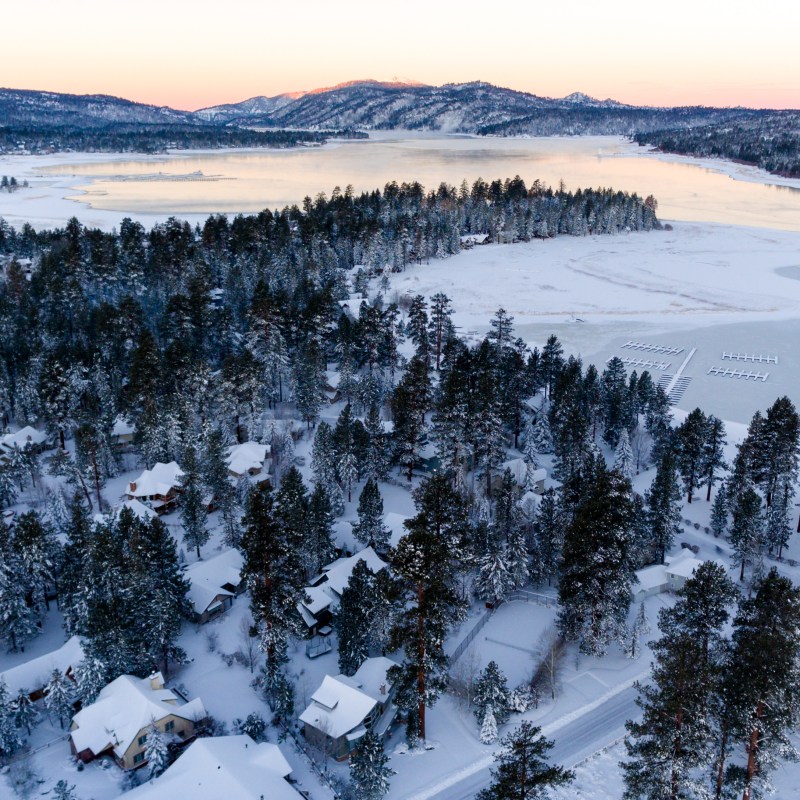 Located in the San Bernardino National Forest in Southern California, Big Bear is a fun winter destination offering a variety of outdoor activities. Whether you're coming from Los Angeles, Orange County, or San Diego, you can get to this mountain resort town in less than 3 hours. And for those who prefer to look at the snow from inside, there are plenty of activities for you as well.
Here are the best things to do in Big Bear during the winter.
Hit The Slopes
Whether you prefer to speed downhill on skis or a snowboard, Big Bear has two options: Bear Mountain and Snow Summit. Both facilities offer slopes with skill levels ranging from beginner to advanced. And if you've never tried these snow sports before, lessons are available for all ages. Equipment can be rented on-site either when you arrive or online in advance. It's recommended that you purchase lift tickets online in advance.
If you're looking for a unique challenge, or aren't available during the day, consider skiing and snowboarding at night at Snow Summit on select dates.
While skiing and snowboarding, you will have a terrific choice of food options at both Bear Mountain and Snow Summit. Each has more than a dozen cafes, restaurants, and bars to choose from.
Walk Through The Snow
The ski slopes and tube parks are always buzzing with people and activity. If you're looking for something more peaceful, head out on a local trail for hiking or snowshoeing.
If you have your own snowshoes, then just head out on one of the local trails. If you'd like to rent snowshoes, then visit Blauer Board Shop or Goldsmiths. If you've never tried snowshoeing, or are unfamiliar with the area, consider joining a 3-hour trek led by a local, experienced guide from Action Tours or The Discovery Center.
Hiking in the winter is an opportunity to experience nature covered in a blanket of snow. Throughout the region, there are dozens of hiking trails, but right in Big Bear are four trails ranging in distance from .5 to 5.4 miles: the Alpine Pedal Path Trail, Woodland Trail, Discovery Center Nature Trail, and Cougar Crest Trail.
Slide Down The Mountain
After skiing, snow tubing is Big Bear's most popular winter activity. In fact, there are three tubing areas: Alpine Slide at Magic Mountain, Big Bear Snow Play, and Grizzly Ridge. Tubing is a nice option for multigenerational travel, since everyone can participate together in one place — no need to select the right slope for each skill level.
If dragging your tube uphill after sliding down sounds daunting, don't worry. Each tubing park includes a "magic carpet" ride through clear tunnels, so it's easy to keep tubing as long as you'd like.
Two of the tubing parks — Alpine Slide and Big Bear Snow Play — also offer glow tubing after dark on select nights. While Grizzly Ridge doesn't offer glow tubing, it is located at Snow Summit, making it a great choice for groups interested in both skiing and tubing.
If you prefer sledding, Big Bear does not disappoint. There are several places throughout the national forest that are approved for sleds and toboggans, including Aspen Glen Picnic Area, Grays Peak Trail, and Cougar Crest Trail. You will need to bring your own sled or purchase one at a nearby sporting goods store. Most sledding areas are located on National Forest land and therefore require an Adventure Pass to park. These can be purchased at local convenience stores, gas stations, and sporting goods stores. Just be sure to do this prior to your sledding adventure.
Learn About Big Bear's Wildlife
Kids and adults alike will enjoy a visit to the Big Bear Alpine Zoo, a rehabilitation facility offering injured and orphaned wild animals a safe haven. About 90 percent of the animals brought to this facility are returned to the wild after being cared for by the zoo's staff. Visitors may see brown bears, arctic foxes, barn owls, and bobcats. While the zoo is open year-round, hours vary by season, so check the website before visiting.
Big Bear is also home to a pair of bald eagles named Jackie and Shadow. The pair recently built a nest, and in early January, two eggs were spotted. To keep track of this eagle family, the National Park Service installed a camera nearby, and a live feed is available through their Facebook page, which currently has more than 36,000 followers.
Enjoy Live Music Or A Show
After a long day outdoors in the cold, it's nice to be indoors. Big Bear offers a variety of entertainment options, including movies, music, and theater.
For live music in an intimate setting, check out The Cave. This venue offers a combination of big-name bands along with excellent tribute bands. All ages are welcome, though kids under 17 must be accompanied by an adult.
The Village Theater only offers one movie at a time, but they are first-run movies. And tickets cost just $5 a person on Tuesday evenings!
If live theater is more your style, then consider purchasing tickets to a show at the Big Bear Theatre Project or Big Bear Performing Arts Center. Big Bear Theatre offers year-round productions of popular plays and musicals like Our Town and The Importance of Being Earnest. The performing arts center offers plays in addition to dance and musical performances.
Eating In Big Bear
Big Bear is loaded with great restaurants and cafes serving food from around the world. The only tough part is deciding where to start!
For breakfast, the Grizzly Manor Cafe is highly recommended by both locals and visitors for its grizzly-sized portions. It's one of the most popular restaurants in town, so be prepared for a wait. Another delicious option for breakfast is the Teddy Bear Restaurant, which has been operating in Big Bear for more than 60 years. If you're a pie lover, then be sure to order a slice of the homemade pie.
For lunch or a snack, pop in to Amangela's Sandwich & Bagel House. This place is known for its bagels, coffee drinks, smoothies, and homemade soups.
For lunch or dinner head to Maggio's for pizza and pasta. This restaurant isn't fancy, but it's always busy due to its delicious food. For California cuisine, try Oakside Restaurant & Bar, which serves steak, seafood, pizza, and flatbreads. Oakside also specializes in craft beers, with 15 currently on tap.
For something really unique, try the Himalayan Restaurant specializing in Nepalese and Indian food, or head to Gaby's Latin Flavors, which serves up Mexican and Bolivian cuisine.
Shopping In Big Bear
If you're looking to take a break from skiing, or just don't enjoy snow sports, don't worry — Big Bear also offers plenty of shopping opportunities. The best place to start is in the center of town, known locally as "the Village." Here there are dozens of specialty shops along a few charming streets, all within easy walking distance. Whether you are looking for warm clothing, home decor, books, or handcrafted items, there is a shop for you.
Some of my favorite shops in the area are Cabin Fever Gifts & Decor, Mountain Witch Tea Company, and Candle Dreams. Browsing through boutiques is a nice way to spend a day.
If antique shopping is something you enjoy, then Big Bear is also a good bet. Locals recommend starting at Fox Farm Antique Mall, which features 20 separate dealers in one location. In nearby Fawnskin is North Shore Antiques & Collectibles, which features five dealers offering antique furnishings, collectibles, jewelry, and art.
Finally, this town is full of excellent ski and snowboard shops selling both equipment and clothing. Check out Goldsmiths or Blauer Board Shop.
Where To Stay
In keeping with the mountain resort atmosphere, most of the accommodations in Big Bear are cabins. Fortunately, there are a large selection of cabins ranging in size and amenities.
For accommodations close to the Village, consider staying at Pine Knot Guest Ranch, which offers seven cabins spread over 2 acres. All of the cabins include in-room jacuzzis, fireplaces, kitchenettes, porches, and Wi-Fi.
Big Bear Frontier, an ideal family resort, offers both guest rooms and cabins of varying sizes. You can rent bicycles, and there are movies, books, and games available to borrow.
In Big Bear and the surrounding cities, there are hundreds of private cabins available for rent. Big Bear's tourism board is a great resource for finding one of these. A private rental is a good choice when traveling with a large group or multiple families.
If a more traditional hotel is your preference, there are some nice choices. The Lodge At Big Bear Lake is a Holiday Inn property that includes a pool, fitness center, and on-site restaurant. The Best Western Big Bear Chateau also offers a pool and fitness center, as well as an included breakfast.