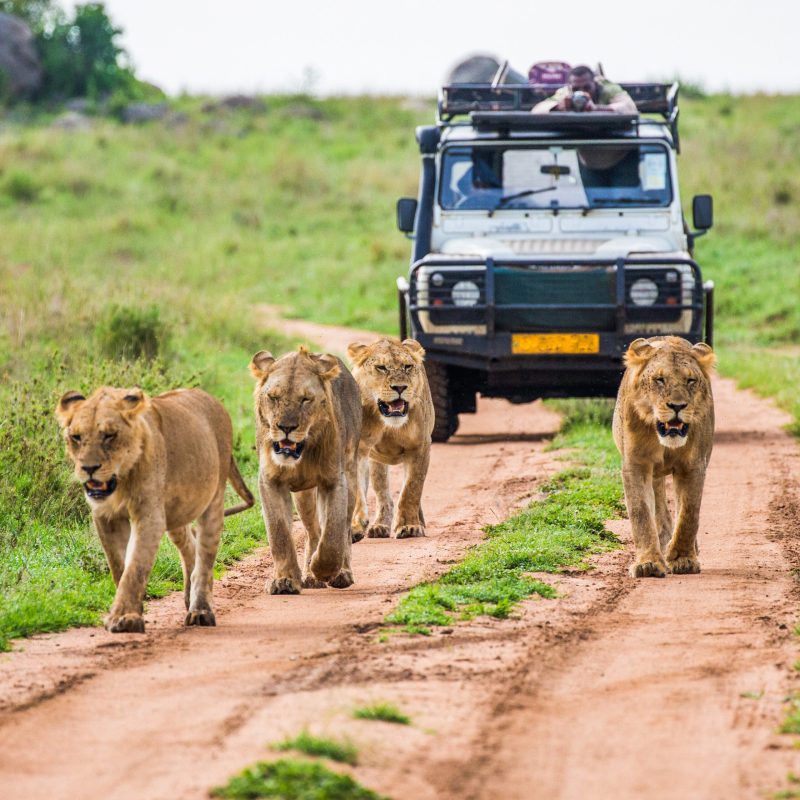 I experienced the magic of my first African safari this year. It was long: three weeks to be exact. We drove from Cape Town, South Africa, to Johannesburg via Namibia, Botswana, and Zimbabwe. Before going, I thought a safari was a jeep ride to see animals in the wild. It turns out those are called game drives, and are only one part of the safari adventure. I absolutely loved my experience; however, it's worth knowing a few things before you book yours, especially if it'll be for two weeks or more.
1. You'll Do a Lot of Driving And Have A Lot of Early Starts
I hadn't thought about how big Africa is. The drive from Cape Town to Victoria Falls is over 3,500 miles. This meant we drove all day, most days. In order to arrive at our destinations with daylight, we often had 6 a.m. starts. You can sleep during the long drives; however, roads are usually not paved. This means that the further back in the truck you sit, the more you'll have "the African massage" — a euphemism for the very bumpy ride. However, there's usually nothing to do at night, so you'll happily drift off to sleep by 9 or 10 p.m., making the early rises easier.
2. Safaris Aren't Great For The Diet (Or The Body)
The real challenge of a safari is that with all the driving, you'll be sitting most of the day. By the end of three weeks, the arthritis in my knee got so bad I had trouble walking. You'll be instructed to buy lots of water to stay hydrated, especially in hotter countries, like Namibia. The challenge is, rest stops are only every few hours, and there are no toilets on the safari vehicles. If you request a non-scheduled stop, it will be by the side of the road and nature will be your bathroom.
You'll also be encouraged to buy snacks for the long drives. Unfortunately, there are lots of enticing things to eat that aren't good for the waistline. After sitting and snacking for three weeks, my pants became visibly tighter. If healthy or specific snacks like protein bars are important to you, you might consider bringing some from home to cut down on junk food.
3. It Goes Quickly And Covers A Lot Of Ground
I thought a longer safari meant slower travel. Instead, it meant more ground covered. Even a three-week safari went extremely fast because we stopped in so many places. Most safaris are made for the traveler with limited time who wants to see as much as they can in short periods.
Even though my travel agent gave me an itinerary, during the safari, I found it hard to remember where we had been just a few days before. I suggest keeping a journal each day with any specific details you want to recall. Or, print your itinerary with spaces between each location so you can write notes about each place. Photos are also hard to recall if you don't tag them quickly. Was that gorgeous sunset in Namibia or Botswana? Did I see that huge elephant in Chobe or Etosha? Taking notes is essential for remembering details later.
4. Be Honest About Your Travel Preferences
Depending on your budget and travel style, there are many ways to do a safari. Though the driving is always included, the lodging varies.
There are camping safaris, known as "overland" tours and accommodated tours, during which you'll sleep in a lodge or hotel room. The more expensive the tour, the more luxurious your room. I did a budget accommodated tour. I found the lodges wonderful. They weren't the Ritz Carlton, but they usually offered a good night's rest and a decent shower and had mosquito nets.
The camping version is different than glamping (you'll want to ask your tour company which version it offers). Overland camping safaris typically involve using "bush toilets" (a polite way to say you'll be digging holes) or shared outdoor toilets. Glamping will offer you a bed in a tent and the possibility of a toilet, though it could be outdoors. You should ask whether or not you need to bring your own camping gear.
The type of tour you book will impact your food, which can range from budget to gourmet. On a budget tour, you'll have some meals on your own account, meaning you have to buy some of them in a supermarket or at a restaurant. No matter which option you choose, expect the crew to be excellent at handling food allergies and dietary restrictions when they cook your meals.
5. Single Supplements Could Kill Your Budget
If you're traveling solo, single supplements (the cost associated with participating solo on a tour that generally assumes the participation of couples) can be as high as one-third of the safari price. If you meet a fellow solo traveler and get along, you could share a room and get some of your money back. If you do more than one safari with the same company, you should be eligible for a discount. Always ask.
6. Don't Overpack
This is not the time to bring your entire wardrobe with you. Your safari truck has cubby holes for your bags or a small luggage vehicle at the back. There are strict size limits because your bag won't fit if it's too large. If your safari is full, there won't be room on a seat for it. Soft duffel bags are better than structured suitcases with wheels unless they're carry-on size. Another thing to consider is that every night you'll have to take your luggage off the truck to access clothes and toiletries, and every morning, you'll have to put your bag back on the bus. I ended up putting my daily essentials into a tote so I could leave my larger bag in its cubby hole. Some lodges have laundry facilities, so it's best to wash clothes and wear them again rather than packing something different to wear each day.
7. You Might Not Get Along With Everyone
Longer safaris mean a substantial amount of time with strangers. While that can be great if everyone in your group gets along, it's not so fun if you don't. During a long ride, when days can be tiring and everyone needs to stretch, personality conflicts may happen. Consider that you're likely to have people of different ages and several different nationalities on the safari. Having compassion is a must.
8. Choose Your Route According To The Experience You Want
Africa is huge. Depending on your available time and budget, you'll need to choose what you'd most like to see. If you plan to start in South Africa, for example, there are different safaris available out of Cape Town than there are out of Johannesburg. You may want to choose the countries you'll visit by types of animals you're likely to see, the countries that'll be visited, or even by malaria risk. Many tours also feature a visit to a local tribe, which, in my opinion, was one of the most fascinating activities we participated in.
9. Animal Sightings Are Not Guaranteed
The greatest thing about the wildlife in Africa is that its in the wild, not a zoo. That means the animals are free to roam anywhere they please, whenever they want, and it won't always be in front of your safari truck. I was outrageously lucky to see all the wildlife I did. Our tour guide told us he had been to Etosha in Namibia the week before, and they saw only one lion and a few elephants, whereas we saw almost every animal possible. If your goal is to see all of "The Big 5," your best bet is to go to one of the national parks, like Kruger in South Africa, spend a week there, and do a game drive every day to increase your chances.
Long safaris are one of the most amazing life experiences you can have. I highly recommend doing multiple! If you know what you expect to see and do, and the type of travel you want to have, you'll create memories you'll cherish for the rest of your life.
Want more on safaris? Here's why a Tanzania safari should be at the top of your bucket list, plus what happened when one of our writers finally went gorilla trekking in Uganda (and why it was worth the wait).