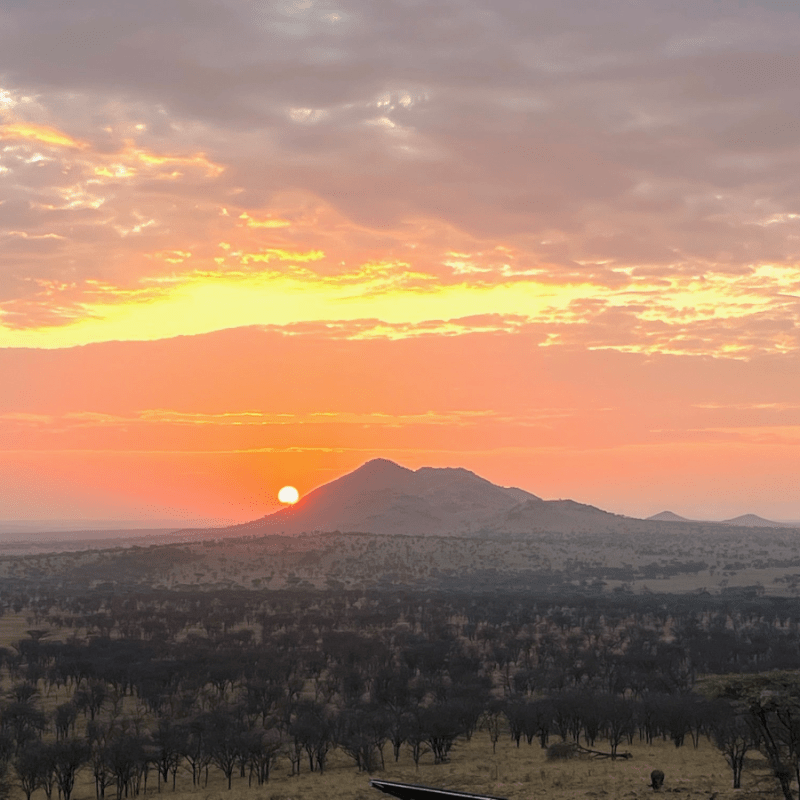 I thought I was prepared for my seven-day safari in Tanzania earlier this year. However, after extended conversations with our two guides, David and Joseph — along with other members of our safari team — I realized I could have come even better equipped.
For a little background, I traveled to Tanzania in September for a seven-day safari. All advanced arrangements were made through the travel agency, African Portfolio, while everything in Tanzania was handled by Ranger Safaris — I highly recommend both. Traveling with a group of thirteen, we began and ended our safari in Arusha and explored Ngorongoro Crater, Lake Manyara, and the Serengeti. The variety of wildlife we saw was stunning and included lions, cheetahs, elephants, zebras, giraffes, wildebeests, and much more.
A safari through the national parks of Tanzania might be the most memorable — and expensive — trip of my life. I enjoyed every minute of it, but considering the significant cost and effort it takes to get to East Africa, I hope to help those that follow me be even better prepared with these tips.
1. Bring A Camera And Binoculars
With ever-improving cell phone cameras, many people leave their actual cameras behind. I'll admit that I often do this. However, as my guide, Joseph, pointed out, guests often regret this decision. If you own a camera, bring it, and be sure to purchase or rent a telephoto lens. If you don't own a camera, consider purchasing or borrowing one. These will be some of the most memorable photos of your life.
Additionally, Joseph strongly encourages everyone to bring a high-quality pair of binoculars. While guides are always trying to get close to animals, sometimes that's just not possible.
Pro Tip: I learned during our trip that a high-powered telephoto lens can cost thousands of dollars. However, that same lens can be rented for a few hundred. I'll definitely be renting one for my next safari.
2. Tanzania's Natural Wonders
Becoming a safari guide is no easy endeavor. In addition to educational requirements, each guide has many years of training and experience. Our entire traveling party was endlessly impressed by both David and Joseph's knowledge of the animals, plants, and history.
However, to fully appreciate what you'll see while on safari, take some time in advance of your trip to learn about the specific places you'll be visiting. After all, you are visiting one of the most biodiverse regions in the world and there's no way one guide can impart all there is to know about the more than 70 animal species and more than 500 bird species to be found here.
Here are a few resources that may help to prepare you for your trip;
3. Tanzania's Culture And People
While the animals are likely the reason you booked your trip to Tanzania, our guide, David, encourages guests to be open to learning about the local culture and people as well. Fortunately, this is pretty easy to do. Every Tanzanian I met was eager to share information about their country, so don't hesitate to start a conversation with your guide, driver, or anyone else you meet.
Learning about the tribes of Tanzania is a great starting point for understanding the local culture. The best-known tribe is the Maasai but that's just one of the 120 tribes residing in the country. Look for opportunities to learn about tribes through visits to local villages or craft demonstrations. We had the chance to watch a carving demonstration by a member of the Makonde tribe who mostly reside in Northern Tanzania. Their carvings — frequently made of ebony — are very intricate and can take many years to complete.
Pro Tip: The Cultural Heritage Center in Arusha is a great spot to learn more about the traditional arts of Tanzania's tribes by watching demonstrations. I arrived early in Arusha and had the opportunity to spend a few hours here.
4. Don't Pet The Animals
Before meeting our safari guides, our group gathered for a briefing given by our tour director, Naomi. After reviewing the itinerary, she reminded us about safety and instructed us not to pet the animals. I assumed she was joking. I couldn't imagine anyone stupid enough to pet a wild animal. However, it turns out that most of the guides and staff I met during my seven days had at least one story about a guest attempting to pet an animal, including a lion.
A few days later we were parked in the Serengeti watching a lioness hunting a gazelle. She briefly passed between our two vehicles, using them as cover. With the vehicle windows open, she was close enough to reach out and touch. I now understood how someone could be tempted to pet a lion, but needless to say, don't do it.
5. Oldupai Gorge — The Cradle Of Mankind
On our third day of the safari, we drove from the Ngorongoro Crater to the Serengeti. Along the way, we stopped at the Oldupai Gorge and toured the museum. This isn't on every safari itinerary, but I agree with our guides, David and Joseph, who told me it should be.
Oldupai (frequently misnamed as Olduvai) Gorge is arguably the most important fossil site in the world. It was here that Louis and Mary Leakey made several important discoveries, including the earliest signs of humans using stone tools.
6. When You Should Visit
If you're going to make the journey to Tanzania, it's really important to decide what time of year you do it. After speaking with our travel agent, tour director, and guides, I learned that there are many things to take into account when making this decision.
First of all, if you want to see the great migration of wildebeests, you'll need to come between May and September. The animals cross the Grumeti River between May and July and the Mara River from July to September. Keep in mind that these are wild animals that can do what they please, so these months are just estimations. I had the chance to witness the wildebeests crossing the Mara and it was spectacular. However, this is the busiest and most expensive time of year as well.
If you're hoping for better pricing and fewer crowds, then the off seasons of January through March and November through December are good options. January through March is often a great time to see baby animals throughout the parks. This is also the rainy season. The rains can make the roads muddy, difficult to navigate, and may limit where your safari guide can go.
7. Prepare For Your Trip
In a follow-up call with our travel agent, Victoria, I asked her what she wants future travelers to Tanzania to know. She said, "Read everything your tour company sends you and allow plenty of time to prepare for your trip." I couldn't agree more.
First, make sure your passport is current and will not expire less than six months from the date of your trip. Next, you'll need to apply for and receive a visa from the government of Tanzania. This can take up to three weeks, so don't wait until the last minute. Currently, the government requires tourists to be fully vaccinated against COVID-19. However, you'll also want to check with your doctor about other recommended vaccines. Your doctor is likely to prescribe anti-malarial pills and you may need to start taking these before your departure.
8. Purchase Local Crafts
When it's time to purchase souvenirs for family and friends, Joseph highly recommends seeking out handmade crafts. His personal favorites are the Makonde tribe carvings. However, if a sculpture isn't for you, consider handcrafted leather goods, beaded jewelry, and woven baskets. To support a local NGO, visit Shanga, and purchase one of the items made by disabled artisans.
Pro Tip: After three trips to East Africa, I've learned to bring along an extra bag to take home all of my souvenirs. I've found that the handmade items throughout this region are beautiful, high quality, and affordable.
9. Listen To Your Guides
Okay, this tip comes from me, but that's because David and Joseph were too polite to say it. Your guides want to do everything in their power to accommodate every request, but in reality, they know best.
If your guide asks you to get up before the sun rises so you can get to the Mara River early enough to watch the wildebeests cross, then just do it. You can sleep back home. When they suggest you stop taking pictures of the gazelles because they've heard of a lion sighting, then put the camera away and let them drive on.
All day, every day, guides are balancing the requests (sometimes demands) of guests with their expertise and intuition about the animals. When we listened, we were rewarded with the sighting of mating lions, a lioness after the hunt, and a mother cheetah and her three cubs. In other words, things we didn't even know were possible, but our guides did.
For more articles on safaris, check out these articles: