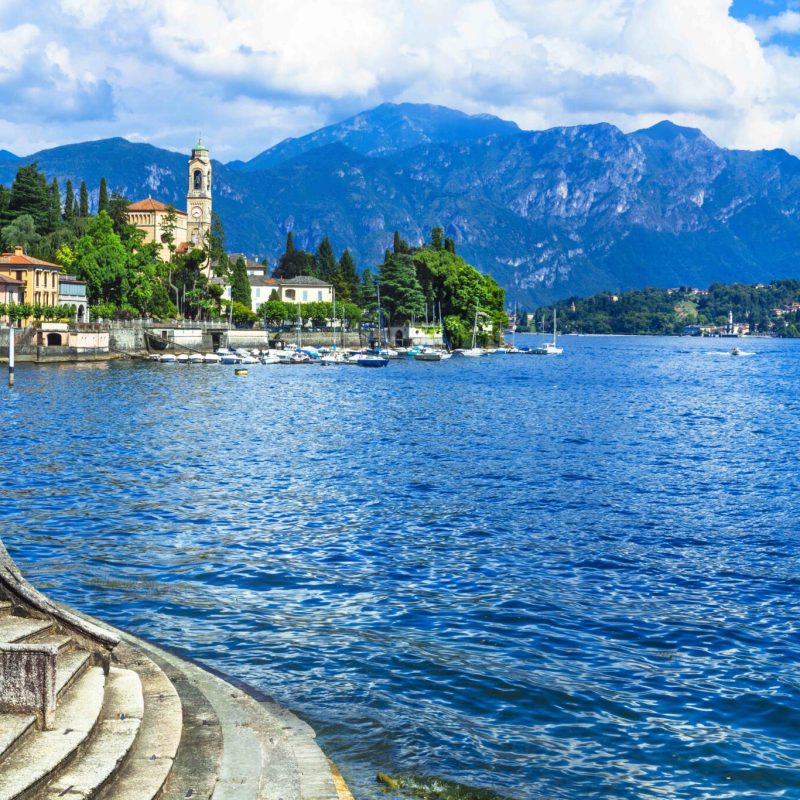 Lake Como, Italy, is the Italian paradise you might not even know you're missing out on.
Nestled just south of the mountainous Swiss border, the 30-mile-long lake boasts spectacular views with tall hills and mountains every which way you turn. Even during the hottest months of summer, visitors can spot the snow-capped peaks of the Swiss Alps and feel the cool mountain breeze.
I lived near Como, the biggest city on the lake, for one magical summer. Many days were spent learning the ins and outs of the city, and by the end of the season, Como became my favorite spot in all of Italy.
The lake has something for every type of traveler: the mountain lovers, the water fanatics, and even those who appreciate the hustle and bustle of bigger cities. It is an Italian paradise worth experiencing for several days or more, but not everyone has the time to explore Lake Como at their own pace.
If you can't see all of Lake Como, or spend a summer there, don't worry! I have the insider scoop on how to fit the beauty of Lake Como into one dreamy, fun-filled day.
From Northern Italian cuisine to traditional architecture to boat tours that will get you out on the water, Lake Como has magic around every corner, and you can tap into it, even in a single day.
View The Lake And All Its Gorgeous Cities From Up Above
The best place to start your whirlwind day in Lake Como is from up above.
While in Como, take a ride on the Como-Brunate Funicular. This funicular railway connects Como to Brunate, a quiet, cozy village of fewer than 2,000 residents.
As you make your way up the mountain, you'll see the city of Como grow smaller and smaller as the red rooftops of Como weave together like a patchwork blanket far below.
Once at the top, Brunate gives you a bird's-eye view of the splendid city of Como and the dark waters of the lake below. You can meander around the small village and peek in the Chiesa di Sant'Andrea Apostolo, a church in the center of the village, then stroll by traditional Italian homes nearby.
If you don't mind a hike, there's a mile-long walk up to the Volta Lighthouse, which offers panoramic views of the lake and the Swiss Alps so spectacular you'll wonder if you dreamt them up.
Exploring Brunate doesn't take long, so it'll be one stop of many during your magical day trip to Lake Como.
Next up, the most important activity of all: a boat tour!
Kick Back And Relax On A Lake Como Boat Tour
Lake Como is a 30-mile-long and almost-3-mile-wide wishbone-shaped body of water. There are over 15 villages right on the water. Como, the most well-known getaway on the lake, is on its southwestern tip. Lecco, a superb destination for authentic Italian food, is on the southeastern shore of the lake, and Bellagio is in the center of the wishbone.
Bellagio—my personal favorite—is a picturesque town full of winding cobblestone alleys and antique stores. Bellagio is made gorgeous by splashes of pastel coloring each building, plus lakeside dining and shops with authentic souvenirs you'll cherish forever. When I lived in Como, I found myself returning to Bellagio time and time again. The technicolor buildings reminded me of Cinque Terre, but with fewer crowds and a tangible small-town charm that made me feel at home. Bellagio is a special place I highly encourage you to see for yourself. Thankfully, most Lake Como boat tours include Bellagio as a stop!
I suggest exploring the lake by ferry. If you're coming from Como, you can purchase walk-up tickets for a ferry right at the pier. During a ferry ride, you'll learn the history of Northern Italy and can meander around as many lakeside villages as you'd like. The lake is also scattered with colossal estates carved right into the hills, and the ferries will point out the most spectacular, expansive estates worth taking a peek at. You might even catch a glimpse of George Clooney's vacation home right on the water!
The perk of buying a ferry ticket is you have the flexibility to hop on and off as you please. If you are enjoying a certain village—perhaps Bellagio, as I did—you can spend the afternoon there before boarding the boat again and exploring another harbor!
One especially unique way to explore Lake Como's deep green water is by kayaking around Bellagio. The kayaking tour is one and a half hours long, and will make for a leisurely adventure with a guide who will teach you everything you should know about the area and what it has to offer. This option is perfect for active folks who like to exercise on vacation!
If you'd prefer a more personalized boat tour experience with a smaller crowd and perhaps specialty dining, you'll have plenty of options to choose from—from a Venetian water limo to sailing on the lake!
Regardless of what tour you choose and how much time you spend on the water, seeing the lake and feeling its cool breeze in the flesh is an absolute must. Another must: food.
Dine Like A True Italian
During the magical three months I spent in Italy, the food became my favorite part of the culture.
Meals aren't for function in Italy. Meals are for connecting with others and yourself, nourishing your body, and above all else, food is about taking your time, enjoying what's on your plate, and enjoying your surroundings. One of the biggest lessons I learned in Italy is that good food is a luxury worth indulging in any time you can. So, while you're there, I suggest you do just that.
Give into Lake Como's splendid Italian food culture. Sit at a restaurant for hours — drinking and eating, chatting, and then drinking and eating some more. Have an espresso in the afternoon at Sartoria Ciclistica in Como.
If you spend the night or arrive early in Lake Como, indulge in a sweet breakfast by the water. You won't eat breakfast as Americans do — don't count on hash browns, bacon, and sausage. Instead, prepare for coffee bolder and better than any you have tried before and delicate sweets like biscuits, cookies, and maybe even fresh fruit straight off the vine.
When you think of Italian cuisine, you are probably thinking about oily, tangy pasta and pizza with nothing but fresh tomato sauce, mozzarella, and basil. These are all Southern Italian staples, though. Northern Italian food isn't as well-known, but it holds its own! During your day in Lake Como, you can indulge in both—the Italian dishes you already know and love and new dishes you've never heard of before.
One Lake Como staple is a risotto dish with freshly caught, pan-fried fish. Another is polenta—a beloved component of most meals in Northern Italy—with veal and pork. Try something new, but don't miss out on the classics like gelato by the pier, pizza, and of course, wine—and lots of it!
If you're a meat and cheese fan, look no further than the restaurants in the nearby village of Lecco, on the southeastern shore of the lake. Lecco can be reached by ferry, bus, or car. There, you can try out authentic cheeses native to Northern Italy, including parmesan, gorgonzola, pecorino, and asiago. Paired with dry-cured meats including prosciutto and bresaola, prepare for the most scrumptious charcuterie board of your life. Add some wine, and you have the perfect meal, right?
You might not be able to try every Italian dish in one day, unfortunately, but hopefully learning about the basics can inform your decision on how to dine like a true Italian in Como and beyond.
Explore Where City Meets Lake And Architecture Meets Natural Beauty
Lake Como isn't just a paradise for natural beauty; the architecture and cityscapes are something to behold as well.
In Como, you can walk along the waterfront and take in the magic of the lake and the splendor of the city, as well as the small villages carved into the towering hills in the distance.
There's an abundance of benches and small food stands to make the experience accommodating for all. My greatest recommendation is to grab some gelato in Como— any flavor you like—and take a leisurely stroll by the water. No need to watch the clock or worry about your destination—make like an Italian and enjoy the moment you are in.
After your moment enjoying the lake in all its beauty, you can take a step away from the water and enjoy Italian architecture. There are tons of gorgeous buildings around Como. If you want to do some shopping, check out the Town Center, where you can shop in and be surrounded by traditional Italian buildings. Church-lovers: Como Cathedral in the heart of Como is gorgeous! Basilica of Sant'Abbondio, a Romanesque-style 11th-century church, and Basilica San Carpoforo are both incredible structures that provide a look into Italy's religious past and present!
Right by the water, Villa Carlotta is a marriage of botanical garden and museum—visitors will appreciate earth's art as well as man's. Also, the villa is a stunning mansion, so it's a double whammy of beauty both natural and man-made!
There's something for everyone in northern Italy. Lake Como is northern Italy's crown jewel and my favorite best-kept secret in the country. Go for the views, stay for the history and authentic food, and leave already planning your next trip back!
Next up, Milan! We know the best stops on a road trip from Venice to Milan. And if you're heading north instead, we have the scoop on why the Lake Geneva region is one of Switzerland's best spots!