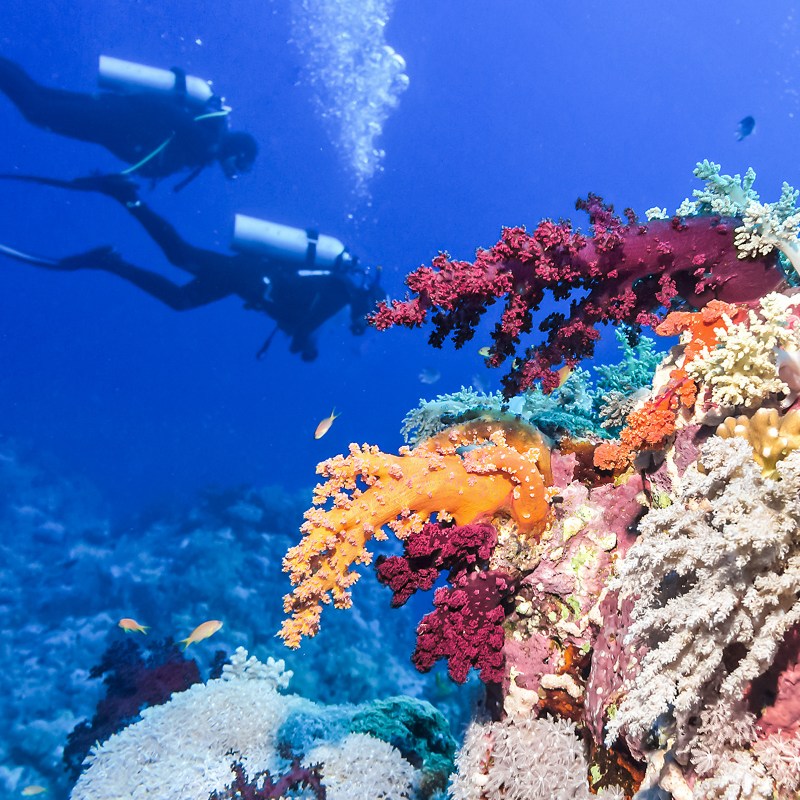 When it comes to world-class diving, there are two destinations in the world to beat: the Great Barrier Reef in Australia and the Belize Barrier Reef in Belize. They're the largest and second largest reefs in the world, respectively. Divers across the spectrum, from novices to advanced divers, have their pick of incredible dive sites and experiences across each system.
Both the Great Barrier Reef in Queensland, Australia, and the reef in Belize are dream destinations for divers, snorkelers, and ocean enthusiasts, as both offer remarkable ecosystems and stunning underwater flora and fauna.
So how do you know which one to visit? While either is absolutely worth your time, there are several key differences when it comes to these destinations, and knowing what makes them unique can help you decide which location is right for your next — or first — epic dive vacation.
1. The Difference In Sizes Changes The Experience
Does size really matter? When it comes to the beauty of these two reefs, we say not. But the different sizes of the reefs do change the experiences, depending on what you're looking for. Across its full length, the Great Barrier Reef is comprised of 2,900 coral reefs and 1,050 islands and coral cays, according to PADI (Professional Association of Diving Instructors).
"The sheer size of the reef is about the size of Italy and it can be seen from space, to put it into perspective," Torben Lonne, diver, co-founder, and chief editor at DIVEIN.com told us. "You would need an entire lifetime to explore the 2,900 coral entities that create what we call the Great Barrier Reef."
The Belize Barrier Reef, on the other hand, has around 400 islands and spans 185 miles of coastline. What this means for divers is that diving the Great Barrier Reef involves a lot more water and land to cover, which can add a ton of variety and length to a dive trip. The Belize Barrier Reef, while the second largest barrier reef in the world, can be a more concentrated experience. One of the main reasons to visit the Belize Barrier Reef is the Blue Hole, the most famous of its dive sites. The circular depths of this strange geological structure reach about 400 feet deep. The Blue Hole was visited and written about by both Jacque Cousteau and Charles Darwin.
2. The Two Reefs Are Home To Different Species
While both the Great Barrier Reef and the Belize Barrier Reef are warm-weather locations, there is great diversity in the species that divers will see when diving either location. Depending on the time of year, divers in the Great Barrier Reef can see everything from "dwarf minke whales, sea turtles, manta rays, sharks, carpet sharks, sea snakes, and cuttlefish," according to PADI, as well as bumped parrotfish, leopard moray eels, potato cod, and more. The Great Barrier Reef is home to more than 1,500 species of fish and more than 400 types of hard coral.
The Belize Barrier Reef has about 70 types of hard corals and around 400 species of fish. Divers can expect hawksbill and loggerhead turtles, giant jewfish, eagle rays, and nurse sharks. Although rare, divers may be able to see bull sharks, hammerhead sharks, lemon sharks, reef sharks, and manatees in the Belize Barrier Reef, too. As for fish, expect butterfly fish, angelfish, clown fish, parrotfish, and even large barracudas. Seahorses and lobster are known to hang among the coral, as well.
3. Different Times Of Year Offer Different Dive Experiences
The average temperature in Queensland, the jumping off state for many Great Barrier Reef divers, is about 85 degrees year-round. Belize has a similar year-round temperature, hovering in the mid-80s. That said, different times of year present different diving environments in both reefs.
According to PADI, diving is superb in the Great Barrier Reef year-round, but different seasons offer different rewards. December through February dives mean great visibility and warmer water, while June through November can reward with minke and humpback whale and coral-spawning spottings.
In Belize, diving is also possible anytime of year, however, sea turtles nest on the beaches between June and August. Placencia, Belize draws whale sharks from April to early June. The wet season is from August to October, with the surface conditions that mean all dive sites are accessible. October and November are prime grouper mating months, and thousands of these fish flock to the cayes during this time. August to October is low season, but this has very little impact on diving. In fact, many would say this is the best time to dive because there are fewer tourists.
4. You Will Have Different Land Experiences
Even if diving is your primary purpose for visiting either the Great Barrier Reef or the Belize Barrier Reef, there is plenty to explore on land in both destinations. And the land offerings in and around Queensland or Belize can make for two very different types of vacations.
Surrounded by gorgeous coast, Queensland has beautiful above-water adventures, including the tropical rainforests of Daintree, Cape Tribulation, and Mossman Gorge. Visitors can also marvel at the Atherton Tablelands. Stop by one of the many zoos or parks to learn about indigenous land species like koalas, wallabies, cassowaries, and others. For a kick of adrenaline, why not raft the Barron River or make time for an excursion into the Australian Outback, where you can view Aboriginal rock art?
Belize offers a mix of relaxation and adventure on land, as well. The country also has a rich history, fascinating culture, and beautiful scenery. Visit its ancient Mayan archaeological sites or cave systems and beaches. Head to Cayo to explore the mysterious ancient artifacts at Actun Tunichil Muknal and Xunantunich.
San Ignacio, Belize, is home to several wildlife conservation organizations, including the Green Iguana Conservation Project. And Belize City itself boasts several museums. If you are in the Cayes (Caye Caulker and Ambergris Caye are the two most popular), there are white sand beaches everywhere. And Tikal National Park, just three hours by road from Belize City across the border into Guatemala, contains more than 3,000 Mayan ruins.
5. Time Is Of The Essence At The Great Barrier Reef
It's a sad reality we face: The planet is in danger, and that includes the Great Barrier Reef. The Belize Barrier Reef was designated as being in danger back in 2009, but in 2018 it was removed from the UNESCO List of World Heritage in Danger sites thanks to the effectiveness of a series of conservation measures.
Unfortunately, the same cannot be said for the Great Barrier Reef. According to the World Wildlife Fund, the reef is highly vulnerable and in the last 30 years has lost half of its coral cover.
"The reef has suffered damage over the years due to coral bleaching caused by global warming," Lonne told us. "So I would recommend visiting the Great Barrier Reef while it lasts, as it may not live forever given the ever-increasing global pollution on our planet."
It's good environmental practice in both reefs to avoid using sunscreen that contains oxybenzone. There are many biodegradable sunscreens available on the market, and they really do make a difference when it comes to protecting the environment.
6. Each Experience Involves A Different Time Commitment
If you are under any sort of time restriction, it might determine the location where you should dive. To visit the Belize Barrier Reef, your best option is to fly to Belize City. Both American Airlines and Delta Air Lines offer flights from the United States. From there, it is possible to take a short flight to Ambergris Caye, or you can take a ferry boat to Caye Caulker. The flight time to Belize City from the United States is considerably shorter, and cheaper, than a flight to the Great Barrier Reef.
To visit the Great Barrier Reef will be a much larger time commitment if traveling from the United States. Travelers will have to fly to either Sydney or Brisbane and change planes to get to Cairns. If you're flying directly to one of the islands on the reef, you will likely fly into the Great Barrier Reef Airport on Hamilton Island. Direct flights are possible from Cairns, Brisbane, Sydney, and Melbourne on carriers like Virgin Australia Airlines, Jetstar Airways, and Qantas.
Time and budget permitting, Lonne recommends a liveaboard for exploring the Great Barrier Reef. "These 'liveaboard' cruises will take you to the best diving spots," he said. "It's also a great experience to socialize and share your passion with other like-minded people from all over the world."
According to Lonne, a liveaboard costs about $70 per day for a barebones package where you bring all of your own diving equipment. If you are renting your equipment onboard, it will cost at least twice as much. Liveaboards in Australia range from 2-day trips to 8+ day itineraries depending on your budget and preferences. Liveaboard experiences typically depart from Cairns.
Though Belize is in Central America, it's not as cheap as many of its neighboring countries, so when it comes to diving costs, travelers won't really be saving all that much by opting for a Belize dive over going to Australia. In Belize, liveaboard fees usually include gear rental, up to $175 per person per 7-day trip or $260 for 10 days, and prices go up from there. Of course it's always possible to go cheaper, but you will be sacrificing comforts and services.
Want an active vacation? Here are eight adventurous things to do in Belize. Going down under? These are the best beaches around Byron Bay, Australia, plus exactly how to visit the Great Barrier Reef.