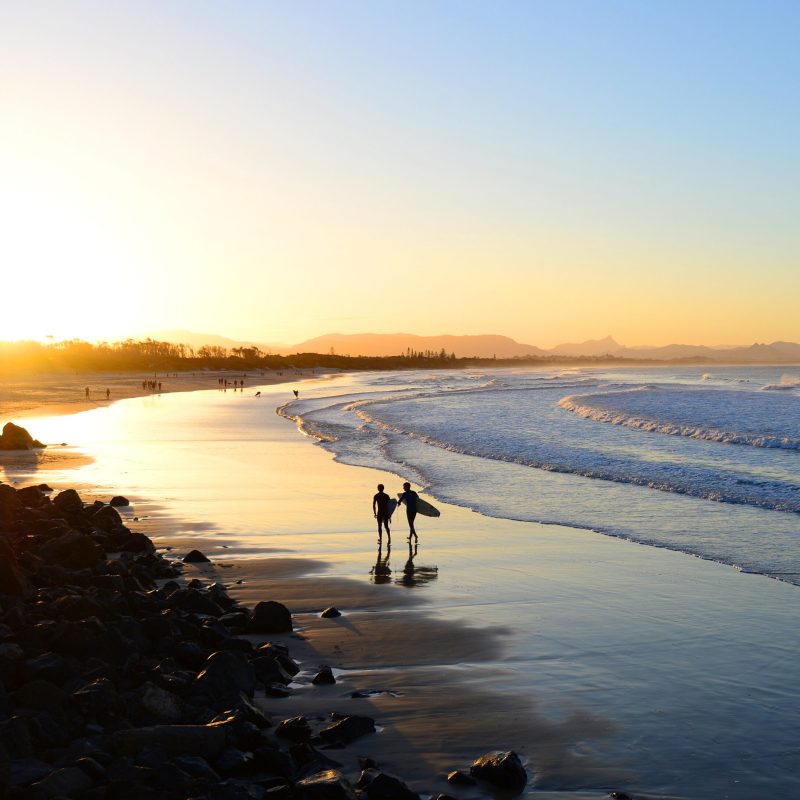 Although Byron Bay is known for its surf breaks, you don't have to be a surfer to enjoy the charming beaches around the town. Byron Bay has some of the best beaches, not just in the area, but in all of Australia. They're perfect for sunbathing, picnicking, swimming, snorkeling, and kayaking, among other beach activities.
Although it depends on your desired activities, the best time to visit Byron Bay is during the spring months — September through November. Rainfall is limited and temperatures remain a comfortable high of 80 degrees.
Home to just under 10,000 residents, Byron Bay attracts over two million travelers every year. So, whether you're visiting Byron Bay for its artisan shops, fresh food cafes, or nightlife, you'll definitely want to explore the following six beaches in and around the town!
Main Beach
As the name suggests, Main Beach is the most central and popular beach in Byron Bay. Due to its convenient location, it's unsurprising that this stretch of beach is busier than surrounding ones throughout the year. Plus, it has the most robust amenities, with toilets, showers, picnic tables, a drinking fountain, and a large parking lot.
Located at the end of lively Jonson Street, this beach has access to seaside dining. The Beach Hotel, across the street from Main Beach, is a great place to enjoy a cold beer and watch the sunset change the color of the sky from deep blue to light pinks and purples. Alternatively, you can grab fresh fish and chips from Fishmongers to enjoy with your toes wriggling in the sand.
Byron Bay is known as "hippie haven," and most evenings you'll find fire dancers and a drum circle at Main Beach encouraging anyone and everyone to sing, drum, and dance. Sometimes, you'll even see beautiful mandalas drawn in the sand.
The Pass
Since Main Beach is quite long, at one point the beach becomes Clarke Beach and then turns into an area called The Pass on the northeastern end. There is a small, convenient — but metered — parking lot near this area that will cost you $4 per hour. Otherwise, you can stroll the 1.4 miles along the white sand beach to reach it.
Mainly known for its surf, this area attracts both beginner and expert surfers during the right conditions. The rip tides and swells are notoriously hazardous in Byron Bay, so it's important to be aware of ocean conditions before venturing out.
However, since the beach is at a rounded, protected point on the coastline, it's a great place to swim between the two flags set up by lifeguards. Not only is it a safe place to take a dip, but it also has a wide stretch of sand perfect for laying out in the sun.
Uniquely, this stretch of beach also features a man-made viewpoint called Fisherman's Lookout. The lookout consists of a series of wooden staircases set against a large rock that leads to a wooden platform overlooking the ocean and surfers below. Between June and November, the lookout can provide visitors with opportunities to see migrating humpback whales.
Tallow Beach
If you've hiked to the top of Cape Byron via Lighthouse Road, you've most likely seen the beautiful half-moon shaped beach on the right-hand side. Four miles long, Tallow Beach is much more remote than the beaches on the north side of Byron Bay. This means ample space for any four-legged friends to join you for a long walk on the beach. The dog-friendly beach entrance is located on Jarman Street.
Although conditions here might seem just right for a lengthy swim, it's not recommended at Tallow Beach due to rip currents. Nevertheless, there are a few patrolled sections on Tallow Beach where swimming between flags is safe. Either way, Tallow Beach is great for sunbathing, playing beach games, and sharing lunch or dinner on a checkered picnic blanket.
Cosy Corner, another popular surfing spot, is located just under Cape Byron on the northern side of Tallow Beach. Since this area is shielded from wind, Cosy Corner is also a great place to try your hand at beach fishing (you'll have to have a New South Wales recreational fishing license). Additionally, the bordering Arakwal National Park is filled with walking trails, freshwater tea tree lakes, and wildlife.
Wategos Beach
A local favorite, Wategos Beach is a comparatively smaller beach than both Main and Tallow beaches. However, any points it loses for size, it makes up for in beauty.
You can reach Wategos Beach by driving in from town (5 minutes by car) or walking the scenic Cape Byron walking trail. Parking spots are limited, just spanning the length of the road adjacent to the beach. It's recommended that you visit between early morning surfers and mid-day families.
Once you've reached the beach, set up camp on the sand or under a shady palm. Equipped with picnic tables, free barbecues, and even a small cafe, Wategos Beach is the perfect place to while away the day. With calmer waters than The Pass, it's a great place for longboarding, swimming, and snorkeling. Go sea kayaking in search of dolphins — you'll paddle through Wategos Beach waters where dolphins are commonly sighted. You may even see turtles or whales during their migration seasons!
In addition to the natural beauty here, the cliffside behind Wategos Beach is filled with gorgeous mansions. Celebrities have caught onto the beauty of Byron Bay and eagerly buy up properties to enjoy the stunning views and atmosphere.
Little Wategos Beach
More exclusive, Little Wategos Beach can only be accessed via the Cape Byron Walking Track from Wategos Beach. It's also much smaller — just a 0.1 mile stretch of sand. Since it's so small, it's important to keep the tides in mind so as not to get caught during high tide.
As Little Wategos Beach is sheltered by a headland, it's rocky and features occasional rock pools. During low tide, marine life enthusiasts can inspect each rock pool carefully and explore the sea critters occupying these small spaces. In addition to the usual sunbathing and swimming, it's another fantastic location for sunset with fewer people and more space to enjoy the light show above.
Little Wategos Beach is also known as Australia's most easterly beach. If you want to mark off another "most easterly" location, continue along the Cape Byron Walking Track to the Byron Bay Lighthouse. There is even a sign you can take a photo with once you reach the tip of the Cape!
Lennox Head Beach
A 15-minute drive south from Byron Bay, Lennox Head Beach is a relaxed strip of shore known for welcoming swimmers, snorkelers, and surfers.
Find an unclaimed spot along the coast, spread your picnic blanket, and enjoy the rays. Conveniently, the beach area in front of Lennox Head Surf Club is equipped with bathrooms and showers. Without the swarm of tourists found in Byron Bay, parking in Lennox Head shouldn't be a problem.
Proclaimed a National Surfing Reserve in 2007, Lennox Head Beach is also an idyllic spot for seasoned surfers. Due to the number of surfers and the strength of the waves, it's not recommended for beginners. However, you can spend hours watching the pros, almost effortlessly, catch wave after wave.
If you take a stroll to the southern end of Lennox Head Beach, you might catch a glimpse of a few hang-gliders taking off of Pat Morton Lookout. You may even want to try soaring over the beach yourself — Flight Zone Hang Gliding School is a great place to start.