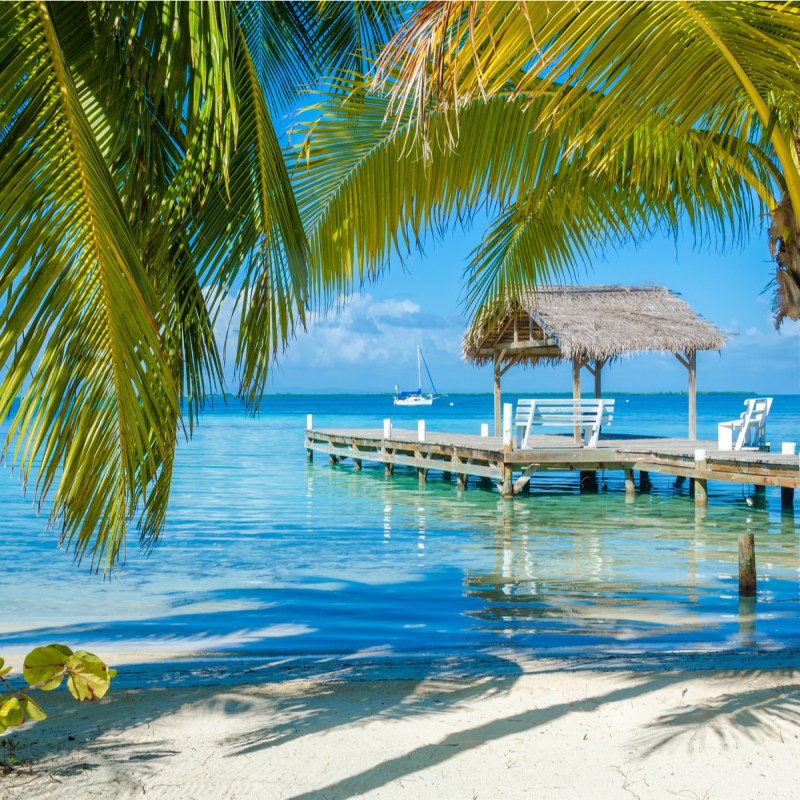 Adventures in Belize aren't confined to activities. They can be found in every journey you make around this perpetually surprising destination, whether that's a bumpy van ride down dirt roads to a picnic site in the jungle, or hundreds of slippery steps that lead you to a secret waterfall.
In my case, it was an hour-long speedboat ride over choppy ocean waves that made me grateful for the modern wonder of Dramamine. I'm not prone to seasickness, but that bumpy journey was more than I bargained for.
The grueling trip made me appreciate our destination — Silk Caye — that much more. The tiny island 22 miles off the coast of the mainland, with just enough space for a few palm trees and a grill, appeared like a mirage in the distance — a sandy gold bank in an endless sea of turquoise. It would be home base for a day of snorkeling in the surrounding reef brimming with colorful coral and dozens of species of fish.
The real treat, though, would be swimming with marine life near fishing boats about 10 minutes away. Snorkel, mask, and fins on, I hopped into the water, and there they were: massive sea turtles chomping on crabs thrown overboard by the fishermen, surrounded by nurse sharks stealing scraps. It was like a Shark Week special come to life.
When it comes to adventure travel, Belize offers it all. From snorkeling with sharks to spelunking in skeleton-filled caves, here are eight exciting things to do in this bucket list-worthy destination.
1. Snorkel The Belize Barrier Reef
Want to add a snorkeling adventure to your Belize itinerary? Sunny Side Tours in Placencia offers full-day tours to Silk Caye and Turtle Alley. The guides are seasoned naturalists who know exactly where snorkelers can spot breathtaking marine life in the Belize Barrier Reef. They double as talented chefs who can whip up a hearty lunch of rice and beans, grilled chicken, watermelon, and even scalloped potatoes on Silk Caye's single grill in between your snorkeling tours. You may also get lucky with some extra-special surprises — my guide spotted dolphins en route to shore and spun the boat in circles to create a current that the playful creatures could flip and jump in. It took my Belize adventure to the next level.
2. Spelunk Through A Skeleton-Filled Cave
A trip to Actun Tunichil Muknal (ATM) Cave is as much a journey of the soul as it is a test of the body. After all, ATM was once a Maya sacrificial site and is considered one of the world's most sacred caves by National Geographic. The best way to experience this geological wonder is to hire a private guide (such as one from MayaWalk Tours), who will take you on an intense 45-minute jungle hike and across three streams in the Tapir Mountain Nature Reserve. You'll then swim through a deep spring-fed pool, wade through knee-high water, and climb a rock ledge to enter the cave's dark system of tunnels and passageways — the heart of the Maya underworld. Your guide will give you an up-close look at some of the artifacts used in ancient ceremonies and the remains of more than a dozen people who were sacrificed. This Belize adventure culminates with a climb up a ladder to the upper chamber, where you'll see the crystallized skeleton of a sacrificed teenager. No cameras are allowed, but you won't need a photo to remember this humbling sight.
3. Track Jaguars After Dark
Belize is home to the world's only jaguar preserve — Cockscomb Basin Wildlife Sanctuary. It's not easy to spot the furtive creatures in their natural habitat, but you're most likely to see the nocturnal cats on a guided night tour. DTOURZ, a travel operator in Placencia, offers after-dark treks around the park that last roughly 2 hours. The guides will look for signs of recent jaguar activity, such as paw prints in the mud, and try to track them down deep in the jungle. Even if you don't spot the elusive cats, you'll see many other animals, including tapirs, howler monkeys, river otters, frogs, snakes, and crocodiles. At the end the adventure, you'll tube down the river just before the stroke of midnight.
4. Dive The Great Blue Hole
When it comes to adventurous things to do in Belize, it doesn't get much more incredible than diving the Great Blue Hole. The 1,050-foot-wide, 407-foot-deep underwater sinkhole 43 miles east of Belize City is so large that you can see it from outer space. Amateur divers are welcome to snorkel around the surrounding reefs, home to a stunning array of sponges, sea fans, and coral in every color of the rainbow. Underwater veterans will, of course, want to test their skills by diving into the sinkhole itself. The plunge isn't an easy one, but the advanced divers who attempt it are rewarded with the opportunity to explore a spectacular natural environment with 40-foot-long stalagmites and stalactites. Travel operators like Belize Diving Services offer daylong diving tours of the Great Blue Hole and other nearby sites. Landlubbers, take note: Tropic Air offers hour-long aerial tours of the Great Blue Hole, so you can catch a glimpse of this site and others in Belize from above.
5. Explore Maya Ruins
Atop a plateau near the Guatemalan border rest the ruins of a city that was once the political powerhouse of the ancient Maya civilization. Dubbed Caracol, the nearly 25,000-acre archeological site is known for its vast agricultural field system and sophisticated city planning. But despite how remarkable it is, Caracol offers visitors lots of freedom to wander around the site on their own. You can even climb the Sky Palace — the tallest man-made structure in Belize. The site only receives about 10,000 visitors a year, so you won't have to worry about running into crowds at this curious place. To get to Caracol, rent a car and make your way to the Chiquibul Forest Reserve in the Cayo District. Or, take the easy route and set up a guided tour with your hotel.
6. Get Blessed By A Healer
Adventures in Belize aren't just about adrenaline-inducing feats of physical endurance — they also involve getting in touch with your spiritual side and exploring the mystical world of Maya culture. Experience this distinctive part of Belize with the García Sisters, a family of natural healers who welcome travelers into their home near San Ignacio. Tours of their medicinal gardens will teach you how the sisters use botanicals to treat stomachaches, migraines, and sore throats. They'll also neutralize negative energy in your body and mind with a spiritual cleansing ceremony that involves making a plant offering to a fire, silent prayers, and a smudging ritual. The popular natural healing place will remind you of the connection we all have to the Earth and the rest of its inhabitants, adding depth of understanding and respect to all your outdoor adventures in Belize.
7. Swim In A Secret Waterfall
Tucked inside Mountain Pine Ridge Forest Reserve near San Ignacio is one of Belize's ultimate hidden gems: Big Rock Falls. Jagged rocks flank the gushing falls, creating a funnel for rushing water that fills a swimming hole below. And since most travelers miss it, you stand a good chance of having it to yourself for the entire afternoon. Getting down to the falls is as much of an adventure as swimming in them — you'll need to take a walk through the forest and down many aging timber steps until you hit the water. The steep climb back up, though, is an even bigger challenge, so wear sturdy shoes. Ka'ana, a nearby eco-resort, can arrange a trip to Big Rock Falls with an adventure specialist who will also lay out a picnic lunch when you get hungry. Ask the guide for his recommendations for the best swimming spots.
8. Go Bird-Watching In A Boat
From vibrant toucans and prehistoric-looking pelicans to magnificent eagles, kites, and ospreys, more than 600 species of birds have been seen in Belize. Want to catch a glimpse of these feathered beauties yourself? Take a bird-watching boat tour at the Crooked Tree Wildlife Sanctuary, a protected natural wetlands reserve. Keep your eyes and your ears open on this 2-hour-and-30-minute adventure. You may hear the hammering of a woodpecker or see a splash of yellow in the sky as a parrot flies by. Other wildlife is likely to make an appearance as well — look for crocodiles, sloths, howler monkeys, and iguanas. If you happen to be traveling with family, this is an adventure that travelers of all ages will enjoy.
Haven't had your fill of adventure? Try some of these nine adventurous things to do in Kauai, Hawaii.