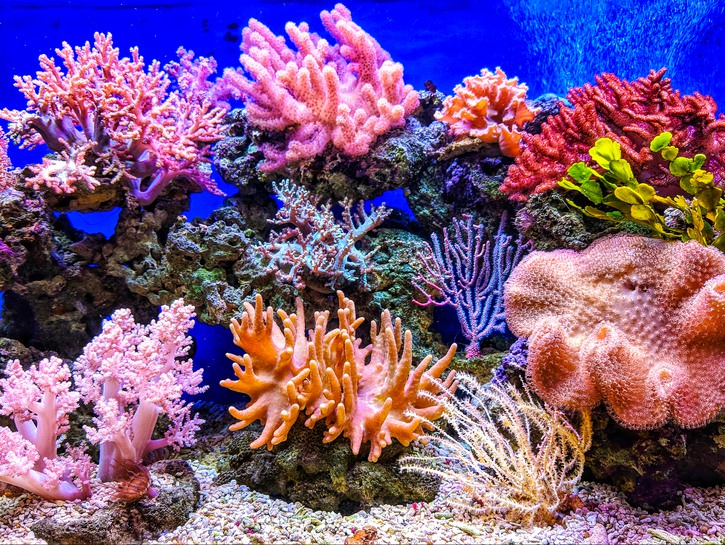 Quiet and serene, the turquoise blue waters atop Australia's Great Barrier Reef can be mesmerizing. However, under this tranquil scene a thriving aquatic world exists. Hurried schools of fish weave through layers of colorful coral. Others lounge in crevices awaiting the perfect moment to strike at their prey. It's one of the most awe-inspiring places in the world; just under the ocean's surface, the Great Barrier Reef is full of life.
Boasting 1,430 miles of coral reef, the Great Barrier Reef earned its place as a UNESCO World Heritage Site. Given its unmatched biodiversity, visiting the Great Barrier Reef is truly a once-in-a-lifetime experience. Here's everything you need to know about visiting the Great Barrier Reef.
Where Is The Great Barrier Reef?
The Great Barrier reef runs along the northeast coast of Queensland, Australia.
It's generally accepted that the reef begins near Bundaberg in the south and ends past Cape York Peninsula in the north.
Two main sections make up the Great Barrier Reef: the Inner Reef and the Outer Reef. Found near islands and the mainland, the Inner Reef can be observed by snorkeling near the shore or via a quick sailing trip. Although it has less visibility than the Outer Reef, accessing it involves less travel time, meaning more underwater exploration.
Far from the mainland, the crystalline waters of the Outer Reef reveal the stunning colors of coral and other forms of ocean life. Boasting over 15 meters of visibility (49 feet), unlike the 5-to-10-meter (16-to-32-foot) visibility in the Inner Reef, visitors to the Outer Reef are able to witness larger fish, giant clams, and sizeable coral ecosystems.
From the closest large city, Brisbane, it takes almost five hours to reach the start of the Great Barrier Reef by car. The Great Barrier Reef is a two-hour non-stop flight from Sydney, and a three-hour non-stop flight from Melbourne. Read on for the best ways to access the Great Barrier Reef — no matter your starting point.
How To Get To The Great Barrier Reef
Many noteworthy Australian cities lie along the stretch of coast paralleled by the Great Barrier Reef. These include Rockhampton, Mackay, Airlie Beach, Townsville, Cairns, and Port Douglas.
Cairns and Airlie Beach are the most developed places for tourism. Cairns offers countless tours to the Outer Great Barrier Reef, while tours that take off from Airlie Beach provide easy access to Inner Reef sites throughout the Whitsunday Islands.
Unfortunately, it's hard to visit both places at once given the 385 miles between the two ports. Once you arrive at either of the main hubs, though, there are plenty of options for cruises, sailboats, and planes specializing in Great Barrier Reef experiences.
How To Get To The Great Barrier Reef By Plane
Several main airports are located within a short driving distance of the Great Barrier Reef.
Proserpine/Whitsunday Coast Airport
A 25-minute shuttle ride from Airlie Beach, Whitsunday Coast Airport is the closest — and usually cheapest — option for accessing the Great Barrier Reef. Jetstar, Tigerair, and Virgin Australia are the leading airlines that fly into Whitsunday Coast Airport. Between one and two flights a day land in Proserpine from Brisbane, Sydney, Melbourne, and Cairns.
Hamilton Island Airport
Located on Hamilton Island in the Whitsundays — a one-hour ferry ride off mainland Airlie Beach — this airport is convenient for those planning to stay on the luxurious island. With a year-round tropical climate like that of Hawaii and Mauritius, Hamilton Island is a great place to explore the Inner Great Barrier Reef. There are usually one to two flights per day to Hamilton Island Airport from Brisbane, Sydney, Melbourne, and Cairns.
Cairns International Airport
Proportionate to the size of the city, Cairns International Airport is the largest airport of the three mentioned. Daily flights land in Cairns from Townsville, Gold Coast, Brisbane, Sydney, and Melbourne. In addition to domestic flights run by Jetstar, Tigerair, and Qantas, it's also a popular hub for international visitors. Boating tours departing from Cairns take approximately two hours to reach the Outer Great Barrier Reef from Cairns.
How To Get To The Great Barrier Reef By Bus
From Brisbane, a Greyhound Bus takes 22 hours to reach Airlie Beach. From Sydney to Cairns, it can take as long as two days.
If you have more time to explore, consider booking the hop-on hop-off bus between Sydney and Cairns. Stops along this route include the beautiful coastal communities of Townsville, Airlie Beach, Hervey Bay, Brisbane, Gold Coast, and Byron Bay. Although you don't have to stop at each town, exploring a few will provide a taste of Queensland's stunning coast.
How To Get To The Great Barrier Reef by Car
It is possible to access the main Great Barrier Reef hubs by car. Due to the enormous distances from Sydney and Melbourne, consider flying into Brisbane, renting a car, and beginning your journey there.
Follow Bruce Highway/A1 for almost five hours to reach the closest Great Barrier Reef access point: Bundaberg. From Bundaberg, Airlie Beach is another eight-hour drive. If Cairns is your final destination, prepare for a 20-hour journey from Brisbane.
When Is The Best Time To Visit The Great Barrier Reef?
The best time to visit the Great Barrier Reef is between June and October, Australia's winter and spring. Unlike summer, which is a wet season for the Great Barrier Reef, less rain falls during these months, providing better underwater visibility. Additionally, although the water may be choppier during the winter, it falls outside of the box jellyfish "Stinger Season" from November to May.
Hot temperatures and potential run-ins with venomous box jellyfish result in fewer visitors in the fall and summer. Don't worry though, being stung is rare and tours provide thick wetsuits you can wear to protect your body. Box jellies love warm, tropical waters. To further minimize risk, consider visiting the cooler areas of the Great Barrier Reef in the south.
Since over 2 million people visit the Great Barrier Reef annually, whenever you're going, make sure to book activities several months in advance.
What You'll See At The Great Barrier Reef
The Great Barrier Reef is known for its clear waters, striking marine life, and vibrant coral. Popular activities centered around experiencing this beautiful aquatic environment include diving with wildlife, cruising sailboats, and enjoying white-sand beaches (whether on the ground or from up above!).
Snorkeling And Scuba Diving
It's no surprise that one of the best ways to experience the Great Barrier Reef is to jump in the water! Snorkeling and scuba diving are the most popular activities around the Great Barrier Reef.
Even if you're not a certified PADI diver, you'll still be able to explore the Great Barrier Reef through snorkeling. Knowledge of swimming and treading water helps, however, if you're not a strong swimmer, most tours provide flotation devices. Thick sting-proof wetsuits also help with buoyancy.
There are generally two options for snorkeling and diving: day trips or overnights.
Most commonly, day trips on catamarans or sailboats take visitors to the best reef spots. Whether you choose a strictly snorkeling tour, a scuba diving tour, or a combination of the two, these are full day (8 to 10 hour) tours. Most include transportation, equipment use, access to several sites, and a hearty lunch.
If you're craving more time on the water, an overnight trip might be right for you. Overnight trips will be more expensive than day trips, but they include more time on the reef and exciting activities such as evening swims or night dives.
The Great Eight
What should you be looking for while snorkeling or scuba diving? The Great Eight! This refers to the most iconic marine life in the Great Barrier Reef: whales, manta rays, clownfish, turtles, potato cod, giant clams, Maori wrasse, and sharks.
The eastern Australian coast is known as the humpback highway. From June to November, whales make their annual migration north from Antarctica, providing onlookers the opportunity to view these incredible mammals from the shore or boat deck. The beginning of humpback whale season is also the best time to see manta rays off Bundaberg's coast at Lady Elliot Island.
Less elusive than whales and rays, clownfish can be found year round almost anywhere on the Great Barrier Reef. Just as lovable as clownfish, sea turtles are commonly sighted in the Great Barrier Reef as well. Of the seven species of sea turtle, six can be found around these coral reefs.
Growing up to five feet, giant clams are called giant for a reason! These colorful mollusks can weigh up to 550 pounds. Other "giants" include the potato cod and Maori wrasse. The potato cod can grow up to 200 pounds, while the Maori wrasse — a fish known for its friendly temperament — can span more than 6 feet!
Although more than 50 types of sharks reside around the reef — including hammerhead and tiger sharks — the most sighted sharks are small whitetip and blacktip reef sharks. As long as you respect the space of the shark, there's no reason to worry about being in the water with these graceful beings.
If you decide to forego snorkeling or scuba diving, glass bottom boats offer great views of the reef and give everyone on board an opportunity to spot the Great Eight.
Flights Over The Great Barrier Reef
If you're hesitant about jumping in the water or are looking for a unique way to see the Great Barrier Reef, consider enjoying an aerial view instead. Taking a helicopter or seaplane is a great way to see the expansiveness of the Great Barrier Reef.
Although flights over any part of the Great Barrier Reef are noteworthy, the Whitsunday Islands boast some of the most beautiful views. Glide over turquoise waters and swirled white sandbars to see landscapes like you've never seen before. Only visible from the air, you can view the popular Heart Reef. Additionally, some scenic flights include a stop at Whitehaven Beach, ranked the world's penultimate beach by Flight Network.
Flying over the reef truly shows the scale of the Great Barrier Reef — something that can't be appreciated from the shore, or even under the waves.
Australia-bound? Fly from the east coast inland: Equally breathtaking sights await in the red-desert Outback.
Photo Credit: Michael Smith ITWP / Shutterstock
Photo Credit: Tulen / Shutterstock