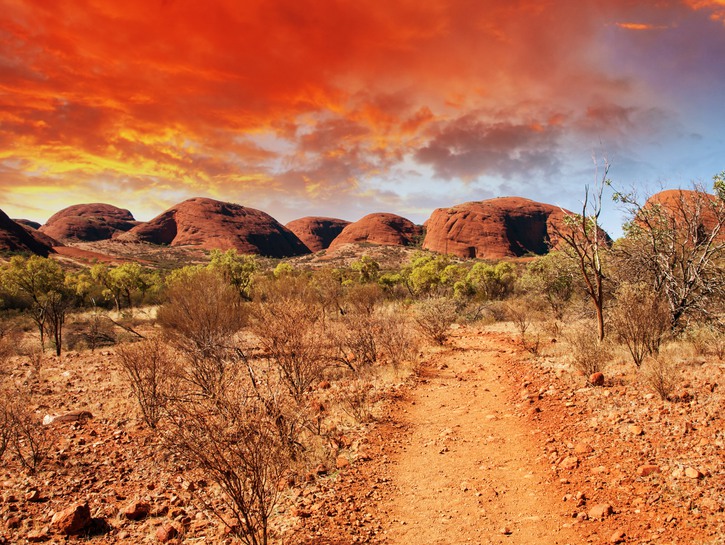 Vast open spaces. Vibrant red dirt. Awe-inspiring landscapes.
Australia's Outback may appear empty, but it's teaming with life. Plants and flowers bloom from the dust, secret swimming holes beckon passerby, and kangaroos thrive in the dry heat. These are just a few things you'll discover as you explore the Outback.
Once on the ground, it's easy to understand why the aboriginal Australians' ancestors settled in this stark environment some 50,000 years ago. Although it's out of the way, a visit to the heart — both spiritually and geographically — of Australia is a must. The magic of Australia's Outback truly leaves an imprint on anyone who visits.
While the Outback technically covers more than 70 percent of Australia, here we explore how to visit Central Australia's Outback and some of its most iconic attractions.
Where Is Australia's Outback?
Due to the size and scale of the Outback, it can be hard to pinpoint where it starts and ends.
Australians commonly use the term "the bush" to allude to natural areas outside of cities, yet the Outback is even more isolated. The general term Outback is defined as "the remote and usually uninhabited inland region of Australia."
Australia is made up of six states and two territories, each with its own Outback. However, when people refer to the Outback, they are usually thinking of Central Australia — the red center and heart of the country and continent. The Outback is also home to the country's iconic monolith: Uluru (Ayers Rock).
How To Get To The Outback
Central Australia's Outback is in the heart of the Australian continent and features two main hubs: Alice Springs and Uluru. Australian's sometimes joke that Alice Springs is the closest city to every beach in Australia. What they really mean is that Alice Springs is in the center of Australia, making it equidistant from all the coasts!
Although Uluru looks close to Alice Springs, it's about a five-hour drive between the two places.
Getting To The Outback By Plane
Flying is the easiest and most time-efficient way to get to the Outback. Qantas, Virgin Australia, and Jetstar are the main airlines servicing Central Australia.
Direct flights from major cities like Sydney and Melbourne are available to both Alice Springs and the Uluru (Ayers Rock) airport. The flight from Sydney to Central Australia takes about three and a half hours. Flights from smaller cities like Perth, Adelaide, and Brisbane usually have at least one connecting flight.
If the Uluru (Ayers Rock) airport is your destination, the airport provides a complimentary shuttle for the 10-minute drive to Ayers Rock Resort. If you're flying into Alice Spring Airport, you'll have to arrange your own transportation.
Getting To The Outback By Car
Since there are great lengths between Outback points of interest, renting a car on the coast and driving it to the Outback is a great option if you have ample time and want to see as much as possible. The drive itself requires two to three full days.
Sydney to Uluru takes about 30 hours of driving along National Highway A87. However, from Adelaide or Darwin, it's about a 16-hour drive to Alice Springs along paved Stuart Highway. If you're not in a rush, this is a great way to see the stunning, unique landscape of the Outback. Having a car once you arrive in Central Australia also affords you more control over your daily itinerary. It can also be less expensive and more convenient than booking tour buses when you arrive.
When driving in the Outback be careful during dawn and dusk. During these times, kangaroos come out to feed. It's normal to see them dart in front of cars, much like deer do in North America.
Getting To The Outback By Train
In the 1900s, travelers, provisions, and materials were transported between the coasts and the Outback by camel trains. In 1929, a steam train, The Ghan, substituted Afghan camel trains. The train now travels 54 hours between Adelaide and Darwin with a stop in Alice Springs.
The Ghan leaves Adelaide every Sunday on a two-day journey to Alice Springs. A luxurious experience, the journey is all inclusive with meals and drinks. Although expensive, this is a stunning way to enjoy the landscape without having to drive yourself.
Getting To The Outback By Bus
If you have time to get to Central Australia, but don't want to drive yourself, book a seat on a Greyhound bus.
Busses leave from Darwin and Adelaide to travel to Alice Springs. The ride takes about 20 hours, but the seats are comfortable and there is a bathroom onboard. Since the journey includes a night, the price of the ticket ($200 to $300 AUD) saves you one night of accommodation.
Once you arrive in Central Australia you can rent a car or purchase a bus transfer to travel between Alice Springs, Kings Canyon, and Uluru.
When Is The Best Time To Visit Australia's Outback Region?
Since Australia's Outback is arid and dry, most people expect hot weather year-round.
It's true that during the summer months (from October to March) outdoor activities are not advised after 10 a.m. Extreme heat is not always the case though. During winter (June to August), temperatures can dip as low as 14 degrees Fahrenheit.
Summertime is also when the Outback receives the bulk of its rainfall. Although less than 12 inches of rain per year fall in the Outback, downpours do occur. Seeing the rain run through the landscape, creating waterfalls and filling up crevices, is an incredible experience.
To avoid the worst of the heat or cold though, the best time to visit is in fall or spring. From March to May and September to November, temperatures stay between 68 and 86 degrees Fahrenheit.
Because these are the most popular times to visit, consider checking Australian school holidays to avoid peak family travel times.
What Is There To Do In The Outback?
Although the Outback may be sparsely populated, there is an incredible diversity of landscapes, cultures, and history waiting to be explored. Whether you want to escape from the hustle of urban life or learn about the land's aboriginal caretakers, the Arrernte people, here are the best ways to experience the magic of the Outback for yourself.
Alice Springs
While there are small towns around Alice Springs, the closest major city, Adelaide, is a whopping 825 miles away. With a population of 29,000, Alice Springs is the second largest city in Northern Territory and the only city in the center of the Outback.
Originally a telegraph station, Alice Springs was founded in 1871 to connect communication between Adelaide and Darwin. The telegraph station still stands and is open to visitors. Once gold was found in the area, the city boomed.
However, Alice Springs is not a dreary mining town. Its red dirt landscape attracts visitors for its hiking trails, swimming holes, and natural rock formations. Take in its full beauty from above with a hot air balloon tour or explore on the ground by walking the 139-mile Larapinta Trail.
Make sure to visit Kangaroo Sanctuary, a rescue center that provides care for orphaned kangaroos.
Uluru-Kata Tjuta National Park
Uluru, also known as Ayers Rock, is a monolith in the middle of the Outback. Higher than the Eiffel tower, it's a rock formation in the middle of Australia's Outback that attracts over 300,000 people each year.
It might look tempting to climb Uluru, but it's disrespectful to the local Anangu people. Not only is it frowned upon, but it's also dangerous. Starting on October 26, 2019, the climb to the top will be permanently closed. Standing on top of the monolith prevents you from experiencing its beauty anyway! The best way to experience Uluru is to walk the 6.2 miles around its base.
While Uluru is best viewed at sunset, Kata Tjuta shines during sunrise. Kata Tjuta, also known as the Olgas, is a cluster of 30 rock formations that are just as stunning to explore. A 45-minute drive from each other, both formations have designated platforms that provide optimal viewing spots. Consider spending the first half of the day, including sunrise, hiking through Walpa Gorge and the Valley of the Winds at Kata Tjuta. Then, finish off the second half of the day with sunset at Uluru's viewing platform.
A three-day park pass to enter both Uluru and Kata Tjuta is $25 AUD for adults.
Kings Canyon
Made popular by the movie Priscilla Queen of the Desert, Kings Canyon is about halfway between Uluru and Alice Springs.
Nestled in Watarrka National Park, Kings Canyon is a hiker's paradise. Enjoy beautiful outlooks onto the landscape from the 3.7 mile Kings Canyon Rim Walk. For a more immersive experience, consider walking the 13 miles from Kings Canyon to Kathleen Springs.
Regardless of the hikes, make sure to wake up before dawn to watch the golden light wash over the canyon's sandstone walls.
Cultural Experiences
The aboriginal Australians' ancestors arrived in Australia 50,000 years ago. To put this number into context, Australia has only been a country for 118 years.
As the aboriginal people have lived on this arid land, they've cultivated a wealth of knowledge, traditions, and culture. There were once 250 languages and 600 dialects spoken by indigenous communities in Australia. Currently, there are only 145 languages left and 110 are considered endangered.
Both Uluru and Alice Springs offer aboriginal cultural activities. Experiencing a dot-painting class, attending a hunting weapon talk, or learning about Dreamtime is incredibly illuminating. These are some of the only places visitors can experience aboriginal culture in this way.
Other Things To Know About The Outback
Even when temperatures are mild, most Outback landscapes provide little shade. It's important to stay sun conscious to avoid sunburn and heat stroke. Pack light, long sleeve shirts, plenty of sunscreen, SPF lip balm, and a hat.
In dry environments, it's also good to keep in mind that water evaporates in subtler ways. Heavy sweating is less common, so don't forget to drink plenty of water to avoid dehydration.
With warm temperatures, there is also an increase in flies. Consider investing a few dollars in a fly net hat to wear while you hike. For evenings or early mornings, insect repellant for mosquitos and other bugs is highly recommended.
Photo Credit: pisaphotography / Shutterstock