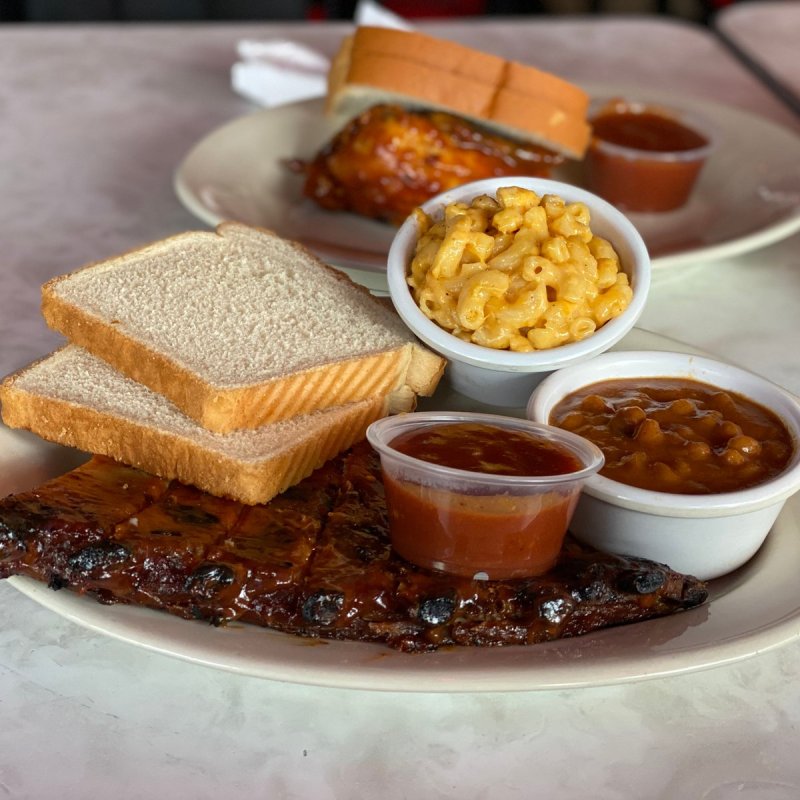 Situated on the Columbia River in the Willamette Valley, Portland is Oregon's most populous city. In recent years, the city has gone through an enormous growth spurt, drawing people to the Pacific Northwest from all across the country. Now, as the 25th-largest city in the United States, Portland is known for its eccentric charm — and a world-class food scene.
Of course, no one knows the city's food culture better than the locals, so forget about the familiar, nationwide chains and keep reading. Here are some of the best restaurants to check out when you're in the mood to eat like a local Portlandian.
1. Matt's BBQ (And Matt's BBQ Tacos)
Portland typically isn't known for its barbecue, but Matt Vicedomini has been blowing patrons away with his Texas-style white-oak smoked ribs, beef brisket, and jalapeno-cheddar sausages since 2015. Vicedomini's restaurant is actually a food truck, but it remains rooted in place, dishing out deliciousness daily. Just ask Guy Fieri!
Vicedomini has also branched out into the world of tacos, opening a second location (Matt's BBQ Tacos, also technically mobile but typically still) and offering some of the best Tex-Mex tortilla creations the city has to offer. All tortillas at the taco cart are pressed and made to order, and you'll have your pick of migas, pulled pork, pork belly, jalapeno sausage, brisket, portobello mushrooms, or even breakfast tacos (if you get there early enough). If you're looking for a delicious-yet-casual meal, either of Matt's BBQ carts are winners.
The original fixed-location food truck can be found at 4233 N Mississippi Avenue on the corner near Prost Marketplace. Food is available every day from 11 a.m. to 7 p.m. or until items are sold out. Matt's BBQ Tacos cart can be found at 3207 Southeast Hawthorne Boulevard and is open Wednesday through Sunday from 8 a.m. to 11 p.m. or until the food is gone!
2. The Daily Feast
This old-school-meets-new-school diner sits just north of downtown Portland. Here you can find classic American, made-from-scratch dishes with a modern healthy twist that won't drain your wallet. The Daily Feast is located in the space that was occupied by Leo's Non-Smoking Diner, a Portland institution, for 30 years. You can still enjoy the horseshoe counter, swivel chairs, and vinyl booths today, although a slightly modernized flare marks the transition from one eatery to the next.
There are plenty of choices for meat eaters as well as vegetarians and vegans. Be sure to try the breakfast burrito, smoked salmon scramble, or a bagel from beloved local Bowery Bagels. If you're looking for lighter fare, there are also porridge bowls, a grain-based power bowl, and plenty of salads to choose from. When you're thirsty, we recommend the local Spella coffee or a glass of freshly squeezed orange or grapefruit juice.
The diner is located in the historic Medical Dental Building at 837 SW 11th Avenue and is open Monday through Friday from 7 a.m. to 3 p.m., and Saturday and Sunday from 8 a.m. to 2 p.m.
3. Dan And Louis Oyster Bar
For generations, the Wachsmuth family has been shucking oysters for patrons on Old Town's Ankeny Street. Dan and Louis Oyster Bar has been in operation since 1907, when it began in a humble storefront. Now, 100 years later, it's the oldest family-owned restaurant in Portland.
Here you can enjoy some of the best seafood in town. Think signature clam chowder and freshly shucked Northwest oysters on the half shell. The nautical-themed eatery is perfect for enjoying an intimate dinner and drinks with a friend (try the Bloody Mary), or bring the whole family in for a seafood extravaganza. Looking for a deal? Every Monday and Tuesday all oysters are happy hour price for the entire day.
Dan and Louis Oyster Bar is located at 208 SW Ankeny Street and is open Monday through Thursday 11 a.m. to 9 p.m., Saturday and Sunday 11 a.m. to 10 p.m., and Sunday 12 p.m. to 9 p.m.
4. Fried Egg I'm In Love
If you're looking for a pun-tastic, egg-ceptional restaurant, Fried Egg I'm in Love will be al-bu-men-tion for the rest of the day. (Sorry — we'll leave it to the professionals from here on out.) Originally opened as a food cart on SE Hawthorne, Fried Egg I'm in Love now has a brick-and-mortar space as well as a permanent truck parked at Pioneer Square.
Here you'll find some of the best egg sandwiches in the region, served with eggs sourced from local farms and bread from Portland French Bakery (along with delicious gluten-free options). They offer what could be a literal ton of add-ons and sauces to adorn a build-your-own sandwich, but the Yolko Ono is their signature dish. It includes fried egg, homemade pesto, parmesan, and a hand-pressed house sausage patty — and it bears no responsibility for the breakup of the Beatles.
If sandwiches aren't your thing, you can also get a breakfast burrito or bowl with sides of hashbrowns or mixed greens. Stumptown coffee is also available at both locations. The Hawthorne location is open every day from 8 a.m. to 4 p.m. The Pioneer truck is open Monday through Friday from 7 a.m. to 3 p.m. and Saturday and Sunday from 8 a.m. to 3 p.m.
5. The Sudra
Of course we couldn't write about the Portland food scene without including a wholly vegan restaurant. The Sudra, an Indian restaurant with a New Mexican twist, is one of the best places in the city to grab potato samosas chaat, chickenless tikka masala, or a jackfruit vindaloo bowl.
Owner Sanjay Chandrasekaran grew up combining the traditional flavors of India with the flare of New Mexican green chilies. And while the restaurant's menu has evolved over time to encompass more classic Indian dishes, the distinct influence of the Southwest is still there.
Dishes at The Sudra are colorful, complex, and aromatic — a far cry from the brown rice blandness of the carnivore's imagination. Stop by The Sudra for brunch, lunch, or dinner. The restaurant is located at 2333 NE Glisan Street and is open Sunday through Thursday 11 a.m. to 11 p.m. and Friday and Saturday 11 a.m. to 12 a.m.
6. Le Pigeon
For those desiring a more upscale, fine-dining experience, you'll find nothing but the finest morsels and cozy surroundings at Le Pigeon on East Burnside. Two-time James Beard Award winner, chef, and owner Gabriel Rucker has been pushing the envelope of French cuisine in the Portland food scene since 2006.
Don't let "upscale French cuisine" intimidate you, though. Rucker's fare is adventurous but very accessible. Le Pigeon is known for their beef cheek bourguignon and the grilled pigeon. The real treat is on the dessert menu, though. The foie gras profiteroles with caramel sauce are a truly unique dish.
When you're ready to splurge on a Le Pigeon meal, be sure to make a reservation (the space is very small and seats fill up quickly). Le Pigeon is located at 738 E Burnside Street and is open every night from 5 p.m. to 10 p.m.
7. Olympia Provisions
Sausage lovers, rejoice. Olympia Provisions is here to make all your cured-meat dreams come true. Oregon's first USDA-certified meat curing facility has two brick-and-mortar restaurant locations, and both offer a plethora of European-style dishes available for brunch, lunch, and dinner.
Chef TJ McConnaughey uses old-world techniques to create mouth-watering charcuterie plates filled with locally cured meats, seasonal pickled vegetables, and cheeses. Quality is key here, with each item handcrafted with the utmost care. Don't know where to start? Share a chef's choice charcuterie board with friends, or try the grilled Cubano sandwich on the lunch menu. The weekend brunch menu has some of the best biscuits and gravy and Eggs Benedict dishes the city has to offer.
The restaurant's Southeast location is at 107 SE Washington Street and is open Monday through Friday 11 a.m. to 10 p.m. and Saturday and Sunday from 9 a.m. to 10 p.m. The Northwest hours differ slightly, so be sure to check their website for details.
8. Hanoi Kitchen
The family-owned and operated Hanoi Kitchen off Glisan is a great spot for an affordable and delicious Vietnamese meal. Here you'll find traditional Northern Vietnamese dishes prepared with homestyle care. They serve a wonderful bowl of pho, but on the website you'll find a disclaimer by the family stating that Vietnamese food has so much more to offer than the bowls of broth and noodles.
Hanoi Kitchen's menu includes the standard dishes many adventurous diners will recognize, plus lesser-known regional dishes. Their Grandmother's banh cuon is a signature staple as is their bun ha noi dac biet vermicelli bowl. There are also plenty of vegetarian/vegan options — including vegan pho. When you stop in, be sure to try something new. You won't be disappointed.
Hanoi Kitchen is located at 7925 NE Glisan Street and is open Tuesday through Saturday from 10 a.m. to 9 p.m and Sunday from 10 a.m. to 8 p.m. The restaurant is closed on Mondays.
9. Proud Mary Cafe
This Australian-based coffee roaster chose Portland as its first expansion destination, bringing its exquisite coffee and Aussie fare to the Pacific Northwest. Proud Mary coffee shop and cafe offers up cups of the rarest roasts, some of which you won't find anywhere else in the country, plus delicious brunch and lunch options.
The Melbourne spins on avocado toast and potato hash are absolutely delectable, and the Dutch honey hotcakes are as tasty as they are beautiful. The cafe does take reservations during the week but not on the weekends. Be sure to arrive early to get your name on the list if you want to enjoy a sit-down dining experience as spots are limited and the space gets very busy on the weekends.
Proud Mary is located at 2012 NE Alberta Street and is open Monday through Friday from 7 a.m. to 4 p.m. and Saturday and Sunday from 8 a.m. to 4 p.m. Note that the kitchen closes daily at 3 p.m.
Headed to Oregon? Here's why you should make time for Astoria, plus how to visit Multnomah Falls.