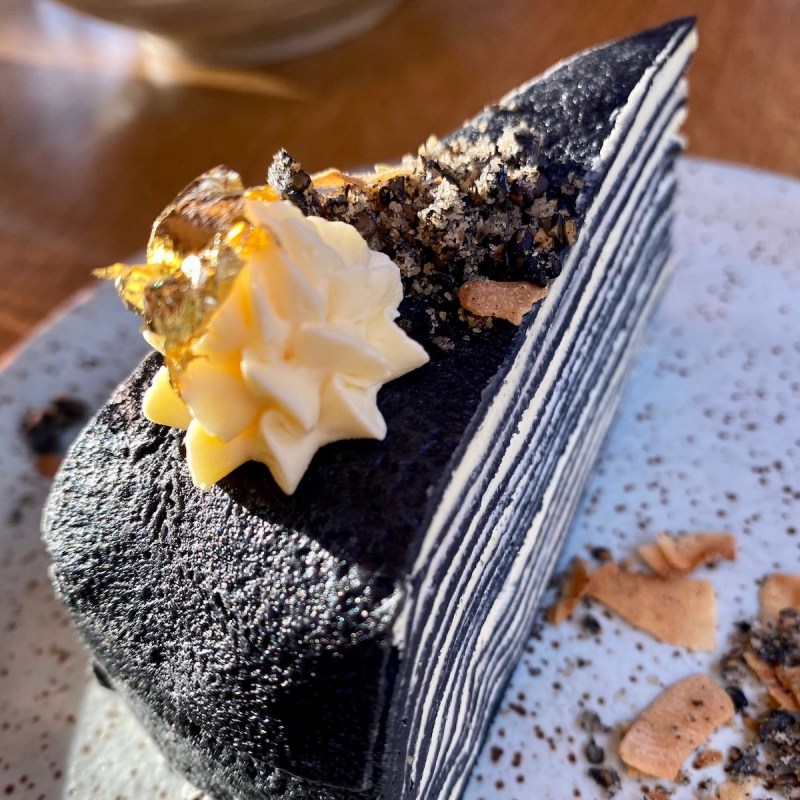 Is it possible to get drunk on flavors? I pondered this question as I spooned another mouthful of turmeric and lemongrass curry swimming with meaty prawns onto my tastebuds at Portland's newest upscale Thai restaurant, Phuket Cafe.
The flavors of turmeric mixed in a dreamy dance with the sharp, almost-sweet lemongrass, the smells and tastes mysterious and layered in ways that felt more like a poem than a simple curry dish. I was already reeling from the striped bass Thai-style ceviche I had just sampled, the surprising crunch of peanut brittle and mint swirling amongst the sharp tang of citrus-cooked fresh fish.
I knew Phuket Cafe was going to be good. The latest project from Thai food rockstar Akkapong "Earl" Ninsom, who owns numerous other restaurant concepts in Portland, Phuket Cafe had been open less than a week when I visited Portland as a guest of Travel Oregon and Visit Portland.
I've always found that the best way to discover a new city is to walk it and eat it. Luckily for me, Portland is known as a "foodie city," a metropolis of different cultural foods and brave, almost reckless, star chefs.
Here are my eight favorite restaurants to experience in Portland, Oregon. Some of these were recommended by locals as "must-try" eateries and some I managed to stumble upon during my wanderings. All left memories of flavor and delight on my palate.
1. Phuket Cafe
Because Phuket Cafe is the newest concept from Ninsom, one of Portland's favorite chefs, the line to get in at 5 p.m. already stretched down the sidewalk. The 27-seat restaurant also has outdoor dining in a modified train car, so that's where we sat, ordering a half-dozen salty Pacific oysters to whet our appetites.
In addition to the striped bass ceviche and Thai curry, we sampled the Muu Kua Grua, a flavor-packed dish of salted glazed pork belly made heady with makrut lime and Thai chilis. We nibbled the springing broccolini side dish and oohed-and-aahed over our dinner.
Ninsom took inspiration for Phuket's menu, which changes seasonally, from flavor-exploration trips to Bangkok and Phuket, where he and his staff explored new dishes typically not served in the U.S. He brought back flavors that explode through tofu-pork dipping sauces, toasted coconut, liberal use of lemongrass and Thai chilis, and mysterious sounding ingredients like betel leaf and makrut lime.
The desserts on the menu are just as alluring. We opted for the Cake Kafe, a layered cake made with coconut ash crepes stacked upon incense-smoked coffee cream, passionfruit cream, and black sesame. We also sampled the Kakigori, an almost bread pudding-like creation made with Thai tea, grass jelly, brown sugar meringue, and toasted brioche with an egg yolk jam poured all over it.
Egg yolk jam? Yes, you heard that right. Sweet and rich, the addition of egg yolk on dessert might sound a little odd at first, but you're going to want to try it. You'll dream about it for the rest of your life.
I'd be remiss to not mention the cocktails created by Portland's master mixologist and Phuket co-owner Eric Nelson, who introduces such new potions as gin and warm tea topped with fernet and a glass of heaven called The Coffin Maker, made with mezcal, lime, cucumber cane vinegar, cilantro, fried shallot, and celery bitters.
Yeah, Phuket Cafe was definitely at the top of my favorite restaurants to experience in Portland.
Pro Tip: Phuket Cafe is open for dinner, but the restaurant does not take reservations, so get there early. Folks started lining up about 30 minutes before the new eatery opened, so be prepared for that. Phuket Cafe is also open for brunch from 10 a.m. to 2 p.m. on the weekends with a special brunch menu. Hello, Sang Kaya French Toast swimming in coconut cream and Thai tea syrup!
2. Oma's Hideaway
Another of Portland's newest breakout restaurants, Oma's Hideaway offers up playful and bright dishes inspired by the street food cuisine of Southeast Asia hawked by the street vendors of Singapore and Malaysia.
With roasted chickens hanging in a "window" over the chef's open-air kitchen, it's easy to believe you've snuck off to Singapore to dine on snacks like the Roti Canal, a type of Malaysian flatbread made with hints of parsley and served with a squash curry dipping sauce.
You'll debate between the charcoal roasted game hen dish or the Char Slu Rice Bowl, made with pork belly, Bali-spiced pork shoulder, bok choy, ginger, gula jawa (palm sugar), and rice.
We opted for the Oma-Zing Burger, which I can't recommend enough. This beef burger was topped with a zesty and sweet chili jam and served up on a griddled coconut lime leaf butter bun for a hearty dish that swam with layers upon layers of flavor. It was by far one of the best things I ate in Portland.
3. Kachka
Of all the restaurants I visited in Portland, Kachka surprised me the most. I don't know what I expected from this established Russian and Eastern European cuisine restaurant, but I left with a love of Ukrainian, Polish, and Russian flavors in my blood.
As a child, Bonnie Morales (née Frumkin) grew up with elaborate, traditional dinner parties thanks to a family that emigrated to the United States from the former Soviet Union. Those traditional flavors come alive at Kachka through dishes like the golubtsi, cabbage rolls made with Mama Luba's sweet and sour, lamb, beef, and pork (because everything is better with pork). These fat cabbage rolls swim in a sweet tomato sauce that's reminiscent of a hearty bolognese.
For appetizers, we sampled the Baltic Sprat Buterbrodi, which showcased tiny smoked fish nestled upon parsley mayo and rye toast and marveled at the "Herring Under a Fur Coat," a dish that's kind of a combination of seven-layer dip and salad made with layered herring, potatoes, onions, carrots, beets, mayo, and eggs.
You'll also find Rabbit in a Clay Pot, pork neck shashlik, and chicken liver pashtet, but don't worry: You'll also have a wide selection of house-infused vodkas to wash it all down.
For dessert, the sour cherry vareniki can't be missed. This Ukrainian specialty really makes use of the local sour cherries in a sweetened and rich concoction. The Bird's Milk Cake is luscious with vanilla bean bavarian, amaretto chiffon sponge cake, and chocolate ganache.
Pro Tip: If you can, hit up Kachka for its special Happy Hour from 4 to 6 p.m. You'll be able to sample a wide variety of dishes at a lower price. If you can't decide between the Siberian pelmeni dumplings or the farmer's cheese and scallion-stuffed dumplings, you'll be able to try smaller samples of both!
4. Enter A Food Pod: Hinterland Bar And Food Carts
Portland is all about its food pods. Portland's food-cart scene is legendary, but unlike other cities where food trucks roam the streets, these trucks stick together in groups dubbed "pods," making it easy to sample different trucks at a time.
One of the newest food pods we visited was Hinterland Bar and Food Carts on SE 50th between Hawthorne and Division, which opened in January 2022. This food pod centers around a dedicated bar, and the five food trucks range from barbecue to burgers with some tasty vegetarian and Asian cuisine thrown in.
I opted for a hearty bowl of pork belly ramen and the hot-but-not-too-hot Nashville hot chicken-style sandwich from Third Culture Kitchen while our hostess ordered up a mess of "best Texas barbecue outside of Texas" chopped brisket tacos from Matt's BBQ Tacos.
With carefully crafted cocktails, local Oregon beer, and wine selections to complement the food truck offerings, Hinterland Bar and Food Carts has plenty of dine-in seating and covered outdoor seating with heating for those who want to do a little people watching while tasting the flavors of Portland.
All The Donuts: Donuts Of Portland Bike Tour
While I usually opt for walking tours of a new city, I instead decided to pedal my way to Portland's top donut shops with Pedal Bike Tours after hearing about its Donuts of Portland Bike Tour. What could be better than sampling Portland's famous donut shops while burning a few calories and sightseeing along the way?
5. NOLA Doughnuts
Our first stop on the pedal exploration was NOLA Doughnuts, a small locally-owned shop created by two Louisiana natives. This shop, artfully decorated inside like a small street in New Orleans' French Quarter, specializes in a flaky, heaven-sent concoction called the laminated La'ssant. Imagine the flakiest croissant you've ever had made into a donut and stuffed with gooey raspberry filling and dusted over with powdered sugar.
This decadent pastry comes in a variety of flavors like maple, lemon poppyseed, orange grapefruit, Madagascar vanilla, chocolate ganache, and more that will make you swoon with sugary delight.
6. Coco Donuts
Our second donut shop was the local favorite Coco Donuts, the only donut shop in Oregon crafting both donuts and house-roasted coffee. While this shop has those favorite donuts you grew up loving, its real magic comes through with its mochi donuts, especially the mochi matcha flavored donuts.
Mochi donuts are a hybrid style of pastry that combines the familiar cake donuts with chewy mochi, Japanese pastries made with glutinous rice or gluten-free tapioca flour. Bursting with flavor, these donuts have a vastly different mouthfeel than the American donuts we're all used to.
7. Blue Star Donuts And Coffee
Blue Star Donuts and Coffee was our next stop. This little bakery specializes in unique flavors of donuts, like the bestselling blueberry bourbon basil, the passionfruit cocoa nib donut, and the grapefruit and smoked paprika.
8. Voodoo Donut
No trip to Portland and its donut scene would be complete without hitting up the famous Voodoo Donut, made world-famous by introducing the maple bacon bar to the mainstream donut-eating public. Thanks to a pre-order by Todd of Pedal Bike Tours, we skipped the hour-long wait for this famous sweet treat and took our treasure back to the Pedal Bike Tours home base to savor the sweet and savory donut.
Pro Tip: While the bike tour isn't challenging physically, you should be able to ride a bike for roughly 4 to 6 miles or a little more than two hours. Depending on your level of ability, Todd can customize the tour to be easier or more challenging.
Find More Food Pods
Portland has made food pods famous, and you'll find numerous food cart "pods" throughout the city. To find and try them all, check out this guide from Visit Portland.
For more ideas and inspiration on Portland, explore these articles: