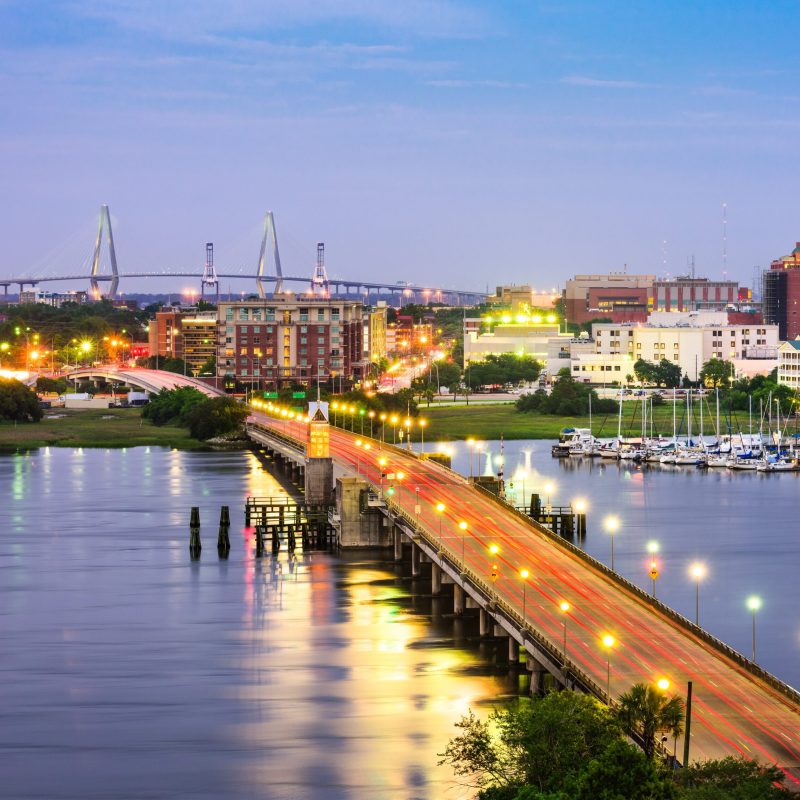 Charleston, South Carolina, is consistently ranked among the best cities not just in the United States, but in the world. It's easy to see why! With its stunning coastal location, beautiful old buildings, and creative food and spirits scene, Charleston is certainly worthy of a visit or five.
But this Southern hub has even more to offer travelers — it provides an excellent base for day trips around the region. From a posh island enclave to a Hollywood movie set to a low-country beach, here are the best day trips to take from Charleston.
Edisto Island, South Carolina
One of the South Carolina Sea Islands, Edisto is spread over two counties: Colleton and Charleston. Its beach has been called a regional best-kept secret for its lack of crowds, family-friendly environment, and charming beach cottages. Plus, half the island is protected from development, so the area is not highly commercialized like some other beachfront communities. In fact, travelers can even view the ruins of former plantations like Bleak Hall and Sea Cloud within the Botany Bay Plantation Heritage Preserve. Great dining options are available too, from the laid-back, diner-style SeaCOW Eatery to the more elevated Southern grub at Ella & Ollie's. Visitors can also expect an abundance of natural activities, including hiking, fishing, camping, and more. The best part? Edisto is just an hour by car from Charleston, which makes it a perfect day-trip destination.
Beaufort, South Carolina
Located on Port Royal Island, another of the Sea Islands, is Beaufort, a historic town known for its antebellum architecture, pretty water views, and historic bed and breakfasts. Beaufort was recently named one of the South's best small towns by Southern Living. Visitors can stay late for a sunset boat cruise or just enjoy a day at the lovely shopping district and a delicious lunch at the Wren Bistro & Bar downtown. Fishing charters and kayak tours are also available, and the popular Beaufort History Museum is worth a visit. If you'd like to experience the area's sand dunes, biodiversity, and dense forests, check out the isolated Saint Phillips Island, new to the South Carolina State Parks system. Formerly the beach home of Ted Turner, this off-the-beaten-path retreat can now be accessed through tours with naturalists. Beaufort is just a 90-minute drive from bustling Charleston.
Savannah, Georgia
Another of the South's loveliest cities is Savannah. This dreamy coastal municipality is only a 2-hour drive from nearby Charleston. Day-trippers should be sure to hit some of the highlights, like the gorgeous Forsyth Park with its hanging Spanish moss, the city's 22 historic squares, and the bustling hub of City Market. Savannah's dining scene deserves a look, too, with favorites like The Grey and Mrs. Wilkes for classic Southern comfort fare. Thirsty travelers should enjoy a drink with stunning river views at the Bohemian Hotel's rooftop bar or consider the Moon River Haunted Pub Crawl. Savannah is known as the Hostess City of the South for its famous hospitality and is very walkable, making it an ideal place for a day excursion.
Hilton Head Island, South Carolina
Hilton Head is consistently voted one of America's favorite islands, and it's easy to see why. This pretty spot is known for its 12 miles of beaches, 24 golf courses, and more than 300 tennis courts. Besides being a natural paradise, Hilton Head offers tons of other activities and attractions like water sports, museums and art, and the Harbour Town Lighthouse. There is also a distillery on the island that offers tours and features a bottle shop and tasting room. Wine lovers should check out the Island Winery and enjoy a wine-and-cheese pairing before making the 2-hour drive back to Charleston. Those seeking a more laid-back environment can head to the local favorite (and cash-only) Harold's Diner. This greasy spoon offers a respite from the otherwise posh environs of Hilton Head Island.
Mount Pleasant, South Carolina
Just 20 minutes from downtown Charleston, the scenic suburb of Mount Pleasant is a particularly convenient day-trip opportunity. Mount Pleasant is home to the famous Boone Hall Plantation & Gardens, where The Notebook was filmed. Boone Hall is the most photographed plantation in the country and is also one of its oldest working farms, where visitors can pick their own strawberries, tomatoes, peaches, and more, depending on the season. Boone Hall Farms is described as "part farmers market, part specialty store" and offers fresh produce grown in season. It also features fresh seafood straight from the docks, an award-winning butcher shop, a café, and more. Day-trippers to Mount Pleasant may also want to check out the upscale shopping mecca of Gwynn's. Great food options abound as well, especially along Shem Creek. Favorites include NICO, a French oyster bar, and the barbecue-plus-seafood-focused Saltwater Cowboys.
Kiawah Island, South Carolina
This small barrier island off the Atlantic Coast provides an upscale day-trip option from Charleston. On certain days throughout the year, visitors can attend the Mingo Point Oyster Roast and BBQ for a low-country experience to remember. Additionally, Kiawah Island is home to five championship golf courses with more than 90 holes, 30 miles of scenic bike trails, and numerous pretty beaches. For dining, travelers shouldn't miss the modern seafood mecca of The Atlantic Room at The Ocean Course. The Spa at The Sanctuary provides a respite from the stress of travel. Kiawah is conveniently accessible, too, at 45 minutes from Charleston by car.
Wadmalaw Island, South Carolina
Another great day-trip option from Charleston is Wadmalaw Island, just 30 minutes away from the city. This rural spot provides an escape in a convenient location. The area is home to a couple of noteworthy attractions, including the Charleston Tea Plantation, the only tea plantation in North America. The property offers tea factory tours, trolley rides, and a gift shop. Additionally, Wadmalaw is home to the Deep Water Vineyard, which offers near-daily tastings and tours. Plus, on many Saturdays, the winery hires local food vendors and musicians to entertain guests as they enjoy local wines. The largest distillery in the state, Firefly Distillery, is also located on Wadmalaw Island; it uses tea from the nearby plantation for its sweet tea vodka, among other things.
Myrtle Beach, South Carolina
Myrtle Beach is a popular Spring Break spot and beach resort area. At just over 2 hours away from Charleston, it's another great day-trip option for visitors to the Holy City. Consider a stop at nearby Brookgreen Gardens just south of Myrtle Beach. This stunning botanical garden and conservation center is home to more than 9,000 acres of land, including a wildlife reserve, sculpture garden, and low-country zoo. Myrtle Beach highlights include the beach boardwalk, numerous golf courses, and the SkyWheel Ferris wheel, one of the nation's tallest. Some dining options in Myrtle Beach are the waterfront Gulfstream Café, the ever-popular Mr. Fish, and the breakfast favorite Sea Captain's House.
McClellanville, South Carolina
Ensconced within the Francis Marion National Forest, the cute fishing village of McClellanville is another option for day-trippers from Charleston. Visitors can ride the ferry to Bull Island, tour the Hampton Plantation State Historic Site, or hike the trails of the aforementioned forest. The best restaurant in town is T. W. Graham & Co., which is known for its seafood, Key lime pie, and fried green tomatoes. There are also numerous fishing charters, but if fishing isn't your thing, you can sit on the docks to watch the fishermen unload their catches. The village is located about an hour northeast of Charleston.
It's easy to see that while Charleston itself is a famous vacation destination, its unique day-trip options make it an even more attractive spot to visit.
Want to spend even more time in the area? Consider extending your vacation to include a quick trip to Johns Island, where you can see the famous 500-year-old Angel Oak Tree. Additionally, the nearby beach enclave of Isle of Palms offers both beachfront and golf options for visitors.