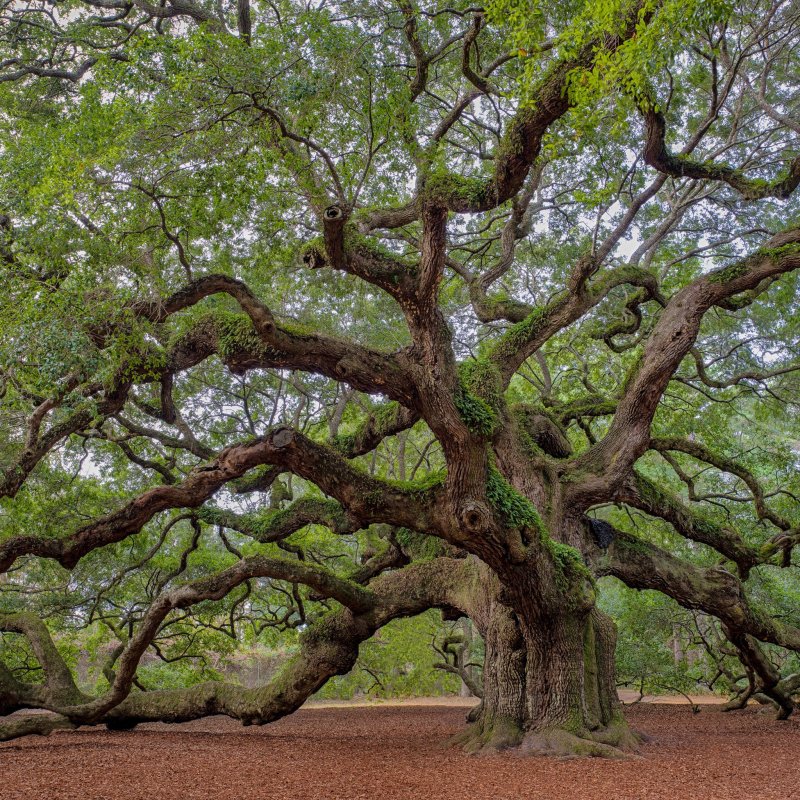 Twelve miles from Charleston SC, approximately 30 minutes by car, on Johns Island sits the Angel Oak, the largest live oak tree east of the Mississippi River. Angel Oak is also known locally as "The Tree."
This historical site is considered a Low Country treasure. An estimated 40,000 visitors arrive each year to wander under the impressive branches of this magnificent tree and contemplate life in their shade.
Angel Oak Tree is reported to be anywhere from 300 to 500 years old, but many consider the tree to be ancient, claiming it's 1,500 years old. This must-see tree continues to be popular because of its age, beauty, and the legends surrounding it.
The weather is hot and humid during the summer on Johns Island, so visit in the spring or fall to truly enjoy Angel Oak Park.
Here are seven things to know before you go.
7 Things To Know Before Visiting Angel Tree, Charleston SC
1. It Is a Southern Live Oak Tree
Angel Oak is a Southern live oak, or Quercus virginiana. Live oaks are evergreen, which means they remain green and alive throughout the winter. They do drop some leaves in the spring but tend to replace them quickly. They offer lovely shade. Native to the Lowcountry, the area along the South Carolina coast, they can live for hundreds of years, and most grow out wide rather than up.
It is believed that this type of tree does not usually grow tall, but Angel Oak is so mature that it grows both up and out. Angel Oak's branches reach in all directions; some even dive underground and then grow up again. The wood is so hard that the USS Constitution, which was built of Southern live oak, earned the nickname "Old Ironsides" because cannonballs bounced off its sides.
2. Angel Oak's Namesake
The tree got its name from plantation owner Justus Angel. It was initially on the property of Abraham Waight, recorded in 1717 as part of a land grant. Mr. Waight held a lot of land and several plantations in the area. He was incredibly wealthy. Angel Oak was on the property for four generations of Waights but was transferred to Justus Angel, Martha Waight's future husband, as a part of Martha's wedding settlement.
3. Admission Is Free
Angel Oak Park on Johns Island is owned by the City of Charleston, and there is no charge to visit, but donations are accepted to help preserve it for future generations. There is a parking lot outside the fence and just a short walk into the park to see this natural beauty. It is open seven days a week (except for holidays).
A gift shop is located on the property and picnic tables are available around the park's perimeter. The gift shop provides more information about Angel Oak and merchandise, including the gorgeous sweetgrass baskets handmade by local artisans.
You are not permitted to take photos in the gift shop, but you are welcome to take pictures of the tree with hand-held cameras. Tripods are prohibited. Bring a picnic and sit at one of the tables. Visitors aren't permitted to put blankets under the branches or have any food or drinks near the tree. Leashed pets are allowed in the Angel Oak Park picnic area.
Permits are required for weddings and photoshoots and are provided by the City of Charleston Parks and Recreation Department.
Pro Tip: The ground may be uneven around the trunk, so watch your step, look up, and marvel at her size and strength. Similar caution is recommended when visiting other giant live oaks in Louisiana, Georgia, etc.
4. Angel Oak's Impressive Size
Angel Oak has been growing for at least three centuries and has had a lot of time to mature. The tree is 65 feet tall and the trunk has a circumference of 25.5 feet. Dripping in Spanish moss, the canopy offers over 17,000 square feet of shade. The most extended branch reaches 187 feet from tip to end. There are supports under some of the most massive branches or wires attached to the tree to help keep the giant limbs from breaking. Typically, live oak branches will grow underground and then come back up and grow outward. Some of Angel Oak's branches do this as well. This feature makes the tree look almost otherworldly.
5. It Has Survived Many Storms
Angel Oak has seen its share of storms, floods, and even earthquakes, and it has remained standing. The only hurricane to cause the tree damage in recent history was Hurricane Hugo. Hugo was devastating to South Carolina as it made landfall as a category 4 storm near Sullivan's Island on September 22, 1989. The wind speeds were clocked at 140 miles per hour, and the storm surge pushed up the rivers, especially the nearby Ashley River, which is 12 miles away. The water flooded the lowlands. The damage caused by the storm exceeded $7 billion to property and agriculture. While many local trees were snapped in half or blown down by the winds, Angel Oak did not topple over.
Despite Hugo's severity, the damage to Angel Oak was not severe, and the tree continues to thrive and grow. The most recent threat to the tree was a housing development planned in 2012. Luckily, a group called Save the Angel Oak and the Coastal Conservation League argued that the groundwater would be compromised if apartments were built near the site. In 2013, the Lowcountry Land Trust preserved 17 acres around the tree, which protected it from future development.
6. A Symbol Of Strength In Books And Television
Angel Oak was featured in a novel by author Emily Nelson entitled The Heart of a Child. It was also used as a backdrop for an Allstate Insurance television commercial during Hurricane Florence's aftermath in 2018. The advertisement begins with a panoramic shot around the tree's entire span. The voiceover speaks to the resilience of South Carolina residents, likening their strength to that of the Angel Oak.
7. The Tree Is Rumored To Be Haunted
It is no secret that there are ghostly stories that surround the tree. For her book Ghosts and Legends of Charleston, South Carolina Denise Roffe interviewed an old African American woman, a descendant of slaves who once labored on the land near Angel Oak. She recounted a legend that the tree was home to giant vultures who feasted on the bodies of slaves who were hung from the branches. She said that the tree had a curse on it due to the violence that occurred there and that slaves felt that the tree was a bad omen. She also claimed that Native Americans met underneath the tree and made it a sacred burial ground and believed it was the spirits of Native Americans that protected the tree and kept it alive and safe. Truly the richest legends east of the Mississippi River.
In recent years, reports of glowing lights and faces have been reported. In 2008, a couple was married under the tree and returned a few months later during a full moon to have a romantic moment where they were married. They reported seeing glowing human forms gathered around the trunk and some up in the branches.
Another couple visited the tree one evening. The husband tried to carve a heart into the bark as a symbol of their love but stopped when he heard noises nearby. The wife was feeling uneasy, and she asked him to put his blade away. She claims she saw a fiery face appear in the branches. She said she saw another anguished face in the surrounding trees. As they ran back to the road, they looked back to see a group of lighted souls gathered around the trunk.
Whether you believe the lore or not, one can't visit the incredible Angel Oak without feeling something stir deep in their soul. I always feel a sense of peace there. I have been to see Angel Oak many times and it still overwhelms me. The sheer age and size of this natural specimen make it feel like you are visiting a sacred spot where all the earliest days' knowledge is housed inside the trunk and limbs. I have never seen it during the evening, as the park closes at 5 p.m. Visitors are not permitted to congregate in the park after closing time, and signs remind people not to deface the tree.
Where To Stay Near the Angel Oak Tree?
When visiting Charleston SC, you will enjoy natural beauty throughout your whole stay. Scenic-view rentals offer delightful spots to appreciate Mother Nature's handiwork, including decks overlooking marshland or screened porches shaded by maritime woods. You can also opt for an ocean-view rental and admire the crashing surf, soaring coastal birds, and Kiawah Island's population of dune-dwelling deer.
On the other hand, if you want to explore the city as well, it is generally recommended that on your first visit, it is best to try to stay in the Historic District of Charleston SC, especially if it is a short visit. It is the heart of Charleston and you will feel immersed in the culture.
What Else To Do In Charleston SC?
Finding amazing things to do in Charleston SC should not be difficult. The charming city is bustling with exciting activities and breathtaking scenery. From the cobbled downtown alleys to long stretches of pristine beachfront, there's something to please every traveler. Whether you are an outdoor enthusiast, eager to explore nature, or a history buff ready to dive into the past, Charleston SC offers endless opportunities for adventure and discovery.
FAQs
Can You Touch the Angel Oak Tree?
Yes, you are even encouraged to gently touch it or kiss it. You are also free to wander beneath the Angel Oak at will. On the other hand, signs ask visitors not to climb or sit on its branches, and not to carve their initials.
Who Comes To See Angel Oak Tree?
Everyone. From the elderly with walkers, to babies in strollers. You can hear foreign languages or deep southern drawls around the Angel Oak. Naturalists, photographers, families, and couples will find Johns Island and Angel Oak Park perfect for an outing. This majestic tree is a must-see for anyone heading out to Kiawah or Seabrook Islands.
Is There a Dress Code When Visiting Angel Oak Tree?
No, except for one thing: wearing spiked heels isn't allowed because they can damage the fragile root system of the Angel Oak. For the same reason, tripods aren't allowed either. As long as your clothing or equipment doesn't endanger the roots or hollow branches of the Angel Oak, you'll be fine.
Is There a Tour Involved in Angel Oak Park on Johns Island?
No tours or guides to Angel Oak. There's no admission charge to the general public either, but donations are gladly accepted to help in the preservation of the Angel Oak for future generations. The park has a gift shop and picnic area which add to the memorable visit.
What's It Like Being Near Angel Oak?
It is spirit-lifting. The experience itself is a total immersion in nature, which is in contrast to the gas stations and even a McDonald's on your way to Angel Oak Park. However, once you get there you hear nothing but Angel Oak, crickets, birdsong, and treetops rustling in the breeze.