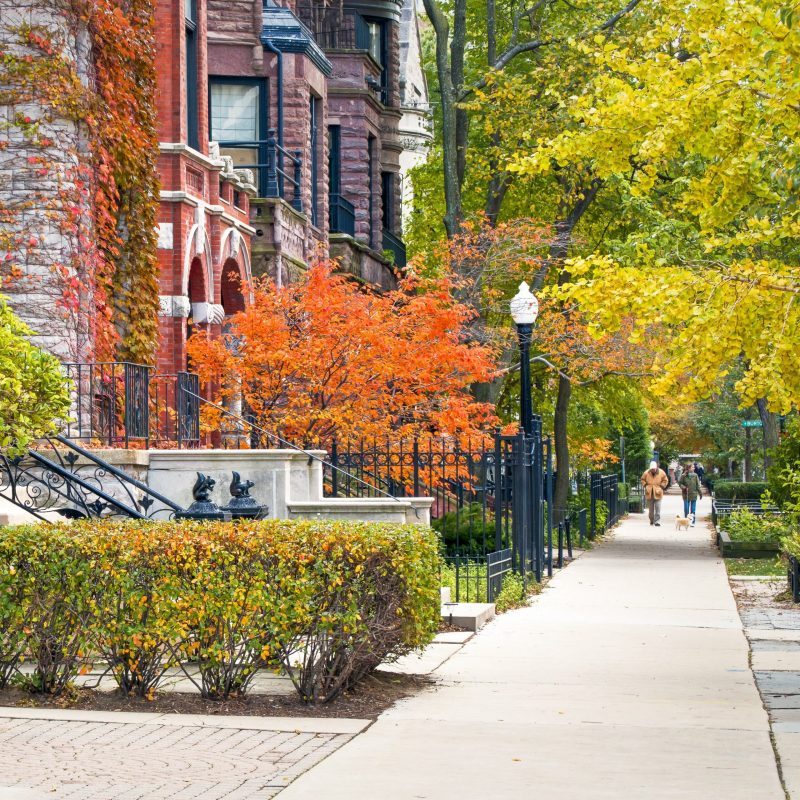 When it comes to autumn travel, there's so much more to experience than simply fall foliage — though that is lovely too! From a different lens on old favorite destinations to special seasonal festivals and places with perfect autumn weather, read on for our list of the best U.S. cities to visit this October. You're sure to "fall" in love with every one!
Portland, Maine
Maine's largest city may be the busiest in the summer, but it truly shines in the fall. Portland is home to tons of cool hidden gems and boasts a beverage scene that is second to none. And with pleasantly cool weather during the autumn season, there's so much to see and do in the city. Nearby Bradbury Mountain State Park, one of Maine's original five state parks, is a perfect spot to enjoy classic New England fall foliage.
Visitors to Portland should consider a trip during Harvest on the Harbor. This days-long culinary celebration of the city's food and beverage offerings makes it easy to see why Portland was Bon Appetit magazine's Foodie City of the Year 2018. Tickets are available for a number of different events during Harvest on the Harbor, including a chef's dinner, cocktail tasting, an oysterfest, and a Bloody Mary brunch. Prices for Portland hotels and lodging also tend to drop in the fall, so it can be cheaper to travel to Portland in October.
Minneapolis, Minnesota (Or The Twin Cities)
Minnesotans tend to squeeze the last drop out of fall in preparation for their typical harsh winter season. So, it's a perfect time to visit the Twin Cities, where friendly locals abound and there's tons to do. Thirsty travelers should stop at Northeast Minneapolis watering hole Sociable Cider Werks. Their freshly-pressed apple cider is the perfect fall concoction.
Mineapolis's Minnehaha Falls provides a great natural backdrop for the season, with kayaking, trails, and beautiful waterfalls right in the city. For the ultimate fall dessert, s'mores, head to Butcher and the Boar in Minneapolis, where you can taste the sweetness of the season. And to try a pumpkin spice latte made with real pumpkin, check out Five Watt Coffee; this local shop has four convenient locations in both St. Paul and Minneapolis and is a must-visit on an October getaway.
Santa Fe, New Mexico
New Mexico's capital city is an artsy haven that deserves attention in the month of October. The desert temperatures are very comfortable this time of year, and there are numerous fun festivals to consider. The Santa Fe Independent Film Festival, nearby Albuquerque Balloon Fiesta, and Harvest Festival are just a few reasons to plan a fall trip to the area. Additionally, foliage can be experienced on the Aspen Vista trail.
Santa Fe also stuns in the fall since it's chile harvest time and hotel room rates are usually cheaper than they are during the summertime peak. For a taste of fall, try the quaint Teahouse and their divine apple pear crisp dish or their variety of local ciders. The pumpkin posole at The Plaza Cafe, Santa Fe's oldest restaurant, is another seasonal winner.
Chicago, Illinois
The Windy City's mild fall weather beckons travelers each October. The mostly clear skies during this time of year mean that the observation deck at the Willis (formerly known as Sears) Tower is well worth a visit. Plus, you won't have to work up a sweat as you tour Chicago's famous rooftop bars. Additionally, miles of trails on the Chicago lakefront can be experienced without the harshness of summer rays.
For both sweet and savory pumpkin offerings in Chicago, check out the city's famed French bistro, Chez Moi; their pumpkin brunch, The Great Pumpkin cocktail, and pumpkin ravioli make October the tastiest month of the year in Chicago. October is also warm enough to experience the city's well-known architecture boat tours along the Chicago River or visit the zoos. There are also numerous apple picking opportunities in the Chicagoland suburbs.
Salt Lake City, Utah
Beat the ski bums by visiting Salt Lake City during the fall. Hotel room rates are lower and the city will be far less crowded than it is in summer or winter. For those interested in getting some exercise while experiencing Utah's natural wonders, the state is home to five national parks and three national monuments ripe for exploration.
For a bite of fall, try Hatch Family Chocolate's caramel chocolate-dipped apple. Ballet West, located in SLC, also hosts performances in October that are perfect for tourists who crave culture and the arts. For a taste of Germany right in the U.S., the Snowbird Center's Oktoberfest — a little less than an hour from Salt Lake City International Airport — welcomes 60,000 people each year during its seasonal run.
Denver, Colorado
The Mile High City is a perfect fall destination in the United States. One of the nation's largest beer festivals, the Great American Beer Festival, is held there each October. Additionally, much like Salt Lake City, winter is a busy tourist time in Denver due to the city's proximity to nearby ski resorts. Hotel rates and flights are generally cheaper in the fall, when fewer travelers are swarming around the Colorado capital. If you're up for venturing outside the city limits, you could catch a college football game at the university in Boulder, drink a cold one on the beer tour at Coors Brewery in Golden, or pick apples at Ya Ya Farm and Orchard in Longmont.
New Orleans, Louisiana
By avoiding the swampy summertime, fall travelers to New Orleans will get to enjoy this bayou city during more comfortable weather. And an autumn escape means no overlap with the craziness that is Mardi Gras in the Big Easy. In New Orleans, October means Voodoo Fest in beautiful City Park. Travelers will want to at least check out the huge green space — it's 2.5 times the size of Central Park — whether or not they attend the festival itself.
Additionally, fall is a great time to experience the haunted history of New Orleans, which has long considered itself America's most haunted city. Travelers should plan to go on a ghost or cemetery tour to maximize the spooky October vibes. Some residents, especially those on stately St. Charles Avenue, decorate their homes for Halloween. Ride the streetcar to view these mansions in all their creepy glory.
Savannah, Georgia
Another spooky Southern city that is a great October destination is Savannah. After all, their local distillery is even called Ghost Coast Spirits in honor of the town's haunted reputation. Visitors should enjoy a rooftop beverage overlooking the pretty Savannah river at the Bohemian Hotel. Additionally, a ghost tour is a must-do while in the coastal Georgian city; try the Moon River Haunted Pub Crawl for a boozy good time. To channel a classic fall flavor, maple, head over to the Maple Street Biscuit Company where numerous menu dishes fully embrace the season. Another fun aspect of Savannah is that there are no open container laws for alcohol, so travelers can enjoy a beverage and walk around the lovely (and eerie) Forsyth Park.
Providence, Rhode Island
While neighboring Boston is swamped with tourists in the fall, Providence allows for the same New England experience at a lower cost. The largest city and capital of the country's smallest state, Rhode Island, has a ton to offer fall visitors. From its beautiful red brick buildings to its reasonable prices, Providence is a worthwhile October destination.
There's even a Jack-O-Lantern Spectacular in town and a Corn Maze in nearby Portsmouth. Additionally, travelers can see some of that famous fall foliage and the pretty WaterFire lanterns on the river. Providence is also an unexpected foodie hub, especially for fall-flavored items like the Spiced Pumpkin Loaf at Ellie's Bakery.
San Diego, California
This laid back Southern California city is especially fun to visit in autumn. After all, that's when the world-famous horse racing track, Del Mar, opens. With the tagline "Where the surf meets the turf" this spot combines equestrian pomp with California cool to make the sport more approachable and enjoyable. The weather in San Diego is also legendary in the fall, while hotel rates tend to drop. All year long — but especially in October — foodies should be sure to visit Cafe 222 for chef Bobby Flay's favorite pumpkin waffle.
It's easy to see that October is a prime month for a quick vacation to any number of the spots on our list. With fall festivals, pleasant weather, nature-inspired activities, and more, U.S. cities truly shine in autumn.
Not sure what else to do this fall? Learn where to see the best fall foliage in the U.S. and plan your travels accordingly!