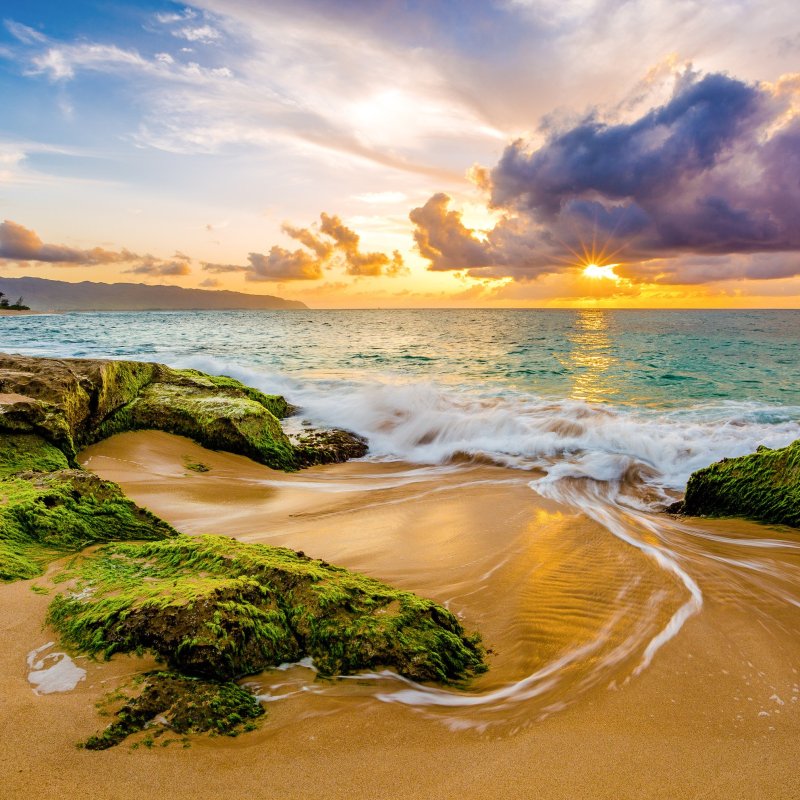 Just a short drive from the crowds and traffic jams of Honolulu and Waikiki is one of Hawaii's most laid-back destinations: Oahu's North Shore.
The area has a reputation for being a bit bohemian and a bit ramshackle (in the best possible way), all while offering visitors gorgeous parks, delicious food, and some of the best athletic events in the world. You'll quickly get the sense that everyone knows everyone else there, and keeping things low-key — and unspoiled by developers — is a real priority. Spending a day or two on the North Shore will change how you see Hawaii, and the area might just become your favorite travel destination — at least, that's what happened for me!
Here are nine ways to make wonderful memories on Oahu's North Shore.
1. Watch World-Class Surfing
I'm not exaggerating when I say that the surfing is world-class. The North Shore is one of the best and most challenging places to surf in the world. In the winter, you would be hard-pressed to find bigger waves anywhere. Spots like Waimea's Sunset Beach Park attract some of the top-ranked surfers and tons of fans. If you see a bunch of cars and happen to spot a free parking spot, grab it and join the many admirers on the beach.
It's important to note that surfing isn't just an athletic endeavor on Oahu's North Shore. Its roots run as deep as the area's community, spirituality, and sacrifice. For instance, The Eddie Aikau Big Wave Invitational, the Super Bowl of Surfing, only happens when the waves are deemed high enough. It honors the life of Waimea lifeguard Eddie Aikau, who is credited with saving more than 500 people throughout his career and heroically attempting a 20-mile paddle to save capsized canoers. If you see Eddie Would Go bumper stickers along the North Shore, you'll know that they reference Aikau's selflessness.
If you dream of learning to surf yourself, the North Shore Surf Girls specialize in beginner lessons for children and adults. These are the same surf girls who were celebrated in the movie Blue Crush!
Water safety is important at all beaches, but it's absolutely paramount on the North Shore, especially in winter. Swim only at beaches staffed by lifeguards, and heed their instructions and recommendations.
2. Visit Hawaii's Oldest Surf And Dive Shop
Before 1965, iconic landmark Surf N Sea was a train station with rooms for rent upstairs. Now it's one of the North Shore's most popular places to rent surfboards, paddles, wetsuits, and snorkel and dive gear. You can buy cool surf- and swim-related accessories and souvenirs, and there are even handcrafted ukuleles!
Surf N Sea also offers dive tours of the area and three-day Professional Association of Diving Instructors (PADI) certification courses. The friendly staff can tell you where to go to watch some great surfing on any given day.
3. Enjoy Coffee Samples Most Visitors Miss
It's a great mystery why more tourists aren't streaming into Waialua. This little town was known for its sugar mill, and when the mill shut down in 1996, the town's economy slumped. The creative, passionate people who live there made the best of the situation and turned the old sugar mill into a creative hub. The complex's North Shore Soap Factory sells handmade soaps and toiletries and offers behind-the-scenes tours of their operations. However, my favorite Waialua business is Island X Hawaii, located in the same complex.
Island X produces the Old Sugar Mill brand of coffee and chocolate. But this isn't your ordinary coffee and chocolate! Both are grown locally, and the staff will happily show you around so that you can see how both are produced. Rumors about the products abound: People say that Island X's cocoa beans are the world's rarest single-origin cocoa beans (and they just might be — I can't find any evidence to the contrary!). Others say that the company's peaberry coffee (made from rare coffee beans that don't split in two but stay in small, round shapes) is the base for Neiman Marcus's swanky house blend. Whether that's true or not, both are delicious.
In addition to looking around, investigating the rumors, and sampling coffee to your heart's content, you can pick up coconut- and pineapple-flavored pancake mix and other food-based souvenirs.
4. Hang Out At The Lost Beach
In this case, the Lost beach isn't a beach that's hard to find or that comes and goes with the tides. It's where the television show Lost was filmed! Even if you're not a fan of the show, it's a beautiful, quiet beach to explore. Its proper name is the Mokuleia Army Beach, and it was once reserved for military personnel.
Today, it still feels like a laid-back community beach, and during weekdays, you might just be the only one there — unless you count the sea turtles who sometimes spend time there as well. It's a beautiful beach for walking, relaxing, and watching kite surfers, but don't swim there — in general, the water is too dangerous.
5. Stop By Kim Taylor Reece's Studio
In the tiny community of Sacred Falls, North Shore artist Kim Taylor Reece has set up his studio and shop in a stunning seaside home. Reece is an award-winning photographer who has traveled to 35 Pacific islands to document dance, costumes, and culture. He specializes in breathtaking black-and-white hula dance photos, and his books, prints, calendars, and postcards make fantastic souvenirs. If you're lucky, Reece himself might be staffing the shop — he was during my visit! — and he's a great conversationalist, always happy to recommend his favorite photography spots.
6. Pick Up Snacks And More At Ted's Bakery
A bakery will make my list of the best things to do in just about any location. What can I say? Homemade treats win me over every time! But even if you don't have much of a sweet tooth, I recommend that you stop by Ted's Bakery in Haleiwa.
This beloved local institution is the kind of place that people drive to the North Shore for. Sometimes people from other islands go there directly from the airport! Ted's is famous for cream pies, and the best of all is the chocolate haupia cream pie, with layers of rich, smooth dark chocolate custard cream and haupia (creamy coconut pudding). It's rich, silky, and not overwhelmingly sweet, so the coconut and chocolate really pop.
You can also pick up cakes, pastries, bread, breakfast sandwiches (try the spam, egg, and cheese), and more substantial meals. Come lunchtime, you can try the classic plate lunch that Hawaii (and especially the North Shore) is known for — but only Ted's includes a free slice of pie on the side!
7. Make Some Feathered Friends
The James Campbell National Wildlife Refuge provides freshwater wetland habitats for four of Hawaii's six endangered waterbirds. The refuge is closed to visitors during nesting season, from mid-February through mid-October, but during the rest of the year, visitors are welcome. If possible, visit on a Thursday afternoon at 4 p.m. or on a Saturday morning at 9 a.m. That's when volunteers provide free guided tours.
To see a side of the North Shore that most tourists (and even locals) miss, participate in the refuge's monthly volunteer project. On the first Saturday of each month, volunteers get together to help pull weeds and plant native trees and shrubs. To join them, simply meet at the main entrance of the refuge at 8:30 a.m. — you'll be done by noon.
8. Experience Hawaiian History
Puu o Mahuka Heiau State Historic Site comprises 2 beautiful acres of protected parkland. The name translates to "Hill of Escape," likely a reference to the human sacrifices that once took place there. Constructed in the 1600s, the Heiau played an important role in the social and political systems of the area. The complex of stone walls and wood-and-thatch buildings was used for religious ceremonies.
Due to the site's fragility, visitors can only see the Heiau from outside the stone walls. The park gates open at 7 a.m., making the site the perfect spot to start the day, especially if jet lag has you awake bright and early.
9. Savor Local Flavors
The North Shore is famous for its food trucks, which offer creative menus and generous portions at reasonable prices. Everyone has their own favorite stops, but you can't go wrong with Ray's Kiawe Broiled Chicken, North Shore Tacos, and Giovanni's Shrimp Truck.
Ray's Kiawe Broiled Chicken in Haleiwa offers ultra-juicy and flavorful broiled chicken served with a side of pineapple slaw.
North Shore Tacos's name doesn't do the Haleiwa truck justice — the tacos are just the tip of the iceberg! The burritos, pineapple smoothies, and quesadillas are all to die for, too.
Giovanni's Shrimp Truck in Haleiwa, arguably the most popular of all the food trucks, is where to go for classic North Shore garlic shrimp.
Planning a trip to Oahu? Check out Honolulu's best free and frugal activities, and be sure to make time for Pearl Harbor.