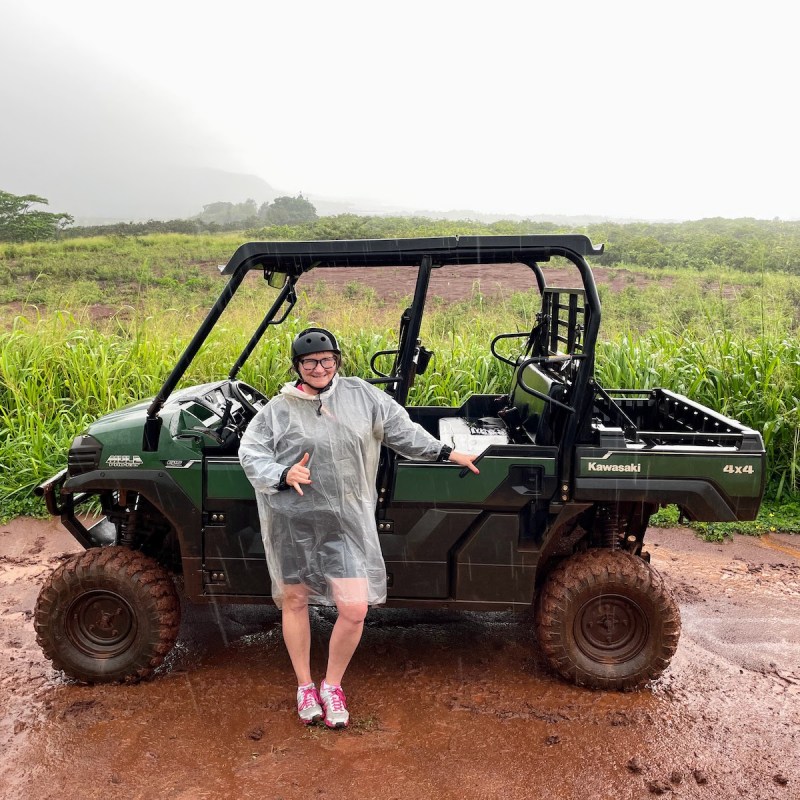 Oahu is a Hawaiian Island separated by mountains. There is an abundance of scenery you cannot easily access. That is why experiencing Oahu from the seat of an off-road vehicle is one of the best ways to see some amazing scenery away from the beach.
If you enjoy a tour with some adventure, an ATV tour is a great choice. If you pick the right tour, you'll get a sense of the real Oahu, the land, and the culture of the island and its people. It's also far away from the crowds and the commercialization of Waikiki and Honolulu.
An ATV tour on Oahu was a must-do for me for two reasons: One, I love ATVing, and two, I wanted to see a scenic part of Oahu that most don't have access to while coming away with a bit of knowledge of Hawaiian culture. I got that and so much more with the Pua Pua'a Piglet ATV Adventure with North Shore Eco Tours.
Here are six beautiful things you can see on an Oahu ATV tour.
1. Oahu's North Shore
Once you set off from Haleiwa, the North Shore town you depart from, you ride for a bit. This stop overlooked the town and coast below. While the persistent rain clouded our view, it was pretty cool to see Haleiwa, this North Shore surfing town and popular tourist destination, from a long distance.
2. Private Agricultural Land
The North Shore Eco Tours ATV tour takes you across private land owned by Kamehameha Schools.
Upon her death in 1887, Princess Bernice Pauahi Bishop — the last descendant of King Kamehameha — endowed 365,000 acres of ancestral land across Hawaii to a trust that would become Kamehameha Schools. Today, Kamehameha Schools' mission is education for the well-being of Native Hawaiians. It is a deeply seeded idea in Hawaiian culture that well-being is directly related to the health of the land ('āina). They accomplish this through programs to support agriculture, conservation, and clean energy to name a few.
The school has about 50,000 acres of land on Oahu, the majority divided into agricultural land and conservation land. Local agri-businesses lease land from the school to grow a variety of crops like sugar cane and fruit.
Fruit Trees
We also saw row after row of fruit trees during the first part of your ride; banana, papaya, mango, avocado, and guava. You will be able to sample some in-season fruit.
Pro Tip: Study up on your knowledge of fruit because your guide will test that knowledge during the tour. Which is all for fun.
Sugar Cane
We saw acres of heirloom sugar cane grown for nearby Kō Hana Hawaiian Agricole Rum Distillery. Did you know that Kō Hana uses the fresh juice of over 30 varieties of sugar cane to make their rum?
Pro Tip: You can visit Kō Hana Distillery for a fun tour, or just stop in for a tasting. I did a tour during my last visit to Oahu and it was insightful (not to mention the rum is fabulous).
3. Historic WWII Sites
We spotted a couple of pill boxes that dot the mountainsides all over the island. These pill boxes served as lookout points and defensive stations for the military during the war. Today, some around the island are destination points for hikes, but many just sit abandoned.
4. Lush Forests
After riding through the rows of fruit trees, you enter the conservation land area owned by the school. Riding through thick forest, the trail is uneven and muddy. If you're lucky, you may just see a wild boar, although they usually come out at night.
You'll see trees, like the eucalyptus tree maybe getting a whiff of its familiar scent, or the Koa tree, with its sparse flat foliage among tall grass and tropical ferns.
5. 'Opae'ula Reservoir
We stopped at one point, looking down at the 'Opae'ula Reservoir, and Ryan (our guide) introduced us to the oldest tree species on the island, the ʻōhiʻa. The beautiful lehua flower is one of those blooms that you envision when you think of Hawaii. It's the first tree you will see growing from hardened lava after a volcano erupts.
Hawaiian folklore suggests that if you pick the lehua, rain will come on that day.
6. Waianae Mountains
The pinnacle of our tour was the expansive views of the Waianae Mountains. If you want to feel on top of the world and far away from everyone, this is the spot.
Not only is this the highest point on the tour, but the halfway mark too. From here, you descend back down taking a different trail.
There were a couple of yurts set up near the edge, an idea for a camping experience that is set to be staffed and ready to go through North Shore Eco Tours by summer 2023. I can only imagine waking up to this spectacular view while enjoying my morning coffee.
Things To Know Before Your ATV Tour
Type Of Tour
There are quite a few different ATV tours in Oahu, each with its own focus. The Pua Pua'a Piglet ATV Adventure with North Shore Eco Tours was the one I chose. This tour takes about 2.5 hours. There is a max of three vehicles (not including the guide), so it is a great small tour.
Age And Physical Requirements
The minimum age requirement is 5 years old. All drivers must be at least 21 and have a valid driver's license.
They recommend that if you have physical restraints such as back and neck problems, or are pregnant, to not do the tour. This is for a good reason. The trails are rough and uneven in most places and you get jostled around a lot.
What Kind Of Vehicle Is Used On The Tour
North Shore Eco Tours uses a six-passenger Kawasaki Mule ATV for this tour. The Mule is equipped with seat belts and a walkie-talkie intercom radio. There is no windshield, so you will get wet if the trail is muddy. There is plenty of space to bring along a backpack with water.
Arriving For Your Tour
This tour begins in Haleiwa and when you sign up, you get specific instructions on how to get there. The instructions also state to arrive a half-hour before your tour time.
Once you arrive and park, you will be greeted and asked to sign a waiver. At this time, you will get your helmet and eye-protective gear. They will supply a returnable rain poncho.
Then, your guide will go through some basic instructions on how to operate the Mule and other safety information.
What To Wear
Closed-toe shoes are required and you cannot ride without them. Also, keep your favorite Hawaiian shirt back at the hotel. Wear comfortable clothes that you will be okay with getting dirty… extremely dirty.
Pro Tip: I strongly advise against wearing white or anything light-colored. The red dirt on the island is very hard to get out of clothes. If you'd like, bring an extra change of clothes along.
Things To Bring
There are a few extras you should bring along. The tour provides bug spray, but you'll want to bring sunscreen. You should bring a rain jacket and/or a sweatshirt just in case. I would also suggest having a large plastic bag along for your backpack. It rained throughout our whole tour and our bags were soaked. Bring sunglasses and extra water. The tour provides snacks and beverages halfway through, but if it's a hot day, you'll want extra water.
Don't forget your phone or camera. Ryan was more than happy to take photos of us during the tour.
Despite the rain, we all agreed that this was our favorite thing we'd done in Oahu. The remote scenery, the wet and muddy trails, and the educational aspect gave us an authentic Oahu experience. This adventure may not be for everyone, but if you have a thirst for a fun escapade, I highly recommend an ATV tour in Oahu, or any of the Hawaiian Islands.