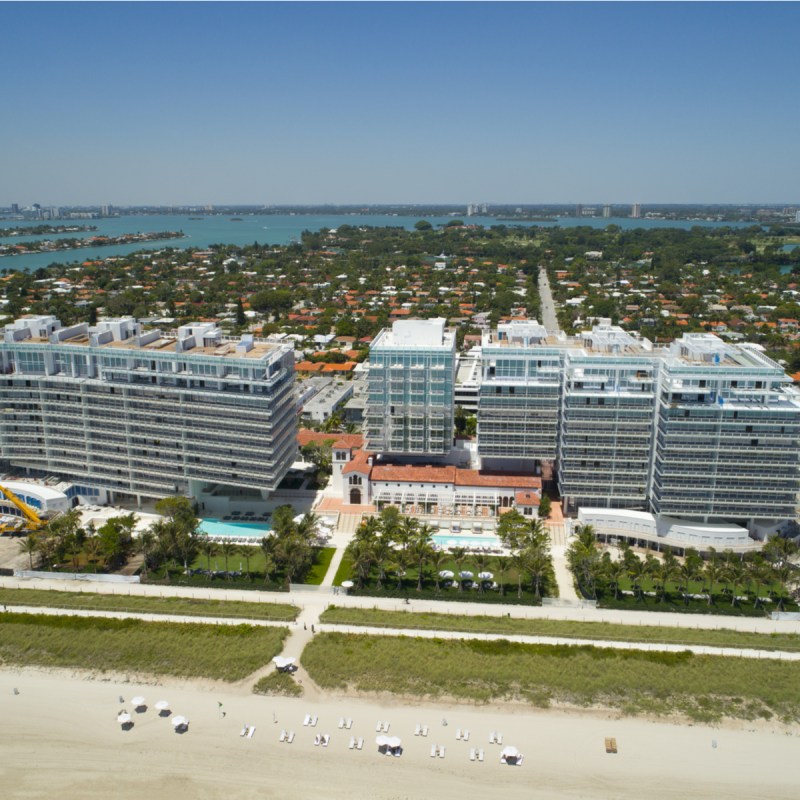 If you're looking to plan your next beach vacation, then look no further than the Sunshine State. Florida continues to be a popular getaway whether it's winter break, a spring weekend, or a last-minute summer getaway. With palm-lined streets, crisp ocean air, and mild to hot temperatures all year round, there's no shortage of outside fun to be had for the entire family. There's just one little problem — almost everyone knows this about Florida, and others are actively planning beach vacations, too.
If you're after a less touristy, more serene Florida beach vacation, we have the advice you need. We've asked locals, vacationers, and Florida beach experts to share the insider's scoop on the best Florida beaches — including hidden gems — that don't attract large crowds.
Pack your bags and don't forget your sunscreen as we reveal the best Florida beaches for you and your family to visit this year. Just don't share what you learn with too many friends or family members!
1. Navarre Beach In The Florida Panhandle
Tucked away in a corner of northwest Florida, Navarre Beach fits the hidden gem bill. For starters, it's far from crowded theme parks and other packed beaches. Rediscover a piece of old Florida — before it became one of the nation's most popular vacation destinations — that offers simplicity and solitude for the entire family. Whether you're an adventurer, nature lover, or water sports enthusiast, there's plenty of fun in the sun for everyone.
Mady Dudley, a spokesperson for Santa Rosa County, Florida, told TravelAwaits, "Not all beaches were created the same, and Navarre Beach stands out as a special spot for relaxation. Don't expect to be huddled together with your fellow beach-goers. Unlike some other nearby beaches, Navarre Beach usually has plenty of room for you to lay out your blanket, set up your cooler and umbrella, build that sandcastle, and just relax without feeling cramped."
She went on to say, "Besides the spaciousness of our beaches, one of the first things you might notice is our soft, white sand. Tens of thousands of years ago, Navarre Beach was formed by minerals from the Appalachian Mountains that washed down rivers to the Gulf of Mexico. As time passed, the other minerals were eroded and worn down to dust and washed away."
She explained that the beautiful white quartz remains, "giving the sand on Navarre Beach its signature looks and making it some of the softest, most beautiful sand in the world." Not only does Navarre Beach feel semi-private — whenever you visit — but Dudley told us, "The juxtaposition of the smooth quartz white sand with the crashing of the emerald waves makes for one of the prettiest sights in the world."
2. Blind Creek Beach In Fort Pierce
Have you always wanted to lie on a beach that's retained its primitive beauty while also letting you go au naturale? Then here's one beach to help you check off your bucket list — Blind Creek Nude and Clothing Optional Beach. Don't let the idea of a nude beach scare you — these beaches are open to the entire family, even little ones. Managed by the Treasure Coast Naturists, Blind Creek Beach is a well-managed escape with the express purpose of allowing visitors to return to their roots by freeing themselves from the societal bondage of clothing. Not sure you have a beach bod? No problem. This beach promotes friendship and body positivity for all ages, sexes, and sizes. Just bring an open mind and an open heart, and we promise you'll feel right at home in no time.
Christopher, a Florida resident, told TravelAwaits, "Blind Creek Nude Beach is four miles long — two miles in any direction of the entrance — and most nudists are very spread out. The beach is frequented by mainly retiree couples and respectful naturists from around the world. The only people who come to this remote beach are those who know it exists. Everyone is very relaxed, friendly, and able to answer questions."
Want to explore other shorelines where you can swim sans suit? Check out these 11 relaxing nude beaches in the U.S.
3. Anclote Key Preserve State Park At Florida Sports Coast
Next on our list is Anclote Key Preserve State Park. Located off the southern coast of Pasco County, this beautiful island is sure to rival all other family adventures. The ultimate place to play and relax, you'll be sure to check off your entire vacation to-do list, either by going on a once-in-a-lifetime adventure around the island or nestled up with a good book on its beautiful white sand beaches. Whether you're embarking on a hike down the coastline, hunting for seashells, or spending some much deserved family time on the beach, Anclote Key Preserve State Park is the perfect setting for a Florida beach vacation you'll remember for years to come.
Desta Gourley, a spokesperson for Florida Sports Coast, shared these little-known facts with TravelAwaits: "Accessible only by boat … Anclote Key Preserve State Park boasts seven miles of coastline and is home to over 8,000 nesting shorebirds."
Because the island is rich in wildlife and birding trails, she said "birding enthusiasts can see hundreds of native [species] that call the coastline home."
Gourley went on to say, "A picturesque 1887 lighthouse stands as a sentinel on the southern end of the island. Visitors can swim and sunbathe on the beach, fire up the grill and enjoy a picnic, go fishing, snorkeling, or shelling, or pitch a tent and enjoy a night of primitive camping under the stars. As an added bonus, the North Anclote Bar portion of the island is pet friendly."
4. Surfside, Near Miami Beach
If you're a frequent Florida vacationer, you're already familiar with Miami Beach. However, few vacationers know about the nearby gem of a beach in Surfside, Florida. Locally referred to as Miami's uptown beach town, Surfside combines all the pleasures of luxury beachfront hotels, distinctive shopping experiences, and a plethora of world-class, culturally diverse restaurants along a mile of pristine beach. The best part — it's not overly crowded. If you're looking for an unforgettable destination with a touch of the upscale, then adding Surfside to your roster of best Florida beaches is an absolute must-do.
Arlette Arrechavala, a spokesperson for Surfside, Florida, told Travel Awaits, "Surfside Beach is nestled just north of Miami Beach and South of Bal Harbour, about 35 minutes from Miami International Airport. It's a family friendly destination for those looking for a quieter, quaint beach town atmosphere away from South Beach crowds, with sugar sand beaches, beachfront hotels and friendly locals. It's home to an eclectic mix of approximately 40 restaurants in a two-block radius — many of these run by the original owners or their families, which is rare in South Florida's competitive restaurant scene. It's a place where restaurants like the new Michelin-starred Chef Thomas Keller's first and only South Florida restaurant and many of these hole-in-the-wall eateries converge."
She went on to say, "Besides an eclectic dining scene, Surfside features numerous cultural events year-round comprised of block parties with music, activities and local food, to fitness events and beach picnics, among others."
5. Shell Key Preserve In Tierra Verde
Looking for a more remote beach experience? Then Shell Key Preserve is where you want to be. Running along 1,828 acres of natural preserve in the mouth of Tampa Bay, the preserve includes a 195-acre barrier island known as Shell Key. Because the key serves as an important wildlife sanctuary for migrating birds, you're bound to see plenty of winged life as you dock on the shores. Speaking of docking, Shell Key is also a popular destination for fishing.
"We are frequent Florida travelers; we pretty much go there once a year," Tatiana Sorokina, an avid traveler, mom, and planning guru told TravelAwaits. "It is wonderful because it is located within the boundaries of a protected area with powder soft white sand, clear waters, and tons of big beautiful shells."
More good news? Sorokina told us, "Shell collecting is allowed here! It is not crowded because you can't just drive there. You need to take a 10-minute boat ride — Shell Key Shuttle — which only goes out three times a day. The only people that are going to be on the beach are 20 to 30 or so fellow travelers who arrive with you on the shuttle. It is a pristine undeveloped island, and I don't know many like it."
6. Lovers Key State Park In Fort Myers Beach
Eva Gabor, socialite, singer, and actress, one said, "Love is a game that two can play and both can win." This quote couldn't be truer for those travelers lucky enough to rekindle a spark at Lovers Key State Park.
At one point in time, this area was a collection of secluded barrier islands reachable by boat and only for those with exclusive access. Fortunately, gorgeous land was donated to the people of Florida so that its beaches and mangrove forests can serve as a natural oasis for all today. The name says it all: Lovers Key has become a romantic destination especially attractive to those planning destination weddings and vow renewals. With no shortage of outdoor amenities, you can explore serene canals and lagoons and pay homage to the native wildlife, including manatees, shorebirds, dolphins, and ospreys.
Leah Althiser, a frequent Florida vacationer and travel blogger, told TravelAwaits, "We discovered Lovers Key State Park on a trip to southwest Florida this February. It is located on a barrier island between Fort Myers and Naples. What we loved about visiting the beach at Lovers Key was that it was accessible by a tram that ran frequently from the parking lot. The tram dropped you off right next to the beach. The on-beach amenities include a snack bar, nice accessible restrooms, and covered picnic areas. The beach appeared to draw mostly local visitors and wasn't crowded at all. There was plentiful parking for $8 per vehicle and you didn't have to wrangle for a spot. The sand was soft and the shelling was excellent. I can't recommend a visit to Lovers Key enough!"
7. Palm Beach
This Palm Beach is not to be confused with the beautiful but ghastly overcrowded West Palm Beach. How do they differ? Well, Palm Beach is a little island off the coast of West Palm Beach. With its stately accommodations and beachfront resorts — oh and endless shopping (shopaholics beware!) — this Florida beach gem has been dubbed a haven for the rich and famous. So why does Palm Beach make this list? In spite of its world-class amenities, access to Palm Beach's beaches is not as straightforward as one might think.
Skye Sherman, a Florida local and travel writer, told TravelAwaits, "Palm Beach is definitely the hidden gem of Florida. The sparsely populated beaches are due to the fact there are no obvious public beach access points — you've kind of got to be in the know if you want to spend a day at the beach in Palm Beach. I won't give away all our secrets, but if you talk to some local surfers — they can usually be found at cool coffee shops — they'll probably fill you in!"
Ouch, Skye. Well, Florida jetsetters, we guess you'll have to crack the case of how to reach the beach once you've made it to town. Good luck!
8. Cayo Costa State Park Near Boca Grande
Last but certainly not least, meet beautiful Cayo Costa State Park. Located in Boca Grande, just west of Fort Myers, this hidden gem is only accessible by boat, which offers you a truly serene beach experience. Unspoiled and mostly untouched, the island reserve is perfect for the adventurer and wanderluster in you. This beach is a paradise for shoreline swimming, snorkeling, shelling, fishing, and birdwatching. Explore the various wind-shaped trees and ancient sand dunes as you walk or bike along several trails through the island's interior. Prepare a nice family meal in your rented cabin and eat outside under the stars. Cayo Costa State Park is a Florida beach gem sure to exceed every expectation during your upcoming Florida getaway.