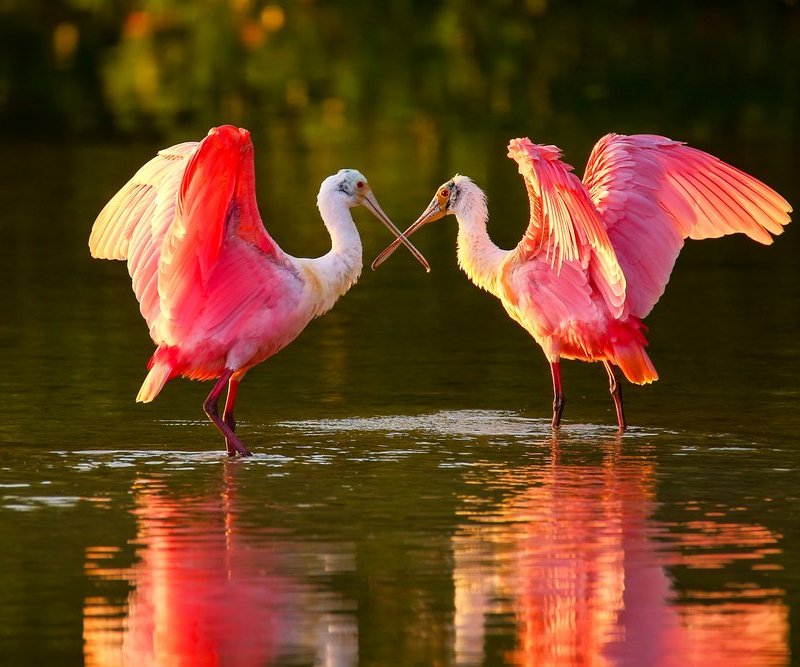 Every birder knows the agony of the unticked box. If you're not having any luck spotting your first spotted owl or sandpiper at home, there's only one thing you can do: Pack up the binoculars and hit the road.
While plenty of species will visit you in your own backyard (and may even overstay their welcome — looking at you, American robin!), others prefer to stick around their own neighborhoods. It doesn't help that these "neighborhoods" are often far from the nearest deli and have the uncomfortable habit of changing with the seasons.
You have to meet some species where they live. So if you count yourself among the more than 45 million birders in the nation, and you're looking for a place to spy new plumage, check out these cities and surrounding regions on your next excursion.
Tucson, Arizona
Southeast Arizona is an incredible place for birders, with lots of species you're not likely to see anywhere else north of the border. Stay in Tucson for all the modern amenities, and don't neglect the city interior for low-stress birding.
Check out Tucson's Evergreen Cemetery in late fall and early winter to see migrating oddballs like the pine warbler (Setophaga pinus). Stop by Sentinel Peak Park — particularly the hill emblazoned with the huge red, white, and blue letter A — and keep an eye out for greater roadrunners (Geococcyx californianus) and all sorts of hawks.
Be sure to get out of town for some real prizes, too. The area east of Interstate 19 and south of Tucson proper is full of rarities like the species listed below.
When you plan your trip, reach out to the Tucson Audubon Society; the organization offers group birding expeditions, tons of great information, and a Tucson Birding Trail Map throughout the year.
Birds To Look For: gray hawk (Buteo plagiatus), elegant trogon (Trogon elegans), painted redstart (Myioborus pictus)
Port Aransas, Texas
Port Aransas may be a small coastal town nestled between Corpus Christi Bay and the Gulf of Mexico, but it's making big waves in the birding community.
This island community is home to a startling number of designated birding sites, including Paradise Pond, Wetlands Park, and the Leonabelle Turnbull Birding Center. Visit year-round to see at least 100 different species of birds. During peak migration time, in the spring, that number goes up to at least 142 species.
Port Aransas is also home to the Whooping Crane Festival, which takes place each February. This event offers a once-in-a-lifetime chance to watch the endangered whooping cranes returning to their winter home in the Texas Coastal Bend.
Birds To Look For: least bittern (Ixobrychus exilis), stilt sandpiper (Calidris himantopus), cinnamon teal (Spatula cyanoptera), roseate spoonbill (Platalea ajaja), Wilson's phalarope (Phalaropus tricolor)
Point Reyes National Seashore, California
Book a stay on the northern outskirts of San Francisco for a once-in-a-lifetime birding experience. Point Reyes National Seashore hosts more bird species than any other national park in the United States — nearly 490 at last count.
Stop by Abbotts Lagoon in the northern section of the park during the fall or winter to see an incredible proliferation of shorebirds. Birds of prey are common around the Point Reyes Lighthouse, and migrating flocks love to stop in at Olema Marsh in the fall.
Learn more at the National Park Service's Bird Watching at Point Reyes page. Birding doesn't get much better than this.
Birds To Look For: snowy plover (Charadrius nivosus), northern spotted owl (Strix occidentalis caurina), shorebirds, birds of prey
Everglades National Park, Florida
Everglades National Park in southern Florida is the state's richest spot for birders. Or, to put it in the Audubon Society's terms, it's the "most ornithologically diverse site in Florida, supporting 344 native species."
Stay in Everglades City or Miami for easiest access to the north side of the nature preserve, or stay in Homestead, to the park's south. Just be sure to visit during the dry season, which lasts from November to March. (It's best to avoid the wet season unless you're a huge fan of biting insects.)
Where else can you spot a bald eagle (Haliaeetus leucocephalus), an American kestrel (Falco sparverius), and all the wood warblers you can imagine in a single excursion? The National Park Service lists seven different trails through the Everglades that are ideal for birders.
Long story short: No serious birder's leisure life is complete without a trip to Everglades National Park.
Birds To Look For: snail kite (Rostrhamus sociabilis), roseate spoonbill (Platalea ajaja), white-crowned pigeon (Patagioenas leucocephala)
Hoquiam, Washington
When people think of Washington state, fishing, clamming, and hiking are usually the first activities that come to mind. However, the Pacific Northwest is a wonderful place for birding as well. The city of Hoquiam sits just inside the North Bay and is home to a coastline that attracts over a million shorebirds during the yearly migration.
For a few weeks each spring, hundreds of thousands of shorebirds flock to the Grays Harbor coast. While the spring migration is a sight to behold, the Grays Harbor National Wildlife Refuge, Damon Point, and Midway Beach Road are wonderful year-round spots for birders seeking out their favorite fowl.
The Grays Harbor Shorebird and Nature Festival takes place during the spring migration and attracts birders from across the nation.
Birds To Look For: peregrine falcon (Falco peregrinus), bald eagle (Haliaeetus leucocephalus), blue heron (Ardea herodias)
Midewin National Tallgrass Prairie, Illinois
No bird-watcher's checklist is complete without a few grassland birds. Midewin National Tallgrass Prairie, which is managed by the U.S. Forest Service, is located near the city of Wilmington — itself about 60 miles southwest of Chicago.
Roam the tallgrass prairie ecosystem to spot upland sandpipers (Bartramia longicauda) and rare grassland species. Visit in summer to collect prairie bird sightings, but return in the winter to see the birds of prey take over.
Birds To Look For: bobolink (Dolichonyx oryzivorus), Henslow's sparrow (Centronyx henslowii), rough-legged hawk (Buteo lagopus)
Green Bay, Wisconsin
Green Bay makes the perfect home base from which to explore the diversity of bird life in the Great Lakes region. Unsurprisingly for an area rich in lakes both great and small, traveling birders visit to check waterfowl off their lists. But don't forget to keep an eye out for nesting birds and migrating flocks taking a break.
The Northeastern Wisconsin Audubon Society, headquartered in Green Bay, sponsors bird-related events and trips throughout the region. If you're feeling competitive, visit the area in early May; that's when Green Bay hosts its annual Big Bay Birdathon. Teams of two to four people have just 24 hours to spot as many of the state's wild bird species as possible, and prizes are awarded to the winners.
The Barkhausen Waterfowl Preserve, just north of the city, offers birders more than 900 acres of hiking trails. Peak migration takes place in the first half of October; visit then to see an astounding range of waterfowl species.
Birds To Look For: snowy egret (Egretta thula), gadwall (Mareca strepera), northern waterthrush (Parkesia noveboracensis)
Detroit Lakes, Minnesota
Locals call Detroit Lakes a "birders' paradise." Why? Because these lakes are actually the melding of three ecosystems. Tallgrass prairie, deciduous woods, and conifer forests all come together in this area, which means you can find over 250 different bird species in the region.
The spring migration is the apex time for birding in this area, and the Detroit Lakes Festival of Birds is a great way to make the most of the season. Grab a map and make your own way, or, better yet, join a field trip with fellow birders. You can also attend lectures about local wildlife and environmental issues.
Birds To Look For: blue-gray gnatcatcher (Polioptila caerulea), rough-legged hawk (Buteo lagopus), chestnut-collared longspur (Calcarius ornatus), rock wren (Salpinctes obsoletus)
Farmington, Utah
Located a few minutes north of Salt Lake City, Farmington is a city known for its birds. The Great Salt Lake wetlands here are a haven for all sorts of species, making Farmington a must-visit location for birders.
Farmington Bay can be found on the southeast side of the Great Salt Lake. This marshland area spans two counties and includes dozens of freshwater ponds and dikes, as well as patches of cottonwoods and common reeds that attract all sorts of birds.
During fall and the winter migration, you'll see thousands of ducks, other waterfowl, shorebirds, and songbirds. The Great Salt Lake Bird Festival occurs each May and is heralded as one of the most unique birding festivals in the country.
Birds To Look For: ruddy duck (Oxyura jamaicensis), tundra swan (Cygnus columbianus), snow bunting (Plectrophenax nivalis), common yellowthroat (Geothlypis trichas), sora (Porzana carolina)
Takoma Park, Maryland
The community of Takoma Park is just a few miles northeast of downtown Washington, D.C. That may not sound like a great spot for birding, but the town's sustainability policies and wildlife-rich Sligo Creek make it a D.C.-area hotspot for bird enthusiasts.
Get in touch with the local Montgomery Bird Club to learn about local species or join a group excursion. This branch of the Maryland Ornithological Society also publishes a detailed checklist of 252 species of birds you're likely to spot, based on the time of year you plan to visit.
Birds To Look For: eastern screech owl (Megascops asio), yellow-crowned night heron (Nyctanassa violacea), hooded merganser (Lophodytes cucullatus)
Photo Credit: FloridaStock / Shutterstock