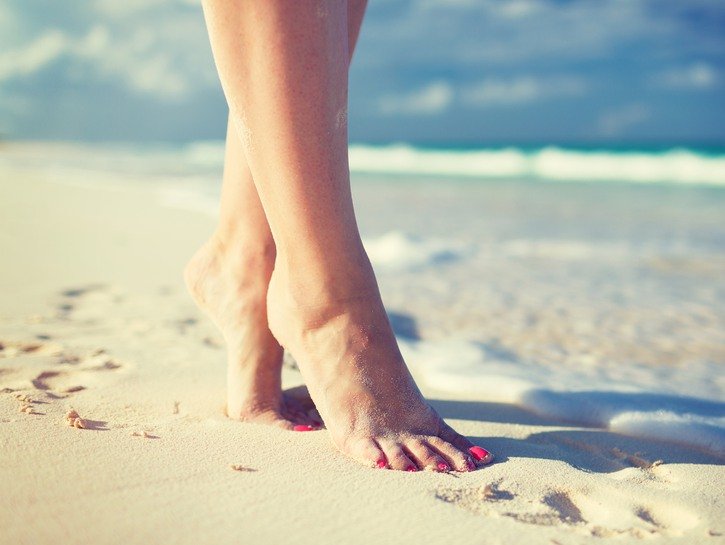 We know what you're thinking: How could anyone ever actually relax at a nude beach? Won't there be gawkers and wild spring breakers everywhere?
Contrary to popular belief, proper nude beaches are quite widespread throughout the U.S. and tend to boast welcoming and safe spaces for those who want to work on their tan, or simply enjoy life au natural.
From Hawaii to the West Coast, down to Texas and even all the way east, these 11 nude beaches are some of the most popular places in the U.S. to relax, clothing optional. They offer an abundance of amenities, scenic beauty, breathtaking sunsets, and inviting atmospheres where visitors aren't bashful about baring all.
Collins Beach, Portland, Oregon
Situated just about 40 minutes north of Portland on Oregon's Sauvie Island, Collins Beach is known for being one of the nation's only non-coastal nudist beaches.
Collins Beach is nestled along the Columbia River and located within a protected wildlife sanctuary. Unlike coastlines subject to raucous and unpredictable ocean tides, this freshwater beach offers calm and relaxed currents.
While Collins Beach is a popular nudist beach in Oregon, it sits adjacent to a family friendly beach and the two coexist with one another. With Portland nearby, this is an ideal day trip and relaxing getaway.
Kauapea Beach, Kalihiwai, Hawaii
Commonly referred to by locals as Secret Beach, Kauapea Beach is one of Hawaii's few proper nude beaches.
Located in Kalihiwai on Kauai, Kauapea Beach is best known for its size, seclusion, and natural beauty. Though public nudity is illegal in Hawaii, this beach is rarely patrolled and still attracts many visitors who drop trou on arrival.
If you're nervous about stripping down in public, Kauapea Beach is a great segue into nude beaches. The secluded area allows visitors to relax and enjoy themselves freely without many other people around.
Secret Cove, Incline Village, Nevada
If you're visiting the Nevada side of Lake Tahoe, be sure to check out its only nude beach, Secret Cove.
Secret Cove is idyllically located on the shores of Lake Tahoe in Incline Village, and is an untouched gem with crystal clear waters surrounded by lush green pine trees. Visitors can bathe in the nude on the beach's sand, atop its many giant grey stones, or in the water floating on a raft!
Though this secluded nude beach doesn't offer any amenities or facilities, it's a great place to get away and relax without being disturbed by other visitors.
Kehena Beach, Puna, Hawaii
Kehena Beach is one of the world's only black-sand nude beaches and is located near the eastern tip of Hawaii's Big Island.
This tiny strip of sand stretches a mere 225 feet and is known primarily for welcoming both nude enthusiasts and spinner dolphins, hence its nickname: Dolphin Beach.
Since this beach is so small, it usually doesn't become too crowded, though the spinner dolphins that frequent its shores have made it more popular over the years.
A unique and relaxing nude beach, you won't want to miss this on your next trip to Hawaii's Big Island!
Baker Beach, San Francisco
What makes Baker Beach so special is its renowned views of San Francisco's Golden Gate Bridge — views so great that onlookers may be unfazed by the sight of nude sunbathers!
While this is a popular beach in San Francisco and isn't as secluded as the previously mentioned beaches on our list, it has a laidback and free-spirited aura that will make even first-timers feel comfortable stripping down.
Baker Beach is a half-mile long strip surrounded by rugged cliffs and some intense surf. Given the Pacific's strong waves, you shouldn't expect to skinny dip here. Baker Beach is effectively a sunbathing-only spot.
Haulover Beach, Miami
Haulover Beach is known around the world as one of the most popular nude beaches in the continental U.S.
Surrounded by spectacular sand dunes, Haulover Beach is situated between the Atlantic Ocean and Biscayne Bay. The beach comes fully-equipped with picnic areas and other essential amenities, including restrooms, chair and umbrella rentals, concessions, abundant parking, and staffed lifeguards.
Since Haulover Beach is one of the nation's most popular nude beaches, it naturally attracts large crowds. While this can seem intimidating at first, the crowds at this particular beach are doing their part to help normalize nude sunbathing, which is a primary reason Haulover is so inviting.
Moshup Beach, Martha's Vineyard, Massachusetts
Moshup Beach, located on the island known as Martha's Vineyard in Massachusetts, has been deemed clothing optional for decades. Martha's Vineyard is a popular vacation spot for former presidents and wealthy aristocrats that sits on the Atlantic Coast south of Cape Cod and is filled with harbor towns, lighthouses, sandy beaches, and vast farmland.
Situated on the island's southwestern tip, Moshup Beach boasts a carefree, bohemian vibe compared to the rest of the more conservative island. It's surrounded by spectacular clay cliffs known as the Gay Head cliffs, which are a beautiful and seriously endangered national landmark.
Moshup Beach is an ideal destination for catching an epic East Coast sunset. Take it all off and walk up and down the beach's soft sand as the sun sinks below the horizon. Note that there is a daily parking fee upon arrival in the summer, and visitors must follow a 10-minute walking trail to reach the beach.
Gunnison Beach, Sandy Hook, New Jersey
For residents and visitors in the Garden State, Gunnison Beach is the sole option for letting loose and sunbathing in the nude. It's a popular spot amongst locals and the only legal nude beach in the entire state of New Jersey. With excellent surf and city views, the two-hour drive from Brooklyn to Gunnison Beach makes it a convenient getaway from New York City as well.
Gunnison Beach is located on the north side of Sandy Hook and is part of the Gateway National Recreation Area. While this is a popular beach in New Jersey, the community tends to be considerate of others by prohibiting photography, and visitors likely won't hear any loud music blaring. Thanks to these understood rules, the beach has maintained its relaxed atmosphere.
Hippie Hollow, Austin, Texas
While many of the nude beaches on this list are adjacent to the ocean, there are also a handful of incredibly relaxing nude beaches in the U.S. on lakes.
Located near Lake Travis just 30 minutes from downtown Austin, Hippie Hollow is a 109-acre clothing-optional park area.
Since Austin is known as a liberal enclave within a predominantly conservative state, it's no surprise that there's a nude beach just 17 miles northwest of downtown. Hippie Hollow has wide, flat rocks lining its lakefront beach that are perfect for nude sunbathing.
For those visiting or living in Austin who want to get away from the hustle and bustle of the city for a while, Hippie Hollow is an excellent option.
UFO Beach, South Padre Island, Texas
One of the most unique beaches on this list, UFO Beach was named after a UFO-like contraption said to have washed up on its shores years ago.
UFO Beach is part of South Padre Island, Texas, and is still home to the infamous UFO to this day. There's now a sign on the UFO that warns visitors they're about to enter the beach's nude section.
One of the most popular nude beaches in Texas, UFO Beach occupies a 12-mile stretch of sand and is encompassed by cliffs and boulders that are great to explore — or just to spread out on for some relaxing nude sunbathing.