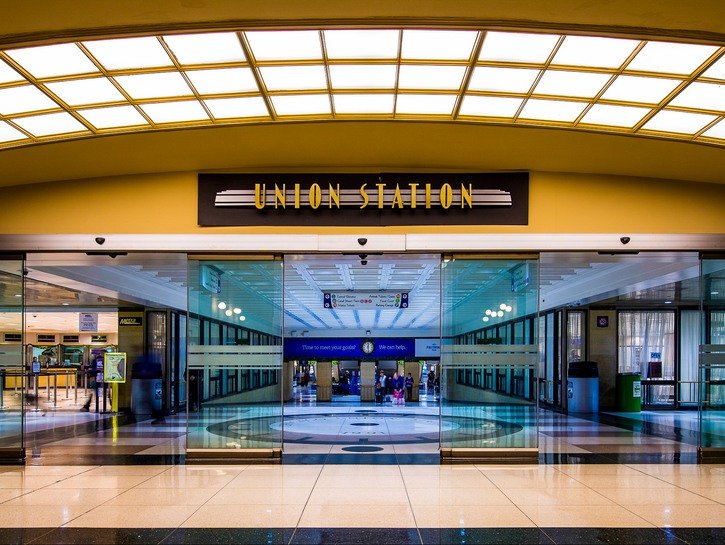 During my first train trip from Kansas City to Washington, D.C., I arrived in Chicago's Union Station on my first layover with several hours to fill before departing. It's a massive train station — nearly the size of 10 city blocks — and I felt lost. After grabbing my luggage from the train, my first course of action was obvious: Follow the hoard of passengers from the tracks to the station.
Once inside, I stood for a few minutes taking in the enormity of the station as other passengers moved past me, not knowing where to go next. I saw a sign that said the escalator would take me to the street, so I loaded my bounty of luggage onto the escalator, walked outside the door to the street, turned around, walked back in, and went down the escalator again.
Not knowing where to go or what to see, instead of exploring the area, I filled the layover working on my laptop while eating at the food court, then sat on an uncomfortable wood bench in the Grand Hall for a few hours, waiting for my next train. Not an ideal way to spend a layover.
That first layover wasn't my proudest moment as a solo traveler. As a frequent train traveler located in Kansas City, I often pass through Chicago to get to my final destination. My layovers typically range from four to six hours, leaving ample time to explore Chicago activities near Union Station, and I'm proud to say that since my first layover, I have learned what to do with my luggage, how to get around, and what there is to do nearby, affording myself some enjoyment instead of a dreaded few hours to fill. Besides, Chicago is such a vibrant city; it would be a shame to pass through without taking in any of the sights and activities.
Chicago Union Station Map
Chicago's Union Station is the third-busiest rail station in the U.S., with about 140,000 passengers passing through each day. Acquainting yourself with the layout of the station ahead of time will help. Study the map before taking off on a train trip with a Chicago layover. You'll feel more confident when you detrain and will be able to focus on having fun during your time in Chicago.
Inside the station, be sure to take in the Grand Staircases in the Great Hall, made famous by the movie The Untouchables. If you're a sleeping car or first-class passenger, spend some time relaxing in the Metropolitan Lounge (or, if you're a coach passenger, consider paying the daily fee for access) located in the Grand Hall. Familiarize yourself with the Grand Hall and its location as this is where you'll wait to board your connecting train. When it's time to board, an Amtrak attendant will make the announcement for passengers to form a line, then you'll follow the attendant to the correct boarding track.
Once you're comfortable getting around the station, it's time to check your bags for your day in Chicago. Go to the Concourse level where you'll find the baggage check. You can check your bags through to your next destination (if you didn't do so on the first leg of your trip) or leave them for the day, freeing you up to check out the city without lugging bags around.
Amtrak allows two bags, a cooler, and a personal item per person, so I always have at least four pieces of luggage. It's well worth the $10-per-bag charge to check my bags during a layover as it ensures the ease of getting around town hands-free.
Things To Do Near Union Station
1. The Ledge At Skydeck
233 S. Wacker Drive, ~5-minute walk or 2-minute drive from Union Station
For a thrilling view of the city, head to The Ledge at Skydeck Chicago to take in the cityscape from inside a glass box that extends 4.3 feet out from the Skydeck on the 103rd floor of Willis Tower. You'll enjoy 360-degree views that span up to 50 miles and four states.
The Skydeck entrance is located on Franklin Street (the east side of the building). The attraction is open March to September from 9 a.m. to 10 p.m. and October to February from 10 a.m. to 8 p.m. The last entry is 30 minutes prior to closing.
2. The Chicago Riverwalk
376 N. Michigan Avenue, ~8-minute drive from Union Station
Stroll the Chicago Riverwalk and watch the kayaks and tour boats float by. You'll find restaurants and concessions during the summer months, plus benches and lookout points, boat rentals, and water tours. Along the Riverwalk, stop by the Vietnam Veterans Memorial Plaza and the McCormick Bridgehouse and Chicago River Museum. The Chicago Riverwalk runs along historic Wacker Drive from Lake Michigan west to Lake Street, with access at street level from each major intersection.
3. Chicago Architecture Foundation Center River Cruise
Michigan Avenue Bridge at Wacker Drive, ~8-minute drive from Union Station
Interested in Chicago's diverse and iconic architecture? Spend part of your layover on the Chicago Architecture Foundation Center River Cruise. You'll meet at the Southeast corner of the Michigan Avenue Bridge at Wacker Drive. Look for the blue awning marking the stairway entrance.
The cruise, which lasts an hour and 30 minutes, will treat you to a view of the city from the water aboard Chicago's First Lady. These cruises sell out quickly, so consider purchasing tickets in advance.
4. The Art Institute of Chicago
111 S. Michigan Avenue, ~8-minute drive from Union Station
Founded in 1879, the Art Institute is one of the oldest art museums in the U.S. and boasts the largest collection of Impressionist and Post-Impressionist art outside the Louvre.
5. Millennium Park
201 E. Randolph Street, ~8-minute drive from Union Station
Millennium Park is an award-winning center for art, music, architecture, and landscape design. Be sure to take a selfie at Anish Kapoor's Cloud Gate sculpture, fondly referred to as "The Bean" because of its kidney bean-like shape. Millennium Park is bordered by Michigan Avenue to the west, Columbus Drive to the east, Randolph Street to the north and Monroe Street to the south.
6. Second City Classic Food Tour
Location Provided With Ticket Purchase, ~10-minute drive from Union Station
If you have a lengthy layover and a love of food, this is the perfect Union Station layover activity for you. On Second City's three-hour foodie tour, you'll sample classic Chicago tastes. Walk from the Gold Coast neighborhood to Old Town with a guided tour of the local architecture while sampling mom and pop specialty food items along the way.
7. Portillo's Hot Dogs
520 W. Taylor Street, ~13-minute walk or 4-minute drive from Union Station
Take a brisk walk to Portillo's Hot Dogs for a classic Chicago hot dog. Originally a tiny hotdog stand called The Dog House, this relic was opened by Dick Portillo in 1963. After a remodel and renaming in 1967, Portillo's now has 17 Chicago locations.
8. City Winery
1200 W. Randolph Street, ~7-minute drive from Union Station
Founded by Michael Dorf, City Winery is a unique facility that combines a fully functioning winery with intimate concerts, food and wine classes, and private events in their working winery. Enjoy an immersive wine experience at City Winery. Here you can be involved in the winemaking process from the crush and fermentation to the blend. You could even bottle a few cases of their wine with your own custom-designed label. Not bad for a layover activity!
9. Untouchable Tour
Intersection of Clark and Ohio, ~9-minute drive from Union Station
Hop on board the Untouchable Tours Gangster Bus for the original Chicago gangster tour. The tour guides are actors who take on the personas of 1920s gangsters. You'll hear about the 1920s and '30s in Chicago, learn about the exploits of famous gangsters, and view the sites of the St. Valentine's Day Massacre, plus the Biograph Theatre and Holy Name Cathedral.
Interested in train travel? Go international with our nine tips for traveling Europe by rail.
Photo Credit: Nagel Photography / Shutterstock, Tavarius / Shutterstock