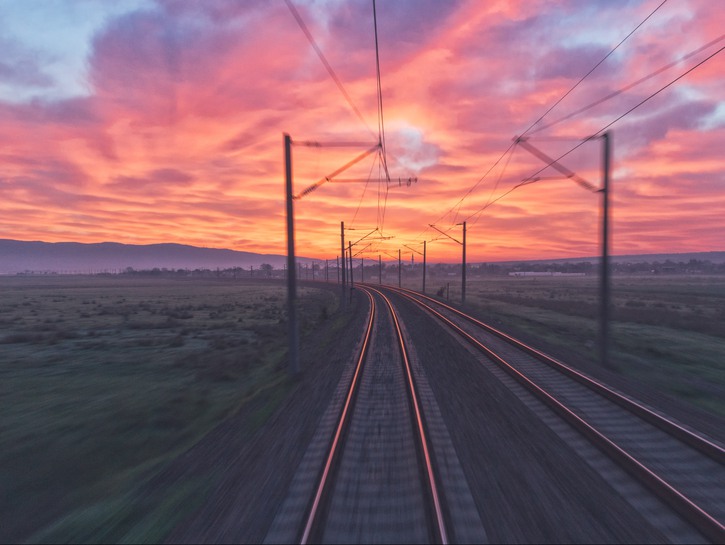 Traveling Europe by train is on many a bucket list. If you dream of scenic routes (think rolling countryside, mountains, lakes, and waterfalls), spacious seating, and a leisurely pace, experiencing Europe by Eurail may be just what you need.
Whether you're backpacking through Western Europe or traveling to Italy or Switzerland for vacation, getting familiar with the train system before you depart will make your trip easier, and, if you haven't been before, bring peace of mind to an unfamiliar situation. For comfort, relaxation, and affordable travel, you can have it all when you travel Europe by train.
If you've never traveled Europe by train, here are nine tips to help you navigate the journey.
1. Purchase Tickets Early To Save
Christine Lamb traveled from Kansas City to Scotland last year to watch her daughter compete in the World Dance Competition. Her advice for traveling Europe by train: Book tickets in advance.
"We were in Scotland last April when we took the train from Edinburgh to London. If we had purchased the tickets a day before, it would have been, oh, I don't know, £40 or £50. I don't remember, but it was something very reasonable. But because we booked it the day of—and we didn't want to wait to take the later train and get in at 9 or 10 o'clock at night—it cost us $400. So buy your tickets in advance—even a few hours would have saved us money."
2. Deciding Between First And Second Class
Your first decision is about how you prefer to travel. Only you can decide if it's worth the expense to travel first class.
In first class, you'll enjoy seats that recline, more space for luggage, impeccable cleanliness, and additional space. The other passengers tend to be business travelers and adults, so first class is usually quieter than second class. Another benefit on some high-speed trains is they include a meal with a first class ticket.
In second class, you'll have less leg room and encounter more noise, but if it's a short trip, it may be worth it to get an authentic travel experience and meet local travelers. Many Europeans travel second class, so it's a way to meet the locals.
Whichever you choose, book your tickets in advance, especially during peak seasons.
3. Choosing Between A Rail Pass And Point-To-Point Tickets
A Eurail pass gives you an established number of stops during a particular time period for a set price. There are multiple pass types, from continent-wide and country passes to regional options.
Blogger Nomadic Matt, in his article "An In-Depth Guide to Eurail Passes 2019 Edition," looks at the current situation of the rail pass. He explains how rail passes used to be significantly easier to use. He says that regardless of whether you had a pass, all you needed to do was find an available seat. Now, though, he says there are more restrictions on how and when passes can be used, and the price has increased.
For the most freedom while traveling Europe by train, consider purchasing the "unlimited" pass, which allows unlimited travel for up to three months. If you want the flexibility to go where you choose without planning an itinerary, then one of the Eurail passes would be your best option.
Point-to-point tickets, on the other hand, are individual tickets purchased to get you from point A to point B. These tickets are perfect if you need to get from one city to another versus traveling to several countries. If you are traveling to and staying in one destination, point-to-point tickets will be cheaper than a rail pass. You can purchase individual tickets online or at the station.
Whichever ticket option you choose, a rail pass or point-to-point tickets, keep in mind that most high-speed trains and all-night trains require an advance reservation.
4. Steps To Ordering Online
To order a Eurail Pass online, visit Rail Europe (which sometimes has special rates for certain routes) or the official Eurail website.
The Eurail website suggests you consider these options before ordering online:
Decide where in Europe you want to go. Are you traveling to several countries, or do you plan to visit just one? With the Eurail Global Pass, you can travel in and between 31 countries with one pass. If you're wanting to visit just one country, there are different Eurail One Country Passes.
Decide how far and how often you want to travel. Each pass is valid for a different amount of time. A Eurail Global Pass ranges from five days to three months of validity, whereas the Select Pass ranges from five to 10 days. If you plan to travel almost daily, you'll want the Eurail Global pass for 22 days of consecutive travel. If you only plan to travel every few days, you'll want a Eurail pass that has flexible validity.
Consider any discounts you might qualify for. You can get a youth pass if you are age 27 or younger on the first day your pass is valid. Children under 12 travel free with Eurail and, starting this year, if you're over 60 on the first day of your trip, you're eligible for a 10 percent discount on a Global Pass.
Decide if you prefer to travel in first or second class.
5. Packing For Train Travel
Rather than luggage with wheels, consider using a bag you can carry. It'll make it easier to navigate stairs. And, instead of storing it at the end of the carriage with luggage, you can place it in the overhead rack in easy view. It'll also be easy to store if you need to leave it in a locker at the station. However, if you prefer wheeled luggage (don't we all?), then you can use the designated storage area.
Another option is a second carry on bag that holds your valuables to place in the overhead rack.
Note that most railway companies in Europe offer facilities for disabled passengers, including special compartments for wheelchair users, lifts to access the train, boarding assistance provided by trained staff, and toilets designed for travelers who require accommodation.
While train travel is about the journey, the view, and meeting fellow travelers, you may want to bring a book or tablet for long trips. Many trains have power outlets so you can charge your electronics.
It's acceptable to bring food onboard, so consider packing an expandable soft shell cooler for porting drinks and snacks. Some trains have an alcohol ban, but others allow you to bring and consume your own wine and liquor. Be sure to check first since restrictions vary.
6. Consider Traveling At Night
For long-distance train travel, consider taking a night train. You'll be able to upgrade to a cabin and sleep in a bed instead of in your seat. The time will pass and you'll save the cost of a hotel room for the night. If you have a Eurail Pass, pick a night train that departs after 7 p.m. and it will count as one travel day versus two.
7. At The Station
If you reserved your tickets online before departing home, print the tickets and confirmation emails to bring with you.
You may need to have your train ticket validated before you board the train. There are machines in the station, usually on the platform, where you can insert your ticket to have it stamped with the date and time. A Eurail Pass, on the other hand, needs to be validated at the ticket counter by a rail official.
Next, you'll locate the correct platform. Make sure to allow plenty of time when arriving or changing trains to locate your platform. The platform number is posted on departure boards a half hour prior to departure.
If you have an assigned seat, your next step is to find your train car and seat. If seats aren't assigned, then you'll have to find the correct train car for your class. There is usually a large number 1 or 2 on the outside to differentiate first- and second-class cars. Take any available seat.
Keep your ticket handy for when the ticket inspector comes by.
Then you can sit back and enjoy the journey!
8. Safety Tips
Always keep your rail pass in a secure location. Lost or stolen passes are not refundable.
Use a money belt or waist pack with RFID scanner-blocking abilities, especially while sleeping.
Never leave your luggage unattended on the train or at the station. Bring a lock to secure your baggage to the rack while you sleep.
9. A Tip For Saving On Your Ticket Or Pass…
Remember: Starting this year, if you are at least age 60 on the first day of your trip, you are eligible for a 10 percent discount on a Global Pass. This discount is valid for both first- and second-class tickets.
Photo Credit: Konstantin Planinski / Unsplash