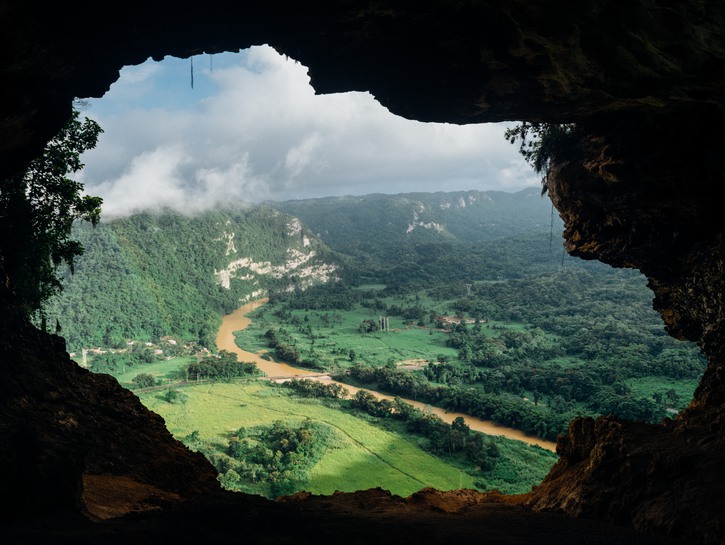 For some, they are fearful places; dark, dank and full of creepy crawlies! For others, there's an intrigue to caves that make them thrilling places to explore.
And now, there are a wide variety of ways to ensure that you can experience cave life — from real-life excursions and overnight stays in literal caves, or through fantasy theme suites that offer the thrill of spelunking coupled with the luxury of a high-end hotel room. Whether it's a fantasy, or just a family gathering, there's a world of fun waiting for you underground.
Here are 9 places you can spend the night in a cave — both real and imaginary.
1. Worley's Cave, Bluff City, TN
Tennessee is cave rich and full of places to get underground. And some places offer you the ability to stay late, explore and fall asleep in the cave. At Worley's Cave in Bluff City, TN, you can spend your weekend underground after the tours are over. Grab a buddy and a flashlight, explore the cave's 4,000 feet of caverns and tunnels, then throw a sleeping bag on the ground to go to sleep. Showers and camping are available topside near the cave's entrance. But be forewarned: it gets cold in there. Dress warmly, or take someone with you to snuggle up to!
2. Mammoth Cave Hotel, Mammoth Cave, Kentucky
Check into the historic Mammoth Cave Hotel for an authentic look at what Mammoth Cave was like back in the 50s, during one of its heydays. In addition to regular hotel rooms that overlook the cave area, there are cabins located in the woods that give you the feeling of adventure that comes with being atop of one of the longest cave systems in the world, while not being directly inside of it.
And check out Crystal Lake Coffee Shop for a true Kentucky favorite — soup beans and cornbread. To eat it like a true Kentucky girl, add raw onion, ketchup, and pickle relish… can't tell where I'm from, can you? And for fun, head over to Troglobites, a hamburger joint that serves up some great fast food style cooking. And seriously, how can you not love the name?
3. Hobbit Caves at Eureka Springs, Arkansas
The Eureka Springs Treehouses, Castles, and Hobbit Caves are themed rooms that will help you live out your fantasy of staying in a woodland fairyland.
The cave rooms are replicas of real imaginings of what modern Hobbit holes might be like. From the rock formations on the walls that lead to the cave-like living area, to the private courtyard outside of the door, the hobbit caves let you experience Eureka Springs and the surrounding area in a most unusual and fantastical way. The rooms feature king-sized beds, a shower for two and jacuzzi hot tub.
4. Grand Canyon Caverns Cave Hotel Room
The Grand Canyon Caverns Cave Hotel Room is one of the largest suites in the world, and one of the oldest.
Located in Peach Springs, Arizona, the Grand Canyon Caverns Cave Hotel Room is a hotel room deep inside the Grand Canyon. At 200 feet wide by 400 feet long and with a 70 foot ceiling, it is one of the largest hotel suites anywhere. And because it is located inside a cave that took 65 million years to form, technically, it is one of the oldest. Or at least, it took the longest to build.
The Cave Room is located directly above the concrete paths that wind through the cave. Because of this, you take an elevator to go 220 feet into the ground to get to it. And because the air is filtered through the limestone rock of the cave, you'll be breathing air that is as dry and as clean as you can get. Be forewarned though — you're in an actual cave 220-feet below the surface that has tours running through it during the day. You will be the only living thing in the cave, except during business hours. Might want to think about that before you go.
The room is the only one of its kind and features two double beds, a living room with a fold-out sofa, a library of books and magazines, a working record player and other amenities… except WiFi and cable. For those who are less adventurous, the facility offers above-ground hotel rooms as well.
5. Kokopelli's Cave Bed and Breakfast, Farmington, NM
This cave house, built into the cliffs of Tertiary Ojo Alamo sandstone near the La Plata river, is a relaxing getaway to view the unparalleled southwest sunsets. From here, you can see four states — Arizona, New Mexico, Utah, and Colorado.
Originally intended as offices for a geologist, the cave is 1,700 square feet of living space, including a master bedroom, a replica of a native American kiva, a kitchen, and a bathroom with rock walls to house the waterfall shower and jacuzzi tub. Two porches with sliding glass doors are located off either end of the house. And because it's underground, the temperature in the cave stays between 68 and 73 degrees all year.
6. Beckham Creek Cave Lodge, Ozarks, Arkansas
Nested inside of a natural cavern and overlooking one of the Ozarks' beautiful valleys, the Beckham Creek Cave is truly unique. A private home on a 260-acre resort, the Cave offers peace and quiet for all its guests.
The cave features four bedrooms and four bathrooms, as well as a fully-equipped kitchen. The place sleeps eight, but it'll set you back about $1,600 a night to hang out with your friends. You can fit another eight people in the home, but they have to provide their own sleeping mats. Nearby, you'll find plenty of activities like hiking, canoeing, fishing, helicopter rides and horseback riding… although at those prices, we're pretty sure you'll ride in on your own helicopter. Just saying.
7. Cave Room at Radisson King of Prussia, Pennsylvania
Located near Valley Forge and Bryn Mawr University, the Radisson at King of Prussia features several themed rooms, including one cave room. It's a pre-historic style suite with a faux wood-burning fireplace, primitive cave, and a curbed couch decorated in leopard print. It's not easy to find a way to book it onsite, so best to call them up to find a time to escape to the underground.
8. Executive Fantasy Hotel, Miami, FL
Not far from the airport, you'll find the Executive Fantasy Hotel with different types of hotel rooms — the cave room being one of them. The room is decorated inside to look like a cave, and features a king-sized bed and a doorless shower. The suite also features a dancing pole, a private pool, its own bar, and a love chair (whatever that is). Notes on the room say it also has its own disco ball and fully stocked bar!
Clearly, there's more to being a caveman than dragging home your dinner, and this suite let's you get all "He Man" up in here.
9. Cave Rooms, Wildwood Inn, Florence, KY
If you've ever wanted all the intrigue of staying in a cave, while enjoying a tropical pool, and a Jacuzzi hot tub, Wildwood Inn is just the place for you.
Wildwood Inn features several themed rooms, ranging from Tiki Huts to the Swiss Family Robinson's Tree House. There are also five cave rooms, decorated like caves from various parts of the country and the poles — the Arctic, Kentucky, Arizona, New Mexico, and Utah Canyon. Each room is windowless and features a king-sized bed and a hot tub amid stalactites and stalagmites. Other amenities include a refrigerator, full-sized bathroom and a HD TV.
Outside, hotel guests can enjoy a tropical pool under a dome, a game room and a continental breakfast. Be careful though. The lights in the cave room are on a timer, and if you don't keep an eye on them, you'll be feeling your way around in the dark for the light switch!