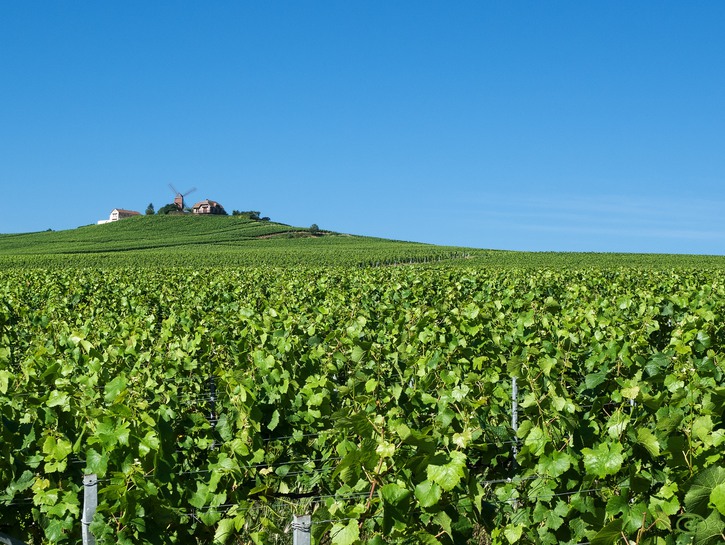 If you love wine and travel (which I'm betting you do), you might have toured some of the world's most famous vineyards already. You probably have a map of Tuscany tattooed on your forearm, and a charcuterie platter named after you at your favorite Napa bistro. More power to you.
But if you're still thirsty, if the moon has yet to hit your eye like a big pizza pie, there are plenty of less well-known parts of the world where the people know a thing or two about fermentation. Here are 5 of our favorite unexpectedly intoxicating wine destinations.
1. Niagara Region, Ontario, Canada
If you're close to the Canadian border, you should consider taking a trip north to discover one of the most exciting new(ish) wine regions on Earth. In the last 40 years, the number of wineries in Southern Ontario's Niagara region has multiplied exponentially — from 5 or 6 to 100+.
I can tell you, having grown up in the area, the explosion has been very apparent. Ontario wines are a point of pride, and taking a summer tour or two is now de rigueur if you live around here. As you drive up the QEW toward Toronto, you can't fail to notice: you're passing through an enormous vineyard. Pull the car over, grab a bottle or five, and you won't be disappointed.
Niagara's calling card is ice wine. As the name suggests, ice wine is made by leaving the grapes to freeze on the vine. The key ingredient is a warm summer followed by a moderately cold winter — which Southern Ontario can reliably deliver.
If you've never tried ice wine, it's remarkably sweet and tends to come in tall, skinny, flute-like bottles. It's definitely a dessert beverage, and you won't want to have too much of it at a time. (I speak from personal experience here.) However, it also makes a lovely additive to a cocktail or a more subtle sparkling vintage.
If you like ice wine, Niagara is the best place on earth to get it. The top dog is Inniskillin Winery, recipient of the Grand Prix d'Honneur in Bordeaux.
Apart from wine, there's plenty to see nearby: the Shaw Theatre Festival in Niagara-on-the-Lake; the pristinely preserved colonial Fort George; and, of course, the eponymous world-famous waterfall.
2. Tasmania, Australia
150 miles off the southeastern spur of the Australian mainland, the island state of Tasmania is most famous in the outside world for its devils — in fiction, a whirling tornado of rage and aggression, in reality, an antisocial endangered marsupial that primarily feasts on roadkill.
But despite its wild reputation and sparse population (nearly half the residents live in the capital, Hobart), Tasmania has also gained profile for its wines in recent years.
Its status as the southernmost state of Australia affords it a somewhat cooler climate, and as we know, climate plays a key role in the character of a region's wine. Tasmania's temperate maritime environment makes it suitable to vintage whites like chardonnay, sauvignon blanc, pinot gris, and riesling, as well as reds like pinot noir, and cabernet sauvignon.
Actually, if you're looking for the bright side of global warming, Tasmanian wine may just be your silver lining; rising temperatures in recent years have allowed more grapes here to ripen fully, richening the flavor of the final product.
Some of the best Tasmanian wineries include Josef Chromy, Holm Oak, Piper's Brook, Bay of Fires, and Devil's Corner, but there are many to choose from.
3. Miami, Florida
Sun and surf and Cuban expatriate culture come to mind when we think of Miami, but wine? Not so much. Nevertheless, one of the best, most innovative wineries in America is actually located just outside Miami in Redlands.
Schnebly Redlands Winery is a picturesque, tropical oasis where you can tour, taste, and sip in paradise. Not only is there a wonderful restaurant on site to tickle your palette; Schnebly produces its complex, original wines from interesting ingredients. Avocado, guava, starfruit, lychee, mango, passionfruit — all are grown here and transmogrified into unique elixirs.
If you can't make it to Miami but still want a taste, we have good news: they may be able to ship to your state. Plus, if you buy 6 bottles, shipping is free. At these prices, you can't afford not to drink some wine.
4. Romania
One of the lessons we can learn from Romania is that Communism is inimical to viticulture. Under the demented dictatorship of the ill-fated Ceausescu family, Romania's wine suffered as much as anything else. The archetypal Communist emphasis on hitting random production quotas led to a reduction in the quality of Romanian wine that has taken a generation to repair.
Which is a shame, because Romania's wine history stretches back perhaps 6,000 years. No wonder: the Carpathian Mountains, relatively dry climate, and long autumnal ripening season are ideal for yielding the perfect bottle.
That said, it's still true that large quantities of swill are corked in Romania and cheaply exported. However, a new wave of winemakers are starting to uproot the old vines and plant new ones — quite literally in some cases. New grapes are being imported, while inferior iterations of native grapes are being weeded out.
Today, there are some surprisingly great wineries operating here; the prices tend to be surprisingly reasonable too, as producers have to combat the perception that Romania churns out wine more worthy of a disheveled college dorm room than a dinner table.
If you're visiting Romania and looking for the ideal region in which to take a wine tour, check out Dealu Mare. There are quality options elsewhere, but Dealu has the highest concentration. If you can only visit one — make it LacertA Winery near Buzau County.
5. Ziway, Ethiopia
Ethiopia has waded into the wine market in a pretty big way in the last few years.
Wine has a long history in the Horn of Africa, as you might expect, and Ethiopia's viticultural roots date back to the first century AD. One of the most popular drinks in the country is tej, a honey mead brewed with the hops-like buckthorn plant, both by private individuals and for public consumption.
But since 2007 Ethiopia has made forays into the modern international world of wine with help from Pierre Castel, the French owner/operator of one of the largest beverage consortiums in the world.
Castel founded a vineyard in the town of Ziway, buying up 120 hectares of countryside and importing grapes from Bordeaux. The result — Rift Valley Wines — went on the market in 2014, and has put Ethiopia on the wine map.
The grapes benefit from Ethiopia's average temperature (77 °F), and the equatorial latitude means Castel can sometimes manage two harvests in one year!
You can tour the winery in Ziway if you're in the neighborhood. While it may not be on par with some of the world's more famous and celebrated vineyards, it's definitely on its way up.
Wherever you may roam, may your cup run over with good cheer — and good vino.