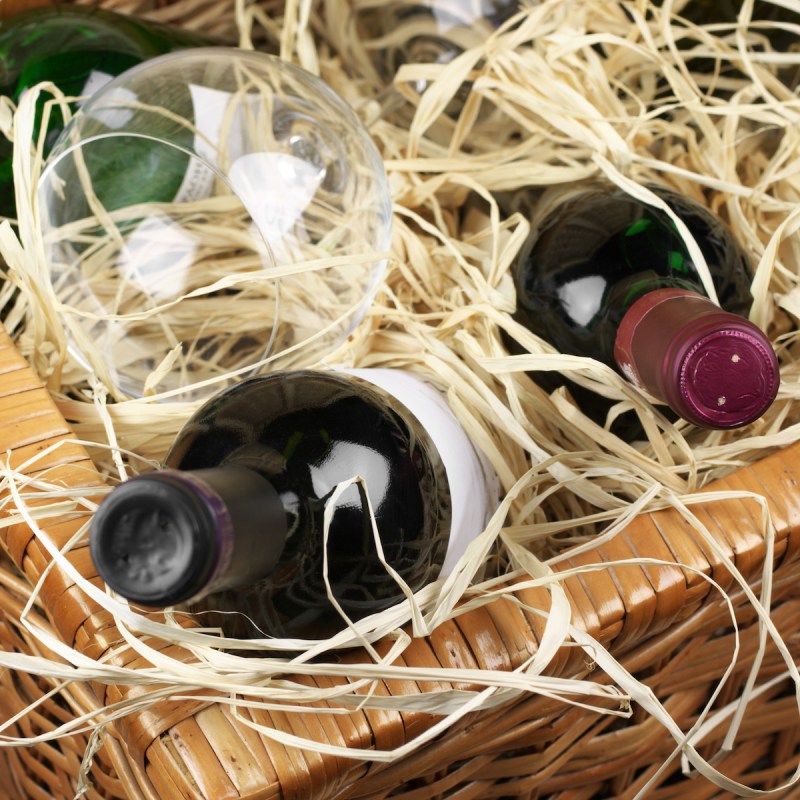 I love shopping for gifts for wine lovers. There are so many options for cool accessories, culinary treats, décor, and of course, wine. Here are the perfect presents for your favorite oenophile.
Some of the products in this article were received as samples to test. All opinions are my own.
Wine Accessories
There are so many innovative products available now to use with wine. Here are a few favorites for opening and storing bottles.
1. The Original Wine Condoms
Practice safe corking with these hilarious wine condoms that make for a funny yet useful stocking stuffer.
2. Cuisinart Electric Wine Opener
This sleek-looking stainless steel electric wine opener makes uncorking a cinch.
3. Marble Wine Bottle Coaster
Don't let your wine-loving friends set their bottles on the table like a plebian! This solid marble wine coaster is not only classy, but it's also functional. Rubber no-slip bumpers on the bottom protect tabletop surfaces from scratches, while the cork insert protects them from stains.
4. Plastic Wine Saver Carafe
A floating seal in this wine-preserving carafe fits snuggly to protect wine from oxidation, keeping it fresh for up to a week. Even if your giftee has never heard of leftover wine, this makes a great present for taking vino to-go. The locking screw-top lid makes it portable. Tote up to 25 ounces to the beach, on a boat, to an outdoor concert, on a picnic, or just to the backyard. It's plastic, so it's perfect for the pool or hot tub, where it's not a good idea to bring glass.
5. City Map Stemless Wine Glass
A map of any location can be etched onto one of these stemless wine glasses. We recommend using a favorite travel spot! Bonus: Although handmade, these babies are dishwasher-safe.
6. Ullo Wine Purifier And Angstrom Wine Glasses
Elegant, modern, and effective, this three-piece set is perfect for the self-proclaimed wine snob in your life! The wine purifier restores the natural taste of wine with filter technology and the glasses have an ultra-wide profile designed to fully expose a wine's aroma.
7. Hometown Maps Insulated Wine Tumbler
Beautiful, well-made, and memorable. This personalized glass checks all the gift boxes. Well Told engraves glasses, mugs, tumblers, and water bottles with special places and interests that will make you smile with every sip. From college towns to the trip of a lifetime, literary and history lovers to simple hometown pride, this gift makes you, and those who receive it, feel special.
Travel With Wine
Traveling with wine can be a challenge. Here are a variety of totes, sleeves, and even a suitcase to protect your wine bottles as well as travel suggestions.
Pro Tip: Alaska Airlines allows your wine to travel for free. Ship a case of wine with no baggage fees. A tasting is included with your boarding pass at participating wineries.
8. TSA-Compliant Wine Opener
This TSA-compliant wine opener is a perfectly smart gift for the wine-loving jetsetter. Keep one of these in your suitcase so you always have a bottle opener when traveling. And, because it's TSA-compliant, you never have to worry about a potential issue with the built-in foil cutter on some wine openers.
9. Wine Tote Bag
We love this wine tote bag, perfect for transporting your favorite vino on a road trip! It comes fully equipped with glasses, napkins, and a cheese board for the ultimate classy picnic.
10. Insulated Wine Tote
Available in several colors and patterns, this affordable wine bottle insulator lets your favorite wine lover take their vino to-go. It also makes a great White Elephant gift. Just remember, it's bad luck to give an empty wine tote! You must fill it with a bottle of one of their favorites.
11. Wine Sleeves
Perfectly practical for the wine lover in your life. Carry these wine sleeves when you travel. Throw a couple in your suitcase and you are prepared for spontaneous purchases at local wineries. That way, you can safely bring home a few bottles when you travel.
12. The Wine Lover's Bucket List Book
This inspirational guide is the ultimate bucket list for the cross-section of folks who love both wine and travel. It features vineyards to visit (and the best time of year to go), vintages to drink, and how to soak up the most out of each wine region.
13. Wine Suitcase
Get $25 off through November 27! This wine suitcase is perfect for a weekend away, allowing for clothes on one side and up to six bottles of your favorite wine on the other!
14. Corkcicle Canteen
This canteen doubles as a covert wine bottle for any outing. The 25-ounce size was designed with the wine lover in mind — to fit an entire bottle of wine. Plus, it keeps beverages cold for 9 hours!
15. Pack-It Freezable Wine Color Bag
No more ice cubes or leaky ice packs; this reusable wine tote features cooling technology that allows for the entire bag to freeze! This bag holds one wine bottle comfortably and the interior gel provides 360 degrees of cooling.
Wine Health And Beauty
Although wine has health benefits, it can also cause distress if you over indulge or have issues with sulfites. It can also have a dehydrating effect on your skin. Here are some gift ideas to lessen the distress.
16. The Phoenix® Reusable Wine Purifier Starter Kit
A glass of wine doesn't have to come with a headache, hangover, stuffy nose, or skin flushing. The Phoenix® reusable wine purifier and aerator removes histamines and sulfites so that wine can be enjoyed sans unwanted side effects. This starter kit features the reusable Phoenix® wine pourer, air tube, and three bio-pod™ wine purifier cartridges.
17. H-PROOF: The Anytime You Drink Vitamin
Why do the mornings after a wine night seem rougher as we get older? As we age, our livers make less of the enzymes needed to turn alcohol and its related toxins into harmless substances. These handy H-PROOF vitamins promote enzymes that help the liver metabolize the toxins in alcohol. In addition to supporting alcohol metabolism, these black cherry chewables also promote liver health and restore vital nutrients, replenishing vitamins and electrolytes. Give your wine-loving friend the gift of waking up feeling surprisingly good with H-PROOF!
18. Red Wine Face Mask
Wine really is good for your skin when it comes in the form of a face-firming red wine extract face mask. Perfect for pampering during ladies' night, or maybe just recovering the morning after, these are the perfect stocking stuffers!
19. No More Wine Headaches
The Wand is a unique product made from biomaterials that removes histamines and sulfites. Just a back and forth swish in a wine glass rapidly filters out these impurities without adding anything to the wine.
Wine And Food Pairings
A great gift is not only a bottle of wine; it's to put together a basket that includes things to pair it with. Here are some wine options and a variety of culinary treats to pair them with.
20. In Good Taste Passport Collection
For the wine lover who is also obsessed with travel (sounds like our kind of people!), In Good Taste offers this "pourable postcard" of Italian and French wines. They'll receive eight neat wines to try — and if you're lucky, they'll share with you!
21. The Tapas Party – Jasper Hill Farm
Name a better duo than wine and cheese… we'll wait. Jasper Farm's Mediterranean-inspired tapas collection features a few kinds of cheese as well as American artisan products that take taste buds to Spain. Pair it with some sangria and you'll really be a hit!
22. Ghirardelli Chocolate Holiday Favorites Chocolate Gift Basket
For those who like to pair their wine with chocolate, may we suggest Ghirardelli's festive gift basket? It comes with four chocolate bars, including two peppermint bark bars, a dark chocolate sea salt caramel bar, and a milk chocolate caramel bar. It also features milk chocolate caramel snowmen and peppermint bark snowmen, as well as everyone's favorite milk chocolate caramel squares and peppermint bark squares. Plus, it comes with double chocolate hot cocoa, chocolate sauce, and a peppermint bark keepsake ornament! Present this with a wine that pairs well with chocolate, perhaps a cabernet sauvignon like this bold, easy-to-love California blend from JaM Cellars.
23. Nakedwines.com
They weren't voted the #1 wine club in America for nothing! Nakedwines.com is our newest obsession that combines our love of wine with supporting the world's best independent winemakers. Once you try Nakedwines.com, you might never purchase wine from anywhere else. #sorrynotsorry
24. Winery Truffle Collection
The Willamette Valley Winery Collection is the perfect gift for those who love good wine and high-quality chocolate. This set allows your loved one to savor a flight of chocolates made with top varieties from the Willamette Valley in Oregon.
25. Coro By Salumi Holiday Box
Coro Foods offers a holiday sample box with a special edition piccolo, Red & Green Peppercorn. Year round, the company offers a Flagship Salami Sample Pack that includes four 5-ounce uncured salami sticks of their most popular flavors. It is a perfect wine pairing for holiday events or just to share with friends and a good bottle of wine.
Wine Furniture And Décor
26. Portable Folding Wine Picnic Table
This lightweight, handmade portable picnic table is perfect for packing to bring to the park or beach. Not only does it have notches to hold wine glass stems, but it also features a built-in bottle holder, so wine won't ever topple over again! Made from durable acacia wood, this outdoor table easily folds up into a compact shape that's easy to tote. It comes from the Komorebi Collection on Etsy, which is known for its creative, high-quality, and functional products.
27. Wine Barrel Adirondack Chair
Once you drink the barrel, you might as well sit in it! This is the ultimate gift for any wine lover. A functional conversation piece that will make you the envy of all your oenophile friends. Handcrafted from Napa's oak barrels, the chair retains the red wine stain but is sealed so you don't have to worry about it getting on your clothes. All you have to do is sit back and relax with your favorite glass.
28. Outdoor Wine Table
This cleverly designed collapsible table is made to hold everything you need for the perfect outdoor picnic: two glasses, a wine bottle, and a plate full of your favorite charcuterie. The fiberglass spike lets you plant the table securely in the grass or sand.
29. Cheese Board
I am obsessed with my XL Acacia Cheese Board from Lynn & Liana Designs. These hand-crafted boards are made with a beautiful eco-friendly resin and gorgeous hardwood. Each item is one of a kind with no two alike. The company calls it functional art and it is true these boards are pretty enough to display after use.