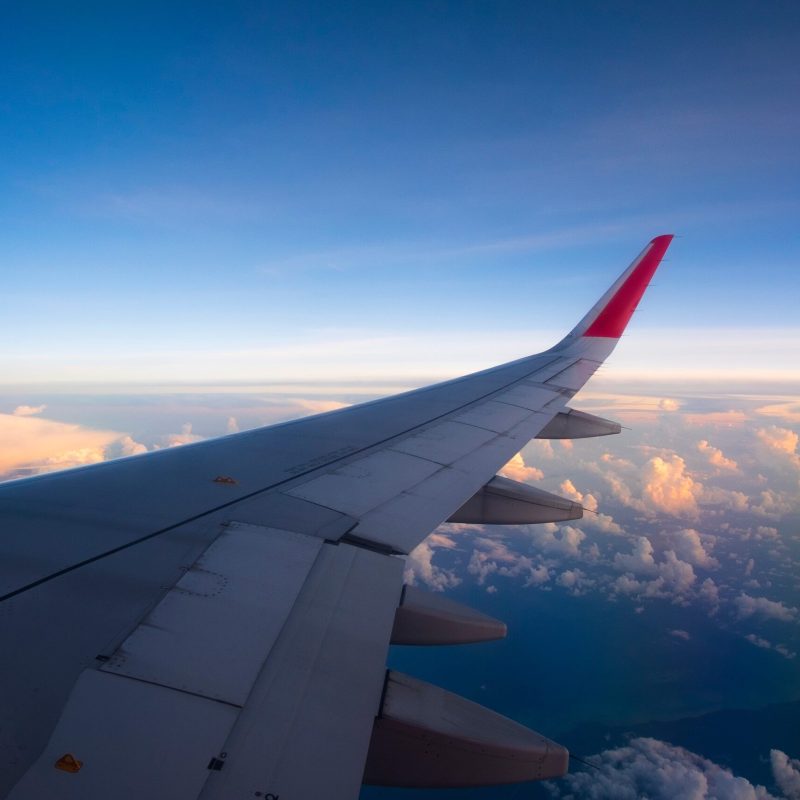 A long-haul flight is typically a non-stop flight, lasting between 6 and 12 hours. For passengers and crew, these flights can be downright grueling. Our airline experts have a few products they swear can get anyone through any type of flight.
Buy Now
Copper Fit
"It doesn't matter if I'm traveling in first class, steerage, or the cockpit, I always wear compression socks. There are different categories of compression socks; graduated, anti-embolism stockings, and non-medical support hosiery. I wear these compression socks that I buy at my local Rite Aid. I've tried a few different types and these work the best. They are fairly easy to put on and rest just beneath my knee. I must admit I am new to wearing compression socks and didn't realize the amazing benefits the socks have while wearing them. The non-medical socks are designed to gently squeeze your legs, which promotes better blood circulation in your legs. They reduce swelling and aid in blood flow when sitting for long periods. Although these socks help a great deal to reduce swelling, you still must drink plenty of water, keep moving your legs and stand and stretch every couple of hours." — Christy Karsten
Physix Gear 
Kentrell Charles also highly recommends compression socks, but prefers Physix Gear.
"They have several stylish options and are extremely comfortable. I have seen marked improvement in blood circulation and prevention of fluid buildup." — Kentrell Charles
Buy Now
"Along with compression socks, I love having a slipper sock or comfy shoe cover for those times I need to walk around the plane or take a bathroom break. These can be put into a zip lock or shoe bag after each use. I do prefer a washable slipper. My favorite brand of slippers is SCurtain. You can get them in a variety of colors and styles." — Kentrell Charles
Buy Now
"My favorite travel electronic is the AirFLY. After being introduced to this several months ago, I couldn't wait to purchase one. The AirFLY will wirelessly transmit audio directly to your AirPods, earbuds, or wireless headphones. The battery life can be up to 20 or more hours, more than enough for a long flight." — Kentrell Charles
Buy Now
"Airplanes are cold in the middle of the night. A frequent flier once asked me to fill her hot water bottle. She places it in her lap or against her back to help her sleep. As soon as I shared this tip with my colleagues, we ran out and purchased fuzzy-covered water bottles. These have been lifesavers when we are napping in the flight attendant bunks or sitting in the cold aft galley. They are a game changer on long-haul flights, keeping you warm and cozy all through the night. They are wonderful on top of your cold feet too." — Lara Ketterman
Buy Now
Golden Hour Hydrosol Toner
"Long-haul flights are hard on your skin. Savvy flight attendants keep a face mist in their bags to use after their rest breaks. I like a little aromatherapy in my spritz. Golden Hour Hydrosol Toner packs a hydrating spray with some lovely botanicals to wake up your skin and senses after an inflight snooze." — Heather Earl
La-Roche Posay Face Mist
Earl also recommends this spray and says, "I also like just a plain spritz of mineral water to wake up and refresh. La-Roche Posay Thermal Spring Water Face Mist soothes and refreshes my sensitive skin on long flights."
Mario Badescu Facial Spray
"A funny joke about why we dim the lights onboard a plane is so you don't see the age of the flight attendants. Dry skin is a battle for anyone on those long flights. We use a facial spray by Mario Badescu to hydrate during those flights, spraying each other often. The spray has aloe, chamomile, and lavender to keep our faces moisturized and dewy. The plane air is so dry and this little burst of joy helps to keep us smiling. You might have to add some to a travel-size spray bottle to go through TSA security." — Lara Ketterman
Buy Now
"This might sound like an odd item for a long-haul flight, but I have a good reason to recommend laundry packets.
On one long-haul flight, a passenger and I had a few bloody mary incidents, three times to be exact. One was my fault, one was his, and we blamed the last one on turbulence. After we got a laugh out of the spills, I handed him a packet of SinkSuds Laundry Detergent to get the immediate stains out, as well as a cleaning voucher to use once he landed. I never travel without a few in my carry-on. On a long-haul flight, there are too many opportunities for spills and these are a great way to quickly clean up the mess." — Kentrell Charles
Buy Now
Bose
"Depending on your budget, noise-canceling headphones can be a real game changer for a quiet and stress-free flight. My go-to are Bose Noise Canceling headphones. These headphones are highly rated, lightweight, and work so well. I can attest to the fact they drown out a screaming baby, people talking, reduce engine and wind noises, and make music and movies sound crystal clear. Since they are lightweight, your head doesn't feel like it's in a vise-grip after many hours. They now have wireless connectivity and the battery lasts up to 22 hours.
I don't recommend earbuds. Yes, they are smaller and so much more compact with ease of travel. But, it is the most common item lost on a plane. Once those buds fall from your ear, they might roll down the aisle, get hidden under a nearby seat, or worse, lost inside the seat. It happens on every flight!" — Christy Karsten
Airpods Pro
"I love my AirPods Pro because they are small but amazing at noise cancellation and have great sound for listening to music. I don't like crawling on the floor looking for the wayward ear pod so I keep them secure with a neck cord." — Heather Earl
Beats 
"It only took me one time to forget my coveted Beats headphones before I purchased my second pair. One pair stays in my tote or carry-on bag at all times. I prefer over-the-ear headphones for travel. This will help prevent you from losing them when you sleep." — Kentrell Charles
Buy Now
Hydro Flask
"A good water bottle is imperative on a long-haul flight. You do not want to have to wait for inflight service to quench your thirst. I fill my bottle as soon as I get through security and refill it every time I get the chance. I use a 20-ounce Hydro Flask with a screw top. It is great for hot or cold drinks, easy to clean, doesn't leak, and is super rugged. I use it for my electrolytes so I am always hydrated during my flight and for my morning coffee after I land." — Heather Earl
"I love my Hydro Flask water bottle and recommend all passengers bring one like it. On long haul flights, my airline sets up a hydration and snack station toward the aft of the plane. Bottles can be refilled here. Flight attendants are not allowed to touch personal water bottles for refilling due to cleanliness issues. We are permitted to fill a glass with water several times and hand it to you. To ensure you have enough water for your flight, fill the bottle in the airport at a water station." — Lara Ketterman
S'well
"I highly recommend my S'well water bottle. It's great at keeping drinks hot and cold. The bottles come in several sizes and colors. I also brings my S'well wine tumbler with a closable lid for my in-flight beverage." — Kentrell Charles
Buy Now
"Electrolytes are your friend on a long-haul flight. Dehydration interrupts good sleep, depletes energy, and makes jet lag a lot harder to adjust to. I love Trace Minerals electrolytes powder or drops. They are low in sugar and have no artificial ingredients or dyes." — Heather Earl
Buy Now
"When traveling as a passenger on a long flight in a coach seat, I bring my homemade travel bag (similar to this one). I clip this bag onto my roll-a-board making it easy to pop off before I stow my suitcase in the overhead.
Inside, I have a thick neck pillow, an eye mask, an inflatable lower lumbar pillow, and a thin polyester travel blanket (similar to this amenity kit). These are game-changers! I am always cold on a jet, so I wrap my travel blanket around my legs and tuck it under my chin and am quite toasty.
It seems as if the seat pitch and the recline angle are becoming less and less. The lumbar pillow adds beneficial support to your back for long flights while sitting in a cramped coach seat. The travel neck pillow can help from getting a crick in your neck if you work with the movable headrest on the seat to find support for your head. Did you know that you are supposed to put the "U" of the pillow under your chin? Most people wear them incorrectly." — Christy Karsten
Buy Now
"I am a co-host of a travel podcast, and a tip I received from one of our guests was to always carry a small blanket when flying. If it is cold, they can open it and use it as a blanket. If your airplane seat back is wonky, you can fold it, and place it behind your back for extra support. If you need a pillow, fold it and place it against the fuselage of the plane and you have cushioned support for your nap. I saw a frequent flier use it under her seat belt to keep her skirt unwrinkled." — Lara Ketterman
Buy Now
"A great neck pillow will make a long ride in coach more tolerable. I like to use an inflatable style to save room in my bag and to be able to add or remove air depending on how I use it. If I am in a middle seat, inflating it all around the neck works well, but I take a little air out and use it as a pillow against the wall in the window seat. The Air Comfy Daydreamer is washable and compact so I don't look like an amateur traveler with a neck pillow wrapped around my luggage." — Heather Earl
Buy Now
"If you're traveling on a long-haul flight, you are more than likely spending a good amount of time at your destination. Sometimes you are traveling to different climates and need a variety of clothes. I suggest using a vacuum space-saver storage bag and a pump. You can put a winter coat, hat, and gloves in a bag and still have room for your beachwear. If you do forget your pump or it doesn't work, I suggest calling housekeeping at your hotel and asking to use the vacuum. Works like a charm!" — Kentrell Charles
Buy Now
"To protect pricey travel goodies, consider purchasing an Apple AirTag to track your checked luggage. You can buy four tags for about $100. Although they only work with Apple products, it is a small investment for security and lost items. I have a friend who even has one in his wallet!" — Christy Karsten
For more expert tips on flying, check out: