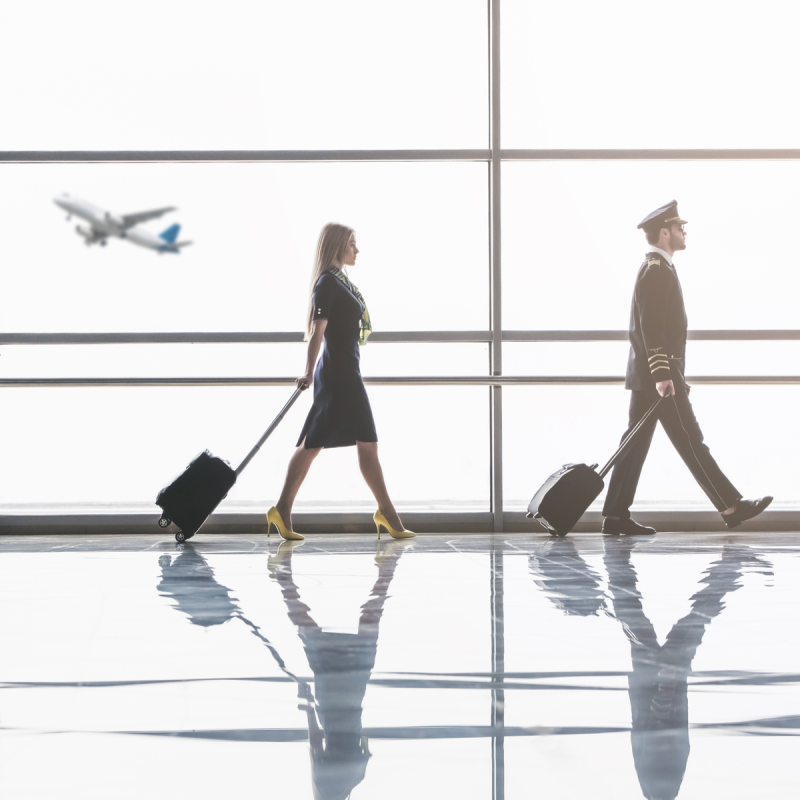 Over two decades as a flight attendant for American Airlines taught me a thing or two about packing. What I pack in my carry-on bag depends on whether I'm traveling domestically or internationally. If my domestic flight gets delayed or canceled, I can usually purchase whatever I may need, so my carry-on bag is a little lighter than when I travel abroad.
I've said "if I only had" way too many times. From entertainment to necessities, here's what I always pack in my carry-on for domestic travel. I hope my suggestions will help you on your next adventure!
1. Portable Charger Power Bank
A multi-functional charger will help save your computer, cell phone, tablet, and other electronic devices from going dead. I personally like the Kanex — it has a space for your Apple Watch to charge wirelessly.
2. Charger Cables For All Your Electronics
Purchase an extra set of charger cables for all your electronics that you can just leave in your travel bag. Also, make sure you include a USB wall charger as most airports will have an A/C outlet to plug into.
3. Something To Read
I usually don't pack heavy books or magazines. Instead, I always have my iPad or Kindle to keep me entertained. I can also watch movies or shows that I've downloaded on my iPad.
4. Headphones
Headphones are a must on flights if you want to watch a movie or listen to music, a podcast, or an audiobook. Don't leave home without them!
5. Games
I also like to bring a game to play, like a deck of cards or a travel-size cribbage board game. It's a good way to make friends on the plane or at the gate, and you can always play with your seatmates if you get stuck on the tarmac.
6. Travel TP
From time to time, we have been known to run out of toilet paper on the airplane, as you sometimes find in the terminal. That's why I always carry travel toilet paper. The pocket-sized pack doesn't take up much room in your bag, and can literally save your behind.
7. Soap And Sanitizer
Sometimes the aircraft lavatories also run out of soap. That's why I always carry soap sheets. They dissolve in water and lather like regular soap. Soap sheets can keep you fresh during long delays. I also pack a washcloth, just in case. Wet wipes and hand sanitizer always come in handy, too.
8. First Aid Kit
How many times have you needed ibuprofen or a bandaid when you're traveling? Travel first aid kits can come to the rescue in more ways than one. Make your own from things you have around the house, or order one online.
Pro Tip: Always carry prescription medications in your carry-on bag in case the airline loses your checked luggage.
9. Ziploc Bags
I always carry at least one quart and one gallon-sized Ziploc bag. They're great for everything from trash to keeping leftover food. I've given out more Ziploc bags to passengers over the years than I can count! They've also come in handy during my trip. Hotels don't stock them and vacation rentals rarely do.
10. Zip Ties
Zip ties are the MacGyver of travel essentials. Use one if a zipper breaks on your bag. Use them to organize cords and wires. You can also use them to hang your tablet on the back of the seat in front of you.
11. Snacks
Another thing I always have in my carry-on bag is snacks. Liquids might pose a problem at security, so try to keep to dry items. Some airports require you to place all your food items through security, so dry items would work best.
I pack a bag of crackers, hard candy, chocolates, or other small snacks that travel well. I personally like to carry powdered peanut butter. Just add water and it makes a spread I can put on my crackers. I prefer PB2, which comes in little packets and be found at Trader Joe's, Walmart, Amazon, and Target. But if you don't want to mess with mixing, stores also sell small squeeze packs of peanut butter. At 1.15 ounces each, they come in under TSA's 3.4-ounce limit.
12. Water Bottle
I also bring a S'well water bottle to fill up once I've passed through security. My friend who worked there gave me one as a gift and I love it because it keeps cold drinks cold and hot drinks hot. I even have a S'well wine tumbler with a closeable lid. I put my in-flight beverage in it so I don't have to worry about my drink spilling.
13. Drink Mix
Airport beverages are not cheap. Pack your choice of powdered drink mix — Kool-Aid, tea, protein mix, etc., — for an inexpensive alternative to just water. Don't forget to pack your blender springs for easy mixing!
14. Plastic Utensils And Placemat
For eating and on the go, I pack a set of disposable or reusable cutlery and a straw. I also use a silicone placemat to cover my tray table while I eat. This helps to keep items from sliding around.
Bonus: What Kind Of Bag I Use For My Carry-On
My bag of choice is the Travelpro backpack. This bag is affordable, has a great warranty, and is very large on the inside. Samsonite also offers some great laptop backpack styles. Mammoth backpacks pull double duty if you will need a cooler on your trip. The Tourit backpack is a more affordable version.
Happy travels!
TravelAwaits has a wealth of other tips for travelers, for example: