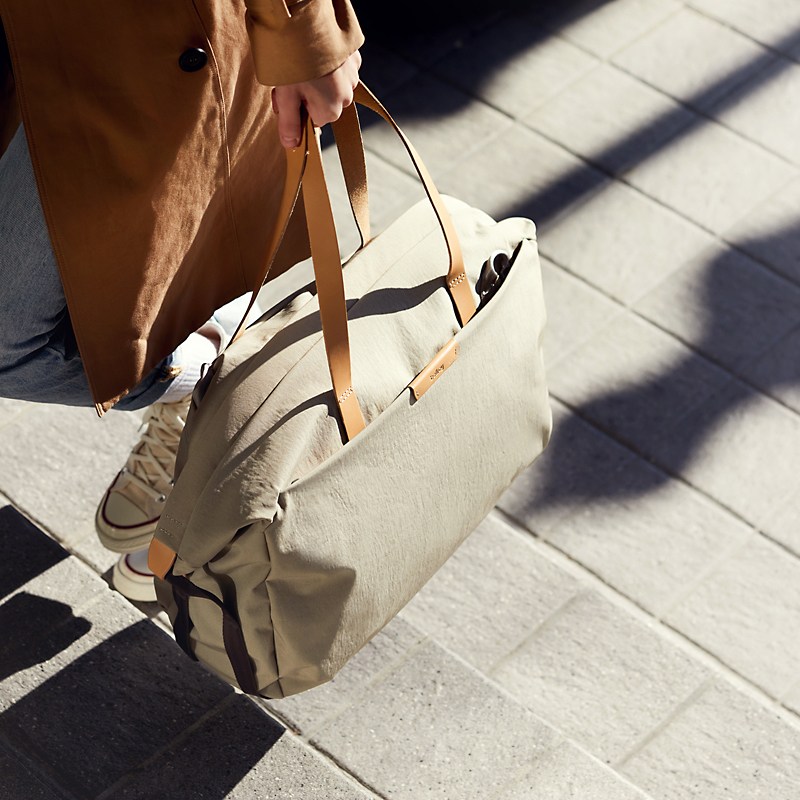 If you're a notorious overpacker like me, traveling with only a carry-on suitcase instantly invokes anxiety. However, with the recent airline turmoil, it's a much better alternative than arriving at your destination without your luggage. As I began to mentally prepare to pack only the outfits I'll actually wear, I also began researching the best methods for maximizing the smaller space.
It was then that I discovered Bellroy, a travel product company that produces versatile stylish bags from sustainable materials. Since I tend to be a bit tough on my bags and use them forever, I love that their products all come with a 3-year warranty to cover the materials and craftsmanship. Many are also constructed with water-resistant material for extra protection against travel elements and easy wipe-down cleaning.
I needed a new travel backpack to house my laptop and flying essentials. Plus, since my upcoming trip will include both hiking and swimming, I wanted a couple packable bags to take with me. I found all of the above, plus a few extras, thanks to Bellroy! Here are my favorite Bellroy bag combinations to make your future carry-on traveling much easier.
Buy Now
$299
This stylish backpack is an absolute lifesaver to accompany my main carry-on suitcase. Everyone knows how frustrating it can be to be rushed through TSA while trying to pull your laptop out of your bag, along with taking off your shoes and keeping track of all important documents. The Transit Backpack Plus has a quick-access padded pocket to store your computer safely, plus a bunch of hidden external pockets to house your passport, tickets, and even a water bottle. The interior includes a flat mesh pocket and compression straps to keep clothing organized and unwrinkled. The water-resistant and durable Recycled Dura Nylon material ensures this is a backpack that will be your travel partner for many years to come.
TSA Carry-On Approved:
Yes
Color Options:
Nightsky, Black, Ranger Green
Buy Now
$135
Since my upcoming hikes aren't expert-level, I don't expect to need a full backpack's worth of supplies. That's why I instantly fell in love with the Venture Sling! This bag sits flush on your back and features a wide, comfort-first shoulder strap for easy all-day wear. The deceiving compact external view hides the incredible amount of storage within. One can easily fit a jacket in the main compartment, along with snacks, cell phone, and a standard-sized water bottle. The sling also has front zippered pockets to house smaller items for quick access. Finally, it's padded on the back and bottom, so I can hike without worrying about damaging the contents inside.
TSA Carry-On Approved:
Yes
Color Options:
Midnight, Nightsky Navy, Basalt, Ranger Green, Bronze
Buy Now
$269
If you prefer a messenger-style bag to a backpack, the Bellroy Weekender is an excellent option. This 30L size can carry almost as much as the Transit Backpack Plus, but has carrying straps and a removable storage strap for optimal comfort. Like the backpack, the Weekender has plenty a padded laptop sleeve and plenty of external and internal organizational zippered-pockets. The water-resistant bag is equipped with a "tool belt" to ensure all pockets are zipped at the same height so nothing gets lost in the bottom. It lives up to its name and provides enough storage to be your main luggage for a weekend trip.
TSA Carry-On Approved:
Yes
Color Options:
Black, Lunar
Buy Now
$189
If you're looking for something a little smaller but super functional, check out this water-resistant 20L Tokyo Totepack. This is the perfect tote to throw in your carry-on and use during your travels (or fill with souvenirs for the return flight)! When empty, it packs flat and is unassuming. However, the incredible amount of internal pockets (including a secure laptop sleeve), easy-access front pockets, and two pop pockets make it an easy transition to complement your carry-on.
TSA Carry-On Approved:
Yes
Color Options:
Navy, Limestone, Bronze, Slate,
Buy Now
$55
While researching my new travel bag companions, I stumbled upon this chic Toiletry Kit and realized it's time to finally retire my existing 15-year-old toiletry bag (yikes). My existing bag is simply a zippered-pouch and makes it impossible to keep my toiletries organized while traveling. The Bellroy kit solves this annoying issue with multiple internal mesh pockets, so you can separate items and easily find them. It even has a toothbrush sleeve with a magnetic closure to keep the bristles from touching anything unsavory. The flexible, water-resistant bag is the perfect size to throw in your carry-on.
TSA Carry-On Approved:
Yes
Dimensions:
8.6″ x 5.1″ x 2.8″
Color Options:
Black, Bronze, Navy, Slate
Buy Now
$65
This bag was another one I needed, despite not knowing I needed it initially. The Bellroy Lite Tote is such a great packable bag, easily rolled into a carry-on, to use once you arrive at your destination. This lightweight tote is so cute and versatile, I plan to use it as both a purse and a beach bag. One of my biggest gripes with normal beach bags is that they usually don't have a closure, but the Lite Tote has a full-length zipper to protect the contents inside. It also includes an internal zippered pocket to safely store keys or travel documents. Plus, the ripstop outer material is made of 100% recycled PET plastic bottles, so you can feel good about sporting an environment-friendly accessory!
TSA Carry-On Approved:
Yes
Color Options:
Shadow, Copper, Frost
To discover even more expert packing tips, check out: