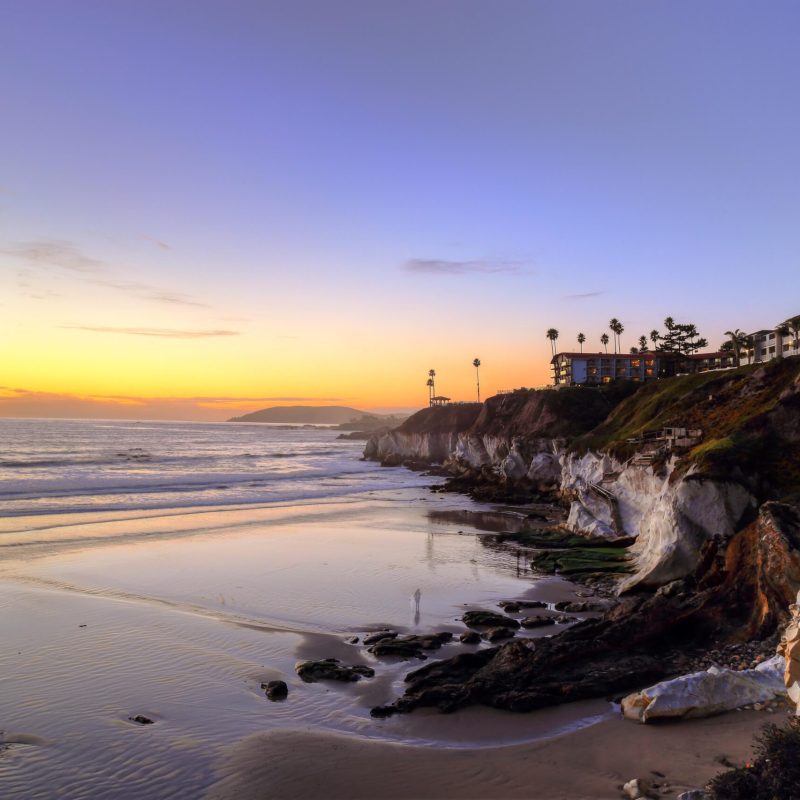 North and south, Hollywood and Silicon Valley, California means different things to different people. All of them are true, thanks to the state's impressive size. Central California, often overlooked compared to its neighbors on both sides, offers a taste of both kinds of California. Pismo Beach, halfway between Los Angeles and San Francisco, really is the best of both worlds.
The 22-mile sand bar that is Pismo Beach and its associated surf culture are reminiscent of the south, while the rocky bluffs, cliffs, and host of wineries are a clear sign that you're not in SoCal anymore. Pismo Beach is within striking distance of San Luis Obispo and several excellent state parks. It even has its own eccentric green spot at Dinosaur Caves Park as well as a bevy of excellent restaurants.
Whether you're planning a road trip or simply jonesing for some time on the water, Pismo Beach is a fantastic spot for your next vacation. Regardless of your plans, spending time on the ocean is doubtless a priority. For that reason, here are some lovely Airbnbs in Pismo Beach. All have ocean views and are close to (or on) the shore.
Rent Now
$118/nightly avg
In the bay at Pismo, sea salt and wafting scents of wine combine to create an aroma of pure romance. Nowhere is the effect stronger than at this much-loved cottage a half-block away from the ocean. The furniture is bright and homey, the artwork perfectly complementary. The bed has a Tempurpedic mattress, a plush headboard, and a sweeping hanging — the kinds of things any couple will appreciate. There's also a foldout sofa in the living room so the home can accommodate four — but that number might spoil the charms, depending on what you're looking for. Additional pieces of mid-century charm are to be found in the backyard, a fenced-in garden with a chaise lounge, regular ocean breeze, and more.
Rent Now
$264/nightly avg
California takes all kinds of travelers. This beautiful glampground in Pismo Beach offers the outdoors and lavish living all in one. The managers here will take it upon themselves to deliver their live-in trailer to the finest campsite available. If you've lived your whole life in houses, be prepared to discover why so many have chosen otherwise. Granted, this glamping RV is much posher than most, and its location is grander than those occupied by all but a few. You'll forget you're even "roughing it" thanks to the comfortable bed and full shower. Though built for two, the space can house up to five guests.
Rent Now
$399/nightly avg
With the sand at your footsteps and the wind in your hair, it'd be hard not to become enamored with the West Coast lifestyle while spending some spare hours (or weeks) at this Pismo Beach condo. No bland replicated rental unit, it is a genuine home away from home. The floral, marine, and alpine motifs painted on the wall are all charm with no cheese. Both bedrooms are graced with lovely ocean views, and even those sleeping on the couch will appreciate the atmosphere. The kitchen is large, the pier near, and the ocean is calling. What are you waiting for?
Rent Now
$657/nightly avg
This spacious three-bedroom townhouse is the kind of vacation home any family would be happy to call their own. 
Pismo Shores is a gated community right on the coast. It has a game room, a pool (heated over the summer), and a spa available year round. The historic center of town is just outside the complex, as is the beach. The home, like the community, is well suited for families. It has a king bedroom with an ensuite bathroom, a queen room, and a kids' room with twin and trundle. The living room has excellent views of the ocean, but to feel the breeze, you will need to step through the sliding doors onto the private deck.
Rent Now
$669/nightly avg
This superb home has the unusual honor of being the only home actually on Pismo Beach — or rather above it, as it stands on stilts directly over the sand. It has three bedrooms and a glorious deck over 700 square feet in size. The pier is four blocks to the north, and the 22-mile-long sandy stretch that is Pismo Beach unfolds in both directions. The rooms are bright and airy, filled with plenty of windows to let in the sun. The master bedroom in particular is quite the treat thanks to its deck access, wall-to-wall windows, and walk-in shower.
Rent Now
$716/nightly avg
With plenty of room and situated in the perfect spot, you'll have no problem filling up this five-bedroom Oceano home with friends and family. With the sand blowing onto the steps that lead down from the deck, there's no doubt about the possibility of playing beach games or getting your thrills on an ATV. But there's fun to be had inside as well; the home has a rec room with ping pong, foosball, and other diversions. Four of the bedrooms have king beds (one of which is also fitted with two futons). If you have a big group, there's room for up to 14 thanks to a bunk room and additional futons in the living room.
Rent Now
$800/nightly avg
Enjoy spectacular views of the Central California coast, bay, and dunes — and all from this wonderful Shell Beach bungalow. A longish staircase provides excellent views before ending just above a rocky stretch of coastline. The home comes right out of the Golden State's golden age. The design, the location, and the surf-shack vibe are just as pleasing today as when the home was built. It has three bedrooms with large beds, plus bikes, a barbecue, and more. Restaurants, bars, and the beach are a short walk (or an even shorter bike ride) away.
Rent Now
$904/nightly avg
That incredible combination of sun, sea, and relaxed atmosphere that draws people toward the Pacific Ocean is not a new thing. As attested by this charming century home a block and a half from the beach, the call of California is a siren song for the ages. After the restoration in 2014, the cottage was transformed from a relic in an enviable location to an amazing abode, the location as wonderful as ever. It retains a genuine homey feel so it's perfect for family gatherings or reunions with old friends. It comes fully stocked with beach gear which guests will surely make use of regardless of the season, for temperature does not affect the beauty of the ocean or the rejuvenating qualities of the air it provides.
Rent Now
$1,070/nightly avg
Enjoy classic California from the comfort of this ritzy Spanish villa on the coast. Villa Rosa is, in every sense, a colorful property. It features lovely murals, pastel hues, and plenty of character. On top of all that, it has a lovely garden and gorgeous views of the ocean, just a short walk away. With eight bedrooms of various sizes, it is an ideal spot for a family getaway. There's a game room, a home theater, ping pong aplenty, and even a wood-burning pizza oven. 
Just as Pismo Beach has attractions for every age and inclination, so too does this incredible California home. Make it yours for that next special occasion, be it Thanksgiving, Christmas, or a long weekend.
Rent Now
$1,325/nightly avg
Now welcoming groups of sunseekers, beachcombers, and wine tipplers (plus their pets), Shell Beach Dream is a jewel of a home. It has two stories, five bedrooms, and an unobstructed view of the ocean that few won't enjoy. The wrap-around deck will likely pull in even those strange few who fail to appreciate the ambiance afforded by such vistas. Each bedroom is full of light, though the chefs in your party will shine brightest thanks to the large (and aesthetic) kitchen. Enjoy the fruits of your labor inside at the long table or outside, al fresco, with the sea and hills in your sight.
To discover even more things to do while enjoying Pismo Beach, check out: