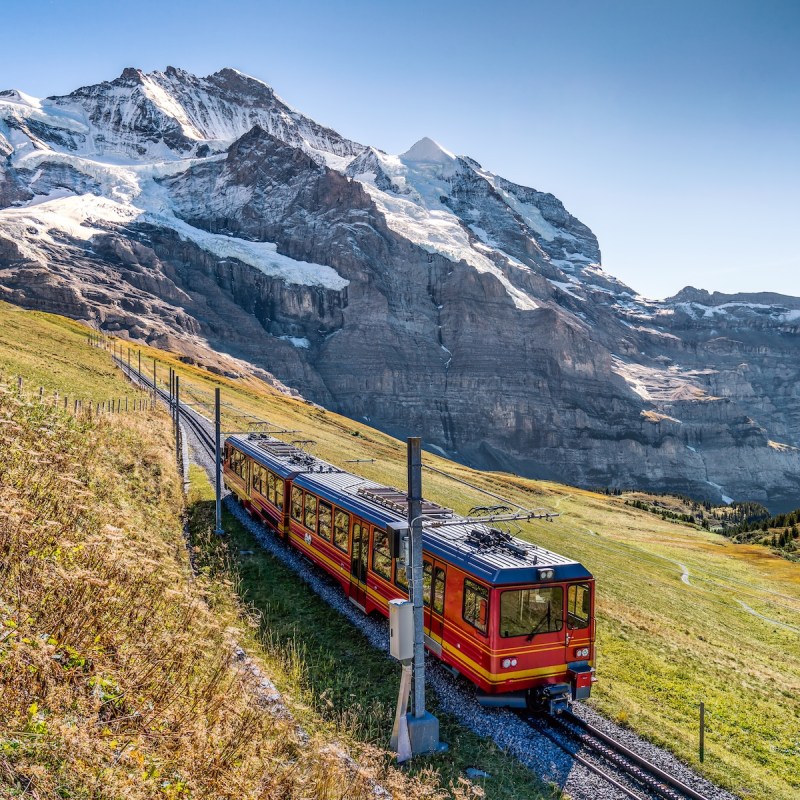 Stunning landscape views roll by your giant picture window as you depart on famous scenic train rides across Switzerland. From Geneva to Zurich and Basel to Zermatt, the Swiss Alps, turquoise lakes, and rolling pastures these best scenic train rides in Switzerland will fill your window with breathtaking scenery.
I have collected a few of my favorite train travel excursions across this beautiful country and presented them in no particular order. This is not an all-inclusive list of picturesque train trips through Switzerland, but it is a wonderful place to start dreaming of your next train-centric adventure.
7 Best Scenic Train Rides In Switzerland
1. Jungfraujoch – Top Of Europe
No matter what the season, a ride to Europe's highest railway station, the Jungfraujoch – Top of Europe, is a panoramic adventure. At the summit's Sphinx Terrace, you can view the Aletsch Glacier, the Black Forest, and the Vosges.
Plan to spend several hours at this UNESCO World Heritage Site. Make your way to the outside observation deck where the air is chilly and the views are beyond breathtaking. Slip and slide during a visit to the Ice Palace — an ice sculpture art gallery carved into the glacier in the 1930s. Everything here is ice; the floors, ceiling, and frozen tableaus impart an Ice Age adventure. Complete your mountaintop visit with a stop at the highest Lindt Chocolate shop in the world.
Downhill skiers will love exploring the Jungfrau region on their next European ski holiday.
2. Golden Pass Express, Montreux To Interlaken
Travel in First or Prestige Class for an elevated, quintessentially Swiss adventure on the Golden Pass Express between Montreux and Interlaken. Enjoy caviar and champagne as your luxury car rolls from Montreux, on beautiful Lake Geneva, to the charming town of Interlaken. The 3-plus-hour journey is filled with stunning views of crystal-blue lakes, verdant pastures, and snow-capped mountains.
Once in Interlaken, you can make the transfer to the Jungfraujoch for a close up encounter with the Bernese Oberland. On the Montreux terminus, you can sail around Lac Léman, aka Lake Geneva, and enjoy the quaint shoreline towns and bustling city of Geneva.
3. Matterhorn Gotthard Bahn
Skiers, photography buffs, and pretty much everyone else should visit the iconic Matterhorn at least once. Jump on the Matterhorn Gotthard Bahn for a fabulous train ride. On this intrepid alpine adventure, your train encounters 33 tunnels and 126 overpasses while rising a whopping 3,300 meters (10,826 feet) in altitude.
Panoramic windows afford wide-angle views of craggy mountains, brilliantly blue waterways, and plenty of beautiful sunshine. This is why it's one of the most scenic rides in Europe.
4. Glacier Express, Zermatt To St. Moritz
The Glacier Express route, Zermatt to St. Moritz, sets the standard that all Swiss scenic trains are measured upon. Slipping through the Swiss Alps, this route hits luxury ski resorts while imparting a slow-travel feeling. The journey takes 8 hours — a very slow express train ride — but the show-stopping scenery offers you a chance to absorb the wild beauty of this scenic route.
When you reach St. Moritz, book a stay at the Badrutt's Palace Hotel. If you don't want to break your budget with a stay of over $1,000 a night, simply stop by the Renaissance Bar for the St. Moritzino cocktail made with Cointreau, fresh lime, and orgeat syrup.
5. Bernina Express
The Bernina Express runs from Chur to Tirano, Italy. Four hours of glorious scenic vistas, the Bernina Express has steep runs, plentiful bridge crossings, icy glaciers, and Mediterranean palm trees. It offers such a wide variety of landscapes, guests are continually gushing over the sheer beauty and uniqueness of this train ride.
Both Switzerland and Italy are part of the Schengen Agreement, which allows passage between the countries' borders. However, you should still carry your passport with you as you pass from country to country.
6. Cogwheel Railway To Mount Pilatus
If you love adventure, you will adore the cogwheel railway to Mount Pilatus. Billed as "the steepest cogwheel railway in the world" it reaches an alarming grade of 48 percent. The 30-minute, nail-biting ride up the mountain offers heart-pounding views.
If you decide a one-way train trip is all your nerves can take, there are a few alternatives. You can take the gondola, which offers 360-degree panoramic mountain views. Hiking down (or up) is another mode of transportation. AllTrails lists seven different options for hiking Mount Pilatus. Some are moderate and some are hard, but all of them go up, up, and up.
7. Gelmerbahn
From early June to late October, you can take the funicular ride of your life. The Gelmerbahn is a short, 12-minute ride in an open-air funicular car. The alarmingly steep grade offers spectacular views of Gelmersee — a brilliant blue lake — as you creep up the mountainside backwards.
Once at the top of the funicular, you can hike up to the Gelmerhütte for an overnight stay. The rooms are shared rustic spaces, but the mountaintop experience is unsurpassed.
Swiss Travel Pass
No matter how long your stay, the Swiss Travel Pass will save you money while you ride the rails, bus, or boat around the beautiful Swiss countryside.
For our most recent train travel content, check out these articles: