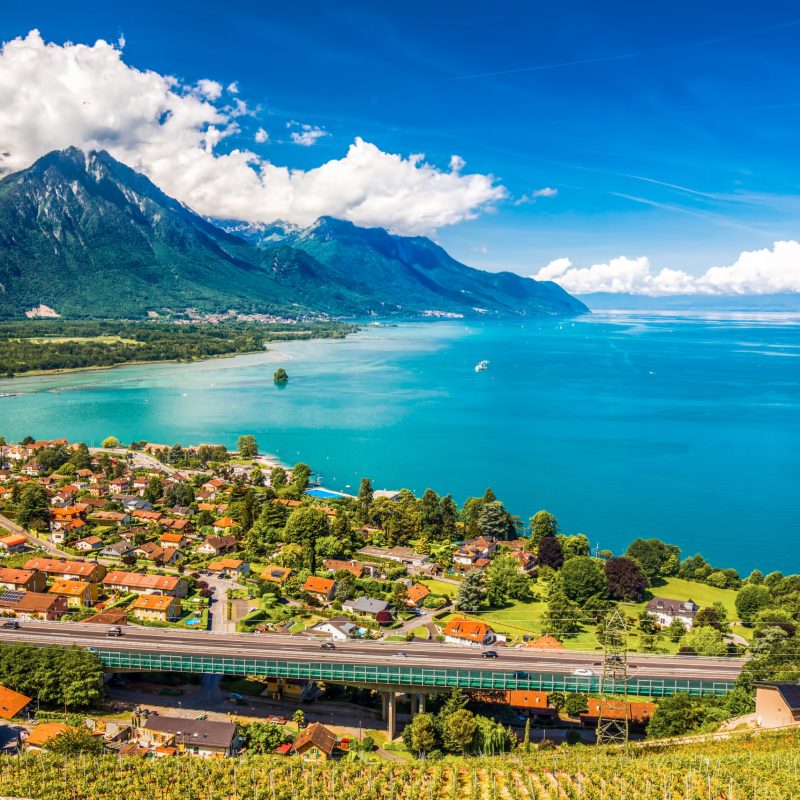 The Lake Geneva region of Switzerland is overshadowed by its famous neighbors, including the Swiss capital, Bern; the French and Swiss Alps; and even the city of Geneva itself. But as travelers to this area soon learn, there is a lot more happening. In fact, the area may just represent the best Switzerland has to offer, from chocolate and cheese to sports and spectacles to museums and music.
Here's why the Lake Geneva region should absolutely be at the top of your European travel bucket list.
A Fabulous Arts Complex Is In The Works
PLATEFORME 10 in Lausanne is expected to be one of the grandest and most ambitious arts complexes in all of Switzerland, and the first phase is opening in October 2019. Located next to Lausanne Train Station (where the final platform is Platform Nine), PLATEFORME 10 is an arts district that, when completed, will host several museums and artistic foundations that celebrate the fine arts, photography, textile work, and design. At present, the city's art museums are located in different neighborhoods with nothing to connect them. PLATEFORME 10's space will eventually expand to include restaurants, shops, and public spaces.
It's Home To The Most-Visited Historic Site In Switzerland
While it dates to the 12th century, Chillon Castle near Montreux is a modern hit. It's the most-visited historic site in Switzerland! The castle is located on a rocky islet, and the views are gorgeous. It's easy to forget just how forbidding it must have felt to visitors in centuries past. Archeological evidence suggests that the site has been occupied in some way since the Bronze Age, no doubt because of its strategic location between northern and southern Europe. Over time, the castle and the surrounding structures have served as an administrative center, a prison, an ammunition storage facility, and more. Today, visiting is a much more cheerful and far less dangerous mission. Costumed guides lead tours on different themes, and there's even a wine tasting at the end!
It's Home To The Largest Collection Of Olympics-Related Items In The World
Lausanne already knows a thing or two about top-notch sporting events. The city is famous for hosting the Winter Olympics, as well as for being the headquarters of the International Olympic Committee. The Olympic Museum offers a fascinating look at athletic history, culture, and achievement. It's home to the largest collection of Olympic-related materials in the world (including Olympic medals from 1896 to the present), Olympic-themed art, more than 1,000 video clips, and so much more. Some 300,000 annual guests agree; the site is the second-most-visited museum in all of Switzerland.
Chaplin's World Was Rated The Best Museum In Europe
A museum dedicated to the life and work of Charlie Chaplin might sound intriguing enough for his fans or for those with an interest in cinematic history, but not necessarily all that exciting for the average traveler. Not so! Chaplin's World in Corsier-sur-Vevey was ranked the number-one museum in all of Switzerland by Trip Advisor in 2018. What makes it so incredible? A massive exhibition space of 32,000 square feet including film, multimedia, virtual reality, and so much more. It's a creative, hands-on way of showcasing Chaplin's life and work. The on-site café gets modest reviews for its menu but raves for the staff, who don't hesitate to ham it up for guests. Be sure to ask the staff about the nearby coffee shops Chaplin used to patronize, as well as for directions to his grave, about 5 minutes away.
You Can Indulge In Incredible Cheese — On A Train!
Switzerland is famous for cheese, trains, and beautiful scenery. What do you get when you combine all three? The most wondrous and delicious journey imaginable! Every weekend between January and April, the Train du Fromage, or "cheese train," runs between Montreux and Château-d'Oex. Can you imagine anything cozier than watching the snow fall from inside a rumbling train while sampling local wine and cheese followed by some gooey cheese fondue? The journey also includes a visit to a respected folklore museum, Musée du Vieux Pays-d'Enhaut, and a chance to participate in a cheese-making demonstration, so you'll have an opportunity to stretch and move around between treats.
The Chocolate Is To Die For
If the idea of a cheese train sounds absolutely perfect, but you wish that you could somehow combine it with chocolate, you'd better sit down. A chocolate train also departs from Montreux — and it includes a special cheese stop as well! Starting with hot chocolate and chocolate pastries, the trip includes a stop in the town of Gruyères, home of Gruyère cheese. You'll visit La Maison du Gruyère to indulge your cheese-feasting dreams before carrying on to Maison Cailler in Broc for a gourmet chocolate tasting. The bulk of the journey takes place in a luxury panoramic carriage, so you'll enjoy the ultimate comfort while you travel. While the cheese train operates in the winter, the chocolate train operates in the spring, summer, and fall.
Food Is The Focus All Year Long
If tasting the best flavors that Switzerland has to offer is your top priority, a visit to Lausanne between May and December would be a crafty move. That's when the city hosts its annual Lausanne à Table culinary program. You have to respect a city where food is front and center in spring, summer, fall, and winter! Yes, there's plenty of fondue to enjoy, but there are also farm visits, discounted menus, picnics, unique museum events, workshops (such as "Bake Your Tarts In Seasonal Colors" and "Make Your Own Sauerkraut"), and foodie walks. The countryside around Lausanne offers plenty of drinkable treats as well. The area is home to dozens of wine cellars, tasting experiences, and vineyard walks. Speaking of which…
It Hosts A Legendary Wine Festival
For fans of Swiss wine, there's no event so important as the Fête des Vignerons in Vevey. The festival was first celebrated in 1797, and it was recently named to UNESCO's Representative List of the Intangible Cultural Heritage of Humanity. It's no exaggeration to say that all of Vevey throws itself into the event. There are 20 open-air performances and more than 400,000 visitors, and nearly half of the town's residents take part in the spectacle in some way. And then comes the wine! Organized by the Confrérie des Vignerons de Vevey (Brotherhood of Winegrowers of Vevey), the festival was originally a way to recognize the best workers and most productive vineyards. The event has since evolved to include wine tastings, cellar tours, and wine education — along with costume parties, parades, and plenty of concerts. There's just one catch: The Fête des Vignerons is a once-in-a-generation event! It only happens about once every 20 years. The last festival was in 1999, and before that, there were festivals in 1977 and 1955. If you can't attend the 2019 festival, scheduled for July 18 to August 11, don't despair. There is still plenty of wine-themed fun to be had in Vevey year-round; local growers are always happy to welcome guests into their vineyards and cellars.
It Hosts A Legendary Jazz Festival, Too
Where do Sting, Elton John, and Janet Jackson hang out when they're in Switzerland? In Montreux, of course! No, they don't go for the cheese or chocolate trains (well, at least not officially…). They go for the Montreux Jazz Festival, which takes place every summer. It's the second-largest jazz festival in the world, after Montreal's. While jazz purists might complain that the festival has strayed from its roots, music lovers adore the mix of genres and the superstar lineup the festival attracts. Montreux's lineups are so spectacular and the festival is so popular that the event has become a milestone performance venue for everyone who's anyone in the music world.
Fun fact: The song "Smoke On The Water" by Deep Purple was inspired by real events that took place at a Frank Zappa concert during the Montreux Jazz Festival of 1971.
It Offers Heart-Pounding Adventure
If the idea of feasting on cheese and listening to music isn't exhilarating enough, there are plenty of opportunities to get your heart pumping. While outside of my personal comfort zone, the Glacier 3000 experience is an absolute hit with daredevils. Named for its 3,000-meter-high suspension bridge, Glacier 3000 is the only bridge in the world to span two mountain peaks. If you want to take a walk on the top of the world, this attraction and its heart-stopping views are for you. On a clear day, you can see the Matterhorn and Mont Blanc! In case you're wondering how on Earth you get up and down, never fear: A cable-car system transports you there and back. Alternatively, you could check out the world's highest Alpine coaster, which is part of the Glacier 3000 experience. When you're back on solid ground, dog sledding provides a more sedate thrill that's still really exciting.