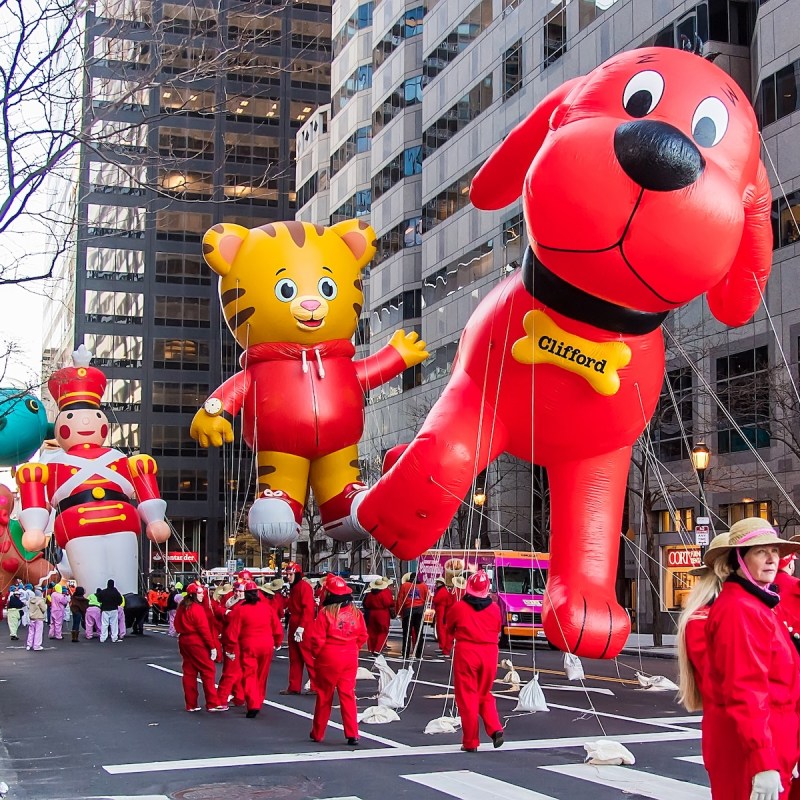 While its beginnings aren't necessarily agreed upon across the country, Thanksgiving has grown into one of the most commercialized and popular holidays in the U.S. Between spending time with family, feasting on our favorite foods, watching football, and most importantly, taking time off, there are more than a few reasons why Americans have gravitated towards the celebration of Thanksgiving.
But for the past 100 years, a new Thanksgiving tradition has taken center stage, with well-known companies cashing in, like Macy's and Dunkin' Donuts. Thanksgiving has transformed into a symbol of the start of Christmas time and these nationally broadcasted parades do a good job of getting the country excited about the holiday season.
But, at the heart of these parades — old and new — is tradition. Let's take a look at some of the best Thanksgiving Day parades in America and how they came to be.
1. Macy's Thanksgiving Day Parade, New York City
Although not America's first celebrated Thanksgiving Day parade, the Macy's Day Parade is touted as the most popular parade in the calendar year. Dating back to 1924, the first parade was organized by employees from Macy's and the Central Park Zoo, according to I Love NY. Just 3 years later, the parade debuted its iconic floats.
For the next 90+ years, the Macy's Thanksgiving Day Parade has owned the airwaves and the streets of New York City.
"Since 1924, the Macy's Thanksgiving Parade has been the official kick-off to the holiday season," says I Love NY. "Each year, more than 50 million TV viewers joined by 3.5 million people in New York City attend or tune in for this beloved event through Manhattan."
2. America's Thanksgiving Parade, Detroit
"It all began in 1924 when the display director of the J.L. Hudson Company department store, Charles Wendel, learned of the Eaton's Santa Claus Parade in Toronto and thought a similar parade would make a great addition to Detroit, which at the time was at the forefront of the auto industry boom," according to Yesterday's America.
Not unlike the inception of the Macy's Thanksgiving Day Parade, in partnership with a department store, America's Thanksgiving Parade began in 1924 along with the popular tradition of holiday shopping window displays. Wendel went even further with the parade's traditions and gave life to papier-mâché heads, known as "Big Heads" — an idea borrowed from Italian puppeteers. People would wear these big heads and parade in the streets during the celebration.
Today, a nonprofit known as The Parade Company has taken over all operations and marketing for the event. And although its legend doesn't quite match up to its peer parade in New York City, America's Thanksgiving Parade was named USA TODAY's Best Holiday Parade in 2018, 2019, and 2022.
3. 6abc Dunkin' Thanksgiving Day Parade, Philadelphia
Furthering the theme of local communities and brands coming together, the 6abc Dunkin' Thanksgiving Day Parade is celebrated on Philadelphia's Benjamin Franklin Parkway. With Dunkin' Donuts entering the picture years later, the parade was first presented in partnership with popular department store Gimbel Brothers and is the oldest Thanksgiving Day parade, dating back to 1920. Broadcasted by the community's most well-known news station, the parade has become a staple of Thanksgiving Day in Philadelphia.
Today, it is a celebration of the local community. Hosted and broadcasted by the 6abc news team, the parade features appearances and acts from local and worldwide celebrities, as well as local schools, nonprofits, and several other organizations. From familiar faces like Mickey Mouse and Santa Claus to the showcasing of local talent like the Philadelphia High School for Creative and Performing Arts, the Dunkin' Thanksgiving Day Parade has continued as a holiday favorite for longer than any other parade on this list.
4. H-E-B Thanksgiving Day Parade, Houston
Since Thanksgiving parades are more easily adapted in cold-weather cities — the parade symbolizes the Christmas season and its correlation with snow and colder weather — Houston's H-E-B Thanksgiving Day Parade may be an outlier on this list. And even with much less history compared to the other entries, the parade has taken over as one of the South's greatest Thanksgiving Day celebrations.
Started in partnership with San Antonio-based supermarket chain, the H-E-B Thanksgiving Day Parade is celebrating its 74th year in 2023. Last year, the parade's grand marshal was Curtis "50 Cent" Jackson, and this year, the co-grand marshals will be Houston Rockets legends Rudy Tomjanovich and Calvin Murphy.
No matter what your Thanksgiving Day traditions are, you can always count on these nationwide phenomena to grow every year. Whether you tune in on your local television station or attend these parades in person, they continue to bring the holidays to families all across America.