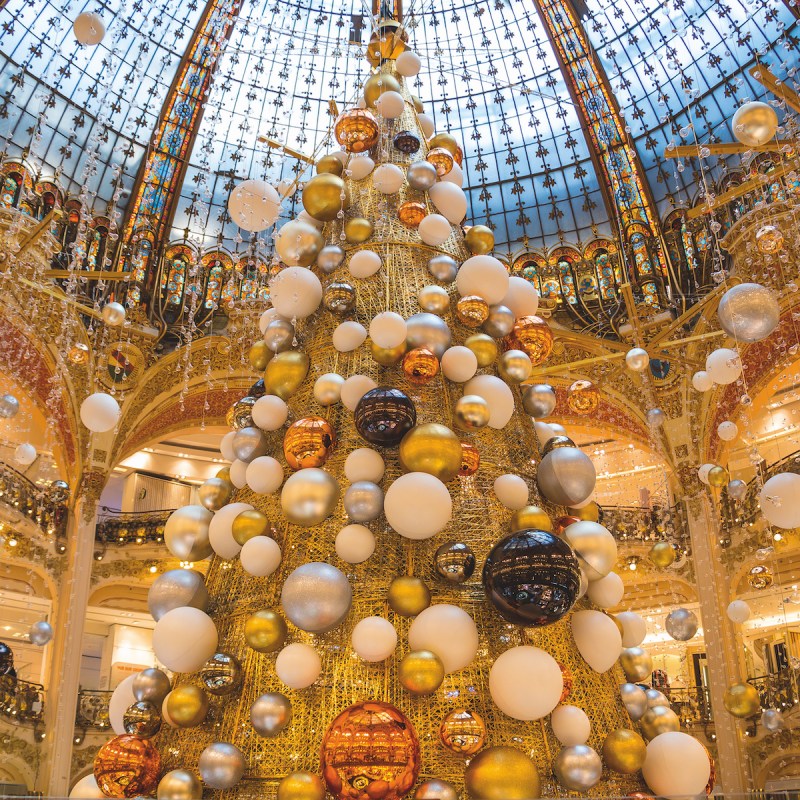 Unlike the last few years, people are traveling domestically or overseas this Christmas — placing them in the vicinity of the world's great department stores — and their knock-out Christmas window displays.
Most festive window displays aren't encouraging people to spend but are giving back to their communities. Department stores know that the annual visit to their windows is an integral part of families' Christmas traditions passed down through generations. Stores are glad to see the tradition resume, and many have themed their windows on togetherness.
So here's what to expect from some of the world's most historic and best-loved department stores in a year when travel is very much back on the Christmas cards.
1. Macy's, New York City
Macy's flagship store on 34th Street has decorated its windows every Christmas since 1874. The store's first Christmas window was scenes from Harriet Beecher Stowe's Uncle Tom's Cabin, using porcelain dolls. In 1883, the store introduced a panoply window (a circular track) showing Santa pulled by a reindeer. Word spread of Macy's "miracle."
Holiday window displays then became a fixture in New York City, such as those at Lord & Taylor, Tiffany & Co., Bloomingdales, Bergdorf Goodman, and Saks Fifth Avenue. But when it comes to Christmas, people still recall Macy's. Perhaps because scenes from the Miracle on 34th Street, released in 1947 and a perennial family favorite at Christmastime, were filmed inside the store. And many of Macy's windows have featured this classic film.
Last year Macy's introduced Tiptoe, a gorgeous little blue reindeer who was too scared to fly — a lot like many of us back then. But her friends helped her out with a balloon flying machine. The balloons burst and Tiptoe discovered she could fly on her own. To fly, she only needed to believe.
In the accompanying commercial, Tiptoe's story ends with a little girl at the airport reluctant to fly to grandma's and her father alleviating her fears by telling her Tiptoe's story. She starts to feel confident, believing she can board that plane — a timely message.
This year Macy's holiday theme is "Give Love," with Tiptoe the Reindeer acting as the main character; she goes on a journey to visit each of her friends and celebrate the holidays together. Yes, travel is back, and New York is back, teeming with tourists from all over the country and the world.
2. Selfridges, London
Many of us know of Selfridges from the British television series about the founder Harry Gordon Selfridge. In 1909, Selfridge brought his department store concept from Chicago to London along with a more exuberant American way of celebrating Christmas. He included the tradition of window dressing and decorating every inch of his store for the festive season. But the windows were, and remain, the real crowd-pleaser. Selfridges window displays are sometimes controversial but always artistic and often feature the work of hip new artists.
This year's theme is Season's Feastings: a celebration of the power of food to bring people together. 15 windows offer surreal and spectacular interpretations of festive "foodie" moments including "toasty roasties" (gigantic potatoes wearing Christmas hats) and "Brussels sprouts a la car(te)" (a car loaded with presents, and bearing a bizarre Christmas tree formed from Brussels sprouts).
3. Galeries Lafayette Haussmann, Paris
Galeries Lafayette on Haussmann Boulevard is one of the world's most beautiful department stores. Opened in 1912, the architecture was inspired by Opéra (the Parisian opera house), and the interior features striking Art Nouveau balconies and a jaw-dropping stained-glass dome. Each year, the store hangs a Christmas tree they claim as the largest in the world from the dazzling dome. The tree is trimmed in accordance with the theme set by the window display. For example, one year, the window's theme was A Christmas From Another Planet with robots, Jedi, R2-D2, and stormtroopers, so the store decorated the Christmas tree with stars and meteorites.
This year the tree and windows have been themed on an original fairy story by Claire Castillon: Planet of Fir Tree. The story, the tree, and the window decorations take participants on a cosmic journey, echoing Galeries Lafayette's whimsical world. You can view the tree and windows online.
Pro Tip: Galeries Lafayette is one of many incredible Christmas window displays in Paris. For a walk past the best displays, see The Best Things to Do In Paris During Christmas.
4. Brown Thomas, Dublin
The unveiling of the Brown Thomas Christmas window on Grafton Street marks the beginning of the festive season in Dublin. The store was established in 1849. Like Galleries Lafayette, this year's theme is cosmic. What a compilation! The inspiration for the displays titled Out of this World came from intergalactic objects from Georges Méliès iconic 1920s film A Trip to the Moon, the glittering runways of Gucci, and the work of Baz Luhrmann, Tim Burton, and David Bowie!
Fittingly, the windows were launched by Dr. Norah Patten, one of 12 participants selected to take part in a unique scientist-astronaut training program in Florida. She is on course to become Ireland's first astronaut.
5. Smith & Caughey's, Auckland
All major cities have a department store that has stood the test of time. In Auckland, Smith & Caughey's has been in its Queen Street location since 1884. This year the much-loved tradition of Smith & Caughey's Christmas window depicts scenes from the local children's book The Chaos Before Christmas. The story is from the minds of two talented Kiwis, writer Sarina Dickson and illustrator Lily Emo. They depict a tale of mayhem at the North Pole when Elroy McChristmas and friends sit their final test at Elf School. The book has the rhyming style of Clement C. Moore's classic A Night Before Christmas, which many of us find endearing.
For 17 years, puppeteer David Poulton, the artistic director of Promotions in Motion, an Australian-based company specializing in animated retail windows, has crafted Smith and Caughey's Christmas window displays. The puppets are subtly detailed work with heads made from a Japanese-based mixture of clay and paper mache, handpainted before being hand sewn into their tiny costumes. Each window resembles a theatre in miniature.
Poulton said on his website, "Smith & Caughey's is really a client from heaven because they are artistic, they care about the content of the window, there's no commercialism whatsoever. It's a gift to Auckland, and that's their approach. What they're trying to do is create a memory of how great Auckland is at Christmas. It's creating a bit of magic."
6. Ogilvy At The McCord Museum, Montréal
Many Montrealers will recall the Christmas tradition of visiting Ogilvy's windows. The custom-made scenes by the German toy manufacturer Steiff featured mechanical toy animals, such as dancing ducks, cheeky monkeys, adorable hedgehogs, and jumping frogs. These window displays were among the last of their kind in North America, and visiting them had been an annual tradition since 1947.
Part of that tradition was standing in the snow and warming one hand curled around a cup of hot chocolate.
Ogilvy donated the beloved installations to the McCord Museum in 2018. Museums recognize how these windows are essential to our social history and offer a window into a community's soul.
The Mill in The Forest scene is outdoors, so the snow boot viewing tradition continues. The second display, The Enchanted Forest, is inside. The outside attraction is free.
7. Myer, Melbourne
Myer Melbourne was started by Sidney Baevski Myer, a penniless Russian who emigrated to Australia in 1899. Initially, Myer sold goods door-to-door from a horse and cart. His Melbourne store became the biggest department store in the southern hemisphere. While no longer the largest, the store is ingrained in our culture. My parents took me to see the Myer Christmas windows when I was a child, and I, in turn, took my children and this year, will take my grandchildren.
Myer has a proud history of 67 years of Christmas windows, the first occurred in 1956 when Melbourne hosted the Olympic Games, and the theme was Santa at the Olympics.
This year Myer Christmas Windows is "Disney's 100 Years of Wonder" with magical scenes from Frozen, Peter Pan, Mickey Mouse, The Lion King, and more. It's summer here, so part of the tradition is for small children to arrive in their pajamas, riding on their parent's shoulders for the ultimate view.
Here are some other Christmas events to consider: